BBM beta update brings stickers, timed messages, message retraction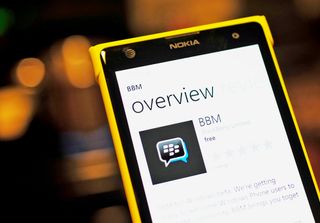 BlackBerry has rolled out a new version to its BBM beta app on Windows Phone today, and it brings a number of new features. For you sticker lovers out there, you can now look forward to sending stickers back and forth in your chats. Also coming along for the ride are timed messages, message retractions, and a number of bug fixes.
While stickers are new in this build, users are limited to a few specific free packs detailed in the change log below:
Stickers: Stickers are a great way to add some more fun to your BBM chats. Not all sticker packs listed are available to beta, but we have a few specific freebies for you to use in your testing:
Gilbert's Tale
CosCat
BBM Characters
BBM things you do
Say it with flowers
BBM Stickers
Timed Messages: Set how long contacts have access to messages and pictures shared in a chat.
Message Retraction: 'Retract' a message to remove it from your BBM chat.
Fixes: This new version is fully loaded with many great fixes for some of the most reported concerns:
BBM crashes when tapping on a profile on HTC devices
BBM is slow to launch
BBM stuck on set-up screen on Nokia devices
Retract Message tooltip does not appear even after exchanging a few messages.
Thanks to Kris and Akash for the tips!
Dan Thorp-Lancaster is the former Editor-in-Chief of Windows Central. He began working with Windows Central, Android Central, and iMore as a news writer in 2014 and is obsessed with tech of all sorts. You can follow Dan on Twitter @DthorpL and Instagram @heyitsdtl.
Is anyone in the US really using this anymore? All of my coworkers are off blackberry now and nobody sees a need for it. I can get anyone even interested in it.

The diehard bbm user's that I know are now using imessage.

Us in the banking world use it ;) Posted via the Windows Phone Central App for Android on a BlackBerry Z30

How can an "App for Android" be on a BlackBerry?

BlackBerry 10s have an Android runtime (4.3 JB) in addition to QNX OS. Posted via the Windows Phone Central App for Android on a BlackBerry Z30

Haha you r posting with an android apps with a blackberry mobile to a windows site... lol.. Posted via the Windows Central

If they are scratch and sniff maybe someone will use it.

Agreed. Le sigh....miss BBM sometimes...

Mmm. I'd like to give this a shot, but I have a hard enough time getting people to keep using Skype lol
Facebook messenger has ruined IMing for me :P

Beta? I want it, but I have release. To BBM, or not to BBM.

Good update ,. .. I use BBM very often .. More than whatsapp

Where do you guys live? I have literally zero contacts in BBM.

Lol .. India .. Many people use it yet

Yup me 2.. pin: 7EFAEE6D Posted via the Windows Central

I can't download any of the stickers.

The stickers which are available to download are.
• Gilbert's Tale
• CosCat
• BBM Characters
• BBM things you do
• Say it with flowers
• BBM Stickers
In rest of them you will see unavailable .

Just one question: why is so difficult to Microsoft to make change logs like this one from BBM????????

They have to write change logs in all the languages they support.

Do not let download it... " you don't have permission to download".. ?????...

This is the Beta, wait for the non beta to be updated.

You have to be part of the beta team for which I am.

How do I register to that now?

In blackberry beta zone website

Just updated. Sounds awesome.

My phone comes with text messaging

It doesn't let me download it! WHY??????????

I'm calm now, thanks. lol

Not all the stickers downloadable, only couple of them.

Damm, blackberry is doing more for window phones than instagram. Coolest Man Alive

I know. I've tweeted the a couple of times regarding the WP app but I never get a response.

But instagram is still the fastest app around on Windows. It opens instantly doesn't matter from where you launch it.

They are doing more than Microsoft is doing with Skype...

Too secure to be usable. Lost its glitter.

Question about the stickers: What is Gilbert's Tale and CosCat? I obviously know the Legally Blonde, Ace Ventura, Sonic the Hedgehog and Disney stuff (ones that aren't available anyway), but where do some of these others come from? Are they anime or something?

Why are most of them not available?

R u register bbm beta program?

Hey I have a question, in dual-core 512MB ram phone BBM is really sucks, most message won't get through and opening the app is hit and miss, does the same thing happens with octa-core+512MB ram or dual-core+1GB ram phone? Cuz I saw in BBM ads video for WP it's damn smooth running on a 930.. If it doesn't I'm thinking to get a new phone, what's your recommendation?

Have you tried installing on the phone memory. Because its a bit too slow on my dual core 1gb ram if on sd card. But on the phone memory, it loads faster.

Buy a 930 if you don't consider Glance Screen a big thing.

Lol I'm not planning to get 930, its too expensive.. But if BBM works fine on dual-core+1GB phone or octa-core+512MB phone, then I'm going to get either one since they are not too expensive. It doesnt matter whether its installed on SD card or phone memory, it still lags and slow on my 520.. Anyway what is your phone? Maybe I should get the same.

I guess you meant quad core +512mb ram devices.
Btw I also have 520 and it is working fine the messages are delivered properly it opens flawlessly without any issue.
Btw im on WP8.1+ Cyan hbu?

Ah yes, sorry for my mistake, how foolish.. Glad it works for you, I guess it's just random, or maybe it depends on blackberry server where you live? Since there are a lot of bad review on my store region. I'm on Cyan also, just wondering if the problem is caused by lack of RAM or processor's power...

I have an older 820. You must go for a 730 or 830 or a 535 if it is available in your region.

I'm using 930
The app is pathetic
Even fast and furious a game with over 300MB works faster and better than this crapApp

Works fine for me. I have a Q5 for work purposes so I sent me some messages. You have to be registered as a BlackBerry beta tester in order to download. Typically though it takes around 2 weeks for new betas to make it to general release. So have patience :) ​ ​ ​ ​ ​ ​

The problem now is theres 2 seperate beta app id's one that original testers .net passports are assigned to and new beta testers are assigned to the new app id which has been getting updates sooner

:( loved BBM and BlackBerry back in the day...but the ship has come and gone for me now. Wish more people I knew used it so I could find use for this app.

Facebook messenger just got updated also.

Can't download...no permission...

Just checked the store, got Update for BBM and Facebook Messenger. Did not check what's new as I am in office. I may also be late. I don't know. But I think those who did not check, can check for updates.

Those of you saying you don't have permission to download it, you have to be part of the beta program in order to download beta versions of BBM. You need to go to https://beta.webapps.blackberry.com/login/?cont=portals&act=index&item= and sign up for the beta zone and then the BBM beta for Windows Phone.

Sorry if sounds ridiculous but what is the better side of BBM over WhatsApp? I found that BBM does keep me from having the freedom I have in WhatsApp.... Lots of people still using BBM here in Indonesia but I prefer keeping my friends using WhatsApp.... Any idea?

Can't see any of my friends....
Windows Central Newsletter
Thank you for signing up to Windows Central. You will receive a verification email shortly.
There was a problem. Please refresh the page and try again.