Blink update brings improvements for low light photography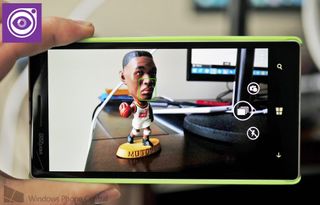 Microsoft has rolled out an update to the Blink app, bringing it to version 2.5, which adds a useful noise removal algorithm. This allows images to look sharper and cleaner, especially when captured in low light conditions. Along with the noise removal engine, Microsoft said that the app also contains "multiple bug fixes."
Are you a Blink user? What do you think of the latest update?
Chuong's passion for gadgets began with the humble PDA. Since then, he has covered a range of consumer and enterprise devices, raning from smartphones to tablets, laptops to desktops and everything in between for publications like Pocketnow, Digital Trends, Wareable, Paste Magazine, and TechRadar in the past before joining the awesome team at Windows Central. Based in the San Francisco Bay Area, when not working, he likes exploring the diverse and eclectic food scene, taking short jaunts to wine country, soaking in the sun along California's coast, consuming news, and finding new hiking trails.
What exactly does blink have in Nokia camera?

Your question doesn't really make any sense...

Yeah I'm not seeing any correlation to the article either...

Maybe he meant what Blink has that NC doesn't? :)

Are you referring to smart camera or Nokia camera?

They combined the two a while back all under Nokia Camera

He thinks Nokia and Blink Lens are the same.. And what does blink does in Nokia lens .. What features it has

Wasn't this app replaced by the new camera's feature to take burst photos?

You can create a Gif, and some others features, check it out.

Too much similar functionality from same company's apps. Nokia cinemagraph can make GIFs and animate in 123123... frames pattern, not only 12321... Blink has best shot, noise filter and backlight. Nokia camera bursts shots... Like if WP was less than a year old, why not just put this all in a single app?

remember that not every Windows Phone is Nokia...
those with a Samsung, HTC, or Huawei don't have access to Nokia Camera, so if they're interested to use this kind of software in their phone, this is it

I guess they might, they used to have to do this to give more functionality to non-Nokia users

I second the living shit out of your comment! I am tired of having a ton of different apps to do slight variations of the same activity.

If there are no variations, then people will say that there are no apps in windows store. Every publisher publishes the app the way he thinks it will be comfortable for the user and user has freedom to choose. This what makes a store a better one.

It makes sense for variations among disparate sellers, but not from just one. Nokia having many different camera apps is just dumb.

As others said, Nokia apps (now lumia apps) are exclusive for lumia phones where as microsoft apps are for every windows phone.

Yes and no. You can say Blink is a further implementation more features etc., of the burst mode in the default camera.

Can now gif be exported to galery? And not having to share it online.

You can export to OneDrive or get a link.

Yeah, i know that. I used blink before, but not lately. But i don't want to export it to onedrive, i want to export it as gif to my phone

Hum, the only way is to save on OneDrive and after that copy/past to your camera roll or any other folder. Unfortunately.

I hope that they will get the idea, and make it in new update. In my case, thet would be one star more in windows store, and probably many other people want that

I'm sorry, but what a lazy article ... Could explain what the app does, for those who never heard of it.

Lol true, but a savy user would just go to the store and find out :D

Maybe, so the "article" it's pointless.

I believe the article's point is to tell people about the update, not describe the app.

Article is just telling us about the update. Lazy article?!?!? How bout you swipe over and tap the link to the store and read about the app there???

Maybe ... But if I never heard about it, I would like to read what this is about before go to the store, because I'm reading my favorite website. All others articles/writers put at least a little information when a app is updated.

I've used blink a couple of times, and I also use SOCL to post my blinks.

No thanks. Resolution is less than 2mp. Nokia Smart sequence saves 5mp. Only cool feature is the gif

I need to start using Blink more. I used it once and forgot about it. I also gotta admit, I just got an ATIV S Neo off of ebay, it's better than my 920 in everyway except for the low-light camera.

How is it better? I'm just curious as a 920 owner.

It's lighter & thinner, the screen is bigger and brighter, the micro SD expansion and I'm in love with the physical start button. It also is way more attractive than my 920. All that said, I'll switch to the 920 if I'm going somewhere at night and want to take pics.

Nice. I'll have to see what Samsung has up it sleeves for Windows 10.

I also hace aN ativ s neo and love it. Only need to wipe the lens iccasionally

This app is a must for photography lovers

Mad.... Thanks wpc for the heads up

Old versions better and faster!

More importantly: What is blink?

Just follow the download link at the bottom of the article.

Mine disappeared after the update o.o Where is my blink? I want my blink back!

How ro swnd them a feedbaack?

+182 Posted via the Windows Phone Central App for Android

I'll like it Microsoft doesn't give us GIF support soon. This is ridiculous.

One more thing, now it has continuous autofocus too which is for ALL LUMIAS.
I can see it as it is autofocusing. Nokia, why this hardware talk when it's possible??

Burst mode and Microsoft blink are two different applications, blink is for portraits where have the issues of somebody blinking while took the picture, while burst mode takes a sequence of pictures to be chosen later , blink is for portraits and burst for action

Hai friends Check out my application "Status now" for Windows Phone http://www.windowsphone.com/s?appid=e0d0ac1c-781b-4c84-9b2a-b17243c8b0b4

blink is awesome! check out some of my blinks www.ello.co/charge (as gif) or http://www.so.cl/#/profile/Jordan-Burman (as the living image upload) but it would be nice if i could save directy as gif to my phone. and then have it play gifs. or midi files for that matter...
Windows Central Newsletter
Thank you for signing up to Windows Central. You will receive a verification email shortly.
There was a problem. Please refresh the page and try again.