Blinkbox launches on Windows 8; check out the latest blockbusters on multiple screens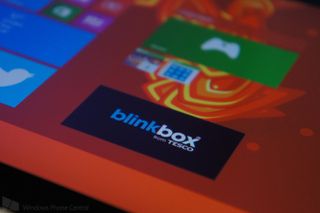 Blinkbox (www.blinkbox.com) is a on-demand movie streaming service, which is also part of the UK supermarket Tesco. The service has a catalogue of more than 10,000 titles, including classics and latest blockbusters. Differentiating itself from the competition, Tesco has opted for a PAYG (pay as you go) system for Blinkbox, instead of the usual monthly subscription fee. So what does the Windows 8 app bring to the table?
Just like Blinkbox apps for smart TVs, video game consoles, other tablets and set-top boxes, Blinkbox for Windows 8 enables you to tap into your account and enjoy films while on the move or at home on the large screen. Whether you're on your Windows tablet on public transport or have just finished playing the latest PC game, Blinkbox will be at hand ready for some streaming.
Here are some of the features found in this Windows 8 app (listed in the app description):
There's no subscription, ever. You just pay for what you watch
Our huge catalogue in a beautiful new full screen experience
Watch purchased titles in glorious HD
Continue watching from where you left off – even on other devices or from our website
Parental controls to give you peace of mind
Blinkbox allows you to both rent and purchase content in standard and high definition. The parental controls are an interesting addition to the table, enabling you to have some degree of administration over what's streamed over the Internet and displayed for younger audiences to watch and enjoy.
There's no Blinkbox for Windows Phone just yet, but we'll look forward to see an app in the future. The mobile app could be a superb match with Kid's Corner (for parental control), remote control support, streaming and more. We can only dream.
You can download Blinkbox (opens in new tab) from the Windows Store.
Windows Central Newsletter
Get the best of Windows Central in in your inbox, every day!
Rich Edmonds was formerly a Senior Editor of PC hardware at Windows Central, covering everything related to PC components and NAS. He's been involved in technology for more than a decade and knows a thing or two about the magic inside a PC chassis. You can follow him on Twitter at @RichEdmonds.
With soon arrival of Xbox video, these services will become obsolete if they don't offer same movies for cheaper.

Do you think XBOX Video is better compared to other services?
I would like to try something like Netflix/Hulu/... but not available in Austria.
I think XBOX Video is a bit of expensive - it's cheaper to buy Blu-Rays.

You're right. I only recently discovered that movies are cheaper on iTunes and, I would expect, XBOX Video.

Have already chosen my sole video content provider, Xbox Video. Don't see the point in buying on loads of different services.

It's called choice. The more of it that exists, the healthier the marketplace will be, regardless of which service you settle on for your personal solution.

More apps, more choice for consumers

I keep thinking they mean Windows Phone 8 when i see these posts. Windows Phone Central and all that...

They need to change the name like iMore did. Maybe Windows Central?

Nice! I am currently a blinkbox user and this is great news. Although once the Xbox Video app drops for wp8 that might change.

I come here for apps and info on Windows phone stuff. Bloody annoying to read an article only to realise its not available on a WP device

Start by reading the headline and you won't waste your 'bloody' time. They have said time and time again, while the main focus is Windows Phone, they know many, many of their readers are bug Windows 8, Xbox, and Windows Tablet users. Get use to it.

You can also choose to filter out windows 8 posts, since the beginning of their expanded coverage. I personally use both OS's so I enjoy ready news on both platforms. But you can opt out if you 'bloody' choose.

Well I gonna bloody well opt out of said posts!Do you know why cos I bloody well can

Love movie apps. Am dying for on that has the LATEST/NEWEST movie trailers. There are some out there, but they either never update or show 2 month old trailers.

I guess this is for UK only. No go in US when checking their website, it says not available in your country for all movies.

I tell you, the day when the whole of Earth will be one region can't come soon enough. I'm bloody tired of all of these fancy little apps and services I can't use in my shitty country; half the world doesn't even know which continent to check first in order to find Croatia. TWO streaming services are available. Deezer for music and a local one, Oyo, for movies and series. Btw, Oyo has, like, 100 movies and a bunch of Croatian TV series which are horrible, to say the least. How I envy you guys out there, being able to use whichever online service your hearts desire.

Are these apps on windows 8 also available on windows rt? Im thinking of getting a surface 2.

Windows 8 and RT share the same store. Although some apps only work on x86 processors.

I love Blinkbox, all new films instead of waiting months and sifting through 80s romcoms on subscription based sites.

Better than Netflix? I'm not convinced yet. But no trial and no price for the app is off to a bad start.

Far better than Netflix in the UK

It's a different pricing model, Netflix/lovefilm is subscription based. You pay a monthly subscription fee and you get access to a ton of movies and TV series. Mostly, the movies you have on a subscription based model are old movies which are at least 2 years post general release. You won't get to watch any blockbuster movie released in the past year, that's for sure. With Blinkbox, the movies are available as soon as they go on DVD general release, in most cases, they even secure exclusive rights to make the movies available a week before they go on general DVD release. You just pay for what you want to watch, a typical high profile movie that just got released will cost you £3:50 to rent and £9.99 to buy. You can rent the sort of movies you see on Netflix/lovefilm for a pound. When you buy a movie, you own it for life, and can view it on up to 5 devices (Xbox, PS3, PC, IPad, Nexus etc.), with 3 device swaps allowed in the space of 90 days.
You like watching the latest movies? Netflix won't work for you; if you on the other hand prefer to watch old classics and you watch a lot of them, then stick to Netflix/lovefilm. Blinkbox prices for movies are also cheaper than on iTunes or Xbox video, you can do the comparison relatively easily.

While distributed by Tesco, Blinkbox is powered by Sky....here is hoping for an actual Sky app!

blinkbox is not powered by Sky...

glad to see this, they have the rights to board walk empire good stuff! the apps just keep coming, now hurry up bt sport!!


I have just tried to install this application, and i got the error message: "This item is no longer available" Does anyone know what happened to it? Thanks Gary
Windows Central Newsletter
Thank you for signing up to Windows Central. You will receive a verification email shortly.
There was a problem. Please refresh the page and try again.