Blizzard employees share salaries to draw attention to pay disparities
Blizzard is doing great financially, but some workers say they're not benefitting.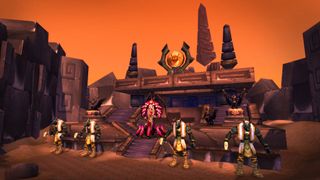 (Image credit: Blizzard Entertainment)
What you need to know
Blizzard Entertainment employees are reportedly sharing their salaries and raise histories through an anonymous spreadsheet.
The employees were looking for pay hikes following an internal study on compensation.
Some workers earn close to minimum wage while the CEO received $40 million in 2019.
Dozens of Blizzard Entertainment employees reportedly began sharing a spreadsheet on Friday showing their salaries and history of raises after staff expressed disappointment with the results of a compensation study the Activision Blizzard subsidiary released last month.
The study followed a 2019 survey where more than half of Blizzard employees reported they were unhappy with their pay. Bloomberg reviewed the spreadsheet and found that most employees received raises of 10% or less. One employee told Bloomberg that their pay hike amounted to just 50 cents an hour and that reductions in overtime meant they're actually making less today than they were at the company a decade ago.
Activision Blizzard spokeswoman Jessica Taylor told Bloomberg that some of Blizzard's top employees received 20% larger pay hikes in 2020 than in previous years, and that the number of people receiving promotions also increased. However, this may just have led to widening disparities between producers and engineers, who can earn more than $100,000, and employees in the customer service and testing departments who earn close to minimum wage.
The salary of Activision Blizzard CEO Bobby Kotick drew particular ire from employees and pro-labor groups. Kotnick earned $40 million in 2019 and his compensation has risen along with the company's stocks as more people turned to video games to alleviate boredom during the COVID-19 pandemic. During yesterday's Q2 2020 financial report, Activision Blizzard announced that it had earned $1.93 billion, beating the anticipated revenues of $1.69 billion and setting an earnings record.
Windows Central Newsletter
Get the best of Windows Central in in your inbox, every day!
If you don't like the pay,, go find the same/similar job elsewhere for more money. Barring discrimination, you aren't entitled to a 'big raise' or a certain pay rate.
That said, I think the amount of money leadership at these corporations earn in salary and bonuses is beyond reasonable. It's just grotesque. And I don't mind just the few people at the top.

That really doesn't work for this industry. The job pays that amount in almost every company. You are talking about thousands of people who should just leave and get another job. Here is an idea that these companies haven't tried. Pay people at the bottom more for their hard work. 2 thousand dollars to a guy making 10k is a big deal than 2k for a guy making 60k. It reminds me of people saying just go find another job that pays more... And they are talking to someone that works at a retail store or what have ya. The people I know that are working for retail, did college, got a degree, and have been searching for a better job doing literally anything for the past 3 years or more. The number 1 job that is actually in demand is retail here in America. Those are the only places that seem to actually be hireing. Yeah, some of them got out... Then oh look the company fired everybody at said place of work within a year and they had no other place to go. So they went back to retail, because at least it payed people. 2 of my own family members even tried to work with their company and move with them or at the very least get a job somewhere in the new companies headquarters, they got told that the only people that have positions at the new place are management. I wish it was as easy as just get a new job. It isn't, and it is not even my anecdotes, look at the ratios of jobs that pay a wage that is decent at all. It isn't that the jobs can't pay it... They aren't being forced to pay it. Every company would pay $0 if they didn't get publicly shamed, hopefully this forces them to rethink at least some pay in the correct direction. Give it to people at the bottom that are really good workers, (often times they settle on a flat 2% rate no matter if you did great or not)

You are entitled to fair compensation, that's why things like minimum wage exists. If a business isn't fairly compensating you for your work, then it makes sense to try to advocate for it. And similar to thr person above said, it's not always as simple as just quitting and going somewhere else.

Wow, great logic in a recession!!

Pick a different industry to work in. Some pay better than others.

Again, great advice in a recession.

IMO they should put legal caps on executive compensation.
The cap would be no more than 100x your companies lowest paid wage. This would incentivize executives to pay their employees more fairly across the board since their own pay was dependent on it. Right now executives in American companies have no incentive to pay their employees more. They get huge salaries and packages even if they tank the company.
Windows Central Newsletter
Thank you for signing up to Windows Central. You will receive a verification email shortly.
There was a problem. Please refresh the page and try again.