Avoid the deadly Zamboni in Blocky Hockey for Windows 10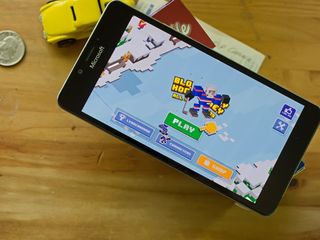 Blocky Hockey is an endless runner game that is available for Windows 10 PC and Mobile. The game has you skating down a frozen path dodging obstacles, fighting other hockey players and avoiding the dangerous Zamboni.
Blocky Hockey was inspired by the popular Windows 10 game Crossy Road and shares the game's colorful and blocky graphics style. Gameplay is simple to pick-up but isn't as easy to master. Blocky Hockey is a Windows 10 game that tests your skills at timing, speed and luck.
There are dozens of hockey players to unlock to give the game a custom feel. While available for Windows 10 PC and Mobile, Blocky Hockey is also available for Windows Phone 8.1 (including low-memory devices).
Blocky Hockey greets you with a primary menu that contains options to view the game's leaderboard, visit the Store to unlock new characters with the pucks you earn, access the game's settings and play the game. There is also an option to share the game with friends.
Settings for Blocky Hockey are limited to muting the sound, inverting the gaming controls, restoring purchases and resetting the game data.
When you first jump into gameplay, Blocky Hockey sends you through a brief tutorial on gaming controls and objectives. Your hockey character is skating up an endless ice rink that has obstacles and dangers to avoid, pucks to collect and hockey players to face-off against. Gaming controls consist of two directional arrows located in the left and right lower corner of the gaming screen. Tap left or right to skate left or right. When combined, the character begins moving forward across the ice.
The gaming screen also provides your score and puck count, along with a scoring goal that represents the score of another Blocky Hockey player. As you pass the displayed player's score, a line marking that distance is displayed on the ice and another scoring goal is generated. This is a nice touch and gives the game an added competitive touch.
The goal of Blocky Hockey is to skate as far as you can without crashing and burning. There are obstacles along your journey that are designed to trip you up (orange cones, hockey sticks, penguins, etc.) and dangers that ends your journey (wooden or brick stands, cows, wayward Zambonis, UFO's, etc.).
If you hit an obstacle, the hockey character's forward progress slows down and allow an evil Zamboni driver to catch up to your character and flatten him. Blocky Hockey affords you a few stumbles before the Zamboni catches up with you. The quicker you recover, the better your chances of escape.
Along with avoiding dangers and obstacles, pucks can be collected and used to unlock additional hockey characters. There are also two encounters possible with rival hockey players.
The first encounter is when the rival players body-check your player and you have to fight your way past them. When the game transitions to the fight screen, the directional buttons are replaced with punch and block buttons. You have to punch your opponent into submission before they knock you out.
The second encounter is a play on goal. You face a rival hockey goalkeeper and must hit a target that appears in the net. You receive a "3,2,1" countdown, the target appears and you swipe at the screen to shoot a puck at the target.
With either encounter, successfully getting past the rival hockey players earns bonus pucks and a chance to "be on fire". Being on fire is a good thing and allows your hockey character to be invincible for a short period. Obstacles will not trip you up or knock you out of the game.
When you get knocked off the ice (and it happens all too quickly), the game awards you pucks and there are several opportunities to receive free pucks as gifts. Blocky Hockey has a nice variety of hockey characters that can be unlocked with pucks or picked up via in-app purchase. There is a fox hockey player, shark hockey players, rabbit hockey players and hockey players with a nice range of uniform colors. While a lot of the character variety deals with appearance, many of the players have varying skill levels such as speed, shooting ability and fighting strength.
It didn't take long to discover that Blocky Hockey is an entertaining time-killer of a Windows 10 game. Graphics have that Minecraft feel and it is easy to see the influence Crossy Roads has on the game. Gameplay isn't overly difficult to pick up, but can be a handful to master. As with most endless runner style games, the longer you survive the more intense gameplay can get. Blocky Hockey is no exception.
Available for Windows 10 PC and Mobile, Blocky Hockey is a free gaming title that is also available for Windows Phone 8.1. The game is a solid title to have in your gaming library for those times you have a little down time and are in the mood for some hockey action.
Download Blocky Hockey for Windows 10 PC and Mobile
Get the Windows Central Newsletter
All the latest news, reviews, and guides for Windows and Xbox diehards.
George is the Reviews Editor at Windows Central, concentrating on Windows 10 PC and Mobile apps. He's been a supporter of the platform since the days of Windows CE and uses his current Windows 10 Mobile phone daily to keep up with life and enjoy a game during down time.