BLU Win HD and BLU Win Jr Windows Phones launching in Brazil next week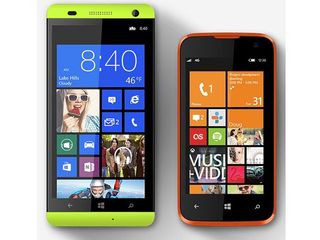 BLU held an event this week in Brazil to announce the launch of their first two Windows Phone devices, the BLU Win HD and BLU Win Jr, in that country starting sometime next week in retail stores.
The phones are apparently the first Windows Phone products to be sold in Brazil besides the ones that Nokia, and now Microsoft, have offered. The price of the 5-inch BLU Win HD will be R$ 899,00 (about $385) while the 4-inch BLU Win JR will cost R$ 350,00 (about $150). That phone is currently on sale in the US via Amazon.com and the Microsoft Store website for just $89.
What do you think about BLU entering the Windows Phone OEM market in Brazil and competing with Microsoft's devices?
Source: Windows Phone Brazil
Windows Central Newsletter
Get the best of Windows Central in in your inbox, every day!
Why must all these unknown brands must have such goddamn awful names. Win junior? Come on.

It may deserve a better name just based on the value. I bought the Win Jr from Amazon, and it is a really nice phone. I did order a 32gb SD card to ho with it, but that was cheap too. Overall, incredible value.

Much better value than the 520 and 521 especially with updated hardware and front facing camera which Nokia forgot. ⌒.⌒

Can you tell us the in short notes your general impressions with this phone? (You know what i mean by that, the usual standard stuff). I am planning to get one for my cousin's 18th birthday in decembar, altho i might give it to him as a christmas present and b-day present in one :))) After he played for a few days with my Samsung ATIV S, he fell in love with Windows Phone, (he was previously and Android fan, but just because he never held a WP device in his hands, now he loves it). The thing why am i asking this is because i really like to get him one, cuz i have the money, but his parents at the moment can't afford to buy him a new phone. Our carrier shops here have WP devices but only the flagships, which are too expensive. So i was thinking between this two phones but i am not sure are they GSM supported? or I was thinking to get him something else like this 2 phones.

I think it's a pretty good name. It's not hard to understand that it's the smaller and lesser advanced member of their device family based on it.

Why must you use God's name in vain?

Why are you whining about your invisible friend. Stay on topic.

Figure of speech, not everyone worries about silly religious protocols...

Well if invisable or silly... why mention God at all??? That is what makes no since to me when people do so... Figure of speech is no excuse as do people really know what they are saying or praying for??? When one uses that figure of speach, they are asking God to damn or curse something or whoever that follows it... So if is he so invisable and so silly why ask him to Damn or curse something or someone... I am glad prayers inline with his will superseed our usual impluse ignorance... I mean we speak before we think... WHY?! JUST DOG GONE SAYIN'!!! I dont care what you believe or care what you think of what I believe... It is just pretty silly to say things or use "figures of speach" and not know what you are saying... Check the origins of words, phrases, etc and then apply what is truely missing in America and the world... common sense, responsiblity, and respectful judgement... In all cases... if it is not nice... dont say it.. What is freedom of speach with out responsiblity for said speach and the consequences that follows? CHAOS! Well... Anywho. I further digressed off topic.

Odin disapproves of your self righteousness

LOL......Yeah, but if you are wearing Thor's Hammer around your neck, you're safe. ;)

Don't worry about those igs...#116

They don't spend a lot on pr and marketing research.

When I see the phone I think it is HTC one M8

Same here. That phone is pretty hot.

Same here. A minimized HTC One M8 with Windows Phone HTC hub :p

Yeah I noticed that too! It resembles :D

Only then for a fraction of the price. It also has the HTC clock to complete the ripoff. Nevertheless I like its design. Could sell nicely on Brazil.

I thought of the 8X because that's probably where they got the screenshot for the bigger phone. It clearly isn't running 8.1 as the status indicators at the top are absent, plus the HTC clock tile is at the top.
On the smaller phone, it oddly is with 8.1 but shows the Music+video tile..
Overall very confused photoshoping job.

Good looking phone, if Nokia isn't here I'll take this one.

$385 for Snapdragon 200. Good luck! Posted via the Windows Phone Central App for Android

Moto G costs 300 dollars (699 real)

It likely won't cost that much in North America. That price will include import duties, sales taxes, and more I suspect.

$180 Posted via the Windows Phone Central App for Android

Android Phone. Good luck!

Just a detail: Nokia/MS only sells black and withes phones here. And now BLU will sell colourfull phones. Great!!

Last I checked the MS Store, the 635 was sold in all color backing. And don't blame MS for OEM choice of colors THEY want to sell. Posted via Windows Phone Central App

In Portugal we have the same issue.

Please sell in India also....

The former looks much like the HTC one m8....and its looking awesome

Oh yes. not sure if I should get it over an 830 tho. The blu win hd is almost the same in every aspect to the 820 except for better screen resolution and size but then again I got my 820 for $80. If I had a lesser lumia I would've definitely upgraded to the Win HD though.

Isn't the 830 LTE and the blu win hd is not?

Blu in Colombia sale in every store

I just to know when the win HD is coming I need something to hold me over til next year...my 925 is slowly heading to its grave

When is the blu HD going to show up in Microsoft stores?

The Win JR is a great deal.. is cheaper than Lumia 530 here in Brazil and the camera has autofocus, LED flash, hd video, has a frontal camera and has more battery .. it'll be a good competition... I am thinking about buying a Win JR for my wife... But the Win HR is the poor cousin of HTC one M8 lol... snapdragon 200 was a bad choice for that price for compete with lumia 730 (not launched here yet).. And you can find Lumia 925 with that price here too.

HTC made beautifully designed One. And this isn't first phone I see with the same design

That M8 look alike looks nice tho.

What is the top tile on the phone on the left from the picture?

Looks like a stock MS or Bing Weather?

It is the HTC hub which you can now have on any WP 8.1 device.

Can you give me the link to download it?

In the next 2 months, those phones will be half the price on Paraguay. Tip to brazilian people to buy them from there.

https://onedrive.live.com/?cid=d3f73c7167c992cc&id=D3F73C7167C992CC%2120... Esto estaba en la página de celleletronicos en Ciudad del Este, seguro que muy pronto ya lo tendrán disponible.

The BLU Win JR is cheaper than Lumia 530 (R$399).

BLU Win HD with 5 inch screen is great, not oversize or too small.. And it look appealing too (which quite look like a HTC phone) BLU Win Jr offer at quite lower price but 4-inch , too small , like an old iPhone

Let the fragmentation begin. Not to mention messed up update. My ATIV S is stuck with 8.1 DP, can't update to GDR1 because of error and the official update is nowhere to be seen. My brother's Lumia 625 hasn't received cyan yet, because of developer preview. I hope that Microsoft will fix these issues soon. :( Posted via the WPC App for Android using LG G2

My 1020 has yet to see Cyan due to Developer Preview. However, I could resolve that myself by using the Nokia recovery tool but I can't be bothered. There are three other Windows phones in my household which have received Cyan but it is nothing special as far as I can see.

That's why I wait. I don't do previews.

I thin the BLU win Jr will sell extremely well. The HD Win wont due to performance issures.

Looks exactly like the BlackBerry Z10

I have to say I am very impressed with the Windows Phones from BLU, it's clear that they haven't just slapped WP on some old Android phone, they've actually made some quality phones at a good price. Just wish that I would be able to get my hands on them in the UK.

It's about time we saw a top end, cutting edge Windows Phone to go against the flagships' on other platforms. These budget and mid range offerings are becoming tiresome.

Ummm these are budget phones...

One of them is, the other is mid range just like I originally said.
Nokia tried their best to introduce innovative features which made their handsets stand out from the crowd but these new offerings are just ... meh.

New OEMs are coming and wtf y developers aren't updating their apps,watsapp,twitter,insta

The HD looks like the One m8

Actually, HTC One M7 and Max.

I believe it will help windows phone become more mainstream!!!

Atleast someone has noticed -_-

Wish some cheap WP come to Australia.

Thats good pricing for Brazil. Good competition agains the swarm of cheap Androids.

Win Jr will be a hit here on Brazil. A good fight for the new Lumia 530 and even Lumia 520.

Not even close lol, I'd definitely get the Win Jr over those two.

How HTC hasn't taken action against Blu on this is surprising. This looks more like the One M8 than the iPhone/Galaxy S design complaint!

Check out the BlackBerry Z10 they look exactly alike,especially the Z10 in white.

I hope they reach more markets and sell well

The HD screams HTC ... It even got the clock tile.

HTC screams Windows Phone from day one even with Windows Phone 7.8. They was... the primary OEM at first

Oh most definitely, HTC was there every step of the way ... Even from the Windows Mobile days.
Its not what I meant though... I was saying that the yellow one (Win HD) look a lot like HTC's design language ... It even got their signature clock tile :)

Win Jr is so much more expensive in Brazil than the US, stupid damn import duty.

Is more cheap than Lumia 520 and 530.

Look at the live tile clock on the start screen....what app is this...?? Guys pls help me to find it.....

I really Like the design of the two phones! The HD looks really good!

the left one is beautiful...

The Blu Win HD makes most Lumia handsets look like a pure joke. That's sad! Sure beats most of the devices,

I'm from Brazil and this is awesome!

I like the looks of the Win HD. Looks similar to the the HTC One in design on the front side anyway. :-)

Finalmente Nokia/Microsoft ganha uma concorrência de peso, o Win Jr, vem pra bater de frente com o Lumia 530 e o Win HD com o Lumia 730, tomara que a BLU continue sempre investindo no Windows Phone e não faça como a Samsung que esqueceu da plataforma !

Not getting the HD screen paired with a SD200. The SD200 is a reasonable processor but really isn't for HD displays. You pair this with 512MB RAM and you get lag.
Windows Central Newsletter
Thank you for signing up to Windows Central. You will receive a verification email shortly.
There was a problem. Please refresh the page and try again.