Blurry image of alleged future Microsoft phone resembles the Lumia 1020 camera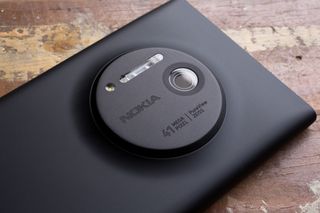 The Nokia Lumia 1020, and its 41 megapixel camera, is something that many Windows Phone fans have been hoping to get a follow-up under Microsoft. Now noted Internet gadget leaker Even Blass, better known as "evleaks", has posted a very blurry image that he vague hints might be a successor to that phone.
The image was posted on Blass' Twitter account with the statement, "Don't give up hope, Windows fans." He provides no other information or context for this photo.
So what does this mean? We really don't have any idea at this point, and if "evleaks" does, he's not telling at this point. Remember, any information or leaked images that don't come with some kind of Microsoft confirmation should always be taken with a grain of salt. In this case, we would suggest a bigger grain than normal.
Source: evleaks (Twitter)
Get the Windows Central Newsletter
All the latest news, reviews, and guides for Windows and Xbox diehards.
You thought canceling McLaren was good news?

Absolutely. Better to not release an unfinished product and have abysmal sales and a potential write-off.

You basically just summed up Microsoft in a nutshell. Because they do exactly that.

1040 with Windows 10, just wondering about about a 940 with Windows 10, could be interesting if they have developed McLaren!

While MS is standing still, the competitors aren't. Now the latest - Elife E8: http://www.digitaltrends.com/mobile/gionee-elife-e8-news/

You can't say MS is standing still without knowing what they are developing behind the scenes.

I can't buy things that are behind-the-scenes. We don't have proof that they'll laucnh (McLaren). Concepts don't sell, products do. I passed on the 1520 for McLaren. I passed on it, hoping the ICON/930 would reach AT&T/ I passed on it for an alleged Spring 2015 Windows 10 launch. I'm now sitting on a Lumia 920 I could have upgraded from in 2013, nearing the 3-year market becasue behind-the-scenes work just stay there and turned into nothing. So, in terms of actual mobile progress, they're standing still in the hardware space until I see a device that has high-end parts, a name, a launch date, a price, and AT&T branding.

Okay, you make a good point. My point was simply that they are not standing still in development.

MS's strategy on the low-end handset emphasis by ignoring the high-end flagships has a disastrous impact in the US market. You watch competitors march forward with two generations of high-end offerings like LG G3-G4 and iPhone 6 - 6S while MS is standing still. Then you are wondering why US WP users base has shrunk by 1 million. We don't care what they are doing behind the scene. We, as a user, only care what they have in the carrier stores. How can you sell products when you don't have products for sales? This two-year lull in flagships hurts WP badly. The competitors are catching up on the camera technology front also as G4 has done. The failure of McLaren centainly won't help. My confidence in the old Nokia design team has dropped somewhat. They talked about the Pelican Array camera, but it never shows. I just hope they would come out and tell us straight whether there will be a successor to L1020 or not. So we won't have to sit here keep waiting or guessing endlessly. They owe us at least that much.

It sure seems like there will be a 1020 successor. The problem is that rumors have it, like, 6 motnhs behind the W10 Mobile launch. I'm not waiting that long to upgrade. I'll just get a 940/940 XL on AT&T Next, then pay off the difference to get a 1030/1040 when it launches.

Guys guys, a friendly reminder:
USA is not bigger than the rest of the world

Uhh...so? India's not bigger than the rest of the world, yet we see plenty of articles covered with "when in India?" comments. We never said America is #1 or anything, only that Microsoft has had horrible goings-on in a market they should be able to perform well in, given the brand loyalty from Xbox fans and other Windows users.

When it comes to high end products, yea USA matters.

I'm pretty sure it was stated here that a 1020 successor is coming sometime next year.

Still on a 920 myself. I passed on the 1520 hoping something better would be released, and so far... Nothing. Nothing but low end devices barely deserving of the Lumia name. Meanwhile, Samsung and Apple have both released flagships that are selling by the millions.

Is the Lumia 1030 gonna be released or what ????

But that's likely a small-market device that won't leave Asia, and so it doesn't really mean much. It's a cool concept and sweet hardware, but we know nothing of the device's quality, and it has no North American availability, so for those of us wanting a new device over here in the U.S. and Canada (and Europe, South America, and so on), that thing can't help us.

China is the largest smartphone market in the world. Thorough in India and you have over 2 billion people. Do you think some of these 2 billion people can afford a highend smartphone? Just ask Apple. China Mobile is the largest wireless carrier in the world, bigger than Verizon or ATT. If you read some related articles you would know the counsumer companies in China (P&G) have seen disappointing sales recently because of the fast adoption of consumers buying products on line, probably using a smartphone. Can Microsoft penetrate the Chinese market? That is another question.

Well, he forgot to throw in their lack of effective marketing, or just a lack of marketing period.....

May be that's the problem for Lumia in US. :-)

This assumes: 1. McLaren could never have been made into a functional phone. 2. The extreme tech goals of McLaren couldn't have been peeled back to leave them with a flagship to release SOMETIME. Instead, AT&T customers have been waiting for a 920 replacement for almost 3 years, and we still don't have a real announcement for those device, in what's supposed to be 6 weeks from the base OS (PC) release and 3-6 months from the device's market release.

Hear hear . I don't see that much reason why they couldn't have pushed out a small refresh to the 930 (as they have been doing for the lower end).

I do. Higher-end phones are more costly to make and sell less. Of course they could have released a minimal refresh of the 930 at minimal cost but Microsoft probably thought it was not worth the risk and opted for releasing entirely new phones later this year instead. Yes, it's unfortunate for people waiting to replace their high-end phone, but it's not without reason.

The problem is that a refresh wasn't even needed. They just needed to throw it on AT&T and call it a day. No changes to anything, jsut give it the AT&T radios, run it through the FCC, and give us SOMETHING to replace the 920 with. I'd have been peeved by the lack of microSD and Glance, but at least I could get a high-end phone. At the VEEEEERY least, they could have told us the 1520 was going to be our only option from Fall 2013-Fall 2015, so those of us waiting on the 930, Windows 10, and McLaren could have upgraded, rather than sitting on the 920 that I really need to replace now (battery life's abysmal and the non-speakerphone mics are going bad).

I wasn't aware of the 930 not being available for AT&T. I assume that was rather AT&T's fault than Microsoft's/Nokia's, though.

Don't forget about T-Mobile. Please don't. The closest thing we've seen to a flagship (at least from Nokia)was the 16gb no microSD enabled Lumia 925. We are ITCHING for a flagship worse than anyone else except Sprint customers. Posted via the Windows Central App for Android

Ehh, you people deserve it. We have to sit through those horrendously obnoxious T-Mobile commercials and their wretched music. The phone issue is payback.

I was exaggerating a bit of course. But not having a reasonably fresh flagship also comes at a cost of mind and media share. Even a bit of a loss leader might have made tactical sense.

Good point but once again, Microsoft probably does not consider it worth the risk. Whether their judgement is right or not is difficult to say but I can at least see the logic behind it. Keep in mind Microsoft is losing money with its phone hardware division and it's natural they'd want to cut down those losses to a minimum. But I'm not an accountant at Microsoft so I really don't know, all I can do is speculate.

If people are waiting more than 3 years to replace their 920 (I have a 2 year 1 month old 928), then the utility of the 920 (and 928 in my case) is longer than a person's desire to update. Do I really want to buy a new phone and renew my contract with Verizon for 2 years? No thank you. I will wait until the new microsoft phone is released (hopefully Verizon will allow it to work on their network) before I even think about renewing a contract with Verizon.

Still, I find it understandable that people would get unpatient, even if their old phone was still doing alright enough to keep waiting.

That's not true. It's not a question of that 920's utility, it's a question of device availability. The only AT&T Windows Phones above low-end released sicne the 920 are the 1520 and the 830. The 830 is almost identical to the 920 in features and power, so it would be a waste to bother upgrading. The 1520, as I said, I'd have upgraded if I knew we were 2 more years from a new device. My 920 still works. It's a fine device, even today. However, I'm pushing the limits of the storage and the battery life has deterioriated pretty heavily (from about 30 hours to launch to maybe 18 hours now). My microphone when not on speakerphone cuts in and out really badly. I want to upgrade. I borderline need to upgrade. There's just no device for me to get.

Oh god.. At some point you're gonna just have to accept the 930 as the 920 replacement.. Lol.

IT WAS NEVER ON AT&T. HOW THE HELL AM I TO USE IT???

Well, the damn Icon... And, just because you couldn't get it doesn't mean there was no replacement... Lol.. Well, maybe no replacement for you.. Lol. Sorry.

...the ICON was Verizon-only. I like that I say I couldn't get a 920 successor, and you say I should stop talking about that because there were two phones not available to me that existed. Come on, man.

I never said stop talking about it... All im saying is that it's time to accept the fact that the 930 was Nokias replacement for the 920.. That's all.

hrmph, point taken. so... Any good news is good news at this point!

Why do Windows Phones have those big camera humps when other high-end camera phones don't? They're hideous.

Usually to fit a more-sophisticated housing involving OIS, particularly with the high-end setup on the 1020. The 1520 is the only other I recall with any kind of protruding back, though. You have to remember you're mostly comparing to non-OIS devices or ones with lower-resolution sensors and overall lesser hardware setups. It's about making room for the parts, and the hump beats making the phone unnecessarily thick across the whole device.

Tell me how all those s6's do with the hump and notes and and....and none of them truly beat the lumias, close maybe tie but not beat

see iphone 6 and samsung galaxy s6. Most phones these days are being fitted with insane cameras. At the same time, every manufacturer is trying to make these phones fit in your wallet's credit card slot. Compromises need to be made somewhere. I would prefer a thick brick phone with a functional battery over thinness any day though.

The optics require a certain distance to fit the lense and senosr package. You need the focal distance (the distance between the lense and the CCD) to improve the light gathering ability of the camera. This is physics. While you can reduce the overall thickness of the hardware you still need the distance to improve the perfromance of the camera. Think of a telephoto lense. You need the long big lense to gather enough light to make a good picture. That is the extreme. But if you want a superior camera on your phone (say enough quality to take all your vacation photos without having to take a Digital SLR, thne you need the hump on the back of your phone. For those who could care less about great photos, then they would not want to buy the 1020 and its successor. Thus the addressable market is smaller than low end or midrange phones. Therefore, Microsft spent their initial focus on building the best low nad mid range phones to compete in the broader smartphone market and hopefully strengthen the windows phone ecosystem to provide a more compelling integrated experience (Microsoft purchase of calander, email, etc.. apps). The flagshi devices are simply the last step in this process, which is best addressed once Windows 10 and windows Phone 10 is released to the market. You may not like Microsoft's strategy, but that is the strategy they chose 3 years ago.

Only one has a large hump...
The others have smaller humps, no different than the IP6+...... It's just the best technology can do at this point....
.......
Granted the IP6+ is way thinner than any WP device, so that's not the best comparison.

The one with the 41 mega pixel CCD has the larger HUmp. The others have 20 mega pixel. The iPhone 6 has 8 megapixel. I am not saying the amount of data collected makes a better picture. However, Nokia with their Pureview patents and the use of good software allows for superior picture quality. At some point, the better quality only matters to photo enthusiasts, which is why Apple never put much effort in a better camera.

so a led flash instead of xenon is good news now

Any news other than bloody games news is good news.

Lol u call this news. Seems like a waste of time to write about such a blurry image.

Hopefully that picture wasn't taken with one.

This camera sensor has dual led and not xenon

Different arrangement of the lens array!!! Oh man I can't hold out any more... Need a new device... My 1520 is getting long in the tooth

At least you're sporting a 1520. I'm on Verizon stuck with the 928 (although I love this phone). I'm of contract (will never go back), and waiting! I need bigger than 5" and a superb camera. My 928 prove to be king on several trips with the family. It feels good to be different.

Same with me. My wife and kids use iPhones. On trips overseas, they have to use my phone. But that is unique to Verizon. I believe the Apple 5s will work on GSM networks--and I assume the iPhone 6. Allthough I am confused on LTE. Maybe LTE integrates GSM and CDMA through one baseband modem to make any LTE phone work on any GSM/CDMA network.

But I dont want a bigger screen. The 928 is perfect for me to carry in my pocket on my pant leg. If the phone is bigger, then I cant put the phone in this pocket making the utility of my phone much less, because I cannot carry it as easily.

I understand your concern. However, I crave a phone with at least 5.5" of screen estate. The Lumia Icon was not enough of a differentiator to persuade me (I know the internals are good), but I wanted something bigger.

I know I'm lucky, this is my 4th 1520 though. Screen issues and TBH I came from a 1020 and I miss the camera dearly. But the size and performance is where the 1520 makes it all better.

Why? The 1520 is such a beautiful device that still holds up

Not holding up as much as I would want it to. Battery is draining faster than ever and I don't want to keep it plugged in all the time.

I agree... The battery issue is certainly a deal breaker.

Ive been using my 1520 for a year now and the battery is still great. But I guess with flagship devices, we'll never have swappable batteries

Hell, I've been hoping for some leaks of 1020 successor!

wish for a bigger screen size than the one on the 1020 :P 1520 screen size + 1020 camera = awesomeness but that is only my opinion

Nope - mine as well...! B-)

1520 screen size/specs + 1020 camera + dual sim = perfect device. I wouldn't argue against new 8-core CPU and 3 GB RAM either. ;)

Datz my device! Take my cheque

so it will be 1520 screen size/specs + 1020 camera + dual sim + pen stylus + fingerprint sensor = love

-1520 size +1020 size max

this the 1520 is way too big. Windows phone doesnt have the market share to push giant phones. other than cases, no accessories (car mounts, sports belts, etc..) even worked with my 1520 because it was so outrageously big.

The 1520 sold extremely poorly. I would say that the size of it was the main reason for that.

Agreed too. Plus expandable memory with onboard being 32GB min(64 sweet spot).

Bigger screen only if the phone stays the same size or smaller, if I wanted a huge ass screen I would get a tablet.

This. While I am not opposed to an XL-model, I would prefer something under 5". Even my 925 is too big for me, but could be perfect with smaller bezels and / or 9:16 aspect ratio.


Looks the old Lumia McLarren.

Not really. Besides the obvious different placement of the elements, the black area seems relatively much smaller. I am guessing its the 940XL

Looks like 840 or 940. No xenon flash in the pic as far as I can see.

That's what I feared--they're either dropping xenon flash, or this isn't the long-awaited 1020 successor at all. Once Windows 10 Mobile is ready, we'll see.

I don't think we will see a 1020 successor until MWC at the earliest.

We haven't officially seen the 940/XL, so if this is anything new at all (which it might not be) then it's more likely to be one of those two.

I love the xenon flash. I would be really disappointed if the 1020 successor didn't have it.

yep, its a shame that, if true, that blurry pic shows LEDs instead. about the only thing i miss from my 1028 is tge xenon.

Unless they have managed to improve LED performance to be on par, but that seems unlikely.

Looks to me like it is just another picture of the CANCELLED McLaren. Someone took a blurry picture and is trolling the guy.... I hope I'm wrong, I LOVE my 1020, but need the successor!!

No, it is not. This is the Lumia McLaren that was cancelled: http://1.bp.blogspot.com/-umdE52cNxZk/VX8bqKJhEEI/AAAAAAAAA1g/9LPRR7VdRn...​

The Flash is clearly different. Posted via the Windows Central App for Android

if its evleaks, its not fake

He's been wrong before about phones he's leaked.

The sensor glass seems a little too small for the 1020 successor.. Maybe some other phone?

Or the whole thing is huge. Haha

Looks more like a triple LED flash than Xenon to me. More likely the 940 or 940 XL than a 1020 successor.

It doesn't have a lens shutter, this could be the Lumia 840.

The physical shutter on the 1020 was fake so maybe they dropped it. The shutter didn't control the exposure time so it didn't really give any benefits.

That would be my guess. That is, if this is in fact a new/current device at all... Posted via the Windows Central App for Android

I'm so willing to believe. In fact, I've been saving up for it.

1020 is still so beautiful device, I hope its successor is going to have the same or better looks :)

Looks like triple LED Tri-Color Flash.... No xenon... =-(

yes, that corroborates the past rumours about the RGB led flash and further description announce a 20mp camera

Looks like a 3 LED flash and not Xenon. I don't know if BT is fast enough for a timed remote flash but the 1020 is a more than capable camera that I would have liked to play around with in a studio setting with a detached remote flash. Would a bluetooth remote flash device or even bluetooth wireless flash "hot shoe" even be possible? I hope someone figures it out.

Lumia Treasure Tag acts as a shutter for the selfie app. Haven't tried the the latest version of Lumia camera with it

These new phones just need to be released to every cellphone carrier in the world because, I'm on Verizon and there has not been a lot of new windows phones lately, and we need them and quickly

Switch to a carrier that is GSM not icky CDMA.

Good point, then you can get an unlocked phone like myself

Even that isn't a guaranteed succcess without better radios. I have the unlocked 930 but am stuck without LTE and get worse service on AT&T than I did with my 1520 and 1020. While I can use it, it's not as good as having it with all the radios.

Not everyone has that choice. Att , tmobile does not have solid coverage where I live so Verizon it is.

US Carriers sucks, big time. Too much power.

So you want it to be like an 808

I absolutely agree with you. No exclusive release for the new flagships. Exclusive just means limited IMO when you have people who won't switch carriers or can't afford to get the device outright at launch. But I wish they would do something before the iPhone 6S is introduced at least. So many opportunities have been missed by Microsoft to incite excitement for new hardware. Posted via the Windows Central App for Android

sorry (and time limited exclusive aside) it doesn't work in a "released to" way. It is "released by". And that means that the carrier has to want to release it.

I've heard that argument before and here's what that argument loses validity. You can't tell me that T-Mobile, Verizon, and AT&T all willingly signed up for the HTC One M8 for Windows but only one carrier signed up for each of the exclusive flagships released by Nokia or even some of the midrange phones for that matter. Also the same with the HTC 8X. Posted via the Windows Central App for Android

Nokia/MS assessed that a better strategy was to do time bound exclusives in return for significant marketing effort from the carrier. Now, had they decided to try to get if on all carriers, they still would have needed all carriers to say yea. An OEM cannot force a carrier to say yes. Sure, subsidies can help. :) in short: It is a negotiates, mutual deal. On the HTC - much easier when the same carriers already have the Android version on their shelves and HTC is a better known brand in the US phone world tha either Nokia was (at that point) or MS is.

Is that a triple led flash??? That would be... Different... Maybe better?

Better than two... But better than xenon... No

The effective range will be pale in comparison to xenon flash.

There are lots of grains of salts....

That looks to be a dual led flash of some sort. Microsoft should continue using Xenon flash modules in the camera flagships. It would be nice to have a one inch sensor though.

I wouldn't be surprised if they made a camera grip like the one with 1020 but instead put the xenon flash there. Since normal users want fast shot times and xenon takes a second to charge up. Might reduce thickness too!

albeit blurry, does that aperture, look a little small to anyone else to actually be the 1020 equivalent?

1020 successor? I really hope so. Come on Microsoft, it shouldn't feel like gambling and wishing so much. Hope it has a 6" variant and 12X lossless zoom with everything else everyone has been praying for, yes praying hard.

Hmm... looks more like a white minion with an black eye... hidden message to an upcoming movie???

It looks more flush to the case like the 830 as opposed to the protruding 1020. I'd guess it's the 940 (or XL) since I remember hearing something about a tri-LED flash before.

no xenon from the looks of it

I don't think this is a 1020 replacement at all. Didn't rumors suggest at best it was just starting design.

I'll take this with a grain of salt. The 830 also had a similar camera look as the 1020. Posted via the Windows Central App for Android

My money's on Lumia 830 successor

Yeah he was also the one "leaking" the ridiculous "Nokia by Microsoft" branding etc. The guy just wants attention. Posted via the Windows Central App for Android

You can thank TK and his girlfriend, another con artist, for those inaccurate Nokia/MSFT leaks. She posed as a high level Redmond exec while he was pretending to be an ex-pro hockey player. Besides being actively hoaxed, my record was pretty good, as WIRED and the BBC both noted.

'course, if it really WAS a flagship Photography phone, it should have a beast of a GPU in it. I recall a photoshopped photo of a phone with a fan in it. If it takes that to get the GPU power for multiple zero-lag shots, no matter the size of picture the phone is taking, then I'm all for it.

No need for a fan, the new snapdragons can handle up to 55MP I believe. I mean the 810&820

From what I've heard, the 810 might need a fan though ;)

YES :) but... in that image... led flash?? If so, MAJOR mistake MS, have to be xenon...

Remember the vague "something big is coming to Windows Phone" announcements from long ago that turned out to be the awesome app recompiled capabilities offered to developers? Yeah I hope we don't have to wait that long again for something to materialize even if it is awesome when it does. Less waiting and more showing/doing is my dream for the future of Windows 10 Mobile. Posted via the Windows Central App for Android

I guess Lumia 840 XL = 1020 sucessor.
And so for
1520 sucessor = Lumia 940 XL

Big sensors and heavy megapixels aside, the true flagship should really do away with the large back panel for the camera...
Really need a clean design like the 920 as the poster boy for Windows 10 mobile.

I actually like that panel, it's clean-looking and recognizable, and it is marketing all by itself as it screams "quality photos".

Thanks but no, you can keep it.

The Lumia 1020 successor would be the one and only flagship phone I wold buy off contact if T-Mobile didn't get it. Absolutely. But let me not get my hopes up... Posted via the Windows Central App for Android

Microsoft had a cross patent with cannon hope we can see cannon technology with pure view lens and Carl Zeiss and optical image stabilization.

Integrating a cannon would make the phone a bit too heavy for me.

Oh god, my erection just exploded through my jeans.

You probably should clean that up.lol Posted via the Windows Central App for Android

The image looks more like a drawing that's been blurred. The edges look sloppy and I don't think it's because of the 'blur' that's been added. Just looks...FAKE.

Hmm.. the camera hump seems glossy. Not sure if I'll like that. Still, ready for a more compact flagship than my oversized 1520!

Hopefully they will support it more than half of a year...

That looks like the one from McLaren. But yeah, my 1020 is waiting for his sibling

They just need to stop leading photos and release a phone soon period. Until then stop the leaks because you get peoples hopes up and they have to wait 6 months to a year before anything is released. Meanwhile other platform devices have moved on t to higher specs

Am I the only one who think he's trolling us...?? I know he's a prolific phone leaker but last year he wrote an article regarding WP OS(no hope). Sounds like he doesn't like the OS itself... Even posting the image with "don't give up hope windows fan" .. -_-"

I thought Evan retired (or something like that).

I'm pretty sure that the photo wasn't taken with a 1020. More likely an iPhone 6.

Looks more like the 830 with a dual LED flash. http://1drv.ms/1HLjBep

Best troll job ever. Here's a pic of nothing and a few words.

Looks like an 830 camera...

With todays cell phones camera's and other regular camera's, why can they not be more in focus. Geeze they take picture like the people who se bigfoot do.

Those are LED flash units, so by using them for comparison the lens is too small.

I will not give up my 1020 for 940. I need 1040 with similar or higer resolution and same or better sensor with xenon flash, better CPU and all the new goodies.

Looks like it has different colored glasses like the iPhones and HTC M8 for HDR and change of lighting and white balance or flash photography.

I don't think so This is a 940 or 940xl , they're following the steps of 830 design ;) awesome !

To me it looks more likely to be the rumored "940XL" camera (20MP, triple LED flash), as the black round area does not appear much larger than that of the 830 (assuming the LED flash lenses are not much larger than e.g. the 830 is).

To me it appears slightly larger (based on the distance between the lens and the LEDs), but 940/940XL would be my guess as well.

I have xenon flash on my 928 and I take lots of pictures. But probably last time I used flash was somewhere in 2014. I like pictures without it

I hope the camera hump is bigger so they can put a larger lens on it. Doesn't really look like it from the picture though.

This looks more like an 830 successor. Probably the 840 cam.

Considering how blurry the image is, could very well be the 840. If the image were to be taken from the side to see if there were any hump on the back, we could've hoped for a successor to 1020

Is it going to be released in 2050? I have moved on not waiting any more for MS phone.

The flash is pretty big if this pic is real :P looks more like 830 with dual flash

My 1520 just didn't survive a fatal screen drop to asphalt....cracked scree...insurance isn't offering any 152 replacements,, stuck with HTC One replacement....ugh... I'm Ready for a new flagship!!!

We just need some high end devices on more than just one carrier and more than 16 GB. Something to get excited about to upgrade to. Currently the only way to upgrade is to something not WP

I have taken so many rumors with a grain of salt that I now need blood pressure medicine. That said, I am hoping for a 1020 successor without the big ugly hump, and with SD card support.

i miss the hump of my old 1020. it was great for telling which way up/round it is.

Looks more like the camera module on the 830 than the 1020 to me

Are they going to fix the blurry images that my 1020 takes after denim update....

Please be real, please be real, please be real, please be real, please be real, please be real, please be real !!!!!!

Not liking it! Not interested in a bulky rear.

Maybe it's the Lumia 840 with a 5" screen, 1080p, and Snapdragon 805. If it is, I'll buy it on day one. Otherwise ... I guess ... It's just ... a waiting game ... then.

Could be a Zeroid from Terrorhawks.

Windows needs to release a new ATT flag ship phone this month!!! Asurion just sent me a replacement for my 1520 and they sent me a HTC Android One instead of the windows version, no windows love what so ever.... I just sent it back! And we shall see if they get it right on the next delivery...

Probably taken with a 1020 at closer than 50cm

I have $900 set aside just for the Flagship Microsoft Lumia. I'm ready to buy as soon as it is for sale at T-Mobile. It is a must, that I get this phone. Plain and simple. Who else is ready with money on hand to get it when released?

No xenon flash???!! Seems like dual tone led flash. :( Posted via the Windows Central App for Android

no xenon flash? come on.....

Keep improve on the 1020 camera is very important, don't let the legend lost support.

Keep improve on the 1020 camera is very important, don't let the legend lost support.

I hope it will be another best camera phone in this world, just like Lumia 1020

Give me a super fast 1020 and I'm all in

Already leaked phone..this is cropped and blurred image of previously leaked phone

Good phone without best technical support is meaningless for us.

The whole thing looks like its under glass and it seems to be a smaller sensor, but who knows.

Come on, do something with the 1020 successor. The new flagship with xenon flash, (or better/ new technology?) we're just waiting. I've Lumia 1020 today, and have often challenges with three different ways to use facebook, that gives announcement like: You don't have permission to, or the group aren't visible" or another fails. Yes, it is small problems, but user's think: "why do I need to get a Windows Phone, if the other platforms didn't have the problems". It the small things, that moves users to other platforms.

This has always been the way with Windows phones. It's just not getting the basics right that turns people away from these well built and easy to use phones phones.

I've seen better more in focused photos of the Lockness Monster and the Yeti/bigfoot tan this!

I dont understand why we cant put 40MP sensor on a flagship ... why not make a killer phone???? Surface (pro) Phone ?

Just read on another site that the 1040 is featuring a 25MP camera and 3 color LED flash.

I really hope the 940 doesn't look as butt ugly as the 830. Nothing about that design was coherent. Mismatched corners (the rounded screen edges and slightly less round metal corners) and that god awful gaudy oversized glass disc on the back. While the 930 may have been a little boring that thing had the styling cues of a fisher price toy.

Isn't it more likely to be a 940 or 940 XL?