Get in shape as BodBot offers exclusive one-year premium membership free on Windows Phone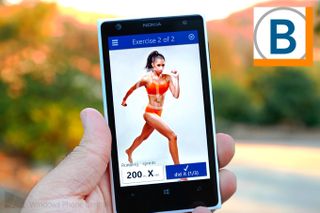 Just in time to kick off 2015, the BodBot personal fitness and nutrition app has a special offer for new Windows Phone users of the app. For an unspecified "limited time" those users get a year of the app's premium service for free if they sign up for the basic account.
Normally, the 12-month subscription is worth $120 so this sounds like a very cool offer if you haven't tried BodBot (BodBot.com). The free basic service gives users a custom workout plan based on a set of variables that users type in when they sign up for BodBot, such as if they want to lose weight, gain muscle and so on, and if they work out at home or in the gym. The paid version of the service offers up an extra set of advanced analytics and fitness tests.
BodBot is also available on iOS and Android, although they do not appear to be getting the same offer as Windows Phone users.
If you want to get fit in the new year, this is an excellent offer for Windows Phone users if they want to give BodBot a try.
Windows Central Newsletter
Get the best of Windows Central in in your inbox, every day!
I just saw this at the store, and installed it. I got an email welcoming me, and replied asking how to get the free upgrade. When I get a responce I'll let you know.

Any response yet? My account is basic too

The owner replied below. He said "F*(k you" He needs to be reported for misleading us. He clearly lied in the app description in the store.

I've sent a mail moments ago. Let's see what reply I receive. If it's a scam, I'll report it to MS. Probably Callaham can try to enlighten us too if he knows how to get the free upgrade.

John, why don't you update the article now that BodBot's founder himself said it was a "limited number" offer and not a "limited time" one? The company resorted to false advertising and your article is promoting it. Please update the article.

They replied with a mail saying ,"Get bodbot plus for the price of a pizza." Uninstalling -_-

Exclusive for WP! Cool!
Our maybe because they're aren't too many users on WP. :P

That is likely the case. I am down to try this deal to make sure the developers know I appreciate their attention.

Not able to download showing error...

Perfect for those of us making New Years resolutions. :)

After setting up the account when u check the about in the app is shows premium. I am assuming the account is automatically premium through 2015.

:( mine says basic (free)

Same here. When I try to go premium it wants to charge $10/month...

That is what I get. They want 10 bucks so it isn't free for me.

Aked m7tageen el fitness awii this year xD

Thank you BodBot. You to John. I'll definitely be using this all year.

Beautiful woman on the picture :)

I downloaded it, right before seeing this....:)

Lets get in shape guys. !

The app is one of the slowest I've ever seen. Crashes alot when I select different days or excercises. It did however showed that the account is premium.

Yea this app is not that great. The service is superb, however.

Well its a beta, so it should get better...

I downloaded it, but only shows basic. Looks nice though.

Basic too. New account. Bummed.

No premium just basic :-(

I have basic one as well.
They mentioned that the windows phone users "will be upgraded" to premium. I feel they'll upgrade them all later on.

I'm using a 1520 and this app is very choppy. Trying to go through the fitness tests and being forced to reboot the app after every one is tough. Great concept and looks great but tough to use at this point.

Just the basic version here.

Hey all! BodBot's founder here :) Just FYI, there were a limited number of memberships for each country that BodBot is live in; your country might have already run out of memberships. The US, in particular, is unfortunately already out of free memberships. Happy New Year!

Guess I'll be uninstalling it again then.

Dang, looked nice. Too many of these promotions end way to quick! Oh, well, I'll keep looking at other apps.

This is a bunch of crap. If you're going to state that: "For a limited time only, new Windows Phone users of BodBot will be upgraded for free to a premium membership for a full year!" Then you need to give out free memberships while that is posted in the app descrioption. No where does it say there is a limited number of free upgrades. You should be reported to Microsoft for a Misleading App.

Fortunately I got one of those free memberships. Thank you.

You should have mentioned this in the app description clearly. If you want to be respected as company, you can't go about carrying out scams. Imagine the number of disappointed users you already got for yourself. They are disappointed even before they used the app. This isn't how you earn a following.

A scam? I missed the free promotional too but how did you get scam from this?

To be honest, I really don't care whether I got the package for free or not. But the company used incorrect language to advertise their product - A language that rendered the whole scheme false. They increased the number of downloads manifold on a false pretext, and now the downloaders are being bombarded with 3-4 mails a day asking them to upgrade (I've received 4 mails in 24 hours). I'm not saying they wrote the specific language deliberately (may be English is not the promoter's first language), but they got to be careful when posting details of their apps. As a company, you don't promise something to a consumer that you don't fulfill. Anyways, I already have other subscriptions to health services, and bodbot has too buggy an app to keep on my phone if I'm not using their services. They want to promote stuff this way, I hope it works for them.

Ohhh. it was a limited number. IC. Maybe next year then.

Bad form, in our country that is called bait and switch, offer one thing, give another, not cool. Negative rating given, uninstalled

Really bad form, I was looking to support your app. At the VERY least you should offer a 30 day trial, otherwise the app and service are absolutely worthless.

Shouldn't have said a limited time, should have been something like first however many people.

Well I am able to get the premium account in the Philippines.

Choppy and freezes up on a 920.

Extremely unprofessional and unethical, if not illegal. Promotion was definitely misleading. Definitely reporting the false advertising.

Things here are upsetting, but also, lead to all this talk about scams and false advertising incorrect. I'm not defending what the app owner did, I feel mislead, but when you get down the the base of what was adtertised, we're more upset that we didn't get in earlier than we did. As stated in the article above: "For an unspecified "limited time" those users can sign up for a year of the app's premium service for free." Also, on the app description "For a limited time only, new Windows Phone users of BodBot will be upgraded for free to a premium membership for a full year!" Now, because it was unspesified timeframe, they may have run it in the background that they were going to limit to (for arguments sake) 5000 users and will run the promo for however long it takes to get that. Not knowing that the response would be so high, the limited time ended sooner here in the US that other countries. It would have been better to advertise it as "For a limited number of new Windows Phone Accounts" they would be running the promo for, but as a business owner who, as everyone else here, is trying to make money, he can't give 100,000 accounts away for free and still expect to make ends meet. In the end, the wording was not right, but as the owner, using the verbage he did use, he was well within his rights to end the promo at any time. Anyone reporting this as a SCAM, is incorrect. Anyone mailing the owner stating their disatisfaction would be within their rights to do so.

No, you are wrong. It is false advertising. The description states for a 'limited time', and as long as that is on the description then the 'limited time' is still ongoing. According to what you are saying, they could just leave that description on there forever, since they gave out at least 1 free upgrade. If the app owners want to make it a limited number, then they need to state that, and should also say the number of free upgrades they are giving. But now what they need to do it honor the free upgrade to everyone that newly installed it due to the app description that was current during the time they downloaded the app. If 100,000 people downloaded the app, then he needs to give 100,000 free upgrades. It was his messup, not ours. If I walk into Walmart and a sign on the xboxes say $3.99 instead of $399.00 by law they have to give me it for $3.9, because they messed up, not me.

I never stated that he was completely right by what he was doing, but he is still within his legal rights to end the promotion how he sees fit too, even if it is partially ended. He stated above that the US part of the promotion has ended but the promotion itself is still ongoing for other countries. Was his wording misleading? Hell yes. Never disputed that, but because there was no set term on the "Limited" amount of time, he ended it for US when he felt he gave away enough subscriptions here in the US. As to your example, yes, they would because that was an explicit advertisement. This, however, is not. This was an undefined limited time promotion. He ended it. End of story. If he said for the next 30 days, all new Windows Phone users will get a year free, then there would be some legal ground to stand on, but that is not what happens and that is where it differs from your example. There was no explicit time period. Again, I don't agree with what he did and how he is handling it. However, do also do not agree that this was a scam. He fulfilled his oblication and there is proof of that. People that managed to sign up during the unspecified promotional period were give what was promised.

The offer was never limited by the time but for the number of free premium licenses. Here, in Colombia, you have to say your restrictions so it's very common reading sth like "the offer ends [date], while stock last".

Glad I read the comments before dl....
Windows Central Newsletter
Thank you for signing up to Windows Central. You will receive a verification email shortly.
There was a problem. Please refresh the page and try again.