Want to drop fat and gain muscle? BodBot is your personal trainer on Windows Phone 8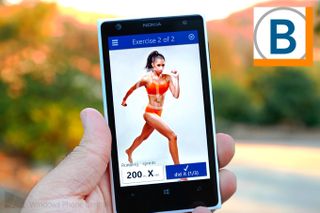 No, it's not Fitness Month at Mobile Nations. But BodBot is a too cool of a fitness app to pass up. It's one of those apps that doesn't come around too often. It's where a unique idea meets both good app design and performance. It's also cross-platform, with apps for Android and iOS available in addition to a web presence. BodBot is part personal trainer and part nutritionist all rolled into one app. Let's check it out.
Thinking of getting in shape? Not sure where to start? BodBot is a great app for that. If you're already comfortable with creating a clean diet and tough workout, you might skip over BodBot. But if you're just getting started or find yourself in a rut this app might work great.
When you download BodBot, you'll be prompted to create an account and enter your goals. You start by entering your gender. Then you select what you want to do and what your goals are. For example, do you want to lose fat, gain muscle, lose fat & gain muscle, get strong, etc. Then you tell BodBot if you want to work out at home or in the gym. And you'll select how hard you want to work out and how much you've exercised in the past. Do you want BodBot to plan everything out for you? Or do you want to pick your days and time.
After giving BodBot all this info, it will create workout plans that fit get your goals based off of all the variables you gave it. Depending on your goals, you'll get different workouts every day. You'll view the workouts, which consists of a variety of exercises. Those exercises all have specific reps and sets to aim for. You can adjust them if you think it's too much or too little and enter the weights you did. BodBot will track this all for you. And if you're not sure how to do it, BodBot offers detailed instructions for each movement.
You can also follow your progress online at www.bodbot.com. There you can also upgrade for $10 per month for access to advanced analytics and fitness tests. Although the basic tier will serve most of you just fine. It would be nice if this data could share to other fitness social networks like FitBit or MyFitnessPal, but I didn't see a way to do that. If you find a way, let us know below.
BodBot is free for Windows Phone 8 handsets. You get basic features for free, but you can go to their website and get a little more. But you'll probably be set with the free tier. Grab it in the Windows Phone Store, use the QR codes below, or swipe to the right in our app.
Windows Central Newsletter
Get the best of Windows Central in in your inbox, every day!
Great app. Now all we need is GymPact!

How many fitness apps do we need? I don't know anything about either app as I've always used Windows Phone, but I don't see why people need 100 choices that all do virtually identical tasks. I'm not saying choice is bad, but it gives WP a bad rep when people are saying "now we need _________". I understand needing an official Instagram app for people that don't believe in third party apps. You can substitute Instagram for any other app that we only have a third party solution. I don't get complaining that we don't have 100 great choices for one task.

GymPact is a unique app that incentivizes users to exercise by paying them if they workout a certain amount of times per week. If you don't meet your set pact, you are charged for each missed workout. As far as a I know, there is no other app available to any of the mobile platforms (iOS, Android, BB, WP) employing this highly effective strategy to encourage exercise.

We need all the fitness apps. we need runkeeper, nike running, mi adidas, gympact, fit bit, gympact, all the separated apps that runtastic does, like pull ups pushups, situps, etc, all rolled into one, I don't care. We just need them all, if android/iOS has them, I want them. blah!

I just want to say thanks to wpc for all the cool apps you guys tell us about. My wife will finally be getting that 928 today and I'm looking forward to setting it up for her...I'm an excited geek wannabe!

Indeed. Sam, WPC is my only source for app discovery. Thanks!

I would work out on that two blondes

I'll take one you take the other. :)

Hit female as your sex and you'll see all the hot chicks! Awesome :)

I love the way I look, I am fabulous!! I should make my own app, how to look fabulous

Alright, got the app. Now in order to work out successfully, I need to buy gloves, belt, shorts, T-shirt, phone holder, sneakers, special socks and a towel. Oh and some protein shakes.

Dude, you don't need to buy all those things... to workout you just need to move basically. If you want to build muscle you could take protien shakes and all but i don't see the need to if you just want to become stronger. It's not that complicated to start working out. After all it's just fat and muscles.

Actually, its important to design a workout routine that is balanced. I see so many people that are jacked, but are most certainly going to be having back problems when they get older because they forget to work the opposing muscles. Don't just walk into a gym and start working out...

Just go ride a bike for an hour every day..

A bicycle that is, not the motorised kind. :D

Holy cow!! Blows the other fitness apps out of the water - and the website is enormous! I've downloaded literally over 30 fitness apps in the past year - and they're all either gimmicks or just silly data trackers and exercise libraries. This app is in a class of its own. Intelligent, personalized recommendations on what to do? Yes, please, thank you.

Don't hate me because I'm beautiful

Is...is that lady spotting herself??

OK I downloaded this app and it looks promising and is well presented, but the instructions and videos for quite a few of the exercises don't seem to be ready yet. I'll give it a try though :D
Windows Central Newsletter
Thank you for signing up to Windows Central. You will receive a verification email shortly.
There was a problem. Please refresh the page and try again.