Body Glove Soft Shell Case for Samsung Focus review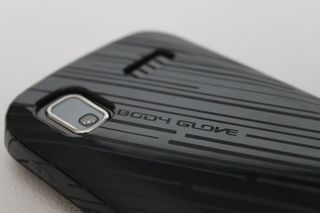 For my money, Body Glove makes some of the best cell phone cases on the market. I've owned Body Glove cases for a number of the phones I've had over the years, and I've always been pleased with the products that they put out. When I got the opportunity to review Body Glove's Soft Shell Case for the Samsung Focus, I jumped at the chance.
Get the complete review of the Body Glove Soft Shell Case after the break.
Design
This is one of the simpler case designs you will find for the Samsung Focus. The Soft Shell Case is designed to wrap around the sides of the Focus. The majority of the case is textured, making it much harder to drop the phone. The only cut-outs on the case are for the ports at the top, camera and speaker on the rear, and microphone on the bottom. All of the hardware buttons on the sides of the phone are covered under the rubberized case. There are good and bad sides to this design. The good news is that your moving parts are protected from dust and moisture. The problem is that I found myself activating buttons unintentionally. In fact, when first installed, the case repeatedly powered the phone down without me touching the button. This "feature" goes away over time as the case loosens up slightly, though it was a major annoyance to start out.
Quality
Material and build quality are rarely an issue with Body Glove accessories, and this case is no exception. The rubber is thick enough that it makes it soft to the touch, but not so much that it makes the Focus bulky. All of the cut-outs are the right shape and size, though I really would have liked to see the buttons handled better.
Conclusion
For me personally, this would not be my first choice in phone cases. As an entry level case for someone purchasing their first smart phone, I think this case would be a good fit if you can find it in the $20 price range. The rubber materials provide excellent protection against the device being dropped, which can be a major concern for someone purchasing their first high-end phone. You can find the Body Glove Soft Shell Case for the Samsung Focus at AT&T's website or your local AT&T store.
Get the Windows Central Newsletter
All the latest news, reviews, and guides for Windows and Xbox diehards.