Breaking down the Microsoft and Samsung partnership
Microsoft's and Samsung's partnership is a big deal. Let's break it all down and see what we've got in store for the future.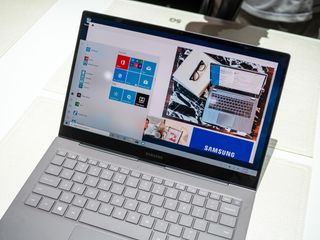 (Image credit: Daniel Rubino/Windows Central)
Last week, Microsoft announced big news alongside Samsung; a partnership that will see the two companies work closely together on future products, starting with the Galaxy Note 10. This is a huge deal for Microsoft and a big step back into the mobile game. But this partnership isn't just about mobile; it's about Windows too.
Samsung has been happily bundling some of Microsoft's Android apps on its phones for a couple of years now. It started with the Samsung Galaxy S8, but there was never any formal partnership behind it. Now that there's an official public-facing partnership to contend with, both Microsoft and Samsung have taken this bundling of apps to a new level by introducing more Microsoft services that are preinstalled and going a step further by integrating some of those services with Samsung's version of Android.
Microsoft apps preinstalled
The following are all the Microsoft apps you can expect to see bundled with the Galaxy Note 10, and likely future Galaxy S and Note devices going forward.
Word
PowerPoint
Excel
Outlook
OneDrive
LinkedIn
Your Phone Companion
Just like with previous Samsung smartphones (in some regions,) Microsoft Office will continue to be bundled with the Galaxy Note 10. This bundling includes Word, PowerPoint, and Excel. What's different this time is that a fourth Office app is now included in the bundling with the device: Outlook for Android. This inclusion is a big deal, as it means users will have the option of using Outlook as their default email client right out of the box.
There's also the OneDrive app, which lets users back up their photos, videos, and documents to their Microsoft Account for viewing across other devices that support OneDrive. In addition to this, there's also the LinkedIn app, Microsoft's social network for professionals looking to share work-related achievements, news, and job openings.
The last Microsoft app to be bundled with the Galaxy Note 10 is Your Phone Companion, the app that lets users sync their phone's notifications, photos, and SMS with their Windows 10 PC. Just like with iMessage on a Mac and iPhone, users will be able to chat with contacts via SMS straight on their PC without needing to pick up their phone.
There's also the screen sharing feature, which displays your phone's screen right on your PC for when you want to interact with your device without picking it up. Microsoft says this keeps you more productive by not breaking your workflow whenever a notification comes in. Microsoft has also announced that users will be able to make and receive cellular phone calls via the Your Phone app on Windows 10 later this year.
Tighter Microsoft integration
In addition to bundling Microsoft apps, this partnership takes things a step further by integrating some of Microsoft's services into the actual OS experience. This starts with Your Phone, which on the Galaxy Note 10, is integrated with the quick actions area in the notification center. It provides quick and easy access to the Your Phone service, and tapping on it will initiate the connection between your phone and PC.
This integration should put Your Phone in front of more people, especially those who usually uninstall extra apps they don't think they need. Having it tied into the quick actions area may convince more people to set it up and give it a go, especially if they have a Windows PC lying around. Helping that happen: in the quick actions area, it's labeled as "Link to Windows" and not Your Phone Companion.
There's also OneDrive integration inside the Samsung Gallery app. This feature allows users to automatically backup and view their OneDrive photos from within Samsung's own Gallery experience instead of being required to do it all through the dedicated OneDrive app. This should make the overall photos backup experience much more streamlined. Being able to view photos stored in OneDrive directly in the gallery app is an excellent addition that may be able to rival Google Photos.
Microsoft is also adding additional experiences and capabilities to the Outlook app. For example, Microsoft is building out support for the Galaxy Note pen, enabling additional functionality such as being able to peek at emails in your inbox by hovering over them with the pen and replying to emails by inking instead of typing.
New Windows devices and experiences
The Microsoft and Samsung partnership isn't just about Android. Microsoft is now working closely with Samsung on other products, including new Windows PC hardware, starting with the Galaxy Book S. This is the first Snapdragon 8cx powered Windows 10 device to go on sale and should hopefully pave the way forward for Windows 10 on ARM in the future.
Samsung's Galaxy Book S is a premium laptop, which starts at a relatively acceptable price of $999. The Snapdragon 8cx is worthy of this price tag, as its performance is purported to be around the same as an Intel Core i5. Considering how slim and premium the laptop itself is, $999 for this device isn't bad at all. Plus, it has USB-C ports which means you can plug in your new Galaxy Note 10 without a dongle.
Samsung has also built out a new dedicated DeX application for Windows 10 that allows Galaxy users to use their DeX environment without needing a dedicated DeX dock. Now, every Windows 10 PC is a DeX dock, and the only requirement is a USB-C cable to plug into both your phone and Windows 10 PC.
A better retail experience in Microsoft Stores
Microsoft's and Samsung's partnership extends to Microsoft's physical and online stores as well. You'll be able to buy Samsung devices direct from Microsoft. And in stores, you will find Galaxy devices advertised alongside Surface products as first-class citizens for the Microsoft ecosystem. If you're in a Microsoft Store and want a new phone to go along with your Surface, Microsoft will recommend you a Samsung Galaxy. That's the phone that Microsoft thinks will best serve the customer for Microsoft software and services on the go.
It's fair to say that for now, Microsoft considers the Samsung Galaxy S and Note line as the new Windows phones. If you're part of the Microsoft ecosystem, as Samsung Galaxy S or Note device is what Microsoft thinks you should be getting.
The future
So that's all the announcements from the partnership so far, but what about the future? I wouldn't be surprised if this partnership has only just begun, and to expect more products from Samsung and Microsoft in the future to be tied at the hip. One area that I'm particularly interested in is what this all means for Microsoft's own Windows Lite effort, and foldable PCs in the future. Can we expect a larger, PC orientated Galaxy Fold that runs Windows Lite next year? Will Microsoft and Samsung be working together on any Windows Lite hardware? We'll have to wait and see.
The Galaxy Book S would have been a perfect contender for Windows Lite. But since it's not ready yet it makes sense for it to be shipping with Windows 10. I can't imagine this partnership doesn't include hardware with Windows Lite in the future. We could also see a newer Windows Mixed Reality headset, or maybe Cortana and Bixby integration like how we've witnessed Cortana and Alexa integrate.
Over to you
What are your thoughts on the Microsoft and Samsung partnership? Do you expect Samsung to come out with a Windows Lite device at some point? Let us know in the comments.
Noteworthy
Samsung's latest Galaxy Note phone

These powerful smartphones feature an impressive amount of internal storage and come with a pair of USB-C headphones. The S Pen gives you more control with handwritten notes, air gestures, and photo editing.
Windows Central Newsletter
Get the best of Windows Central in in your inbox, every day!
Zac Bowden is a Senior Editor at Windows Central. Bringing you exclusive coverage into the world of Windows on PCs, tablets, phones, and more. Also an avid collector of rare Microsoft prototype devices! Keep in touch on Twitter: @zacbowden.
Love to see Samsung dich all its apps like note mail pictures ect and use Microsoft. If they did this with the note 11 may keep me from moving to sonys Xperia when I am due an upgrade next year.

Windows on Dex is what I want. It would be simply amazing to be able to boot into Windows on ARM when Dex launches. I was hoping that was what Satya Nadella was going to announce on stage.

All I want is a Galaxy Note 11 packed with Microsoft Launcher, and Phone, Messaging, contacts, Photos, settings, and all default apps made for Android by MS with MS's Fluent design language. This special edition Note can be stamped on the back with "Samsung Note 11 by Microsoft" and get exclusive support, and apps by MS, and Samsung.... The device would have the best worlds of Android awesomeness, and MS simplistic design, and productivity. If MS added some exclusive colors they could possibly rope in some extra customers, and if they opted for the premium priced Note 11 they could help Samsung with some extra revenue.

OneDrive integration is awesome with the Note 10, and hopefully that solves the lack of a MS photo's app on Android. I can't wait to upgrade from my N9 to a N10

Why would you use anything but Google Photos? Nothing comes close to Google Photos.

How much storage do you get with Google?

Unlimited if you upload at less than 16 megapixels or 15GB otherwise.

Ummmm, maybe because I have 20 thousand photos on OneDrive and Google photos, as great as it is, doesn't yet have OneDrive integration, and MS photo's does.... Smdh why else would I care? And, I do use the default photos app, I like it very much, and it does upload to OneDrive, but it only shows photos where it started uploading them on Android. You have to use a separate app to view ALL your photos on OneDrive. Not to mention I get 1 Terabyte + of storage with OneDrive.. 🙄🙄🙄🙄 And, OneDrive, and MS photo's, are on my PC. As many pictures as take for work OneDrive is the best solution period. AND, I have three smartphones, a Surface, and two damn laptops, and am about to get another Surface for work. Windows is a huge part of my computing world, and OneDrive is at the center. When you get a real job you will understand just how important Windows is.

Google Photos works great on Windows while One Drive is archaic.

I use OneDrive, OneNote, Outlook and other Office apps on two PCs and an S8, and share these apps via a Microsoft Office Family account with my wife who has an iPhone and Mac. We find that it all of this just works. I think describing OneDrive as "archaic" is a bit harsh. I hope Google, Microsoft, and Apple keep pushing each other to make ever better products. Let's hope all three flourish over the next few years in the face of increasing competition from the rest of the world.

Chris_NH (a fellow New Hampshirite?), it may help to understand that bleached is a Google shill. In his posts, Google can do no wrong, and any compliments to MS are limited to things they used to do but stopped doing. He's only here to troll and irritate Windows fans.

I can see a galaxy phone microsoft edition exclusive to Microsoft stores down the road

Well, it would be more accessible if it were offered through major carriers. I would like to see AT&T offer it at least online.

The physical store showcase is impressive, at least right now. Visiting the Bellevue store this week, two display areas front and center were devoted to Samsung, and the Note in particular. I assume this premium space will be cleared out for any any new Surface devices later this year, but I don't remember Microsoft devoting this amount of attention in their stores to a third party product before. There is no question the Note is a beautiful device but I'm not ready for a $1000+ phone, yet. I was delighted to read that Samsung now lets the Bixby button be reprogrammed. That was what turned me off to the Galaxy 8 and sent me into the arms of One Plus. Just don't forget about those Windows users on other Android devices. I want screen mirroring and the ability to make and receive calls too.

Judging by the timing of this, it seems to me that this might be the end of the rumored WCOS/Lite/Andromeda/folding-dual-screen-mini-tablet/Unicorn devices. Why announce this huge Android initiative - with a major (THE major?) phone manufacturer - when your own long-rumored products are (supposedly) just around the corner? Perhaps, MS has finally come to the realization that there is no point in yet another OS. There is STILL no need for a 3rd mobile OS, particularly if all it can do is run Win32 (legacy) and Android (the competition's) apps. Besides, we already have lots of ways to run both. Microsoft is nothing if not pragmatic these days. They have already done what was unthinkable 10 years ago: Embrace Linux. Now that they have all of their apps and services on Android, what is the point of toiling away on more Operating Systems? Conveniently, Android has a huge installed base of users AND all the apps those users need. A new Microsoft OS/device will have neither. Do they REALLY want to launch another OS/device, only to see it fail again? Azure is more Linux than Windows. It makes perfect sense for Microsoft to embrace Android.

CONGRATULATIONS to the mobile industry you have nailed it in 10 years, don't know what is taking the automotive industry so long to whittle down to a two company system really. Guys who make screens stay behind we need you to keep upping the resolution, the rest of you great work and thank you...
I tease of course and I know that's not exactly what you are saying, but yes: this is new industry and to assert there is no room for new entrants is premature. There is no doubt Microsoft made a mess of Windows phone, a pity at it had potential, and I am not even saying that they could pull it off this time. However if the industry is to continue to evolve it needs investment from big players who can throw the resources it needs at it.l, let's not discourage that.

MS has trown in the towel for his own mobile OS.
They are one of the most valued companies in the world. If they cannot pull it off another investor won't either. Amazon and Facebook also failed hard with their attempts. Users are so entrenched in one of the two ecosystems they won't switch since most users are very hostile against change.

OMG and the same old story about a 3rd mobile OS not being able to work. Windows Mobile died mainly because of the ****** move they made by introducing a SDK too late and changing too much it came to 7 to 10 release to the point apps made 8 and before didn't work in 8.1 and 10. That made the few apps it had at the beginning get abandon and devs be really mad at that.

Because what they would need to do is partner with THE major phone manufacturer. See, MS did a whole lot of wrongs in their Windows Pone/10m venture, but if you ask people if the know what a Windows Phone is, most people would not know. Hell, most people do not even know what Android is. And at the time you either bought a iPhone, or you bough a Samsung. If people noticed you not having a iPhone, they would ask if it was a Samsung, or even what kind of Samsung you had. People even talked about iPhone and Samsung chargers, the latter being micro USB. Brands counts, and Nokia was not the cool stuff any more. So, as MS worked their way along with Windows Phone, trying to use Nokia to elevate the products might have sounded like a good idea, but Nokia was not the go to bran for most people any more. And the only thing they managed to do with Nokia was eating most of the limited market that were Windows Phone. Now, Samsung being the none iPhone go to firm at the time, had two choices. Continue focusing on the Android market exclusively, or use resources trying to beat MS in the Windows Phone Market. Fighting for scraps in a already small market did not seem like a reasonable idea, and they pulled the plug. If MS had given that entire market to Samsung instead, things might have worked out differently. Samsung might have made Windows Phone versions of their Android phones, giving the users the high end devices MS and Nokia did not. Remember, Windows Phone had close to 20% market share, more than iPhone, in certain EU countries, including the EU5. Millions of devices were sold, and used. Samsung would have been able to build on this market co-developing devices. MS and Nokia could not have done this without it being a statement from MS that they did not believe in their own OS.

20% market share because of the Nokia name and cheap 520. But, the return rate was high and they didn't buy another WP since it was a poor experience. Nokia is doing much better now with Android. They should have went Android from the beginning.

Where do you get that return rate from? And no, at one point the experience was actually quite good here in Europe, with lots of apps, including the most important social apps, banking/insurance, travel and so on available. I had no problems living with WP then. Most people owning Windows Phones were very happy with them. The biggest single nail in the coffin were Snapchat and their ban of 3rd party apps and no official app on the platform. Most of the people I know switching away from the platform did so because of SnapChat. And most did miss their WP experience a long time. And you know, most of Android market share, in particular at the time, were low to middle end devices as well. As for the Nokia with Android sales, no, they have not sold more Android devices than Windows Devices. They have a market share of less than 1% globally. Even in Europe they only have just above 4% in Q1, a 33% decline year to year. I can't say Nokia would not have sold better if they went with Android straight from the bat, neither can you say they would have. However, regardless, Nokia were in deep **** and two steps from a imminent collapse. The new brand names people were shopping was iPhone and Galaxy. Other brands had huge issues staying afloat. And by then Nokia could not settle with being an underdog like HTC.

This sounds good but I remember Nadella promising folks things and then reversing course. I'll believe this is a long term thing when I see it.

I expect Microsoft to get burned yet again like the last time they did this with Samsung. Also, this is useless for anyone using a non-Samsung phone.

I think that's the point.. To get people to buy into both MS and Samsung

My point is that they are buddying up and promoting Your Phone and stuff like that and it feels like they're only planning to optimize it for Samsung phones only when the experience is still pretty shoddy for people like me on non-Samsung phones.

They didn't get burned and to the contrary they burned Samsung when they bought Nokia. Samsung was the only one that made good phones specifically for WP.
before the Lumia.

I'm referring to early 2017 when MS tried something similar with Samsung with so-so results and then Samsung basically said "what partnership?".

Ah yeah. That was a partnership? I thought that was them trying to get Android people to come to their stores 😂

I hope I'll be able to use Samsung Gallery with OneDrive on my S8 plus. I don't see an option for that, yet.

Good article and a good initiative between MS and Samsung. Only thing I fear is that we now have 3 mails apps (Google, Samsung, Microsoft), 3 calendar apps, 3 tasks/todo apps etc. I don't Samsung will give up their own developed apps (which fit in great with their OS skins). I also don't think they will ever let Cortana be front and center since they invested so much in their own assistant Bixby already, which is available worldwide

ME: Hey, Cortana, are you alive?
CORTANA: I'm alive-ish. So, there you go. Cortana is not dead.

I think this is great news and certainly sounds like a logical path back toward a mobile device (maybe more foldable tablet than phone) running Windows. Samsung doesn't care about the OS, as long as the hardware sells. So if Windows Lite can provide a good tablet/touch experience, while delivering entertainment and productivity value, with the Samsung brand name, I think that's a good combination, at least from a marketing perspective and hopefully from a functional perspective too.

I'm a pretty big MS fan, but Samsung's mail program (at least on Galaxy S10) is hands down better than Outlook, even for users on Microsoft's own Exchange Servers or Outlook.com. Outlook on Android is a pale copy and very, very inferior version to the Outlook we had on Windows Phone. I've inquired about its limitations, and MS blames Android and the need to integrate with the Android services (e.g., Contacts and Calendar), but Samsung seems to have pulled this off without any problem. Just to list some examples: contacts don't always sync reliably, and even when they do, you can't review much less edit contact notes on the device (a complete showstopper level problem for me -- I need to be able to review and edit contact notes on my device). You can't react to meeting invites in Outlook. Signatures in messages don't support graphics. All of these things worked great in the UWP Outlook on Windows Phone and all of them also work in Samsung's built-in Mail/Calendar/Contacts apps. Outlook for Android was hugely disappointing to me. I'm still using all the MS services on the back-end, but I use Samsung's Mail program with them. It just works better. Much, much better. If MS and Samsung are working together and planning to replace Samsung Mail with Outlook, I sure hope MS lets Samsung show them how an Android app can properly connect to Exchange Servers and Outlook.com to restore all the functions we had with Outlook on Windows Phone. Otherwise, dropping Samsung Mail will be a huge downgrade in service for those of us in the MS ecosystem.

I doubt that will happen because the Outlook Android app wasn't even made by MS HQ but by a startup they bought called Accompli. They based their app on W10 Mail app and later rebrand it when they got bought.

BanditoTR, thanks. I had not appreciated that was the origin of the Android app, but it fits with the situation. It's a damn shame, because it's so feature-weak compared with what we had on Windows Phone. I guess that must also have been based on the same Windows 10 UWP app, but there it wasn't forced to sync with Android's contacts and calendar apps. Though that still doesn't explain the inability to embed images in the signature block (or at least you couldn't as of this spring, I've not checked again since summer started).

The WP was a true UWP app that was made by MS specifically for WP and W10. Which is why it ran so damn good! I don't know why they didn't try to move that app to Android through Xamarin, well if it's possible to begin with or tried that thing they did with the Office apps on Android and use their own UI design language.

Sounds like the marketing departments at Samsung and MSFT got together and figured out the Windows Folks really do want a phone that is not a Google phone.

Yes. Count me as one of those folks.

Indeed. I'm in that set (recently, and sadly switched to an S10 from my Windows Phone), and I also don't want an iPhone, so I hope the outcome is the best of MS + the best of Samsung.

I remember years ago when I could simply say hey Cortana in my noisy work truck and Bluetooth aftermarket $150 radio to call or text someone. Then I switched to OnePlus last year. I still can't get Cortana to respond without touching the phone. The Windows Phone, when connected to my radio via bluetooth, would ask if it should read an incoming text. Now nothing with my OnePlus. A real bummer. At least the calls are passed to the radio. Android has severely restricted Cortana and I hope MSFT can get her to be more dominant on Android. Plus the passing of text through my PC is spotty.

For anything of this to work, MS need to stand up to be able to pull their finger out of their ass in the world wide consumer market, and not only in the US market. Cortana is a great example, perhaps one of the most important future assets in the MS portfolio, and she is still limited with no new countries opening anytime soon. Not even in English. In Norway English is becoming close to a 2nd language, I'm sure we could make use of her.

I have the distinct impression that MSFT decided to stay away from the consumer/social media landscape. obviously, the failure of Windows Phone is the primary issue. They have no viable mobile platform supported by third-party developers. Shame really. Cortana was so much more powerful 4 years ago than Siri/Alexa/google. Then again, is there any money in consumer mobile? Apple makes a bunch of money. Google makes all its cash from advertising via search. Mobile phone companies make enough money to stay in business. Maybe Cortana taking over the enterprise world is the most rational investment for MSFT going forward.

That mentality could have worked before. However, there's been a shift in how employees no longer are happy with just getting some sub-par corporate hardware and software. In many companies the private and corporate sphere has as good as merged, and where this has not happened there are usually much less space between the two than ever before. People want to use what's cool, what they believe is cool, at home and at work. And eating into the consumer space from the corporate side is much harder than the other way around. And yes, MS need to have a presence in the consumer space to survive as is in the future. If not they'll soon be a cloud service provider for business only.

Please excuse a dumb question from a long time iOS user. Is there any reason think this compatibility will not be extended to other Android phones or DeX an exclusively Samsung interface? I don't like big phones and would much prefer a Sony Xperia XZ2 Compact, which seems to be the only compact phone still standing. Anybody? Thanks for your thoughts. I'm transitioning from 14 years with Apple.

My Samsung Galaxy s 10 works great with all the Microsoft software and Launcher installed on it. 😉 Much better than my Lumia 950 XL actually. Now we just need a dark themed outlook and Onedrive for Android and the set up is perfect.

I cannot find the way to integrate one drive to Samsung gallery app I have samsung galaxy s10+ anybody any suggestions
Windows Central Newsletter
Thank you for signing up to Windows Central. You will receive a verification email shortly.
There was a problem. Please refresh the page and try again.