British Gas working on official app for Windows Phone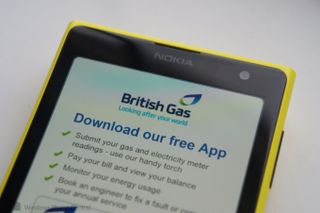 UK energy supplier, British Gas, has confirmed in a response to a customer that Windows Phone support is in the works. The company has acknowledged the demand for a Windows Phone app with more and more requests coming through from customers. This has led to the development of said solution to join both iOS and Android.
Unfortunately, there's no stated release date but you can look to expect to see an app, which will boast the same level of functionality as the already available Android and iOS apps. It's worth noting that both the company and mobile development team are taking suggestions and comments through the app development.
Here's a list of features found in the iOS British Gas app, which we could expect to see on Windows Phone soon:
Log in or register for an online British Gas account.
Quickly and simply submit meter readings.
A torch to help you read meters in dark places.
View and pay your energy bill.
Manage your Direct Debit.
View detailed account information including your account balance, payment history and tariff.
Book an engineer to fix a faulty appliance or to complete an Annual Service.
Compare your energy usage with others in your local area.
Check the points balance of your Nectar card and see how many points you've earned by being a British Gas customer
24-hour emergency telephone numbers.
Contact our customer services by email or telephone.
We'll keep our eyes open for further details and will update you all accordingly.
Cheers, Paul, for the tip!
Windows Central Newsletter
Get the best of Windows Central in your inbox, every day!
Rich Edmonds was formerly a Senior Editor of PC hardware at Windows Central, covering everything related to PC components and NAS. He's been involved in technology for more than a decade and knows a thing or two about the magic inside a PC chassis. You can follow him on Twitter at @RichEdmonds.
Good to hear, even though I'm not with British Gas. I wonder if they will also be making an app for their Hive Active Heating, which keeps getting advertised on TV at the moment.

Great news! Though i haven't had any issues using the browser ;)

The recent app situation is improving, and people are getting the apps that they need.. But, it's more unfortunate for US WP users who are still waiting on important "niche" apps.. It seems as though the not so popular, but critical, apps are coming in in markets where WP is increasing steadily in market share, and the US isn't one of those markets.. Well, the market share is increasing slowly but not to the point where US business are saying that "there's a demand for a WP app, and more, and more, customers are requesting it""... I'm sure this has something to do with scale as well where it might not take as many people to request a app, and convince a company to develop one in a smaller region... I see the app situation improving, but not as much for "niche" apps here in the US, YET... Heck, even some of our own US based companies have made their apps available in foreign markets first... Lol❕

well, let's just say it's a nice change for the European markets to go ahead of the US for once! :)

I can't see any benefit in that.. Can you explain❔

If you lived in Europe you'd appreciate being at the non-receving end of the stick for once ;)

I hear you. In the UK I'm only really waiting for HSBC (Bank) or Money Dashboard (we don't have Mint here, this is our alternative), Sky TV mobile app for remote recording and watching telly, and Lovefilm (Amazon Instant Player I think it's called in the US). Other than that we're quite well stocked out here. The US is more important though, it's a larger market and is culturally influential. Our market share for WP is ~12% and growing (I think) and I would reason that double digit share is the tipping point for getting the apps.

It'll probably take like around 15% here in America before WP is seriously considered mainstream, and well known.. That's when the real app gap will narrow.

This is not the app i am looking for. I was hoping it was the My Home app to allow me to set my heating remotely.

Likewise - it's the "myhome" stuff that I'd be interested in. [As an aside, does anyone know whether the new "Hive" system is a replacement for the original "myhome" remote central heating control? Will "myhome" users be transitioned to "Hive"?]

Excellent news!!! I'm with e.on and sent them a mail in Dec 2013 asking them when an WP app is coming. They said they had no plans, so I may direct them to this page to let them know what the competition is up to. As a rule, I always send a mail to the companies Customer Service when they advertise an iPhone or Android app and ask when the WP version is coming. It's one of the ways we can show that there is a demand for the platform. It just irritates me when I see an add on TV and at the end they show the iPhone / Android app links and no mention of WP app. BB is dead and gone, so there's room for 1 more now :-)

This is what E.ON said to me recently when I asked about a WP app: "We've not currently got any plans to develop an app for Windows phones as not many of our customers who access our mobile website do so from a Windows phone. We do keep an eye on the most popular smartphones on the market and if more people who use Windows phones start to use our mobile website we'll have another look at it." So visit their mobile site :)

Nice! Shame, they didn't give me all that info as I go straight to my Surface when using their website rather than via the phone. However. will start using the phone now and their mobile site - which is actually quite ok...

This pleases me... Another app to delete of the ipad

I was hoping this was going to be hive, saves me having to wait for nest!

Well...well...well. Recently they launched a new product called Hive which costs around £200, and that does not support WP, I sent an email asking if there were any plans to support WP. Got one line reply stating they have no plan to support WP for Hive. I told them in that case I will hold off ordering Hive until they support WP. :/

well i guess they gave up on making this app as it should have been out by now.

Great so where is it ???? ​