New Broadcom chip to finally bridge the gap between wireless charging standards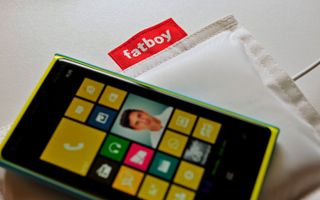 Broadcom has announced a new wireless charging chip that aims to simplify wireless charging by combining all three current standards onto a single chip. The Wireless Power Consortium (WPC), the Power Matters Alliance (PMA), and the Alliance for Wireless Power (A4WP - of which Broadcom is a member) all have their own standards, though the PMA and A4WP have recently agreed to merge.
While the WPC's Qi standard has found its way into many products, it faces some challenges. For instance, though Nokia includes Qi charging in its phones, models bound for AT&T in the U.S. use the PMA standard, thanks to the carrier's partnership with the Alliance. This is set to change with Broadcom's new chip.
Broadcom's BCM59350 chip is an effort to provide a single low-cost, energy-efficient solution to the problem of multiple standards without leaving some customers out in the cold or having to wait until one standard wins out over the others. The chip enables automatic selection between the specifications from the three standards groups, and Broadcom wants to use the chip to drive the A4WP's Rezence resonance wireless charging specification into the mainstream.
The chip is not yet available to most manufacturers, but Broadcom is currently sampling it with select customers. How do you feel about Broadcom's attempt to unify wireless charging? Tell us your thoughts in the comments below.
Source: Broadcom
Windows Central Newsletter
Get the best of Windows Central in in your inbox, every day!
Put it in every windows phone!

Well it still wont let me use my qi charger with my 1520... Maybe they'll put out a PMA to QI bridge or something

Well it could, with a charging cover that supports both PMA and Qi. It's technically possible for them to make a Qi only charging cover too. But AT&T is a bunch of dickwads.

Yeah, that's why I'm unlocked on tmo.

I'm pretty sure that wouldn't work. The charging shells contain most of the components, but I think the actual chip powering it all is in the device (because if all the components are in the cover, why can't all Lumias support wireless charging backs, such as the 52x series?). As such, the device would require the chip that powers the wireless charging within the actual device to be replaced with the Broadcom chip, and a firmware update installed to add driver support and the software support for automatic switching between standards. Not as simple as a new shell. It does give a ray of hope for new devices though.

When my contact is up at the end of the year, this is the one thing that may cause me to go elsewhere. I love wireless charging, and AT&T has hopelessly screwed this whole situation up. If the next flagship doesn't support Qi wireless charging because of some AT&t bullshit I am going to give serious consideration to leaving.

If ATT doesn't include Qi in its next flagship WP, I'm definitely going to another carrier. Carrier loyalty is silly. If they don't have what I want, I'm leaving and will let them know why.

The problem is that AT&T still seems to be the premier Windows Phone carrier... outside of the Icon, they have been the carrier with the best phones by far. It's a bit disturbing they didn't take the 930... I'm waiting on the PMA issue and to see if they will support the next wave of MS/Nokia phones and will then make the call. Frankly, what I really want is a1020 successor, so I'm waiting anyway.

Waiting on a 1020 successor as well.

Glad to see Windows Phone Central (WPC) entering the hardware OEM market :P

Heh :-P WE ARE EVERYWHERE. BUT WE ARE ALSO NOWHERE.

Windows Phone Central.
Wireless Power Consortium.
Both are WPC. Consortium is 3 letters longer. Half-Life 3 confirmed.

A4WP? Sound like a good bet = All for Windows Phone :)

I wonder if AT&T will remove this and force PMA only shit. Hopefully they'll leave this chip alone. I already have a ton of Qi equipment.

I really hope they won't. That would be a dick move...

Well they're not afraid of removing the Qi chip from the 1520 and replacing it with some contact pads for an ugly PMA shell.

Atts support of pma is countered by verizons support of qi, along with most other OEMs, so really that's not a major obstacle to qi adoption. Just att messing with their customers

I have 3 Qi stands I use for charging. It's not a major financial investment if I had to switch. The bigger problem is that AT&T forced removal of Qi but didn't have Nokia use a PMA back plate instead. So now we have NOTHING. AT&T didn't even come out with a crappy PMA cover that could snap on. So how did this better the cause for PMA. Just angered a lot of customers. Illogical business decision because I'm still using my 920 and am elligable for an upgrade. But why upgrade when it would be a downgrade to the 925.

Upgrade to a L1020, then slap a Qi plays on it. Or upgrade to something else, sell it unopened on eBay, and but an unlocked version of whatever phone you want. To heck worth ATT.

The 925 isn't a downgrade but the same quality. I only see Verizon supporting the newest best phones.

It sort of is if you value wireless charging built into the device. As far as the 1020, it has a great camera, but I don't need that and I now have a huge obnoxious bump on the back. So from where I'm sitting, there's no where to go from here with my 920. I agree about Verizon, but I'm sort of committed. My whole business account is on AT&T. I have wireless and RingCentral for VoIP in the office, etc. Not that simple to just go somewhere else. Easier to just stay with my 920. Which was kind of my point. AT&T is losing money on potential sales, and still not helping the PMA cause. It's retarded.

I'm in the same boat. Nothing has convinced me to upgrade from my 920. I'm pretty invested in Qi...I've got a bunch of charging plates and the JBL speaker thingamajig. The whole 1520 situation is ridiculous (Qi and insufficient memory). AT&T has totally pissed me off but who has more Windows Phone phones? The whole wireless business model in the US is completely broken.

So now people can choose what they want? So like it should've been, right? Anyways, I hope this means we can see this, and WE decide what wireless charging we want in our phones, and not the OEM's or carriers.

Definitely this is the smart thing to do. That way, newer devices with this chip can wireless charge regardless of the type of charger that's out there. Those of us who have invested in a number of Qi chargers won't be left with useless units because new devices will sense they are sitting on a Qi charger and switch appropriately. Kudos!

So, the chip supports all the standards, but will it only need 1 charging coil for all the standards, or will there have to be swappable charging covers for all the different standards?

Doubt it. Positive... Negative... Done. LOL.

In this day and age... Most phones should already have this. Dunno why the transition is taking so long. It's simple tech

Not gonna happen. How will manufacturers sell their products now, if people can use either one?

Considering all these techs agreed to merge.................

All of them won't be allowed to merge into one. Anticompetitive.

How about the day comes that I boot up my brand new Windows Phone and then the first screen that comes up is several icons for me to choose which carrier i'm with. I select my carrier and it begins with carrier specific settings after that, and then my windows login....

Why even bother with that? Just have the phone do it automatically based on what sim is in

I will buy a new wireless charger with this chip in it.
A charger which supports ANY of the standards thus ANY of the phones


I would also like to see a charging plate that worked with all three standards as well.

Broadcom could be onto a winner here with this chip but trying to force another standard this late (qi is almost mainstream and pma is only in select products) may not work out but given the volatility of the tech landscape who knows what the future will bring.

MS/Nokia Devices would be wise to have at least one or two hero phones released this year with that chip included. And grow a pair and either force carriers to take the phone as is, or sell them unlocked directly from the Microsoft Store. I would buy such a phone without question, even at MSRP and unlocked if it has the features I want.

This would be great if it was in all phones. But I feel att will require that chip to be removed. Crap heads they are.

You n I, tea...why? Just because it rules! All about unity and One wireless charging winner... Namely all of us, consumers. ;)

I'm still waiting for a chip that charge your phone over the airwaves via the cell towers. That would be cool.

http://imgs.xkcd.com/comics/standards.png It's all I can think of :P

This might help them in Canada as we used to have powermat aftermarket adapters/charging plates before Duracell took over the product line now theres no way to get them(or qi) at retail anymore

Sorry for asking, but does my 925 have wireless charging built in?

While ultimately good for consumers, this could be bad for competition.

At least the 8 Qi chargers I just picked up in the at&t fire sale will be useful for years to come.

This is great news. Hopefully, it will become the industry standard sooner rather than later, that way, At&t can stop crippling Nokia's devices because they support a competing standard.

Best news I've heard all week. We need a single common standard for wireless charging. This, "mine is better than yours", is holding everything back. Sit down, work out the details, work out the revenue split, and move on to the next challenge. Charging using the energy of the display on your device. Now that would be something to talk about.
Windows Central Newsletter
Thank you for signing up to Windows Central. You will receive a verification email shortly.
There was a problem. Please refresh the page and try again.