Official Build 2016 apps available for Windows 10, iPhone and Android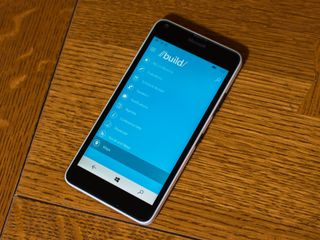 Build 2016 is fast approaching and Microsoft is getting ready by updating its official apps for the developer conference with info and more features for attendees. The app updates are available for Windows 10 PC and Mobile, along with the iPhone and Android apps.
Here are the features for all the apps:
My Schedule: Access and modify the list of sessions, speakers, and exhibitors that you have added as favorites in the app or on the conference website
Schedule Builder: View and search the full conference session list. Select a session to favorite it, view details, submit session evaluations, and take notes.
Showcase: Find the Microsoft groups and partners you want to meet.
Conference Info: Find important event information and read about key event highlights to enhance your on-site experience.
Maps: Find your way around the venue. -Social & News: Follow and join the conversation through our social channels
If you are not attending, you should keep your web site and apps linked to Windows Central as we will be reporting direct from Build 2016 starting on March 30.
Download Build 2016 for Windows 10 (opens in new tab)
Windows Central Newsletter
Get the best of Windows Central in your inbox, every day!
Makes no sense to leave WP8 out but I guess most devs are using droids and iphones so probabaly wont have much impact....

Most Windows devs are using windows 10 on at least one phone. Otherwise they can't really test apps.

That's assuming they are making Windows Phone apps.

It's Build, so most if not all of the mobile devs attending are there to learn about UWP and have probably already upgraded to Windows 10. Of course many of the attendees are probably doing backend dev and are there to learn about Azure, Sql Server Asp.Net Core, etc. I'm sure the percentage of WP8 users there is very low as well

It says on the store that it supports Windows Phone 8.1, Windows Phone 10 (should be Windows 10 Mobile but apparently even Microsoft makes mistakes while talking about its products) and Windows 10. Here I give you the link the online store: https://www.windowscentral.com/e?link=https2F%2Fclick.linksynergy.co... In case you don't understand portuguese, the information is in the "Sistemas operativos suportados" column which translates to Supported Operating Systems.

The updated app was "built for Windows 10", it's in the description in the store app itself but on the web page it seems it hasn't updated yet, it probably will in a few hours. When apps are published it takes time for the description to propagate to all servers

I read it right. something must be wrong with me

get insider .164 before you say you have 512MB RAM or x20 series phone.

I am so happy with Windows 10 mobile OS build/ app....

This app is works better than Groove Music, why they are doing this :( Posted on Lumia 930 with
Windows 10 Mobile

Purple because aliens don't wear hats. Sent from Narnia

I like those little fellas. =)

My initial instinct was to say it's a simpler app but it's not really. Maybe it's because this app was built by a 3rd pary (Eventbase Technology, Inc.) and by their name it sounds like they're in the business of building apps and services for events

Please can someone check and see what features are there in the iOS and Android versions not found in the Windows version?


You get a free puppy with those versions. Posted from Windows Central for Windows 10 mobile

Ok, I just downloaded the app, where is my puppy?!

Run around the block 5 times at 45 minute intervals. 60% chance you'll find your puppy. Sent from Narnia

Man that's lame...its like you have to know what the other side has that you may not have...even though you could be quite happy with what you have...that's being insecure and looking for ways to bash MS...

Doesn't mean he hasn't got the right to complain. That's how dictatorships are run. North Korea would love you in office.

Doesn't mean i dont have the right to complain about people here...you're better suited for North Korea, your selective favouritism and bias will be welcome there.

...I never said you didn't lol. But yea wow, great reply...

Is it possible to watch a live translation of the event via the app? Posted via the Windows Central App for Android

What about BB10?? My blackberry really needs this app badly.

BB10 can run Android apps, right? Don't they actually use the Play Store? It's probably just WP8 that will be left behind

Nope. I want a native BB10 app.

That's a joke right? BB doesn't even support BB anymore

Satya Nadella looks so weird with hair!

Doesn't do ****. No content of any sort. Posted from Windows Central for Windows 10