Calculator² for Windows Phone gets a huge upgrade, Windows 10 version coming soon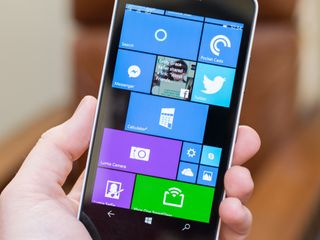 Calculator² , one of the more popular Windows Phone apps, got a huge update today in the Windows Phone Store, bringing it up to version 4.0. Its developer, Richard Walters, tells us that this version is a completely rebuilt app from the ground up that shares none of the code of the previous versions
Here's what's users can expect from this new 4.0 version:
Added a Financial Calculator, with functions that allow you to calculate, e.g. the monthly loan payment for a loan given the loan amount, repayment period and interest rate.
A complete redesign with Windows 10-style hamburger menu navigation.
Support for implicit multiplication, e.g. type [2] [sin] [30] instead of [2] [×] [sin] [30].
Greatly improved load times.
Sharing of settings, history, memory and favourites across all Windows and Windows Phone devices.
The new Financial Calculator is part of the paid in-app premium option for Calculator², which also unlocks the Currency Converter and does away with the in-app ad banners. Walters tells us he plans to submit the Windows 8.1 version of Calculator² for publishing sometime this weekend, and he will launch a native Windows 10 version sometime after the OS launches on July 29. We will note that while the app installs fine on Windows Phone 8.1, we have had issues installing the new version on the preview build of Windows 10 Mobile.
Download Calculator² from the Windows Phone Store (Free with in-app purchases)
Windows Central Newsletter
Get the best of Windows Central in in your inbox, every day!
Looks good though the previous one having pivot menus was more functional and easy to use.

Couldn't update now can't download again. Why? :/

I'm right there with you. I couldn't update so I uninstalled to see if reinstalling would do the trick and now I can't download the app at all.

its in app purchase issues still not solved....i had full version but some times ago i returned back to ad version.

Please can you contact me from within the app so I can follow up on this? I'm working with the Windows Phone team to try to diagnose and resolve the issue. It seems to only effect users who originally purchased the app when it was paid, and then installed the in-app purchase when it was available for free for a short time. Fortunately, new users do not seem to be effected.

I love when devs are attentive to the community, keep up the good work, your app rocks!

of course I will contact you....thanx for ur response.

This is so much more responsive than the previous version. There was some sort of delay before, and now its all slick and instant. I prolly should have put this in the app store rating heh.

this is a great app . I've been using it for years.

So what's the word on existing app compatibility with Windows 10 Mobile? I'm sure this has been mentioned, but I haven't caught any articles.

This is calculator week for Windows...

I still don't get why everything seems to have a "Windows 10 version coming soon". I thought windows 10 can run windows phone 8.1 applications. Yes I realise what is said in the final paragraph of the article, but if apps aren't working from 8.1 to 10 then it feels like the "app gap" that so many complain about is going to, yet again, be a very real thing. In fact it is going to increase, unless developers choose to rework their code to work under W10 and lets face it if developers can't even be bothered making/updating apps now, why will they bother when 10 releases?

Currency converter was free!!!!
Windows Central Newsletter
Thank you for signing up to Windows Central. You will receive a verification email shortly.
There was a problem. Please refresh the page and try again.