Call of Duty: Ghosts update brings bug fixes, tweaks, and new "Heavy Duty" mode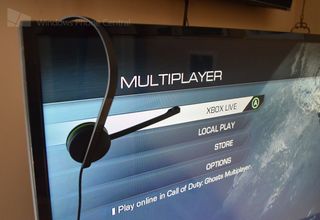 If you are looking for a great way to spend your holiday break, you might want to whip out your copy of Call of Duty: Ghosts for the Xbox One, Xbox 360, or PC. The developers have just released a new update to the award winning first person shooting that adds bug fixes along with a new game mode for you to "some".
The new update, available across all platforms that support the latest Call of Duty game, adds a new mode to multiplayer entitled "Heavy Duty". The mode spawns all soldiers with additional health, so while you may live longer – so will your enemies.
In addition to the new game mode, if you have been enjoying the "Infected" game mode, you will be happy to hear that the update "adds additional weapon load out options for Infected mode". Hopefully this means, you'll be able to grab more than a knife to fight off the living. Your squad will also be able to earn extra squad points during the first five level progressions of the game.
Pack those new features together with some bug fixes and you are ready to game for the holiday break. Included in the bug fixes is a fix that removes an exploit allowing players to call upon unlimited perks while gaming and a few platform specific tweaks.
If you are gaming on the Xbox One or Xbox 360, new tweaks include a reduction in the flinch benefit of the Focus Perk when using a Sniper Rifle and reduced ADS speed for Sniper Rifle Settings. Additional fixes include a field order that adds 100 XP on pickup and an "invisible exploit" fix.
Are you enjoying the latest game in the Call of Duty franchise, Ghosts, or are you a Battlefield gamer (or both)?
Source: Call of Duty; via Joystiq
Get the Windows Central Newsletter
All the latest news, reviews, and guides for Windows and Xbox diehards.