Camera360 won't go to Windows 10 as Camera360 Sight takes its place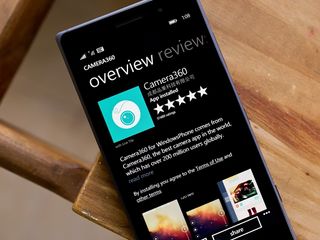 The developers behind Camera360, the popular photo app for Windows Phone, have just announced that the app won't be updated to support Windows 10 when it is released later this year. However, the more advanced Camera360 Sight, which officially launched in December, will continue to be updated as expected.
In a post on the Camera360 Windows Phone Store page, the developers state:
Camera360 Sight is a fantastic app and well worth checking out if you have a Windows Phone and like photography. Plus it is free.
Source: Camera360 Thanks to Duong for the tip!
Deference between 360 and sight..? Any plzz

It's lighter and quicker. Try and you'll see...

I went to download the 360 sight, but i saw that i already had it installed.

I do this all the time. Glad I am not alone. Haha

I smiled at your actions... but then I immediately went and did the same!

Are there settings in this app? I have hard time finding them with all those swipe to show actions
I only wish it had full resolution support.

You have to go to the photo viewer within the app and then you'll find the settings... Though there aren't many.

Sight is amazing.....I really support their decision after using Sight. Also, what I really like about Sight is that it's designed around WP not an iOS/android port. Every WP user must have this app on their phone, not just as of supporting them for continuing supporting the platform but also for making a unique experience that only suits WP/windows, not to mention, it is truly awesome. Kudos to them, really.

I'm impressed with 360 sight. It offers a simple, yet powerful camera experience. It gives older WP "continuous auto focus" that MS didn't implement, only on newer devices like icon/1520. I like the gallery, its simple and useful. Hope they continue to update it.

I have two Camera360 and they are slightly different. Is one developer behind them?

Yes...Sight is the newer and supposed more advanced. I like it, tho, the older one is more aesthetically pleasing, and surpasses Sight in a few key features.

We lost the best, it means. Sight version doesn't take crisp photos.

I hate the sight version! No features compared to Camera360! I just love the Camera360! I hope there is no problem when i update to windows 10! I'll uninstalled the sight version! It's too buggy and slow! Even the Camera360 is little slow in my L520 but its worth it! But sight version is waste! I took a pic in the sight version and the app crashed as soon after it captured and the pic was also not saved when i reopened!! Now tell me do i need an app like this? Suddenly NO!!

As mentioned in the article and the title, yes you will have a problem if you upgrade to Win10. 360 wont work on 10, but Sight will.

It says it won't be updated, it may or may not work on Windows 10

It wont be updated to be Win10 compatible, hence it wont work.

I liked the look of camera 360 the old version think was to me alot easyer just slide and turn the wheel and you see how it looks and click sight is maybe better in pixels and size but stil I would not mind if they give it the it look of the old 360 version also with the album option and with that agenda look so you can also seen when you made the picture date time in one look but that is just my opinion

It's so fresh to get an actual explanation instead of the generic "We apologize for any inconvenience." It seems like they are positioning Sight to be the VSCO cam alternative for WP.

How to snap full res photos?

I dont understand? They will create a new app..?

They have 2 apps out now. When 10 hits, only Sight will work. 360 wont.

Overall the Double Exposure and internal picture effects shall be missed.. Hope they add those to the sight version.

Makes sense. Sight is a great app, going forward with only one is the best choice. So long as it remains a great app.

Weeell, L930 with Denim>Camera360...

Sight is the best camera app in wp. It has everything u want from a camera app and does it way better than other apps!
A great way to unleash the true power of ur lumia camera.

If you're not on a L930 or L1520 with Denim.

I will just use Lumia Camera once my AT&T 1520 gets Denim.

I love you all Developers for Windows phone!

Why don't they remove old Camera360 from store?

Probably because people will start whining about it. You know, some people even drop off a platform because one or two apps

This app doesn't support 1020's high res and any photo I click is just not good enough.

Off topic.. HTC One M9+Windows 10 is on it's way...
http://www.christiantoday.com/article/htc.one.m9.windows.phone.targeted....

why we don't have any app like cymera or retrica :/

Camera sight is just an awesome app =]

Why really change when they got so many people using the original?

This is great but I wish they would change the name to just Sight, Camera 360 is lame!
Windows Central Newsletter
Get the best of Windows Central in in your inbox, every day!
Thank you for signing up to Windows Central. You will receive a verification email shortly.
There was a problem. Please refresh the page and try again.