Camera360 launches on Windows 10 PCs as a universal app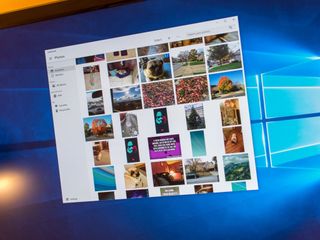 The developers behind photo management app Camera360 have just launched the UWP version of the app for Windows 10. Currently available only on PC, the app allows you to manage, search through, and edit your photos.
Camera360 automatically organizes your photos by the time they were taken. With Smart Search, you can find images based on a specific time or location, as well as the people in the photos. The app also features a number of tools to help you make quick edits to color, sharpness, and much more. You can also easily share your photos with family and friends using the built-in sharing tools.
You'll find Camera360 for PC on the Windows Store now.
Get Camera360 from the Windows Store (opens in new tab)
Windows Central Newsletter
Get the best of Windows Central in in your inbox, every day!
Is Camera360 sight for windows 10 phone bug fixed?

Doesn't seem it. Hope they do as that's a nice app.

I found that the screen for selecting the filters had the filters placed in wrong places..idk how to explain. I uninstalled it, as I found that very gross. But, regardless, it was a great app to use with 8.1 Lumia 730 DS, Windows 10 Mobile.

Same issue here - Lumia 735 running windows 10 mobile.

I also have issues with it saving a photo on the 735.

I hope they release a UWA soon, with all bug fixes..even if it pains, they should try to write the app over again. It was a great app.

Let's hope they don't get bad reviews from people thinking this is the missing panorama app :)

Which camera app is better to take living images for windows 10 mobile, except windows camera. I am using lumia 730 and windows camera is not up to mark as compared to lumia camera for living images. Can anyone help.? Posted via the Windows Central App for Android

I think that, only windows camera is supported with living images.i too use Lumia 730. It some times doesn't play living image. Hoping for a bug fixing update

That's not a bug, that's a feature. If image is mostly still when capturing, it will save as just an image not living image. Posted via Windows Central app for SEGA Mega Drive using SEGA Channel.

Yeah, when it seems too much movement, it automatically saves as living images.

Not actually. It sometimes don't take living images. I use it always and every time I try to find out some way that it takes photos as I want it. And so looking for some alternate to the app. Posted via the Windows Central App for Android

First of all hard reset your phone after u reset the phone go to store settings and disable auto update apps and then never update lumia camera app thats it you get the lumia camera back:)

The default windows 10 mobile camera sucks... It even ruins the image quality!

Not available for mobile.
When would it appear on windows 10 mobile store

Can you take pics with this app as well?

Doesn't display the file name properly, but otherwise a very decent photo edit app. A-

Is there a good panorama picture taking app? I had a dream the other night that it was built in....

Lol, yes, there are apps..but it is not built-in in the windows camera app. Photosynth is an excellent panorama app. (i don't know if it is still available in the store, but if you have it from before, then just know that no app of any OS beats it)

Camera 360 was excellent in 8.1. But in wp10 bug not fixed yet. No updation yet after 10 update..

Camera 360 has launched as a UWP app - but currently only available for pc. LOL !
Windows Central Newsletter
Thank you for signing up to Windows Central. You will receive a verification email shortly.
There was a problem. Please refresh the page and try again.