Long term thinking: Can Microsoft stay in the consumer game?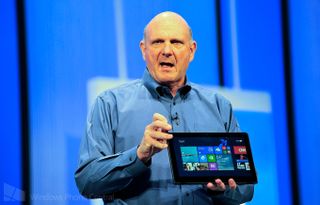 This week we've seen the recent set of financial results from both Microsoft, and it's soon-to-be-acquired mobile phone business from Nokia.
It's pretty easy to paint a pretty picture for Microsoft. They beat the Street's expectations on revenue and earnings, and things are going well in terms of enterprise sales. On the consumer front, you could focus on the doubling of Surface sales and decent showing in Xbox sales.
But I'd like to open up the discussion a bit more. Let's talk about the long term potential for Microsoft's business. To pre-frame the discussion, consider that when I say "long term" I really mean it. I'm talking about the next decade or more.
Microsoft is exposed to the enterprise business as well as the consumer business. I think that for the next few years (at least) it's tough to argue that Microsoft is in any kind of trouble. They're growing across the board whether it's SQL Server or Azure or Office 365. All of these are recurring revenue businesses, which I think is wonderful.
But in the consumer market it's a much tougher battle. Microsoft obviously holds the leadership position in the PC market but consumer Windows sales declined by 20% year over year. That's a huge decline, and a clear result of the success that (mostly) Apple and (also) Google have had in both the PC and mobile markets. There is no debate about this; Windows is in decline when it comes to the consumer desktop and notebook.
Will mobile sales (Windows Phone and Surface) offset this? That's a tough one. Yeah, sales of the Surface doubled last quarter to hit almost $900 million. But can Microsoft keep fueling this growth? If they can, I'd say they've got a good shot at staying relevant to consumers. But if not, a billion or two in sales per quarter isn't going to cut it. To put this in perspective, consider that analysts expect Apple to report about 25 million iPad sales in the most recent quarter. That's probably $12 billion in sales. In other words, Apple is more than 10x larger than Microsoft when it comes to tablet sales. Talk about a tough momentum wave to overcome!
In mobile phones, Nokia is now classifying the device business as "discontinued", since they're about to close on the sale to Microsoft. But the disclosure in their financial results is clear: Sales declined in the mid single digits this quarter (versus Q3). It's not a good sign when sales decline (by any amount) in the biggest shopping quarter of the year.
Nokia didn't spend much time talking about mobile phones on their conference call, but from the little time they did spend it's clear the focus is on emerging markets where devices are not subsidized. I think that's a smart strategy because there is still a huge population out there who hasn't moved onto a smartphone yet. At the low end of the market Apple is not a player, so it's basically a fight between Android and Windows Phone. Why should Microsoft leave the entire market to Android?
I'm not going to get too obsessed over the Lumia sales decline in the quarter. Everyone slips and falls once in a while. People seem to really like their Lumia phones and Nokia makes great hardware. But it does seem to me like Microsoft has an enormous challenge ahead of it in terms of getting to a point where its consumer business is relevant for the sustainable long term. You could argue that Apple did just fine being more than 10x smaller than Microsoft in the OS game, but they served the high end of the market. Microsoft will be fighting for low end market share and (compared to iOS and Android) is still a drop in the bucket.
So what does the future really hold for Microsoft? They are financially very strong, they're doing great in enterprise, and I don't see that changing anytime. While the consumer business is under pressure. Even in the gaming market where Xbox has a strong presence, it's possible that over the next 5 years the console market will shift to Android just as the phone market has. This would hurt Microsoft, Sony, Nintendo, etc.
The way I see it, over the next couple of years either Microsoft has to stage a strong recovery in consumer or it ends up being pushed in the same direction as BlackBerry; Enterprise becomes the absolute core focus of the company and everything consumer-related is a side note.
To be clear, this doesn't mean the stock isn't worth owning. In the past I've been quite bearish on Microsoft only to watch it soar in 2013. And with this week's earnings results, the stock still seems like it could be on the cheap side. Analysts think the Redmond giant will deliver almost $3 in earnings per share next year and the stock trades at about $37, so it has a price to earnings multiple less than 13. For a business that just posted 10% growth and pays a 3% dividend, it's interesting.
(Chris Umiastowski is a contributing financial writer to the Mobile Nations network. You can see the rest of his posts here at AndroidCentral, iMore and CrackBerry.)
Get the Windows Central Newsletter
All the latest news, reviews, and guides for Windows and Xbox diehards.