Canadian bank RBC releases official Windows 8 app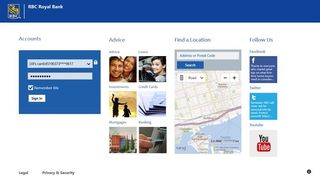 RBC Canada has released an official app for Windows 8. The app enables customers to login and manage accounts. Numerous features are available, including the viewing of account details, transfer of funds, view / delete payments and pay bills. Just like other apps we've seen released in the past, customers looking for a native banking experience will be able to take advantage of more convenient access.
With Windows 8 integration, RBC Canada supports snap view, multiple user accounts and Live Tiles for social networking. The app itself is fairly secure with the RBC Online Banking Security Guarantee covering access. This means 100 percent reimbursement for any unauthorised transaction made in the app will be refunded to the customer. Pretty neat.
To access banking through the RBC Canada app, simply use an existing RBC Royal Bank Online Banking client card or username and password. One of the set personal verification questions will then be provided. If you're not yet enrolled for online banking, be sure to get in touch with the bank.
You can download RBC Canada (opens in new tab) from the Windows Store. Thanks, thaman04, for the tip!
Windows Central Newsletter
Get the best of Windows Central in your inbox, every day!
Rich Edmonds was formerly a Senior Editor of PC hardware at Windows Central, covering everything related to PC components and NAS. He's been involved in technology for more than a decade and knows a thing or two about the magic inside a PC chassis. You can follow him on Twitter at @RichEdmonds.
I contacted TD Canada Trust and they do not want to build a Windows Phone nor a Windows 8 app because they find the userbase too small. Yeah, Windows 8 is really going to stay small. Then they go out and build a BB10 app, for the smallest user base out there!
Send them an email and ask them for the apps, I did and will continue to do so. It is the only way they will listen.

Hopefully now that RBC made the first step TD will follow

First off, thank you for making your voice heard. Taking action rather than just complaining is commendable.
Second, isn't it funny that all these companies use that same line about how the WP/W8 user base is too small to justify development costs when BB10 is even smaller? They used to do the same with BB OS as well in that short time that it was larger than iOS and Android. I understood that to be an architectural thing though. Anyways, its pure rubbish is all I'm trying to say. Thanks for pointing that out.

I email and send tweets to TD every so often but they never respond... One day... it will come.

I'm sick of that excuse. Support those that support all platforms. Those that make this bs excuse, do business elsewhere.

The problem is that idea grew out of reality, like the "no apps" bs, I usually ask friends who say that which ones are they talking about and they fail.

We have to remember that In Canada here, Blackberry still has 20% Market share while WP only has 2 or 3. Its sucks, but we can't do much about it other than complain and move to companies which support Windows Phone.

The RBC app is pretty good for a V1, but it's missing the ability to view and pay ebills.

Nice. Unfortunately I don't bank with them but my Mother and Wife do. I need TD Canada Trust. Hopefully they make an app for the Phone too and other Canadian Banks start doing the same.

Get those ladies into a Windows Phone :)

I use RBC, now where's the WP app?

They actually announced they were working on a WP app months ago, maybe they meant W8.

Bradesco and Itaú is available here at my country!

Anyone else notice how some of the screens are laid out like multiple portrait view phone screens that could use the metro slide left/right navigation? sharing code and WP version coming soon perhaps? By the way, its not showing up in the store for me. And yes I am in Canada.

It's there :)
If you can't find it by just typing it in the Store, it's right there in the huge big first box in the Featured area. Your store must obviously be set to Canada.

Thanks for the tip. Somehow my Surface was set to US region. I must have been messing around with something a while back. I feel like such a n00b. :)

Been waiting for a WP app since the day I got a Samsung focus. I figured they would have at least come around for WP8 and my 920.

Finally! Now a WP8 app please

This came out on the 16th. This is one app I've always wanted. Hopefully a WP8 version is in the works.

How do you see them building a windows 7 app? They used to gave this program that you could download 10 years ago but that left us when secure web development took over. Does this mean that I can't download if I am cdn living in us??

Are you kidding me? Was that question a joke?

Great stuff.. hope WP version coming soon..!

I want a Scotia bank app for my PC and wp8

Still waiting for apps on US Bank and Wells Fargo.

Would also be nice if CIBC, would make apps for W* and WP8.

I can't find the app in my store (using the US store) and where i live i have a RBC bank and am client with them...

The author specified RBC Canada so its probably only available to Canadian citizens. Also, I heard that the U.S branches of RBC where changed to PNC which made me kinda giggle to read Royal Bank of Canada Canada in the article.

W8 small?? It's 4% of pc market, which should be accounted for at least 50 million install based.

And three months later... Windows 8 is now 7.4% Market Share, more than that of OSX All together. Now Windows Store says that RBC app is unavailable!? :(

Althought it's great to see Canadian firms to start making apps for WP, I would be much more excited if either CIBC or HSBC make an app for WP.

Come TD Canada trust. What are you waiting for? How is it they can building BB10, but not for WP. That's messed up.

I opened a form on my site, hoping to collect enough emails to share with them and change their mind.
http://www.petel.ca/Pages/TDBankWP8App.aspx
Please submit and share - i will not share any information here with anyone except TD customer service.