Candy Crush Soda Saga now available for Windows Phone 8.1 and Windows 10 Mobile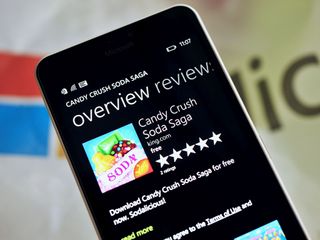 Last week, Candy Crush Soda Saga was launched for Windows 10, offering those users access to King's puzzle game sequel to Candy Crush Saga. Now the game is available for both Windows Phone 8.1 and Windows 10 Mobile users.
Just in case you are unfamiliar with the soda-themed free-to-play game, here's a look at its features:
Hundreds of Sodalicious levels
New Game Modes include: Soda – switch bottles and candies to release purple soda and save the Candy Bears Green Soda - switch and match candies in green soda to turn them into Swedish Fish Frosting – match candies to smash the ice and set the Candy Bears free Honey – match candies next to the honey to release the trapped Candy Bears
Scrumptious new candies and sublime new combinations: Match 4 candies in a square to make a Swedish Fish Match 7 candies to create the remarkable Coloring Candy New 8th purple Candy that gives instant and powerful effects when matched
Explore juicy new environments and meet the kookiest characters
Mouth-watering new graphics, Candy Crush Soda Saga never looked so tasty
Easy and fun to play, yet challenging to fully master
For players that Facebook Connect, there are leaderboards for you and your friends to compare your Sodalicious scores
Easily sync the game between mobile and tablet devices and unlock the full game features when connected to the internet
Thanks to everyone for the tips!
Now if only WP gets snapchat, and an apple logo on all the phones, carriers just might start selling and promoting them, and girls might start buying them

I'm guessing you don't like girls.

Ha, do misogynists need a reason to dislike women? Overwhelming anecdotal evidence suggests otherwise. It's telling, and a little unsurprising, that everytime I hear a woman hater talk I can't help but be reminded of a screaming child throwing their hands up and stamping their feet in a bitter rage.

So salty. Please, cry some more tears: They're so very delicious!

I don't understand why games like candy crush are getting attention and not the ones from halfbrick studios and EA sports etc. :l

I haven't played Candy Crush Soda until it was released for Windows 10. I must admit..... It can be addictive.

because halfbrick hasn't been updating their games like jetpack joyride...for ages.....

Are reports true that this lame candy crush cannot be removed from the Lumia 950/950XL?

Of course not, lol. That's ridiculous to even think.

Even if it were, moving on.

Only system app can't be removed. And even some of those have workarounds to do it.

Great news for candy crush fans

Huh. Downloading just for control.

No way all third party apps can be removed or uninstalled from windows

Too late... But I don't like this game... Good news for gamers

Gamers? Ha! If I want to play mobile games, I'd get a 3ds and/or Vita (which I have both). These touch only "games" are horrible

Don't you feel better flexing your wings and gloating about your mobile devices?

You completely missed the point... meaning that those who care about mobile gaming know it's on the 3ds/vita, not phones. Unless it's words with friends or something

Yet mobile gaming is more popular on phones, go figure

TurboExpress, the rest is meh.

I loved the Turbo Express.

In fact the Turbo Grafx 16 was my favorite 16 bit system.

For some reason it won't dowload

Yeah it partly downloads and then pauses. Hmmm.

Same here... Anyone managed to fix this?

Everything I've always wanted. Lol. Jk. Ill play it one day.

Ooohoooooo... One of my favourite KING of KING products... Now on my #windowsphone. I Welcome all the remaining King games...

I have been playing with windows phone for months....

I think it's not the SODA one that you played for months...

Seriously, Microsoft just need Supercell, Machine Zone & Snapchat on board now. Its not about the number of apps competing with the other platforms, but getting the most popular Apps. Clash of Clans, Game of War and Snapchat all have 50-400 million users so this is what Microsoft need to be actively targeting if they ever want people in numbers to switch to Lumia.

Don't forget 8-ball pool by miniclip.

Even for those who don't like Candy Crush... this is good news.. it's means that the Object-C project for Windows is evolving and if King can use it to bring the games to Windows, soon others will do the same...

Still waiting for Clash of clans game

Original candy crash don't appear I games hub.
Win phone8.1 m Lumia 640xl

Hmm Pretty Cool ..
MS is trying to fill the app gap..
But Not Interested to get this game...

Bring another decent universal Online RPG games too!

Game is old and outdated. Nobody play that game anymore but great grand parents. Lol
But good news!!!!

Oh no you have no idea what relief these games give you when you are seriously in need of a break from a thesis. I don't need games that I will have to use my brain in when I'm already tired of my thesis.. So these ones work pretty well...

8 ball pool by miniclip is something we should raise voice for

No more carrying my android to work!

As usual way behing iOS and Android. I'm currently on level 178 on my Ipad. I'm not going to download this one to start from scratch again.

How did you make the words bold?? Posted via the Windows Central App for Android

test Posted via the Windows Central App for Android

If you connect it to your facebook, then it'll remember your level.

Connect to facebook and you can then sync your progress across devices

You don't have to. Connect it with your email address (or facebook).

Obviously not worldwide. Doesn't find it in the Swedish store.

Use the app link, even i cannot search for it (India) but coul download it using the link

Yep. Human error here. :) Tried what you mentioned and that worked. Strange. Thank you for the tip.

Finally developers realised that they can't neglect windows users anymore Posted via the Windows Central App for Android

Or, Microsoft begged them to do so..

May be :P Posted via the Windows Central App for Android

I want supercell games and 8 ball pool.. Who like this one!!!

Oh fantastic! It came to Windows phone just in time for the whole rest of the world to be tired of it. Why do we get apps when the popularity is gone?

At this rate I dont know where MS is taking us lol one minute they give us hope the next thing we do is wait and wait lol we will always be behind the rest of the platforms

woah. it didn't took 2 years? surprising. lol. soda crush hype has died down long ago. anyway, this is still good news. cheers!

Waiting for 3D pinball...?

I believe after windows 10 mobile OTS is released there will be alot more popular apps coming to MS. What I realized is that MS is focused more on their core apps and getting them out to other devices like office and Cortana to build its shares.

The sound files from candy crush soda are showing up in groove music on my Lumia 640 XL running win 10!

My wife downloaded already .

It's not Downloading...it but remains on Pending....have tried six times today! And it doesn't even show up in the Store when you try searching for it directly :(

Downloaded this game to support the store need clash of clans

I can't install the game. Its stuck on pending. Please help.

The battery drain is unreal With this game.....

Can't be installed... Lumia 920... Attention required message all the time.

I updated the Game today and is not working. When it starts loading a level it gets out of the game. :( Note: Using W10 Mobile
Windows Central Newsletter
Get the best of Windows Central in in your inbox, every day!
Thank you for signing up to Windows Central. You will receive a verification email shortly.
There was a problem. Please refresh the page and try again.