Car Check, a Windows Phone app for monitoring your automotive expenses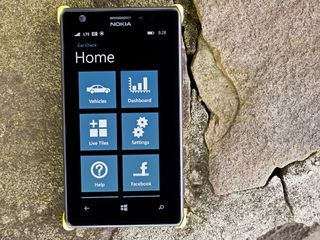 Car Check is a nifty Windows Phone app that lets you track and manage your automotive expenses. Car Check has the ability to track your gasoline costs, maintenance costs, set reminders for scheduled maintenance and back all the data up to your OneDrive or Dropbox accounts.
The Windows Phone app also has the ability to chart your fuel consumption, distribution of automotive costs and fuel prices. Add Live Tile support and Car Check isn't a bad option to consider to help you monitor your automotive costs.
Simple Layout
Car Check's layout isn't overly complicated with a main page full of navigational tiles that cover your vehicles, a dashboard for analyzing data, App Settings, Live Tile settings, access to the app's Facebook page, access to the help section and rate/review the app in the Windows Phone Store.
Car Check's settings cover the basics such as units of measurement, summary periods, turning on/off maintenance reminders and storage/back-up options (phone, Dropbox or OneDrive). Live Tile options include customizing the name of the Tile and the Live Tile's destination (Main Menu, Vehicles list, the app's dashboard or a specific vehicle).
Your first order of business is to add a vehicle to the database. Basic vehicle entry includes naming your vehicle, choosing your unit of measurement, adding a photo of your car (otherwise, you'll have an automobile icon). You can opt to add additional information such as registration number, horsepower, transmission type, fuel type, cylinder capacity and VIN number.
Once you have your automobile entered, an additional navigation tile will appear on the main page for that automobile. Tapping that tile will send you to a small collection of information pages where you can enter all your automobile data.
Fuel, Costs and Maintenance
Car Check's pages for individual automobiles include a Dashboard that summarizes your monthly and annual statistics, a Fuel Page that breaks down your fuel expenses, a Costs Page that will chart expenses and a Maintenance page where you can track scheduled maintenance.
Your Dashboard Page will display monthly and annual stats that include miles traveled, quantity of gas, gas costs, other costs and total costs. It also displays, for a twelve-month average, your gallons per 100 miles, cost per mile and cost per gallon of gasoline.
Along the bottom of the Fuel, Cost and Maintenance Pages you will find three control buttons that will let you add an entry, edit an entry or delete an entry. Additionally, up under the three-dot menu on the Maintenance Page you have the option to mark a maintenance entry as done. Data entry is done with clear-cut, fill in the blank styled forms.
Overall Impressions
Car Check isn't a bad little app for keeping track of your automotive expenses. The layout is simple and entering all the data is straightforward. My only nit is that the app doesn't calculate your miles per gallon. Then again, the app's focus is on tracking your automobile's expenses not performance so I can't complain too much.
I do like the maintenance reminders and the break down on cost per mile but, I wouldn't mind seeing a miles per gallon stat. Nonetheless, if you are looking to keep a closer eye on the cost of operating your automobile, Car Check might be worth a try.
The trial version of Car Check is fully functional but will only track information for one automobile. If you need to track the cost of more than one automobile, you'll need to pony up and buy the full version.
Car Check - Windows Phone 8 and 7.x - Trial / $2.49 - Store Link
Windows Central Newsletter
Get the best of Windows Central in your inbox, every day!
George is the Reviews Editor at Windows Central, concentrating on Windows 10 PC and Mobile apps. He's been a supporter of the platform since the days of Windows CE and uses his current Windows 10 Mobile phone daily to keep up with life and enjoy a game during down time.
Looks nice, just need a car thou.

Well, I personally don't think a car expense app is useful. With a car, you just spend whatever to maintain it, and knowing how much spent is meaningless. You can't spend less than required by law or safety anyway.

Though an app that stores your MOT, service and Insurance dates combined with prices would be quite cool, saves you having to dig through paperwork. Even better with built in reminders.

It's helpful for budgeting purposes. If you know what you're spending on fuel and maintenance you can adjust the rest of your budget accordingly. Another benefit of keeping track of specific maintenance is knowing when the last time it was done to your vehicle. When getting your oil changed you're often asked to consider a number of other things and being able to reference when you did those other things last helps you make an informed decision.

Still wish auto mate didn't die out like they did i was loving that app guess I'll try this out

My Car its a free alternative, has transparent live tile, charts, statistics, maitenance cost, well, it has more features for free.

Does it have cloud backup?

Yes, backp to onedrive, and to email. KM/L - MPG - Gal/100Km - gal/100mi and other several choices

I use this one as well. Worthwhile looking at too.

Yes, I use mycar also. It's simple and can track my mileage. Also the record of my spending for maintenance

I use My Car as well. The maintenance schedule isn't perfect but it does keep track of mileage and expenses. Does more than it sounds like this one does and it's free.

There are like four reviews of that app and four of you here saying you use it. Interesting.

Trial is not fully functional, only allows four refuelings. Also they state SkyDrive is currently in the testing phase so couldn't get it to work. No average MPG is a deal breaker for me. I have already deleted it.

I have been using My Car for almost a year now and I'm very happy with it!

Miles-per-gallon can only be calculated if you completely fill up your car every time (excluding on-board computers). Otherwise you have no accurate record of how much fuel you have used

How's that? I go to the station, the pump tells me how much fuel I put in my tank. Every time I put fuel in my tank, I reset my trip meter. So I have the mileage I've driven since the last time I put fuel in my vehicle, as well as the amount of fuel I've put in my vehicle. Simple division tells me how many miles I've driven per gallon of fuel consumed.

I think he's referring to the mpg for a fill up if you don't fill up your tank all the way each time. This is true although it is still possible to get a fairly accurate mpg for the vehicle overall. So your individual fill up mpg will be off but your aggregate will be close.

I've been working on My Car Log for a little over a year in my spare time to meet my needs and learn WP8. Reminders and Live Tiles are my current task but haven't had as much spare time as I would like.

Been using Clarus Mileage+ to track my fuel costs. Free and it also has reminders, import and export to OneDrive, export to email, keeps a note of where you refuel a map ... and it shows km/l (miles/gal).

Maybe its me but wouldn't it get accurate data if it had support for one of the OBD code readers from the car?. This would give all this data right from the car. Then it could help to support issues that come up. I would think you would be forever entering data in this app that one that could support that feature could give you the data that you really need

A side note. MS really needs to work on the store's "related" section. I went to related to find other car apps and none of the apps listed are even remotely related to this app.

Where have you been? "Related" has never worked in relation to what the word means.

Urgh. And here I thought I was going to read about a cool third party Uber app.

WP already has this built in. Its called Office Excel and the good news is you can set up any variables you want and even...have it calculate fuel economy!

I developed Fillup History. It's a little more simple than this one, but nevertheless give it a try!
http://www.windowsphone.com/en-us/store/app/fillup-history/fd770d01-bfc8...

Been using AUTO TOTAL since the demise of automate (an ugly departure it was) and am completely satisfied. OneDrive support and export / import enabled. Not sure of the live tile ( don't see any need for it) but it is transparent

If you put your phone in a Porsche will it seem faster?