Carphone Warehouse starting the Windows Phone 8 hype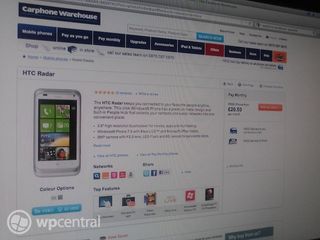 In a press release sent out today in the UK, the countries biggest independent phone retailer, Carphone Warehouse has confirmed their future support for Windows Phone 8 and they sounds pretty excited about it.
I realize that all the UK carriers and retailers will sell Windows Phone but it is nice to see the Carphone Warehouse with such positive statements.
Combined with them selling the Microsoft Surface the stores are going to be very Metro-ish. ( I think I made that word up!)
I believe the proper term is 'metrofied' (which I believe I made up).

Metrofication measures one's level of Metroism.

I like the phrase " Metro to the Max".... I made that one up. Lol!

Never would I think I read this.. Carphone warehouse is always the one trying to sell you their android phones. Phones 4 U in comparison is much better, at least even their reps use a lumia device. And they do actually give you an informative choice.

Sounds like sprint and verizon

Wp8 doesn't bring something really amazing or ground breaking.. All this was always there on other platforms and are really basic features of a good os.. And don't think wp as a good future ahead at least with wp8..!! They need something amazing here.. IMHO yesterdays WP developers summit was nothing exciting..!!

Yeah, I was hoping they would have phones that would cook for you...oh well, big let down that was. Maybe next year.

No wouldn't want them to cook..!!! But I would want some basic features that I always would need..!!

There are still many features to come which will be released closer to release date

I hope so.. Because i love the simplicity of wp.. Which they have taken away with the new start screen because as far as I've noticed they have removed the app list and cluttered the start screen.

Dude they confirmed the applist is still there.

Also, there is nothing groundbreaking as today summit was a preview and it was mainly targeted at developers. (native code, same core with windows, VoIP integrated, voice commands in third party app etc) end user features are revealed closer to launch.

You don't have to put the start screen like that if you don't want to. Chill the héll out

Everything wasn't announced yet, it added more than iOS6. Get lost

I missed a point there.. WP does not have a real multitasking either.. Which is shame.. I had a lot of hopes from wp8 but now all that let down.. I'll be going back to android which I think is far more supiripr....

WP8 does. And please, go back to Android (as if you ever left) if you think it is far more "supirpr".

Mistakes are made by humans..!! And choosing WP I made a mistake..!!

There is real multitasking now. At this point only apple is missing true multitasking.

No, when U leave apps running in background they don't update themselves,for eg. If leave what's app running in background it won't update if I received any any msg.. It would update only after I open the app..

The app list is still there it just wasn't shown due to a bug in the prototype they were running

Go back to Engadget and suck a D.

I'm glad "they sounds pretty excited about it."

For Christ sake WP is in its 2.0! Android and iOS have been around for years and the only one really inovating here is WP. Everything android and iOS are adding now is pure gimik and misses the point of actually being useful. Apples biggest strategy is their stupid Siri and it hardly even works! I havent seen anyone actually being productive using siri! And android just keeps on pushing the specs war even though the system is not even optimized for it. Now all you saying "oh im gonna go back to android" please do! And keep away. Windows phone still has many features to demonstrate in the coming months and its gonna blow us away. Because if you haven't noticed yet, Microsoft are in their prime right now!

I bought the windows phone for dev. Am kind multi-platform. I started using my Titan to as my main phone since relegating my iPhone 3GS to the back. The HTC will be relegated back as a purely dev device till when WP8 comes out. It better have all the basic functionality I've been crying out for since I bought the titan.... If not I wait till WP8.5 ( one bitten twice shy :-) )

Metroate - To organize, group items in a clean concise manner; to make everyday tasks easier to accomplish without seeking assistance or having to search endlessly through a sea of static icons!!!

We need rise of nations on wp8

Great I will buy it aslong as improved notification
Windows Central Newsletter
Thank you for signing up to Windows Central. You will receive a verification email shortly.
There was a problem. Please refresh the page and try again.