Carphone Warehouse gets excited about the Microsoft Surface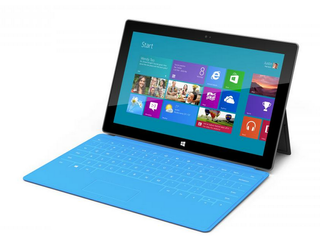 Those nice folk at Carphone Warehouse (opens in new tab) here in the UK dropped us an email this morning detailing their excitement following on from yesterdays Microsoft Surface tablet announcement.
According to Carphone Warehouse, the Surface will 'trigger a new tablet race' which is quite possibly true. With prices and dates still yet to be announced I hope that Microsoft either rectify that or at least keep up the hype with TV advertising etc.
With Carphone Warehouse being the largest independent mobile phone retailer in the UK, with over 800 stores nationwide, it is sure to push the Suface heavily. In its larger stores they already seem to sell as many tablets and notebooks as they do phones so I see the 'Surface' being a great marketing tool for them.
Graham Stapleton, Chief Commercial Officer at Carphone Warehouse, says,
Graham adds that Microsoft has set the bar high. Noting that manufacturers are going to have to work harder than ever to innovate and convince the customer that their tablet can top this. There's little argument that the Surface is an exciting product and it's nice to see retailers get an early start at promoting the tablet.
Nothing like a bit of hype, you'd almost think apple has just released an incremental update. Well deserved MS!

but does it blend? :)
ps, anyone notie the different windows store icon? i like it! ;)

Nice to see MSFT, do something but I want to read more about their next generation phones

While this unit is very nice and I'm getting 2 of them, I wish the would have added backlighting to the keyboards. They have LED's that are nearly flat. Also if you can enable/disable, battery life should be impacted minimally since you would only it on occasion.

it will only 'trigger a new tablet race' if its priced just right. RT has to be priced either at or below the ipad. the pro version I think is the problem. because that will probably be around $1000, a tablet at that price will turn people away. no matter how good it might be. I will be seeing what nokia has to offer before I decide.

The Windows pro version is a utrabook/tablet combined. Businesses will still buy it. Its not ment for mr average consumer. The OEM partners will fill the pro tablet (500-800 range)

Not just business.. I agree. Its almost miles better than iPad can ever hope for.. But it's also essentially a full blown laptop...so it also takes away anything sleek about a thin mac air... This is way better style , light weight and laptop portability...and fully optimized touchscreen with stylus...

i think we should remember that the direct competitor to iPad is the RT version, the Pro version's competitor would be ultrabooks and MacBook Air, and the advantage to the Pro is that it can double as a tablet

I don't see 1k would be an issue, but it would be really good if they can price it at aroudn8~900 instead (kind of doubt below 800 for that type of hardware)

Would be great as a bundle

The pricings here in the UK to compete with other Tablets need to be around £400-500

Yea for the RT version. Not for the pro, that's essentially a ultabook/tabletpc with a 4 yr plus lifespan. (businesses would buy that)

I already made my case at work.. Will be ordering 10of those for management...so I get one :D

Why do you think the pro will only be aimed at business? They should be able to price it to target the consumer market as well, the raw materials used will be more or less the same cost as the RT version give or take a few dollars, only the component cost (64GB and even 128GB SSD's are pennies these days at OEM cost, and falling fast) will be different. With the additional cost of Ivy Bridge being the main difference, then a retail price of $150 (£100) more for the pro version, should be fine. Anyone who thinks the RT will cost 300-400 dollars less than the pro version is deluded, as is anyone who seriously expects the corporate world to ditch the likes of Dell, HP and Lenovo (and even Apple) and pay a premium just for a Microsoft badge. In fact, given the agreements and contracts corporates have with OEM's, they may not even be able to instantly jump to Microsoft. In the department I work, I oversee deployment of IT hardware, and if this is £100+ more per device than the HP devices we use, it won't even be considered as an alternative, should we look into tablets; in the corporate world, SLA's and support networks are as important as the product and price, and that's nit something Microsoft could compete with HP and co right now, thier only real hardware history points to appauling levels of hardware support with the Xbox, and products like the Kin linger in the back of ones mind. As a home device, the RT version may suit some people, but most will want the flexibility of the Pro version, they won't want to spend £400+ on a device that is half baked and requires them to invest substantial amounts of money on new "apps". Most users who are prepared to do that are iSheep, and Microsfts Window isn't a luxury and desirable brand like Apples apple!!

I will be fairly priced but not overly competitive that they unfairly compete with MS hardware partners... So..while I am "set" on the Pro.. Before I buy I'll be looking at offerings from dell-hp-Toshiba before pulling trigger. This won't be by FAR the only win 8 or RT tablet to compete with iPad..
mSFT is trying set a good first impression standard IMO with win 8 and hardware and have been successful at it

Will the keyboard swivel round when you hold it as a tablet so you're not pressing the keys?

I think they mentioned that the keyboard shuts itself off when it's folded back.

to add to the above, the keyboard flips like the yoga from lenovo, inside of that keyboard is an accerlerometer that detects the orientation it is in and disables the keys when not in use

so we are ok there
Windows Central Newsletter
Get the best of Windows Central in in your inbox, every day!
Thank you for signing up to Windows Central. You will receive a verification email shortly.
There was a problem. Please refresh the page and try again.