CarStand, an easy access dashboard app for Windows Phone 8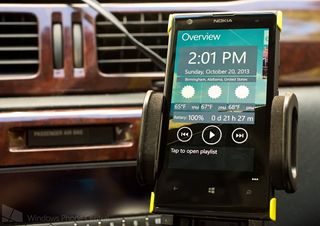 CarStand is a Windows Phone 8 app designed to give you easy access to the basics on your phone without too much distraction while on the road.
The dashboard application has three well laid out main pages that taps into your music library, displays the weather, lists speed dial numbers and offers four application shortcuts. CarStand makes a nice first impression and if your in the market for a dashboard Windows Phone 8 app for your travels, it's worth checking out.
CarStand Overview, Speed Dial and Shortcuts Pages
CarStand supports landscape view to give you a little more elbow room in navigating around the app. The main pages for CarStand are as follows:
Overview: The Overview Page has your time and local weather displayed across the top half of the page and a music player at the bottom half. Battery status is wedged in between with your battery level and approximate remaining battery life displayed.
Weather information includes a three hour forecast window with icons illustrating the conditions and the forecasted temperature displayed.
You can two finger tap on the weather display to pull up a detailed forecast. However, I haven't had much success with this feature. Either the forecast information is garbled or the app crashes. It's a nice feature but buggy.
The music player taps into your Windows Phone's music playlists. Where we've seen similar apps play individual song files, CarStand works off playlists. You have media player buttons that pause/play and advance the song titles.
Speed Dial: The speed dial page has the ability to add contacts from your Windows Phone to quickly dial those numbers. If a contact has more than one number listed, you'll need to choose which one to assign to dial. When you tap on the contact icon, a confirmation window will pop-up asking if you want to dial the number.
Additionally, you have a dialing field at the top of the screen where you can enter a number and dial it through the CarStand app.
Shortcuts: CarStand supports four shortcut tiles that can be used to launch applications or access Windows Phone settings.
Just tap and hold one of the shortcut tiles and a pop-up menu will appear to let you edit the tile. A wide range of applications and settings access are available that include navigation apps, Bluetooth settings, messaging, etc. The list is somewhat limited and the developer is open to requests for adding more apps (shoot them an email at vitoshacoders at outlook.com).
At the bottom of the Shortcuts page are two button controls. One to add a location to your favorites and another to share your location. If you add a location to your favorites, it will appear on the list of applications you can assign to a shortcut tile. Then when you press that tile, navigation directions will be generated for that address.
Sharing your location is done through social media such as Facebook and Twitter.
CarStand's Application List, Help Page and Settings
Throughout the main pages of CarStand you'll find the ever present three-dot menu that gives you access to the help/tips page and the app's settings.
CarStand's settings cover the units of measurements, disabling the lock screen, turning on/off your location services, and enable/disable the background image. You can also program an NFC tag to launch CarStand through the settings.
All totaled, CarStand isn't a bad choice if you're looking for a dashboard app to use while traveling. It puts a decent amount of information and tools at your fingertips but does lack any voice command support (which may not be a big deal to some). The detailed forecast display is a little buggy but I do like that the shortcuts can be used to launch applications as well as navigational routes to specific addresses. I still think that a 911 shortcut would come in handy on any of these dashboard apps but you can always program a contact for emergency dialing.
CarStand is available for Windows Phone 8 devices, it's free and you can pick up your copy here (opens in new tab) in the Windows Phone Store.
George is the Reviews Editor at Windows Central, concentrating on Windows 10 PC and Mobile apps. He's been a supporter of the platform since the days of Windows CE and uses his current Windows 10 Mobile phone daily to keep up with life and enjoy a game during down time.
I would definitely get this if I didn't have a ford with mysync but this is cool. I didn't download it to check it out, but something nice to be able to launch would be Pandora or another music app?

I would like to be able to launch PODCASTS - not just Playlists


No phone while driving...

Phone while driving is ok nath520 as long as you use an earpiece. However, having a link to Facebook, Twitter, SMS or WPCentral on the desktop, might be problematic. lol.

no phone while driving is stupid as longs its done largely handsfree. Do you make adjustments to the radio/cd player etc, talk to passengers?

i agree dont text manually or hold the phone at all - but no phone at all is a silly concept.
i like the idea of disabling non phone related activity while driving - ie internet updates/notifications, thatll be good to have.

no holding things should be the rule. i see plenty of ppl smoking or eating or drinking - holding things and limiting ur control is the real issue, talking whether it be to a passenger, over the phone or to ur phone (voice commands) is not.

The issue isn't physically holding things. The issue is distracting your attention. You can be just as easily distracted by a handsfree call as you can by a call where you're holding the phone.
The main advantage that handsfree has is if you can use voice commands to start phone calls or play/pause music, so you don't have to take your eyes off the road. The hands have very little to do with it.

If the developer is watching, I like the shortcuts but I have a question for you, is it possible to get theshortcuts to point to a preset? For instance, my normal trek to work is preset and pinned to the desktop. aka, Navagon. CarStand app only allows me to launch the full app, then its a drill down from the app, to my preset destinations. Not sure if its a restriction but that would be BOSS.

I am one of the developers.
As I understand you want to start navigation to your work place with one click from within the app. This is possible by adding your work place as a preset location and then adding the location on one of the shortcut buttons. After you click on the shortcut it will start default navigation app on your phone with the specific location set.
PS: Update is submitted for the bug where some navigation apps start with error when location to navigate to is selected.

Been using this app prior to this review. I would love if a feature could be included in the future.
As I understand it, there is no way to automatically send a text message. But, my understanding is that you can automatically populate the text message box. Would love to have a preset set of 10 text messages for examples "Just getting off the exit" or "just picked up the kids" to send to the wife to let her know where I am. I see it a two touch operation, pick message , then allow me to send message. This would be huge at least for me.

You can do that now...
Open the phone screen (as if to make a call)
Hit the ellipsis (...)
select settings
select "Text Reply" on
Click "Edit Replies"
You get four pre-set replies that you choose when, instead of answering a call you select "Ignore and Reply" or whatever that option is when a call comes in.

Yes, this is possible. We will add that kind of functionality in next major version.

wish one of the presets was Bing. I use Bing to find most of the locations I need to go and let it direct me to HERE Drive.

Bing will be added. Thanks for the suggestion.

Testing the app properly on a long drive tomorrow. Would like to set my music to a shuffled playlist, and perhaps changing the look of the home page that has the weather icons and general interface.
Windows Central Newsletter
Get the best of Windows Central in in your inbox, every day!
Thank you for signing up to Windows Central. You will receive a verification email shortly.
There was a problem. Please refresh the page and try again.