Chase Mobile app removed from Windows Phone Store, app will shut down March 22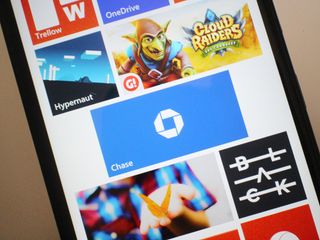 As we first reported would happen last week, Chase bank has removed its mobile banking app from the Windows Phone Store. People who still have the app installed on their phone will find it will no longer work after March 22.
Chase made the decision to end support for their Windows Phone app because they felt there were not enough users on Microsoft's platform. Since we first broke the news on Chase's plans, we have received a ton of emails and comments from users who are extremely upset about this decision. Perhaps the launch of Windows 10 will cause a change of heart at Chase, but at the moment, the app's removal is certainly a big shock for many Windows Phone owners.
Windows Central Newsletter
Get the best of Windows Central in your inbox, every day!
It's really not good. Maybe universal apps will change this (not sure why it would but hey) either way surely it's in their interests to ensure their customers can bank on any platform???

It is in their best interest... if that platform has more than 3% market share. Sadly, Microsoft has neglected Windows Phone in the past year (no flagship phone) and so what little market share we had is shrinking. I blame Microsoft, not Chase.

Actually they're selling more phones due to concentration on the low to mid range. High end phones may make more money per phone, but they sell a lot less. Just ask Android.

If they would have built a Xamarin Forms based mobile app, they could easily support native iOS, Android, and Window Phone all in the same code and with a single team. It would cost less than supporting both iOS and Android seperately, and give you Windows Phone support for basically free. Maybe the mobile guys at Chase aren't up to date on the latest tech options. Or, they may not be letting the Chase executives know because they risk losing on jobs for their skillset, or having their two indepedent teams cut into one. Who knows.

Or they could just be contracting the whole job, the app building and maintenance, out.

Xamarin.Forms is less than a year old and was not around when their app was started. It's still a little immature, but has awesome potential. However, completely abandoming your iOS, Android, and Windows Phone code base in favor of a complete re-write (which is what you would be doing if you moved to either Xamarin.Forms or the regular Xamarin platform) may not make sense or would be cost prohibitive. When it comes to customer's financial data, there are a lot of issues in complying with laws and protecting your personal information. They have code that is already tried and true, and meeting compliance. They would have to do that all over again. Is it technically possible? Absolutely. Does it make business sense? Probably not. Will it cost a lot of money (in the form of labor, man hours, resources, planning, hiring new talent, training, etc, etc). Oh yeah, you bet ya. The point is "Just use Xamarin.Forms" is a lot easier said then done.

You're right. They're getting ready for the next financial fallout.

What you call latest tech, I see as just another flavor of the month technology.

WTF! I really like this app and it works well. I use it to move money around every month. Why can't they just leave it up and not support it

Like how many people are "not enough users?"

They must have calculated that the user base is small, only a percentage of the them would actually stop being a customer, and that the profits made from the lost customers was smaller than the costs to support the Windows Phone app. For me, we use the Southwest Chase card for all of our monthly purchases, then we pay it off at the end of the month. I have been doing that for years, but now I plan on switching and not using Chase anymore. I'll look at other banks, including Bank of America, and find another card and bank for me. Obviously, Chase doesn't care, calculated the loss of my business, and felt they were better off without me.

Of course they don't want you, you're responsible with money. They want the folks who will charge for that new phone and pay the minimum until the new one comes out, and perpetuate the cycle, all while getting fat off the interest and other fees.

I'm going the same way. Chase has further indicated their disinterest in my business by ignoring both tweets and emails I sent to them asking for their explanation. Looking forward to changing my bank

You want them to leave a Banking app up, and not support it?... Ok.

No, I'd rather they leave it up and support it as a universal app for millions of their customers.

Who knows.. Maybe that's what they're planning... We've seen apps disappear, and come back, before..

Customers can also disappear and come back.

So threaten to change banks.

I'd love to leave, but the only other banks in my area suck worse. No Bank of America or Wells Fargo in my area.

"So threaten to change banks LOL. I find some of the predictable responses here hilarious! So, you want people to threaten to change banks? Nice. There are also those that are saying they will close out their Chase accounts and go to another bank. Sweet! Here is the problem. Chase users were in the position that Wells Fargo users are in right now; they had a supported WP app. So, running to Wells Fargo does not guarantee anything. They may also be closing their WP app in a few months. If you're chosing a bank solely because of an app. You are not very smart. Sorry. I wish more people would embrace WP for its strengths. Its uniqueness. I did not get WP because of apps. I already understood it has a dearth of that. For me, getting apps was a bonus and not integral to my enjoyment of the platform. And oh, by the way, telling people to boycott Chase is comical. Let me explain something that Daniel so eloquently expressed in his rant about petitions. WP has a very miniscule number of users (compared to the other platforms). Now, from that already small number; imagine how many users are in Chase markets; that should bring it down to a joke of a number. Now, of that now smaller number, imagine how many of them are using Chase as their bank of choice. Now, break that down some more to how many are actually using the app. When you really break this down, you will understand why this is not worth their time or effort. "They can keep it up without support". This is not a game, it is a banking app. Security has to be maintained at the hightest level. Bottom line, if you want apps like Chase's to remain in WP, buy/sell more Windows phones. Untill that happens, do love your phone for its strength, its uniqueness. Its windowsness!

This is exactly what I've been saying... These guys want to blame Chase, and any other developers, for not supporting WP, but the reality is that it's MS's job to make sure THEIR platform succeeds... Not Chase, Not Instagram, or Wells Fargo... These companies don't have anything personal against Windows, and it's extremely childish to think business works that way... Blame MS for poor marketing, not making sure they had a high end device out late last year, for always being in a constant state of change... Those things aren't what make developers, and companies, have faith in your product....
.........
So, the bright side seems to be W10, the final straw.... Hopefully this stops some of the chaos surrounding Windows...
I used to think that Android was chaotic, but seriously? We need to get OUR shit together, and stop blaming others..

With the constant flux of new apps being announced even as an app like this is taken down, its really hard to accept that this is solely becuase MS didnt have a 1st party flagship or their marketing was poor. App developers are coming to this platform, so we can clearly see that the sitaution is good for some developers and not for others. As far as being in a constant state of change, that's an even more silly reason. Every smartphone platform goes through changes on a regular basis. Plus, dont people usually complain that MS is too slow in pushing updates? Now they are pushing too many changes? I dont buy that. How exactly is WP more chaotic than Android? I don't think its unfair for a customer of Chase to choose to move to another provider that supports the phone they use. Should they instead switch phones and stick with Chase? How else will an app developer know if a choice they make is good or bad? I know that you try so hard to keep everyone focused on taking it to MS, but there is another side to this. WP currently has millions of users. Marketshare numbers are low, but actual user numbers are not. Their is a large enough base for apps to do well. Chase may be leaving now, but there is no evidence to say this is a trend or that they are gone forever. I just hesitate to jump to any conclusion.

Jump to any conclusions..... OMG...
Yeah, we don't want to jump to any conclusions that Windows has an app problem... Ok... Wow.
..........
And, it's not about this particular Chase app... The big picture is that literally chase doesn't matter very much... The principal is that this is an example of Windows app problem,, whether you think its a big deal, or not...
.........
I'm beginning to think you have very little perspective..... Although I do agree that it's definitely nothing to panic about... My point is that in 5 years WP should be better off, and I blame MS because IT'S THEIR PROJECT! THEY ARE RESPONSIBLE FOR IT'S SUCCESS❗ It's looking at the root cause.. Sorry if you can't see it, but that's what I believe, and im sticking to it... Thanks for your opinion, though.. I did get something out if it.

The reality is that most people who are buying low end WPs are probably not using banking apps,or don't have a checking account. Just because MS sells a lot of low end phones to starving kids in Africa, doesn't justify Chase bank dedicating their resources for a few users.

Exactly!!! We can't expect for Chase to support the platform just because we're fans of it.... Some of these guys are just foolish.

Do I engage in the copy/paste argument again?

It is quite annoying... But, I did it.. I did it.

Everyone likes to likes to talk numbers, but we never hear the real number. How many people using the app does it take to make development worthy. 1, 2, 3, 10 million.

Here's the thing... Banking is a service and you're the customer. If bank B offers more beneficial services than bank A, then you as a customer has every right to switch. Would you rather stick with bank A and and continue on with the "woe is me" attitude? Any smart person would switch to bank B and enjoy the added benefits. I'm not mad at Chase for dropping their app. It may be in their best interest, as it is mine to drop Chase. And if the bank I move to drops their support, I'll find another. Simple as that.

You are absolutely right; you go to the bank that offers the most benefits. The difference is, some of us do not put an app up there with interest rates, security, location, insurance, accessibility and solvency. Call me crazy but an app is low on the list of things I care about when I am talking banks.

That might work, but they already know how many Windows users there are, and they've most likely already calculated that risk before their division....

Same here. Capital one doesn't have an app and now this!

yea... very dissapointed... me and my friends use chase quickpay all the time... more convenient to have 1 guy pay for everything and everyone else quickpay since we all hardly ever carry cash... i'd use venmo if i could... but they don't have that for windows phone either... will start using an android phone... i'll still hold on to my 1020 for taking pix/vids though... nothing compares that that camera!!! i'll most likely come back when the apps get better... i love the layout in the apps too much on windows phones... was on android using chase and amazon app... kept sliding left and right... too used to windows phone apps... hahaha...

I for one will be leaving.

To Chase you were never there.... Lol!

For that I'm no longer considering opening an account with chase. F 'em

That's a pretty sheepish attitude when you should be blaming the platform, instead of Chase.... It's like you guys expect MS to be some charity case.. You shouldn't look down on Windows like that, and expect more from MS... Put the blame where it belongs.... Cussing out Chase?... Lol.. They still support iDroid,, so what's wrong with your device❓ Seriously,, think about the situation un biasedly.

There is nothing wrong with the device. Chase claims there are not enough users. This is not about the quality of WP as a device or an OS, its simply a numbers game. If they told us how many users they need to make it worth their time, that would help. Instead, we get to argue around and around. I suppose MS could start reaching out to companies like Chase and offer to build/support their app, but that could get expensive quick. I wouldn't blame Chase if they gave us more information. However, I wouldnt begrudge anyone that switched banks in order to be able to properly access that bank from the smartphone they prefer. Not every bank feels that having a WP app is too costly. For some reason, Chase is different.

"for some reason Chase is different""
.....
Maybe you should hire a detective❗❗

Blame Chase for chasing away THEIR customers. It's as if you absolve Chase for abandoning their customers, and that's what they've done. There are probably more Windows Phone users that ApplePay users, but Chase is falling all over themselves to be front and center for that. Banks are a commodity service for the masses. The differentiating features being interest rates (that aren't drastically different) and convenience features. Chase has just made their commodity product less convenient for a segment of their customer base. Shame on them. It's easy to sit here and bash Microsoft like some people do on auto pilot. Usually these people scream "it's a business" and "simple economics" while having little to no idea what they're talking about. There is no way that supporting Windows Phone is losing them money. They have the app code made and are in maintenance mode. Out screams of some back office, anti-competitive dealings. Apple cut PayPal out if ApplePay for daring to also work with Samsung. I guess I can't expect much critical thinking beyond the mantras, but I can hope.

You say all that, yet so many developers decide not to support the platform... Lol. Ok.

Don't they have a mobile website that does the same or at least part of what the app offers?

No check deposit on website on my phone...

Is it impossible to do those transactions from the browser? Ok I know its not practical but ppl is talking like they wont have options

Borrowing from the Requested App of the Week thread " Let @ChaseSupport know what a terrible decision this is!!! No need to be nasty, let's keep it civil!!!! #KeepChaseMobileAppOnWindowsPhone"

Please help understand how you have to support an app on a platform? For me its just upload an app (client or fully native) and update every now and then because I want to...

Hopefully they'll return with a universal app for Windows 10. Guessing their app support personnel (probably one guy for WP 8.1) complained about resource utilization.

I think I'll do that too.

Me too, I already sent them an email directly stating my accounts would be entirely closed by the EOS date unless they reconsidered.

First, they eliminate the ability to conduct business with a human in any drive through lane at my branch and only have one human teller inside the bank (screws business account owners), now this. Calling my account manager tomorrow to give a piece of my mind. If i don't like what I hear, bye bye chase!

As much as you guys are saying that I find it hard to believe. People aren't going to change their banks over the app. Its Microsoft we should be upset about, why are they so slow push the envelope with windows phone. No dramatic changes to windows Phone in over two years.

I changed my bank for not supporting windows phone and stated that was the reason why, 4 months later they released a native app.

Why not? Bank accounts really aren't that different from bank to bank. What is usually the reason people chose banks is ease of access, etc. I was actually thinking of switching to Chase from my local CU because of Chase's app. But now that they removed it, fuck them.

@ Spaulagain. Well, thank God you didn't change to Chase because of the app, you would have egg on your face now! And this, folks, is why you choose a bank because of strong reasons and not because of a stupid app that does the same thing you can do with a browser. Laughable.

I also changed my bank (US Bank) because they didn't support Windows Phone and switched over to one that did (Bank of America). I told them exactly why, too. Banks are important, but they're all kind of the same; in contrast, I use my phone more than any other device in the world. I will gladly switch my banks to accomodate my phone, rather than vice-versa. It's not that difficult to close an account in one place and open a new account in another. It's not like these are cell phone carriers and we're trapped into contracts.

Let me know how you deposit a check within the browser?

How is Microsoft responsible for a company making our supporting an app? We can only do so much in terms of offering guidance and potential incentives but ultimately it's the company's decision, as disappointing as it might be.

Why not? Being able to manage a bank account by apps it's a service given to the customers. If a bank doesn't give this service, I would be happy to switch to a bank that has it.

I will be as well. I can get better rates elsewhere anyway.

I use a credit union. Better interest rates lol.

And I was about to switch to Chase bank because of the app good thing I didn't.

Ditto. I had been considering it.

Same, bank of America it is

Or if you have a military link, USAA

Sorry for asking but...what is it even about :3 ?

Hey, John. Can you tell Daniel that he is a straight savage?

Sucks. The app really shouldn't take more than one employee working part-time to maintain. Just shows that Chase is extremely cheap and will prioritize saving just a few dollars over several thousand customers.

That's the worst part... it would be several MILLION if they'd port the existing app to a Windows Universal App. Then they'd still have a part time employee maintaining it and have a much larger audience. What they're doing DOESN'T make sense financially.

They're a BANK. What did you expect? Lol

Chase is a POS anywayz. They always want to charge me 6 bucks to cash checks drawn on their bank. It's too bad though as WP is an amazing platform that does not get the recognition it deserves.

You can try going to a credit union, they might give you better interest rates. Problem is that there's not a of credit union apps on Windows phone, let alone bank apps. I'm planning on making a web app on App studio for the one I use just for convenience. Yeah its a web app, but they work well, it's still considered an "app", and it's helping to add more banking apps to the Windows Store. So ya can't really complain lol.

Will be closing Chase account

I think that is great. Take a stand.

I'm already shopping for a bank in South Florida.

I've been meaning to transfer my balance to another bank due to the outragous APR they charge. Now by removing the app they just gave me one more reason to finally dump them. I transfered my baklance to my Credit union this afternoon. Account will be closed within a week - See ya' Chase. It's been knowing you........ NOT

Soon I hope to say the same.

Wells fargo or BoA :) here in Miami theres a wells fargo every 2 miles lol awesome

It's one thing to stop supporting it quite another to kill it for those that do use it. Very bad practice and MS should be talking to them about it.

Customers should be and will be talking to them

"Perhaps the launch of Windows (X) will bring it back." WPC have been saying this since WP7!!! MS should just start throwing money at developers.

MS has been throwing money at developers also since WP7...

I think not. We're still short on alot of apps.

Paying for an app is no guarantee that it will be good or continue to be supported. Not a sound strategy.

Ok. So you could continue to be without the majority of your apps for the time being.. For me that's been since wp7 and I think its about time to switch

I am. IPhone 6 here I come. What a grueling 2 year wait this was

Please post your list of missing apps, the ones you "acutally" need, not the ones to make a point. There is a relatively small app on WP now, its not huge. And yes MS have been throwing money are developers for the last few years, particularly those who create tools and libraries. The issue MS have in part is that they have Desktop, and that many apps for Windows just live there and ISVs are reluctant to re-invest (Autodesk, huge example). That will still be the case until Windows goes "pure Store" which as a Windows user I want, as I no longer have to worry about AV or viruses, like I don't have to worry about them on my Surface 2 or my iPad. Universal will only help for Store apps, in that a Windows Store app will run anywhere. It will help a bit, but it still might not be enough althogh we all hope it is of course.

My bank app. MOST sports apps. Nothing is ever released and they always say "wait until windows (x)". Just sick off the tall and hype. Just because your satisfied doesn't mean most customers are. PLUS our social networking apps get close to NO love. WP8 IS MISSING TONS. Ill stop talking in the comments to biased fanboys. If you wanna know what were missing go into the comments of apps and see how disappointed people are.

I'm the world's worst fanboy, the type that moved over to an iPhone 6+.

I switched over the Touch ID and apps. I still carry around my 1520 but my iPhone 6 is my main device. The iOS Chase app has over 102,000 reviews. Clearly that app isn't going anywhere. I still prefer the live tiles and Cortana but not enough to cling to this platform while their priorities are clearly elsewhere (Surface 3, Xbox, Office and Windows 10. You know, the money makers.). You won't regret switching once you sign into your banking app with your fingerprint.

@Rick Smits, I knew you wouldn't have a specific app. Just another whiner. Blaah keep whining.

Your suffering must have been great during those two years... :rollseyes:

Yep, I don't care about apps, I've always been more concerned with the core OS experience. There's no app I cant replace, case in point, I use Capital One and a credit union both who don't have WP apps but I can still get my banking done because I'm not tied to only using a mobile app. Apps are good but not the defining experience, for me at least

I use Wescom Credit Union and there is no app for us Windows users, so I just do all my banking from their full website, not a big deal. Not gunna switch away from a beautiful, natural OS just because there is no mobile app for my OS.

You could always make a web app of your credit union on Windows App studio. Yeah its essentially the same thing, but if you've noticed on Android or iOS a lot of their banking apps are just glorified web apps with a couple more features. Plus it would be there for convenience so you dont have to type in the address to the banks site or pin the site to the start screen which in turn gives you a horrible icon image to go off of. I plan on making one for the credit union I use, and if time persists maybe even a few more banking apps I can think of. I'm going to make Modern UI looking icons for them to make them stand out a little.

I would love to, since Wescom Credit Union says they had no immediate plans for a "Windows Mobile App" (weird name usage) when I emailed em last week. But at least they forwarded my suggestion to their mobile development team. I don't know anything about software development.. Would that be difficult? Since I'm on WP Developer Preview, I think I technically am a Developer with access to their tools. But anyways, I've seen other small banks in our WP app store that are just web wrappers. Also would my bank account info/data/money be vulnerable or safe?

Yeah a lot of people word Windows Phone apps like that, almost as if they have no knowledge of Windows Phone at all and still refer to Microsoft's old phone platform of Windows Mobile. Yeah Im not a pro developer myself either, but I've taken a class on it in high school so I know how difficult it can be. Nah it ain't super difficult at all. The Windows App studio greatly simplifies it for consumers to make their own apps, but its kind of limited in what you can do. There's hardly any coding involved, and a lot of it is provided for you. Mainly copy and paste sort of procedures. Its as simple as selecting the Web Application Template, and putting the address to the mobile site of your bank. You'll have to make your own images using a vector art program or photo editing software though cuz the default images they give you to use are crap. I would just take the banks logo and see if you can put a Modern UI twist on it. That's what I'm doing with mine. But yeah since you are signed up for the developer preview, that means you either signed up for a dev account or for a Windows App studio account. Both of those consider you as a "developer." Your info really wouldnt be any safer than it is just using the web browser. That's all they mean by a Web app, or "web wrapper." It is literally the actual website of the company or service, but put in an application form. A lot of people give web apps a bunch of shit because they say you can "just use Internet Explorer instead" or that there's not a lot of features compared to dedicated apps, which is true in some cases, but I think they work just fine. I find them to be a tad faster as well. It all really depends what site you decide to make a web app. Some of them are really crappy and not worth the effort to make a web app.

Where do I go to start the process?

Technically people have been saying "wait until Windows Phone X" for features and by extension users, not apps. Windows 10 is actually the first version that might have an impact app wise, though Windows Phone 8 also made some strides. Also the fact that we're not seeing apps is not because Microsoft is not throwing money at developers. They are. They've offered multiple incentives and have even developed some apps themselves. However that is an unsustainable strategy. That'll be like the government paying companies to open branches in a town. Might work for one or two, but you need the company to want to be there, or the second you stop they vanish. That can't be solved by throwing money at companies/devs.

Why would Windows 10 matter in this case? On a PC, people use the web browser. Nobody installs apps on W8, nobody will do it in W10 either. The share of W8.1 installations used as tablets is as vanishingly small as the WP share.

People follow convenience. A curated app store that has the apps they need without the threat of viruses can become the de facto means of app installation. Windows 8's problem was that the worlds were too separate. I have it on my computer but Metro is useless to me. Full screen apps with large fonts and lots of swiping? No thanks. It's obvious that Microsoft is going for a far more unified environment with 10, one that adapts to use cases. That's why it's the one that can actually change the app situation. They may not be successful, but this the first time that bridging the app gap is actually viable.

As long as you can't deposit checks on the web browser it absolutely makes sense to install a banking app that can do that for you. I hate going to the bank just to deposit a check.

For a big company like Chase they must hate Microsoft to take this action

They are in bed with apple pay soooooo

There is a conspiracy to finish off MS. Just look at how negative the press reviews MS products and compare it with apple. MS should also invest in a highly aggressive image building. Getting the OS right will not be enough. That's like making good music without proper promo.

The press are chock full of a certain type of person (not the amazing and upright staffers of WinCentral, they are totally cool cats) but journos are like "luvvies" and thesps, they are on the social side of the human scale, so think a certain way, love to be "alternative" and aganist the man or the establishment. What is ironic, is that _used_ to be getting an Apple Mac. Now these dumb hipsters think they are still being "cool" with an iDevice, even though Apple is the new mainstream and is not alternative at all. Its as alternative as a Big Mac. Utter tw*ts many of them, and is the main reason I don't read a newspaper or watch the main TV news as its depressing and childlike in its sensationalist presentation and over the top misery and drama. The world is not as dark as the news paints. But I think MS are really turning their image around lately. Am I excited about anything Apple? No (I have an iPad, I'm not Apple phobic). Even Engadget ran a story this week saying "when did Apple become the boring one" or something like that. I also have a Macbook. But I use my MS products more because their integrated services make for a much nicer and "simpler" experience. I love Outlook, OneDrive, OneNote, Xbox, Surface, Windows Phone.... listen to that list, A M A Z I N G stuff. I couldn't live without half of those, and my PC running Windows 8 with DOTA 2 fills my world with joy :) xxx

Microsoft did eol xp so I could assume alot of financial institutions that didn't budget accordingly are pissed

All corporations know the life of the software support. This can't be a excuse.

You are talking about a software from 2001. They pay more for their CEO's than their software. Oh, by the way they got my tax money for their bailout and CEO bonuses.

I am sad they discontinued the app but that being said, I never really used it. I think it was cool to be able to deposit checks using the app, but for some reason I still always went into the bank anyways to make deposits. Other than that, I always used the web site for making payments and things. For at a glance, I just use Mint (which is great they finally got around to making an app). So its sad to lose an app, but I won't miss it.

Agreed, but Web is not as safe as App. In the list of secureness: 1) Apple iPad, Windows Phone, Apple iPhone, Surface 2 [apps] 2) Apple iPad, Windows Phone, Apple iPhone, Surface 2 [web. IE metro browser, 3) PC 4) Shouting our your banking numbers via megaphone down the street, and asking a passerby to log on for you 5) Throwing all you rmoney on the pavement outside your house 6) Android

And that's why they stopped it. It makes perfect sense to me. We can still use their mobile site for almost everything, and let's face it hardly anyone actually posts checks, let alone in their apps.

When I say I use the web site I was referring to the full desktop site. I don't even use the mobile site. Maybe I am just a special case though.

Hey Chase! Windows 10! Chase in about face shocker move arriving in 5,4,3,2,1.....

No, you're thinking. They don't realize about 1 billion Windows App users will be appearing overnight soon. And that those users need a Chase app to deposit checks at home. This is very shortsighted.

As is your comment. Expecting that to happen is just expecting way to much. Apps still need to be made according to the w10 standard. There won't be a billion plus users automatically universal apps or not.

I don't follow. How does a Billion Windows desktop users translate to the same number of Windows phone users? I get that they're going to be the same OS, but people don't use computers and phones in the same manner. On laptops and desktops, you live inside your browser of choice. Due to the limited screen size on phones and small tablets, apps are the preferred method of using products and services.

Anyone on chase should find a credit union. They are horrible.

I am going to switch to bcu I think

I use Lake Trust credit union. They're not too bad, but I live in MI and idk if their branches are just limited to that state.

My solution, moving my money to a different bank!

If a good American bank ever releases a solid Windows app I will move all of my accounts.

Ally bank. Amazing bank, amazing app!

Ditto on Ally bank or credit unions.

Isn't BoA's app just a web wrapper?

Web wrapper? Looks not like the web to me but an actual app. If it is a wrapper its really damn good.

No the B of A app is an actual app. At least when I had them a few years ago. Wonder if they even updated that app...

A "ton of emails and comments" should have convinced Chase to continue support of their Mobile app. That is if **Chase** received them from the user base. Comments here likely went unnoticed. IMO, these types of apps are more "valuable/important" to the viability of the platform than (sorry) games. Losing this does NOT send a good signal.

Completely agree. I use apps like these to deposit checks, check my account, transfer money, etc.

Agreed. It doesn't hurt Chase, most people can use their excellent mobile site for most things. But it hurts MS and WP. A friend of mine was looking to buy a new phone the other day and I asked what she uses it for. She said just the basics, "and banking, never use the computer for that at all anymore". Well right there I couldn't honestly suggest WP. Sadly.

Windows 10 will bring 1.5billion customer potential, if chase wants to loose that then all the more stupidity to them.

If the app is made for the new universal standard. Regarding the current level of support by some major companies I expect some to drop support support for windows phone 10 altogether because they need to put new/extra effort into the apps they make.

See, people keep repeating this same line, and I *still* don't get it. The fact that one OS will be the same across devices is besides the point, it's irrelevant. Consumers use devices differently; people don't use 'apps' on 20-inch monitors. They use a browser, like Chrome/Firefox/Safari/IE.

People are saying that because the potential is there. Remember windows 10 wont just run in regular PCs and phones, but on many touch screen laptops, 2in1, and tablets. Thats why you hear them screaming the billion potential customer lol its insane of course. But thats the marketing going forward, build a windows 10 app and "potentially" reach 1 billion customers

This is pretty messed up.


Already closed my accounts and moved to Ally.

We have a USAA personal. They support WP too. Ally is good rates though.

USAA isn't much better at maintaining feature parity across their platforms. The USAA app on Android is much, MUCH better than on WP.

Went to the Chase atm yesterday and they're promoting the new ios app on the atm home screen :/ They sure have the money for that,but can't blame them when the user base isn't there for WP.

Nice going Chase.....we hardly knew ya!!!

Ok so according to Chase there isn't enough WP users for their liking. Maybe, and that's a very small maybe, they are justified to not continue developing the app. But to disable the app for those that use it? Wow!! Great customer service! Just great!

They have to. You can't develop new functionality on the server side for the other platforms if you have to worry about backwards compatibility with a WP app that is no longer maintained. It would just piss off users even more when their WP app suddenly started crashing or not working.

Huge blow to the Microsoft ecosystem... huge.

Bad business practice I think. They've could just left it there and never updated it (Kik)

Send those tons of email to chase.

Wells Fargo has a decent app. UI is kind of ugly, but it does what it needs to.

Cancelling two Chase credit cards...

Don't forget to cash in your points first! Cost them almost $100 to cancel my card thanks to all the points I've racked up. Gettin' a check in the mail from them

Thanks fur standing up. :) screw them guys

I know it is not a solution for everyone but right now I am feeling happy about Bank of America. All of them are evil anyway! :P

I believe that banking institutions are more dangerous to our liberties than standing armies. If the American people ever allow private banks to control the issue of their currency, first by inflation, then by deflation, the banks and corporations that will grow up around [the banks] will deprive the people of all property until their children wake-up homeless on the continent their fathers conquered. The issuing power should be taken from the banks and restored to the people, to whom it properly belongs. Author: Thomas Jefferson, Source: letter to the Secretary of the Treasury Albert Gallatin, 1802

Unreal. Yet more reason to believe developers ignore users no matter what platform they use.

Thanks god I use Wells Fargo

Agreed, left Chase a long time ago for Wells fargo when they bought out WaMu. Never looked back. Keep telling my mother to switch...

That's not going to happen. No bank is stupid enough to give out public APIs to access their services, and if they are that stupid, you should close your account immediately.

No way I would give my banking info to a third party app.

Lol are you feeling okay? Social media is 1 thing but banking information to a third-party app developer that crosses a line for,me

Really stupid move. Lacking apps is an issue and losing major apps like this one is worse.

Chase if youre smart you are only removing it to upgrade it to a universal app so that you can reach all windows customers... if not then youre just a bunch a idiots

I started yelling "no!" And I haven't stopped.

Wp store decreases on quantity of apps instead of increasing

No... Sorry to burst your bubble of negativity... But more apps arrive than the amount that leave.

I don't know.. Its pretty close.

Contact them. 877-242-7372

@chase @chasesupport https://www.facebook.com/chase (comment on pictures or post will get deleted) and contact via secure message through account online

Ugggh why does the Amazon card have to be thru chase??? It's not fair! I've already cancelled my other chase card, but I get so much value from the points on my amazon card...so torn

I've never paid a dime of interest, so maybe they aren't making any money off me anyway...

They make money off of every purchase you make. Don't worry. ;)

I don't get why cancel an app that is already developed. There is no more development costs. I don't think it costs them any money to keep it going. I know I will be switching. I stayed with them because of the ATM network. BOFA has a WP app and win 8 app plus it is right across from my work and has an extensive ATM network.

Possibly cause they're so tied in with apple pay? Maybe apple made them get rid of the app

Don't think so. Apple and Microsoft have a fairly good working relation.

See my other response. It costs them in terms of other development that constantly has to be tailored so it allows the WP app to keep working. No business of this kind would want to keep doing that.

Especially a billion dollar bank...

Yeah, but each department and division works within a particular budget, and maintaining a little used app for 3% of the smartphone market, is pointless. Any growth that WP sees is in emerging markets, where, wait for it, Chase doesn't operate retail locations.

There have been only a couple updates since they created the app. When they update, it's not like they are creating the app from scratch. They are not changing the interface. I doubt it cost a lot to maintain this. How about windows. The number of windows 8 users isn't small. They could should create an app for that and since the code is shared, also maintain the wp app. Sure you can use a website. However, the ipad can use a website also yet they created an app for the ipad. Bank of america has an app for every platform. That's more customer service than I received from Chase. I was originally a Wamu customer before Chase bought them. I don't go to the branch much. I deposit my small items with the app and use the atm for everything else. This saves them money since I don't require a teller to assist me. They take away the app, I really have very little reason to stay with them.

Moving my money. Bye-bye!

Unacceptable on Chases' part. It is not difficult to maintain an app, and as a national bank they should be available on ALL platforms their customers are.

I was considering moving my business accounts to @Chase because they had an @windows app that would assist me in managing my accounts. If they plan on discontinuing the app I will have to look for a different bank now.

All banks suck. Credit unions are the way to go!

Change phone or change bank? You can always access your account via the web so it's not an all or nothing.
And Chase does provide text alerts... But I can see how some who want to keep track of all aspects of their bank accounts would be negatively impacted by Chase's decision. Still, this points to Microsoft's failure to get big companies on board. Starbucks? Nope. McDonald's? Nope. American Airlines? Nope. And the list goes on....

It's much easier to change banks than phones. Ever heard of a thing called an ETF? I can tell you right now the reason American pulled their app is because their CEO (formerly the CEO of US Airways/America West) is a notorious penny pincher. The same man who thought it was cool to charge for water. Starbucks would lose their hipster cred by supportong Microsoft.

What a dick move. Sorry we don't all use iPhone and android!

Fuck this. Going to wells Fargo

Come on, people. It's not that much of a shock. This has been happening for a while now. We lose almost as many apps as we gain.

I think its more of a shock because chase has been supporting the app for so long. Ever since WP7 I believe, with updates and everything. So for them to have invested so much time and money already for years to suddenly do a 180 and drop all support out of the blue is kind of a surprise

The guy at Chase who knew what Windows is, retired.

Well, its time to change the bank

Yea man if these banks are going to be picky with mobile support so will mobile users. It seems very simple to me; any mobile app should be available on the top three platforms period. It is funny how almost everyone has Windows PC and yet they are playing games with support for Windows Phone.

Chase appears to be completely missing the boat here. There are 10's of MILLIONS of Windows and Windows Phone customers that would love to use an App to deposit to their Chase account. Chase is basically say FU, go buy an iOS device. Hardly seems to be clear thinking from a company that made $4.5 BILLION profit in the last quarter alone!

This is/was a Windows Phone app only...there is no boat to miss with the US user base of WP with Chase accounts unfortunately.

There really aren't, not all WP users are Chase customers and that's the reason they gave, and when you consider WP's US marketshare its not too farfetched to see where they are coming from. There just aren't enough WP users for some companies to support the platform.

To add to this, Chase is primarily based in NY and some surrounding areas. They are a regional based bank and not a national one. If they had more banks across the country maybe more WP users might use it. But personally, I feel shafted because I used the app ALOT. Screw them.

I live Cali and they are all over the place.Don't know were you got your info from,but Chase is a nation wide bank.

Double that...all ova Cali


Actually MaulerX, with all the buyouts they've done, they're national.

Right, when they bought Bank One a few years ago they took over the west and southwest quickly.

Historically Chase was a NorthEastern bank but they bought up Washington Mutual during the financial crisis and vastly increased their branch footprint.

My point is there are a lot (MILLIONS) of customers with Windows PCs and Tablets and Phones that would probably appreciate the ability to use an App and deposit from home. Just as there are millions of iOS users. Today, a Universal App supports both sets of customers. Now Chase supports none.

Well most of those PC users already have ios or droids so there's probably very little demand from PC users for their app and since Windows 8 tablets havent exactly taken the world by storm, the numbers likely arent there either. Maybe Windows 10's ability to run Modern apps directly in the desktop will bring such apps to a greater audience, but till that is proven its hard to argue that the numbers are there.

There are a lot of PC users that certainly don't have an iOS or Android tablet but do have a home PC. Customers not being supported.

Pc users use the website I guess

Exactly. That's why all this hope for Windows 10 apps is misguided. Nobody WANTS apps on their PC. Unless Microsoft comes up with some great marketing campaign to convince people to start installing programs on their computers again (something hardly anyone ever does anymore), Windows 10 won't impact the user base very much (and apps meant primarily for mobile use won't be used on the PCs anyway. Nobody is going to use Lyft on the PC, for example).

The reason you use the PC is the apps. Someone changes the name from applications to apps and all of a sudden people think they are different entity. The windows OS and desktop don't perform many functions for an end user. It's the apps that provide functionality. If the apps are useful on a tablet, they are also useful on a pc. Sure you can get a lot of functionality from a browser. However, the apps are easier to use. Would you rather use a browser versus an app to access the bank, HBO go, social sites, and a wide variety of other services? Just because an app is associated with mobile devices doesn't mean it isn't useful on a desktop. People might not use Lyft which a service that people use away from home. However, people watch videos and communicate at home. I still see people using laptops on a couch because of the larger screen.

Quite. I don't do my accounts or most banking on a tablet. I do them on a PC. I do however deposit checks from anything with a webcam and app that is convienient. Be it phone, tablet or PC. A nice PC app would enhance the Chase experience and add functionality.

This is because Microsoft fails at getting more phones out! And I'm also talking about high end phones....my family of four has Lumia icons and so disappointed in cyan/denim fiasco.

My entire family is on Windows Phone, but several of them are thinking of bailing soon because they're stuck on Lumia 822s and they literally cannot buy any Lumia phone on contract from Verizona right now, not even at the Microsoft Store. That is ridiculous. Joe Belfiore needs to be fired. Windows Phone will never succeed if you literally cannot even buy them when you want to.

Yup, at least here in the US that is a huge problem. I saw a Windows Phone display though at Best Buy, for the first time, the other day. Three phones (635, 830 and 530) on a tiny little display, from AT&T of course. And about 50 Androids and iPhones (literally) next to them. But hey, at least there were some WP there now!


The iOS app looks like it would be easy to port over to the new Windows 10 app design language. Hopefully this is the case for many more apps.

Time to cancel my chase/amazon card. I'm not about to jump from the MS ecosystem becasuse a bank decides to alienate a large chunks of customers. Even If I wasn't a WP user it'd be time to leave Chase. A bad sign when bank says that your money isn't good enough to support.

So how does the mobile website look in IE on a Windows phone?

It looks fine. However, you can't quick deposits using the camera with the mobile site. You can still do the quickpay.

FYI And here in Michigan they are closing their 37 stores that are located within Meijers and Huntington Bank are taking over those branches. They are set to begin to close, the end of March. (same as the app)

Closing 2 Chase accounts tonight. Opened WellsFargo.. Called them on Saturday and complained about not taking care their customers. It's easier for me to change bank than mobile os. I hope that money they lose by people switching will be more than they could spend for maintain the app.

A bank preventing users from utilising a service which currently is in use... Makes zero sense whatsoever lol. One would think in this current economic climate they would want to be available everywhere thus increasing their customer base...

Use your browser and quit bitching or get a better bank. K have a nice day lol

Show me where I can deposit a check from a broswer

Exactly. Depositing checks was a major plus of the app. Screw them.

+ HTC 1. Depositing a check from your phone is the difference between a handy mobile website and an app that eliminates the need to ever walk into your bank.

That sucks... Really disappointed. I use it a lot

Seriously this is BS. Not just Chase but literally every financial instituion should support Windows Phone. Its still a high market share OS and users across the world. Money is not Important to them I see. Windows 10 better fix this dev issue, everyone likes to be ignorant.

Most big ones do. Smaller regionals less.

Wtf I don't even use chase, but I find this ridiculous of them. I hope you guys change banks lol

In an unrelated story, I will remove my money from Chase.

I think you mean a related story.

When I switched to my Lumia, i left behind the App to my Guatemalan Bank. But their web page works just fine on Internet Explorer.
Is this any golf for you guys:
https://mobilebanking.chase.com/

No. No deposit method. A pointless website. If that is good enough, they need to close their iOS app too.

Screw you Chase. Screw you.

Chase mobile support is pretty responsive on twitter. I vote take to twitter and just show how many people are upset about this!

Chase is ibm customer, ibm is apple partner
1 + 1 = 2

Appholes. I am in the process of transferring my Chase Visa balance over to my Mastercard so I can cancel the Chase card. it may seem dramatic, but so is removing their app from a platform because they don't want to support it any longer.

@Omagic82, I hope you tweeted that and called to complain. If so, awesome! I just called them, took me all of 4 minutes to get them to file a complaint that I will take my business elsewhere if they go through with this.

Glad I don't have a Chase account. And now I never will.

I understand removing the app, but it makes no sense to shut down access for those of us that have access.

Like snapchat, i guess someone is paying theese companies to boycott ms
A lot of companies don't want/like to develop (spend money) apps for 3 platforms...

Use this all the time to move funds. How do business expect to "have enough users" for their apps when they don't have apps available? This is a dumb decision and they need to reconsider.

mayebe they are taking it down to put up a universal app later????

If that was the plan, they wouldn't take the current app down before the universal app was ready.

Closing my account with them

No disrespect, but can we no talk about chase anymore at windows central..... They are wrong for removing the app.... Apple lovers!

This could not happen in Finland. Because of Nokia there are apps for windows phone that don't even exist for ios. Android and windows phone gets the most attention here. Take our cinema chain for example. Finnkino. Ios was the last to get the app and it took years.

I don't understand why MS is so weak in his homeland

Because it's new CEO is somebody who wasn't born in its homeland.

Fortunately I bank with BofA, and their WP app seems to be on par in terms of the most critical features of the app versus other platforms. However, I did once download and install the Chase app to manage my Amazon card, but I removed it after not seeing much need. I guess I can't really voice my concern if I may have led to them removing the app. Seems kind of rash though, if the app works (does it?), why remove it from the store?

BofA also has a windows 8 app and that is why I will be switching. I was thinking of switching for awhile and now I have a reason. Once the app goes dark, I will change all the automatic payments to the new account. Banks really are a commodity for most people. Chase got rid of their tellers in my local branch and installed self service ATM that can dispense any denomination of currency and coin. So, I'm not getting any special service. I don't have any loans with them because their rates are higher. The interest on savings account is almost zero. What is the incentive to bank with them as opposed to another bank? The reason I stayed is the convenience of the app and availability of ATMs. BofA and Wells Fargo have plenty of ATMs and they have an app.

I don't have accounts with Wells Fargo, but I have checking and savings with BofA. I manage to do everything online or through ATMs, but the few times I've had to step up to a teller, it's been alright. In my area (and anywhere I've been), I've never had serious issues finding a branch or an ATM, which is a very comforting feeling. I don't think the BofA app has ever crashed on me; I've handled transfers, check deposits, bill payments, cashback deals, and locator services. The UI could be improved a bit to catch up to their newer design language, but I'm happy to have a working app--which after all, is the main point of this discussion.

The BBC also refuses to support Windows phone, even though it supports Amazon Phones. Sign of Windows Phone declining market share. Microsoft could not offer any compelling WP features last week. Consumers will not be coming to Windows just for a bit of Cortana. Universal Apps will not make any difference.
Sad but True.

I think someone at the BBC has a grudge which given funding by taxpayers money is probably something you could sue for with 10% market share.

Chase SUCKS. Now i will never open an acct with them. i sent many messages on twitter to @chase and @chasesupport and let them know who much we are NOT happy with that stupid decision. whoever it was, who ever that was, she or he has to be an brainwashed iSHEEP, that got their heads in CrApple's AS*. morons. Hell has to freeze over before i switch, even then i will NEVER switch to iJUNK phns.

Typical. I guess I'll move my credit card to Bank of America. It wouldn't be so bad if Chase's mobile web site doesn't support all the features of the app. The same is true of Capital One. I already sent feedback. I will cancel immediately one of my cards that I don't use anyhow.

Bank Of America is the best anyways.. They support their Windows Phone app, and have been doing it for years.

The presence of the Chase app was a significant factor in my decision to start using the Amazon Rewards credit card. Really disappointing. Once again, this is down to Microsoft's failure to market Windows Phone to significant market share. I don't blame Chase. Chase was about the only banking app that *was* on Windows Phone. Microsoft's marketing of Windows Phone has been breathtakingly inept and a colossal failure. Will it be different with Windows 10? Not if Microsoft things that universal apps are the answer. Universal Apps, while nice, are a technological solution to a marketing problem. It is the market share of Windows Phone that drives decisions about whether to put write apps for the device. The tools are a distant second factor.

No Bank Of America was on Windows Phone before Chase and is way better than Chase. Chase can kick rocks!

But do they have any plans for a Windows 10 app???

I guess Mint can hold me over for a while but the loss of quick deposit may just be enough for me to switch banks.

Absolutely. I loved that quick deposit feature

I USE THIS APP SOLELY FOR ALL CHASE RELATED BANKING. Extremely disappointed customer. I am getting married soon and this is one another added gripe to to my list with Chase. This isn't the only reason I will be switching but it is one of many smaller additive reasons...

Time for me to switch banks!

http://www.winbeta.org/news/microsofts-q2-2015-23-billion-windows-phone-...

Well I'm working with three banks. I'm from Turkey. Garanti and Akbank have WP apps and they are really great. Not to mention they are local banks. And the other one is HSBC and they don't have WP app. Big international banks don't have WP apps I guess.

I changed all my direct deposits to my Ally account.
They just lost my business. Forever.
Everyone who got burned should just go to ally they're amazing.

By the way, I seriuosly feel that this may be the best 3rd party app on my phone. I'd love to just have it continue working as is. I don't care about future enhancements

Hard to take a billion dollar company serious when they say resources are a problem. Surely they can afford to keep maintaining the app, they are squarely neglecting their users

Especially since they are saving a ton of money by replacing tellers with self service ATM inside the branches. I haven't been in a branch in a while. I walk in and there is 2 merchant teller windows and the rest of the windows were removed and the placed 5 machines with a branch officer walking around helping those who were expecting a live person to use the machines. These are more sophisticated than the outside atms. They give any denomination of currency and will soon be able to give out rolled coins. They are saving all this money by providing less service at least they could have applied a very small percentage to maintain an app.

They'll be back when Windows 10 launches. There'll be no stopping the juggernaut!

Chase should have release for windows phone and windows 8.1, then they would have larger users using the app

The cost to keep this available to at least those that already have it, however much, was less than the stupidity of this ONLY IF it was pulled to update the app and do it soon. If not then I mean really Chase, you made several hundred billion dollars last quarter alone, but a phone app for Windows was the straw you couldn't afford. GTFOH. I don't bank with chase but I feel the pain. Bad decions like this make me think they are doing other stupid things over there.

Totally bummed. I use the chase app a ton.

Im really hoping that W10 changes the app market. I still use my 822 as my everyday phone even though the contract has ended months ago. Im waiting for this flagship W10 phone in March. If the flagship and the outcome of 10 is not a signifigant increase in apps and dev intrest i might have to get an android. I do love my microsoft products but this is starting to ruin my experience.

I wrote to Chase asking them to reconsider and suggest that anyone that cares should also write to them. I used the Secure Messaging Center and selected Feedback as the topic. I received what is pretty much a canned response but perhaps if enough people write to them, maybe they could re-evaluate their decision.

I just went to Chase on my lunch time and closed my Checking, Saving, and Credit Card. They asked why I want to cancel and close all my accounts and I told them "Chase just removed Windows Phone app and stopped supporting Windows Phone devices. So you tell me how can I trust to put my money in a bank that can't even afford (or want to) support customers simply because they don't have iWahtever devices? I like my phone much more than my bank and bank can't decide for me which device I should use." Then he said but still you can login and manage your account from your Windows PC or Tablet and I said "I know but if Chase thinks there are not enough users with Windows Phone devices (which they are very wrong) then I think Chase customer services and support is not good enough either for me to stay therefore I prefer to move my money and business somewhere else. There are many better banks that support all platforms and no point to continue with Chase. I like my phone much more than just some bank." Long story short, closed all my accounts at Chase went to Bank of America and opened Checking/Saving there and already installed BOA app on my phone and Surface as well. I have to say app looks pretty good and complete even better than what Chase had. One thing for sure I will never do business with Chase again and will not recommend them to anyone either. If you like to show your support for a platform you like, then don't let a bank decide what phone or ecosystem you have to use. Like me do something about it simply go close your accounts and move it somewhere else. There is no cost and really not hard to do. At the end of the day they are all banks and they want your money but for you as a customer, support and customer service should matter and don't let them decide for you which device you have to buy or use.

This is excessive and borders on the fanatical. I won't uproot my life or change banks to support an OS platform especially not when its prospects are so dim and even its owners at Redmond aren't doing much to save it. Buying a phone on another platform is a much easier thing to do for me (and for others, I'm sure) than cancelling all my bank and credit accounts. And you can't boycott all businesses that have no apps on WP for you might end up having to boycott half the businesses in town.

I'm cancelling my account and don't really consider it uprooting. And since most people are tied by contracts when it comes to mobile phones, I think it is easier to change banks versus phone/platform and at the very least, it's cheaper to do.

Yep,you can switch banks pretty quickly,but in my case Chase is right down the street from me and is more convenient.Will just have to use the PC or tablet from now on.Not going change banks because of WP.

You can call it whatever you like and have your opinion of course. Maybe changing bank doesn't work for you but not everybody have same life style or way of thinking like you. That's were you are wrong! You may let Chase decide for you what OS or Device to use but not for many other people. If that's how you think and you let some company (in this case a bank!) decide for you what to buy or use then I think you should move to another platform because thats what exactly those ecosystesm are for, for people that think that way. I don't let some idiot/biased person in Chase decide for me. Plus why do I need to boycott half of the businesses in town? I never heard anyone tell me I will not accept your check because it's Bank of America or I won't give you check because you don't have Chase! What's a difference between Checking/Saving in Chase and other banks that makes changing bank excessive and borders on the fanatical? If I have to write a check or cash one I still do exact same thing I was doing before. The only differences now is Chase won't make any money from my business and they lost a customer. I made a right decision because the only thing that changed is my bank and now I have even a much better support (in this case better app) on all my devices which is plus and not excessive or borders on the fanatical.

Its got lots of users. Sure not on the samw level as iSheep or Anderp.

I'm really sad about this. Hoping someone from Chase will see the outpouring of support.

Google is exposing security vulnerabilites for a reason. If anyone is anal and extremely leary when it comes to tech, it's banks. one hiccup and they'll send a pack of wild auditors to your door.

It's completely ridiculous that the biggest bank in the nation doesn't have the resources to maintain an app that's already available for millions of it's customers. WTF are all my overdraft fees going towards, LOL? Posted via the WPC App for Android!

Are you freakind kidding me CHASE?! Come on MAN!

I sent my email to Chase as well. It is stupid to pull an app that is already developed. That is just money down the drain for them because the development costs are now for nothing. What I don't understand is why it is ok in this day and age to be able to discriminate against certain customers based simply on my phone choice. The level of service I receive is less than the guy next to me because he uses an iPhone. For the people that say to just buy an iPhone... That doesn't solve the problem. It just perpetuates it. Technology does not move forward when everyone accepts the status quo.

Bullsh!t. I'm so pissed. Tweeted my frustrations to their customer service

This is rediculous! I use this app on a daily basis! I don't understand, why not just leave the app be, it works fine at the moment, no harm on just leaving it in the store. At least we could still use it while the program rottes of old age!

Log into your account, go to the customer center and then click contact us. Tell these jagoff's to get it together instead of ranting here.

I dont get it, they paid to develop the App. What cost do they have that makes them have the existing app not work...people that have it why not let them use it?

Good I don't like them anyways. They'll be back.

Meh. The app was marginally useful to begin with. Using IE works for me.

Yes, it was a crap app, but at least you could deposit a check from it.

Completely rediculoous! This is a perfect reminder to go ahead and close out my Chase account! To completely drop an entire OS, especially one that many use is just stupid. If they don't backtrack and continue to support Windows Phone, I'll be closing my account with Chase and taking my business to the myriad other companies that are savy enough to have an application on ALL of the big OS's available!!

Honestly this will probably be the last straw for me. Didn't want to go back to Android so soon, but I need that app.

I Tweeted them asking about Windows 10 and they replied saying they "had no information" about any future Windows development and to use my browser yaddayaddayadda.

Goodthing I'm no longer with Chase, Wells Fargo app works just fine which I have.

Dual Boot might be the solution for the Windows Phone Plaform. Only takes a few seconds to close down WP and boot Android. Use the banking app. Then reboot into WP. I'm in UK and have the same problem with my bank account: no app for WP.

Search for Requested App of the Week in the forums and read the first post. Then submit your bank info. I'll put it in the main thread.

How could windows 10 change anything for chase? They don't even have an app for windows 8.1!!! This is bad news for the platform.

I don't understand how so many people get paper checks and not use direct deposit for work.

I have a business. I receive customer money via check... And lots of people write checks to friends or family to pay for things.

ITS ALL MSFT/WINDOWSPHONE DIVISION ,im up for upgrade, im getting the 6plus!! After 5 years of being a loyal customer, im sad to say that im jumping ship... Im sorry guys I will have to comeback when MSFT LEARN HOW TO SUPPORT its products... They DONT CARE!!!

If everyone does what you are doing then there won't be anything to come back to...

Horrible, horrible news... What the heck is going on?? This is very concerning and I don't even use Chase as my bank.

I am not going to say that I am dropping Chase at this moment because it is not a wise decision financially. However, I know that in time Chase will be back. Now, what I would love to see is if Microsoft does any kind of banking business with Chase. How lovely and only fair and nice it would be if Microsoft drop Chase like hot potatoes, and instead move to a bank like Well Fargo, BOFA or Allay Bank. I don't think no-one would like to loose an account like Microsoft.....Chase will be back like a dog with its tail between its legs.

Perhaps Microsoft did bank with Chase and moved away. And this is Chase's payback...

"What's in your wallet?"
Not a Chase credit card.
#creditunion

Visit the Requested App of the Week thread every week please.
" Let @ChaseSupport know what a terrible decision this is!!! Keep it civil.
#KeepChaseMobileAppOnWindowsPhone"

This is quickly becoming unbearable. We're losing apps left and right and we're not having that many quality (or any) new additions either. To think that the situation NOW is worse than when I bought my first Windows phone in March '13 is scary. I bought a phone with a functioning Netflix, American Airlines, and Chase apps and working clients for Instagram and Snapchat and I've lost the first three (one doesn't work anymore, the other two pulled from the store) and the last one has had a whole fiasco of its own. 6tag is the only one left functioning and it's not even an official app still. All of this is happening while we're seeing ZERO effort from MSFT to fix the situation. I don't think the situation is even fixable at this point tbh and I have very little faith W10 will make any change. I think we're on the verge of allowing Android apps on ARM devices or letting the platform wither away and die. Really hoping this or any viable solution is in the works. I'm in love with WP and don't think giving it up will be an easy thing to do.

It will be fine. Market share will increase as new hardware is released. Tabs and phones. Microsoft has to wow with whatever they plan to release as a flagship. They can't half-ass it this time.

I don't blame Microsoft for this, Universal apps for Windows 8 or 10 and WP seem to be enough from Microsoft. Windows 8 has enough market share to make Chase argument look stupid..

Get WebApps from the store and search for Chase. It's just a web wrapper but I've found the mobile page is faster and better than the app.

Probably is, the app needed some work. But the website doesn't deposit checks.

I have posted angry comments on both the Chase and Microsoft Facebook pages...I suggest everyone that's pissed do the same...At least I feel better having said my peace regardless of the outcome...Sure hope Microsoft throws money at Chase or talks them into at least making a Windows 10 app.

Wrong way to go about it if you ask me. Have you ever contacted customer service and chewed someone's head off for something they didn't do? I get phone calls like that all the time. They are less willing to help you at that point. I'm glad you contacted them but don't leave an angry message. Please look up my thread called Requested App of the Week and tell others to do the same. If we all politely contact these companies at once and ask them to keep the app or to create one at all (that's the point of the thread) then we will have more of am impact. This week, lets all contact Chase. Be nice. "You can catch flies with honey but you catch more honeys bein' fly."

Ok, this is it for me. I'm finally going to say goodbye to Chase bank.

Windows Phone = BlackBerry..

I still don't get why I need an app. I have a Southwest Card with Chase and can fully access everything I need with the browser. Why is this even an issue?

Because the first thing people do is search for the apps they"need". If they don't find it they assume they can't bank or whatever. They then leave the platform which justifies the app makers decision.

Can you do mobile check deposit?

Extremely disappointed with Chase decision. I have both Wells Fargo and Chase. Guess which bank I'm gonna use more often now. Hope Chase reconsider and make a universal app.

I've had an account with Chase for over a decade. I just called Chase and let them know I will take my business elsewhere if they go through with disabling their app for Windows Phone.

This is the right thing to do. Tell them. On twitter, on the phone, etc. Be cordial though.

They'll come back, just like 7/11 did.

The really sad part about all of this outside of the obvious, is that Chase received sooooooooo much free advertising from MS as this app was one of its most prominent in all materials. I also know for a fact that Chase has a huge MS infrastructure which questions their actual motives behind this decision. They pull this app, I'm leaving them...period. I suggest everyone to hot their Facebook and customer service avenues as this is just flat out odd (suspect) timing.

I am so sad that chase is giving up on supporting us. Google apps, Chase, what's next? This is discouraging.

I would one be of their customers I would go somewhere else

Same thing with BlackBerry. Actually BlackBerry never got the app at all for BB10. Looks like the trend is to support "the big two" only.

As an iPhone user that occasionally uses Android I'd like to see more support for the Windows platform, from Microsoft and developers. I've noticed that the platform has definetly improved but Microsft needs to step up their game. From what I've read about Windows 10 thet are starting but they need to drop a flagship quality phone too. If they can get pc's, tablets and phones working together like Apple has they could realy do something great. How iOS and OS X devices work together keep me in the Apple Eco system.

They already work together in version 8.1. But with 10 it will be much better. Windows-Xbox-phones-tablets all run the same app ( universal app). No matter what devices your on you'll always have your settings, apps, files available.

i would change except i get a free premium account with them for being a former employee ally looks good

Hopefully they'll return with a universal app for Windows 10. Guessing their app support personnel (probably one guy for WP 8.1) complained about resource utilization.

At least Chase customers had an app, us Capital One customers get no love on WP. We've never had an app.

Dear Chase Bank, I will be making a withdrawal. Sincerely, Lex Shrapnel PS. I typed this with my middle finger.

I heard about this last week and promptly closed my Chase account and opened one at Bank of America. Money talks. When I closed my account the lady asked why and I told her because Chase took away their WP app. She wrote that down as my reason and sent it to corporate.

Just crap I use this app daily from day one. makes me want to pull my money from chase and go to a bank that uses WP.

Microsoft's true market now for phones is in emerging markets, not developed markets. This latest development is the clearest signal yet.

And this is why I can't use windows phone as my main phone. Seriously,, this just keeps happening over and over again.

They probably assume by pulling the app that customers will switch over to an iPhone. Would be fun if that strategy backfired on them and instead customers should close their accounts and cancel there credit cards.

This really SUX. I blame MS for not really supporting the OS with new hardware. If only they would have released the L930 in the US market other than Verizon, which is not available from them anymore, things would have picked up. The L1520 is not for everyone. Especially for professionals. I cannot carry a big ass phone in my suite pocket and it is not friendly for a single hand use. (BTW, I own one) Even though we want to support the platform, the official apps should be available and updated frequently. If not we are going to lose a lot of ppl who have liked the OS but are on fence due to unavailability of the Apps. I for one am really effected by American Airlines and Chase. C'mon MS... Get the Flagship Phones out and NOW.

They should change their tv slogan to... Chase.. So you can't. Been with them for years and now it's as good as a time as any to leave.

If you decide to leave banks go with ally. They are a branchless bank with low overhead and have a windowsphone app. www.ally.com

Wouldn't mind trying them, but don't think I have seen a branch around here

At least they made an app, still can't stupid Fifth Third to make a WP app

It's unfortunate that a company like Chase can't afford to keep an app in the store. Someone should lend them some money for it. It sucks when big companies have no money. Hope Chase files bankruptcy soon, beause a few hundred dollars a year must be really painful to expense.

You chase users have been marginalized. They don't give a crap about you. You are insignificant. Even my smallish First Tech FCU makes apps for all platforms including windows phone. Not because that are making money on the app but they care about all of their customers....

MS should send an massive email to Chase with all potential users signature demanding to keep the app alive. Besides the app is really simple

It seems America loves iOS top much.

Welcome to Windows Phone!

Easy solution, change bank!

I use this app daily very convenient for me to move funds to one account to another

Maybe if MS concentrated on selling quality devices to people who can afford them, and have banking accounts, instead of poor people just needing a feature phone, they'd have enough banking account holders to make it worth Chases time to maintain an app.

Why. They already made the app does it really cost any money to just leave it there? I don't understand if they gave up on Windows Phone couldn't they just not update it anymore? Why do they need to take it off the store and remove it?

I've had a Chase account for eons, and this is the final straw.
The Chase app isn't as full-featured as I would like, but it gets the job done for what I need with mobile deposits and finding ATMs worldwide. Yes, Chase is GLOBAL. In India, they have ATMs and branches everywhere, and the app has been helpful in keeping track of INR to USD conversions, finding ATMs, and whatnot. '3% market share' and 'not enough interest' is a cop-out. Not only with WIndows 10 making it one codebase for tablet, laptop and phone, but the sheer fact that much smaller credit unions have apps for WP. First Tech, Affinity CU, Baxter, SunWest, StarOne, Community First, Northeast CU, Maritime M&P CU, and so on. How is it that much smaller, non-profit credit unions can provide apps, but a for-profit bank with huge earnings year after year can't? And as Brendan asked - why not leave it there? I think in the end, its just JPMC being cheapskates. Totally blind to the potential both of unified apps and the global perspective that there are more than enough Windows desktops, tablets and phones combined to make the app worthwhile. If it's not a dev who simply lacks skills, its someone who is blind to the soon-to-be wide berth of Windows devices that can run a single app. If they do kill the app, I will kill my account. As noted, credit unions that are much smaller do,and I will go with one of them (two I do qualify for).

There are other banks that support the Windows Platform who are willing to take your money!

NOOOOOO!!! I use this app almost daily and not to mention that I rely on it while traveling :( Very disappointed!

No problem...there's a supermarket near my Chase branch...I going to "borrow" a shopping cart from them and just throw my desktop in it to "mobilize" it. Then all I'll need is a gasoline generator or a long extension cord. So thank you Chase for locating your branch near my supermarket and stimulating my creativity!

Everyone! Call chase and ask to file a complaint about this! It's the only way to be heard, the executives have to read all complaints directly. So leave a formal complaint! It only took me like 5-10minutes. If enough of us complain they may reconsider! :)

Now that Chase has bailed on their windows phone app, now B of A has followed suit. That leaves Wells Fargo....but will they keep windows???? How is one to know. Changing banks is a big hassle and I want to make sure I am moving to a bank that is stable and committed windows. Ally Bank looks great but they only allow personal, no business, accounts. Bummer on that! I LOVE my windows phone (lumia 1520) and this is all so disheartening.

The news about Chase and now Bank of America is such hogwash! These are "Apps" not Legacy Applications! It takes very little money to maintain them and therefore should not be removed. I joined Chase in July of 2014 mainly because of this app and the advantages it gives me, especially when traveling overseas. Now I will be leaving their bank. The amount of money I will be taking with me would maintain this app for over 20 years. Sad to say, the arrogance and pride of these executives would definitely keep them from changing their decision. Even if they knew that they could lose 10,000,000+ from the loss of customers they would still stick to this ridiculous decision!

I just sent this via their secure message center and I hope eveyone on this feed will send something similar... I am very upset that you will no longer have a windows phone app. To be honest I opened my account with for your offering on the Windows platform. I know the user base is small but so is Blackberry's and you still continue to support them! I hope your mobile team will revisit your offerings and develop a Windows 10 universal app later this year. It will be compatible on all windows 10 devices not just phones (more exposure/more customers!). Chase think! It takes one staff member (or even an intern or outsource) to create and maintain this. Also, windows phone had NFC payments with mobile phones before apple did. Don't discriminate and support all ecosystems equally. Not all of your customers are the same and Chase was beloved by the windows phone community. Personally, I used the app almost every day and it was very well made. I commend your team but again please get an app ready for windows 10 and like my mom told me as a kid... "You can't live on apple juice alone..."