Check-in with Events for Me, an Eventbrite app for Windows Phone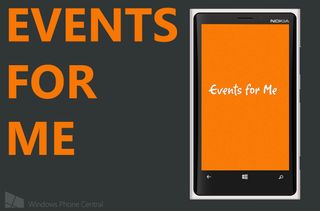 Eventbrite (www.eventbrite.com) launched back in 2006 and quickly established itself as the go-to site for event organizers. It's a platform that allows promoters and organizers to easily set up ticket sales, promote events, plan, and more. Potential attendees can also search for events in their area. There are official apps for other platforms, but not Windows Phone. That means an opportunity for third party developers. One that's been filled with Events For Me.
Events For Me is an app for Windows Phone 7.x and 8 that allows users to tap into their Eventbrite account. The app was made by Paras Wadehra, a Nokia Developer Ambassador for the Bay Area. Here's what you can look forward to with Events For Me:
See all tickets you've purchased at glance
Find events near you
Display the QR code for fast check-in at events
Pin tickets to the Start screen
Purchase tickets through the app
The app also got an update today to version 1.2. The latest update brings some features and bug fixes. You can now show multiple tickets/barcodes for multiple attendees on the same order. You can also then add each ticket to the Start screen by pinning.
Two weekends ago I had an opportunity to use Events For Me and was really impressed with it. I forgot to print out my ticket for an event, but that didn't matter since the QR code was a few taps away on my Windows Phone. Pinning tickets/events to your screen allows you to access that QR code even faster than you would on competing platforms. It was a pleasant experience using the app and should appease anyone who relies on Eventbrite regularly.
But there are more features on the way for Windows Phone users. Paras, the developer, reached out to let me know about some future plans with the app. Here's what you can see in upcoming releases:
NFC support – attendee taps phone with organizer to check in
Localized support for other languages
Social check-in at events
Marking multi-day events visibly in the list of events
Adding event reminders as alarms to phone
Adding events to native calendar
He's also working on an app specific for the event organizer. All the features both current and upcoming listed above are in the attendee version of the app. If you're the one running the show you'll have your own app that allows you to scan QR codes and check people into the event. That version of the app is about 80% done right now and Paras will be looking for beta testers soon. Reach out to him if you're interested in joining.
Events For Me is available for free on both Windows Phone 7.x and 8 devices. Grab it here in the Store or use the QR code below. And as always, you can just swipe to the right in our Windows Phone Central app to download it.
Windows Central Newsletter
Get the best of Windows Central in your inbox, every day!
I was just looking for this app like two days ago! :) Its great for local events where you have to rsvp with eventbrite.

Lumia 710
Cons: error on asking my location. Limited database of events.
Pros: know events on my local(non-US). Turn by turn navigation to event location. Adding events to native calendar is very much apreciated.

sweet! been waiting for a good looking feature-rich eventbrite app - this fits the bill perfectly.

Rad. This will save us a lot of trouble at industry events. :)

I wonder what this has over MetroBrite

Hello everyone, I am the developer for the Events For Me app. Please feel free to ask me any questions you may have.

DaiaX, can you please send me the error you are getting while fetching the location? You can use the "provide feedback" link in the app. Also, it can show you all the events that Eventbrite's API returns. Please search for it by keyword and set your location settings appropriately. Please note that private events are shown only in the WP8 version, not on the WP 7.x version.

YasinLumia, this app allows you to display QR codes for your tickets for easy checkin and you can even pin your tickets to the start screen. Events For Me also shows you private events in the WP8 version. As far as I can tell, the developer for the other app is no longer developing/supporting it, and it throws errors across the app. You can also see the roadmap of this app above and see all the great features coming to it in the near future.

Thanks everyone for the like. Please rate it with 5-stars in the app store and provide feedback and suggestions for improvement directly to me.