How to see your last Windows Store purchases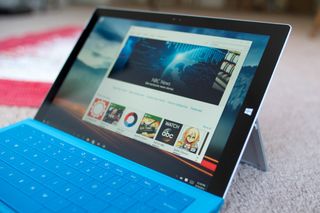 (Image credit: Windows Central)
Curious to see how much you've been spending on apps or games? Checking your Windows Store purchase history on Windows 10 is fast and easy. We'll show you how in just a few steps.
Open Store
Tap or click the user icon on top
Tap or click Purchased
That's it! The browser opens your Store purchase history. You'll need to log in to your Microsoft account. Alternatively, you can go directly to the Purchase history page (opens in new tab) without opening the Store. Your Purchase history displays the date, title, payment option, and the price. The list can be filtered by year, but it combines all purchases from your Microsoft account including purchases made from your Xbox and Windows Phone too.
I was curious, so I copied and pasted my 2014 purchase history into Excel to see how much I spent for the year. The total came up to $544.66. How much did you spend at the Windows Store last year?
If you think this guide is helpful, we have many more posts like this in our Windows 10 help, tips and tricks page.
£700, ie $1092 dollars for 2014. Oh dear, I have an addiction. :) Totally worth it for the Xbox achievements though LOL

Off topic: How can you check the date in which an app was last updated on the W10 mobile store?

This i cant see,like the 8.1 you can see whats been updated.

Not possible at the moment sadly...... :(

it will come soon , currently you can't see and also you can't see current version of apps + games in both PC and phone Windows 10

This should have been integrated in the Store app. It's kind of lame to open Edge for this kind of informations...

I agree but it's just another app that they can update to add more into. The only question is when?

I agree. Maybe they'll add this feature later

Exactly 25$.... That I got via Gift Voucher....!!!! I couldn't add my Debit card to wallet... And don't have Credit Card... Any suggestions...

Open Outlook mail... Search for mails from http://billing@Microsoft.com... All your transactions will be listed easily

This is not a reliable way. Normally people delete their emails.

Why would the delete invoice e-mails? I understand spam, commercial mail, funny jokes from friends or outdate info that somebody sent you, but invoices? That seems kind of dumb.

And individually click each email, copy the figures? Not very efficient lol.

My total is 18€. Most expenzive was Castle of Illusion - 5€. (all is WP only purchases)

mine is amazing spider man 2

Hah, it would be £££ but can't be bothered adding it up. Good to have these articles coming through as we can have a quick read through anything we don't know. Thanks :)

I don't know why they show up free apps???0.00$ its not purchase.

$9 since 2011. I've downloaded about 150 apps. Iif you are not a gamer, what is there to buy?

How to see recently updated apps? Shouldn't the action center do this? The action center is so useless. System tray icon alerts me I have a message but theres nothing!
Windows Central Newsletter
Thank you for signing up to Windows Central. You will receive a verification email shortly.
There was a problem. Please refresh the page and try again.