Chronos Calendar gets a major update, more customization features added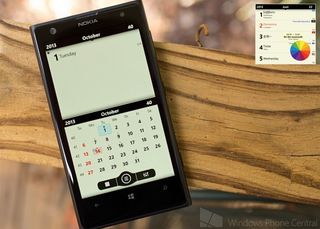 Chronos Calendar was already a feature rich Windows Phone calendar app and the latest update brings more features to the table. The version 1.9.0.1 update is riddled with customization options that helps Chronos Calendar better fit your needs and style.
The update impacts both the Windows Phone 8 and 7.x versions of Chronos Calendar and adds everything from more language support to more Live Tile options. It is a healthy change log that you can find after the break.
The version 1.9.0.1 update includes your customary performance improvements and minor bug fixes. It also brings the following features to Chronos Calendar.
A series of navigational swipes have been added to move from month views, day views
Long-pressing on a day or an event now launches the context menu
Move / Copy / Paste / Delete accessible through the context menu
Share, SMS, email, dial, link, maps have been added to the context menu
Context menu now accessible through the event edit box
Bigger event edit box
Approximately hundred different pre-made themes for calendar colors and event display style in all accent colors
Theme editor added with complete calendar color customization and selectable event display style
Improved Color palette picker
Compact day filter-search that filters out event text, holidays, name days etc.
New settings menu design
Clock in the button bar
Today and Tomorrow text now on Live Tile
New Live Tile styles and improved Live Tile Editor
Danish language support added
Separate option switches for holidays, special days, national days etc.
AM/PM selector added inside culture settings
Monday through Sunday options added for starting day
India-Hindi and Liechtenstein culture calendar for Windows Phone 8
Chronos Calendar was already an impressive calendar app that has the ability to sync with your Windows Phone calendar as well as off-site calendars such as Outlook.com, Google, and Hotmail calendars. The features in tow with the version 1.9.0.1 update simply beefs up Chronos Calendar even more.
There is a free trial version available for Chronos Calendar with the full version running $1.99. It is available for both Windows Phone 8 and 7.x devices and you can find Chronos Calendar here (opens in new tab) in the Windows Phone Store.
Thanks, Marco, for the tip!
Windows Central Newsletter
Get the best of Windows Central in in your inbox, every day!
George is the Reviews Editor at Windows Central, concentrating on Windows 10 PC and Mobile apps. He's been a supporter of the platform since the days of Windows CE and uses his current Windows 10 Mobile phone daily to keep up with life and enjoy a game during down time.
Any chance they added a month view that shows details within each day (so you don't have to tap a day to know what's going on)?

This is my number one gripe about Windows Calendars. Hope 8.1 brings in a better Month View that shows clear details, even if truncated.


I wish it had that option. I keep using VsysCalendar 365 because of that very feature. I like the asthetics of Chronos better, however.

I agree. VsysCalendar 365 is the best calendar in the WP store, but the UI could be better. I find myself trying others just to get a better UI experience, but always come back to Vsys.

Great calendar app, really one of the best. I expected 1080p support but no, there is still a big gap at the top of my 1520's screen. I'm really surprised at how many apps haven't been updated for 1080p.

There's only one phone with 1080p internationally. And a niche phone. So it's normal that 1080p isn't at the top of devs priorities list. Still, you can contact the developer through Facebook and request it ;)
I think it's more admirable that he still supports WP7.

Still not possible to edit/delete O365 events?

No. This is a limitation overlooked by Microsoft since those API's are not available. I'm really hoping WP 8.1 fixes that but I haven't seen it yet. The only thing I've seen in 8.1 is the addition of a weekly view. I'm still holding out hope those API's will make the final build. It's mind numbing to me that Microsoft has done such a poor job implementing such basic functionality. But apparently I'm in the minority as I see very few people complain how bad the built-in calendar capabilites are. I love WP but MS clearly doesn't prioritize productivity, which is odd. Chronos is great but it's hamstrung by the OS.

No, you are not alone. Built-in is just brutal. And third-party calendars are totally ham-strung by API limitations. Not good.

Know a friend who switched to 1520, found the calendar crappy and went back to ios. Come on MS, at least get the f'ing calendar right and than some.

Can you edit reminders and have them sync with outlook with this app like you can with True Calendar 8?

Badass... Copy and paste... So simple yet it was the killer feature I was looking for in a calendar

Wow great app, love this...my major and only app

Have been using for 9 months. Killer app

You're welcome wpc. I bought chronos 6 months ago and my biggest complaint was that it looked kinda ugly. Not any more! Now it looks very nice. For me, this is the best calendar for WP.

Have been using this app for as long as I can remember. Since well before the rename. Great new update. Love the different themes. Although you could change them before manually but this is nice.

Yeah, my favo app !! Got the beta a few weeks back and love the update !!

This isn't a placebo joke, it does actually start faster (which was what stopped me using it so much before).

Wohoo.. Watta update!! Loving so many live tile options.. Awesome work..

Fantastic, best calendar for WP

The best gets better. If you want some eye-candy look at the other offerings. If you want a good functioning calendar replacement then this is it.

Yeah but now one can have eye candy even in chronos. We can pretty much costumise the looks whichever way we want. Love it.

Yes! UK official holidays are finally separate from other random stuff like some minor royal's birthday. I love this app!

I use this app as my calendar and I haven't opened the WP built-in one in ages.
It's by far the best calendar for WP.
I think, coming from me, that speaks tons about how good this app is ;D

:D. Great stuff gets good words.

Oh and you can change all the colours. Now I can have a proper crisp white for the pages! :)

The screens do look better but I can't say I'll abandon Super Calendar and go back to Chronos. I'll take a peek though. Not Supported message for updating live tile on my L920? What is up with that?

Like a boss! A great app keeps getting better. Hard to picture my phone without this app nowadays.

anyone else seeing a difference between what displays for Google calendar entries between 7.8 and 8 versions? on my 7.8 it shows the event title (as it does in the stock windows calendar), but on the 8 version it does not and instead shows it as private (even though the stock windows calendar shows it fine)

This one has the best live tile of all the calendars - it can display the most entries (6 on front, 6 on back, I use 4:6 mode). If only the background task would also sync data from calendars it would be killer (dev removed it because it caused issues)

Is there a calendar that lets you set reoccurring event every 2 weeks?

I don't think so, it is my biggest problem. You need to use outlook.com

Still medium tile is useless, shows no appointments..

One of THE MOST un user friendly calendars in the history of calendars. Stopped using it because if you screw up and blank out the live tiles, there is no going back. No way to undo the settings. Flashy, but not practical. Simple Calendar FTW. Works.

The best just got better...way better. Finally, you can get rid of that manila-colored calendar page.

Very very nice. Having probably been using chronisch for over a year now. Still the best calendar app to date in my experience for windows phone, especially windows phone 7.x.

Does it support CalDAV please ?
And will WP 8.1 support CalDAV ?
Windows Central Newsletter
Thank you for signing up to Windows Central. You will receive a verification email shortly.
There was a problem. Please refresh the page and try again.