The $299 Chuwi Hi12 Windows 10 tablet packs serious hardware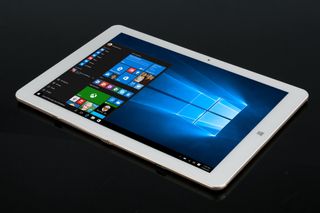 Chuwi is not a name most people will be familiar with, but the Chinese vendor has announced a Windows 10 tablet that merits attention. The Chuwi Hi12 — which is set to make its official debut on January 28 — offers a 12-inch display with a resolution of 2160 x 1440, Cherry Trail CPU, and a magnetic docking keyboard.
The specs include a 1.44GHz quad-core Cherry Trail Z8300 CPU with Intel's Gen8 iGPU, 4GB of RAM, 64GB internal storage, 5MP camera at the back, 2MP front camera, Bluetooth 4.0, HDMI out, one USB 3.0 port, one USB 2.0 port, Wi-Fi 802.11b/g/n, and a 11000mAh battery.
All this for just $299, which makes it a rather enticing proposition. Chuwi claims that the Hi12 will also offer dual-boot capabilities at a later date, allowing you to switch to Android 5.1.
We'll be getting our hands on a review unit of the Chuwi Hi12, so stay tuned for in-depth coverage of the tablet. Based on the hardware on offer and the price, what do you guys think of the tablet?
Image 1 of 6
Windows Central Newsletter
Get the best of Windows Central in your inbox, every day!
Harish Jonnalagadda is a Senior Editor overseeing Asia for Android Central, Windows Central's sister site. When not reviewing phones, he's testing PC hardware, including video cards, motherboards, gaming accessories, and keyboards.
Looks awesome. In what markets will it be sold?

Looks too much like an iPad knock off

I agree... If it has good hardware, who cares what it looks like?

Many more similar devices here...
http://www.aliexpress.com/af/category/100005062.html?spm=2114.30010208.3...

..But without the actual issue of being labelled as an superficial and shallow sheep.

Too many people don't think of anything else but Apple. Clearly your thought process is stuck on one brand, which is incredibly dull.

Apple took most of their designs from Braun :) and yet nobody complains. Also their iPhone 6 has a large screen just like any other phone manufacturer. Shall we remember how Apple was suing everybody making a phone that looked somewhat like theirs ? :)

The backstory on that is that a chief designer for Apple roomed with the product designer of Braun back in the 90s, when Braun was introducing their"industrial" design. Something else Apple stole.

It does not run the homosexual Apple operating system and it does not cost 500 thousand dollars as the gay IPad does so the zombie Apple users can show off with other homosexual users that they can afford to spend that amount, even when there is no reason for it.

Should have released it during the star wars release

With a chewi-backalit keyboard included?

Online only, you are risking your money buying one of these.

This makes Windows 10 lively.

You can buy it right now for AliExpress. http://www.aliexpress.com/item/New-12-Inch-Chuwi-HI12-Win10-Windows-10-T...

Aliexpress are not a scam but they have a large number of customers who do not receive their orders and are not really set up to get your money back so you take a chance

My credid card offers a full refund if I don't get the product..so that doesn't worry me. What worries me is warranty. Doesn"t say if it has US warranty support in case something goes wrong. It's being shippped from over seas..so, do you send the unit back for a whole lot of money or is there a repair center in the US?

I wish you guys write a complete round up of available/soon in the market windows 10 tablets. I am very interested to get one for the parents. I think it'll be easier for them to handle something with a touch interface but not as expensive as hybrid systems.

We'll do just that once it's available for purchase.

You look like the Indian version of Abe Lincoln Harish

I've been looking at these Chinese tablets recently (very interested in the new Teclast Pro) but have read too many stories of defective units and no recourse for returns. People basically saying "you'd be better off burning your money than buying one of these.". Probably it's more like Russian roulette, you've a one-in-six chance of getting a defective unit and won't be able to return it. I think it's irresponsible to be posting about this until you've actually got one and can test it and have done some research on it. Too many people will be tempted by this (because it does look like a lot for the money) and purchase it and regret it. When something looks too good to be true, there's a reason.

"Irresponsible" is a bit too strong a term, given no one is telling people to run out and buy one. Even when a blogger gets one to review, it isn't indicative of the failure rate of units being shipped out. If I ran a techblog, I wouldn't wait until a forum is populated with first hand reviews, before I give my opinion on a product. I personally have been buying cheap chinese tech products for about 6 years now, and there has always been quite a few steals out there. Many consumers will forego certain design features such as aluminum unibody, being fanless, bonded front screen, etc. Even if the product is rubbish, the retailer you choose will ultimately decide if you are "Burning your cash".

Check put UMPCPortal.com, it's a pretty good site for browsing that kind of stuff

They aren't bad, but don't cover many Chinese brands like this. Best site I've found is techtablets, bit of a one man band for the reviews but forums are ok.

I was also hoping for a similar article for laptops and 2-in-1's. My dad will be looking for a new device. So many have been released over the last 6 months, that I cannot keep up.

I've definitely heard of these guys. Bought the chuwi v17hd a few years ago. Very capable little device for $60 back then

Very nice. I'd get one as I need a good Windows tablet.

A friend of mine bought a Chuwi Vi8 and after a month it got 2 green lines on the screen. These tablets are not to be trusted.

With any tech products there will always be defective devices. There's never a perfect batch of devices. One example is not enough to claim that an entirely different product from the same company is untrustworthy.

Of course one example means nothing, but if you do any research on Chinese tabs like these you'll find lots of people who have issues with them. One of the reasons they're so cheap is that they have very little testing, indeed will often take parts that other more established companies have rejected. I've been very tempted to get something like this but am worried I'd get a dud.

I would have to assume that after only a month it was still under warranty or even a direct return to the store. The question is, how did the replacement do?

Continuing from my comment above this is another thing that makes me pause before touching such tablets, returning them to China or getting a refund is next to impossible. These companies have virtually no support departments (again how they can bring down the cost). If you could buy these in the store I'd be all over them, but they are only available from online retaillers with poor reputations for overseas sales.

I could say that about my first Windows phone but being a technical vet, stuff happens. Now, If you had 30 friends got developed 2 green lines, you might have a point. Even 10. But one defective electronic device doesn't quite reach the threshold for me. Did your friend return it? How did the story end?


Well I used to work for a Ford dealer late 90's everything they made except the cheap Escort had lots of recalls. Some major like cruise control sticking,hoods flying up,lugs falling off. Point is all company's have ****** stuff sometimes.

Did you know that some IPhones fail days after purchase? I know, right?

Nice! This is seriously good for the price.

Hope it gets to the us, looking forward to the review

I don't suppose it supports a stylus? That has become so necessary to me...

It has 'External 3G'.... what exactly does that mean.. that it can take a SIM card..?

It can't take SIM. AFAIK, It means via 3G USB Dongle.

Dual Bootable options looks interesting .

Chinese only can make this possible

Low wages? Poor working conditions? Just wondering.

Pirated windows inside :)

All of the above! I searched AliExpress recently for a tablet for my kitchen and any Windows tablet stated "activated but not genuine version of Windows 10" lol.

That and having a much lower quality standards. Reputable firms won't take items that have a certain failure rate, those are the components companies like this use. So the chance of getting a defective unit is much higher.

When in India? I mean seriously, I want this for my daughter.

January 28 launch date. So you'll be able to buy it and get it delivered to India after that.

You mean from the USofA right? or will it be available locally? btw, thanks in advance for the info

nevermind. got the answer on another comment ;)

Really It Will Be Available In India At Launch. Quite A Good Move By These Chinese's Companies

Highly unlikely. You'll have to order the tablet from Chuwi's global site, and get it delivered to India.

That will add the shipping cost. and Indian Customs will charge import duty of whatever % comes to their mind.

I was impressed today about how well Windows 10 runs even on a super cheap 99€ Mediacom 8" tablet !!

You should see my $80 Irulu Windows 10 tablet and how it runs 10. Smooth as butter on bread. Originally it was a $230 tablet, but it has a prime deal on it. I snatched one while the deal was going and it's an amazing tablet. More interesting than an iPad and more optimized than an Android tablet. Posted via the Windows Central App for Android

I recognize chuwi. From star wars right?

"Get outa my way, you walking carpet"

intel atom? not thank you. I didn't have a sweet experient with it.

What year/device did you not have a good experience with an Atom processor. Life says you haven't used this Atom processor.

Try using N455 Atoms, they will make you want to kill yourself. Posted via the Windows Central App for Android

Atom .... The generation of pre-Bay Trail is indeed awful. They don't support out-of-order executions (Z2xxx Clover Trail fall in this category). But Bay Trail series (Z3xxx) and it's successor, Cherry Trail (Z8xxx) are quite capable of doing daily jobs as long is it wasn't heavy performance tasks like using Illustrator with large images. Sure it won't replace laptops for people like designers, app developers, etc. But it surely viable for executives for their mobility.

I have to agree with what the others have said. My 8" tablet (Asus VivoTab 8 M81C) has an Atom Z3745 @ 1.33 GHz with 2 GB RAM. It was manufactured in 2014 and has proven itself more than capable for the typical user. It will even run Visual Studio reasonably, though it obviously wouldnt match compile speeds of an i3/5/7 machine.

Running vis studio on Toshiba encore no issues, just juggling the 32gb storage

Good thing it runs Windows 10 and not Android. And when dual-booting is available later, it's optional.

Very tempting, it looks like a bargain, let's see how it works.

Some of these little-known Chinese tablets are wolves in sheeps clothing. I picked up 2 Teclast X16 Power tablets just before Christmas. Dual boot to Android, 8GB, 8700 Atom, full HD etc. Paid $100 more than these, but had the keyboard cover and ... wait for it ... active stylus thrown in for that price. The stylus was the selling point for me. They were for my two 8 year old boys, who, like seemingly so many kids today, are great at fat-fingered iPad usage, but not that great at handwriting. http://www.gearbest.com/tablet-pcs/pp_261672.html The only place I got stung, was the alleged weight of the machine. It's listed as 600 grams. That's rubbish: the barebones unit weighs in at 880 grams on my kitchen scales. That, and the delays, miscommunication and general bad shipping experience, buying off GearBest ...

300 WITH or w/o the kb? Sounds like a good placeholder until Surface Pro with Cannonlake comes out.

It seem like it cost only $199 online...

Where did you find it? I only find offers at $249

Thsi looks amazing, I wish I can get my hands on it here in africa

Why not try the Tecno Wintab?

If you want to go Chinese, you can also have a look on the Onda tabs. The 9.7" Onda V919 packs a 2K screen (2048X1536), a Core M(5) processor, 4GB Ram, 64GB Rom, a TF card slot and integrated 3G for less than USD 350. Not to mention the dualboot capacity... http://www.aliexpress.com/item/9-7-Onda-V919-3G-Core-M-Windows-10-Androi...

This is exactly what I've been looking for. A Windows 10 tablet with a 4:3 aspect ratio. Can you remove the Android?

Looks like thy've fixed the problem I have with my ONDA v975w; it only has one micro USB port, which handles both OTG USB and charging it. It's a terrible deign in what is otherwise a damn good Windows tablet.

Let's see Apple beat those specs at that price. Beats the iPad pro in every way. With 4GB of RAM, it will also run way more software.

The Pro has the same 4 gigabytes with that being ddr4 Posted via the Windows Central App for Android on my Lumia 950 XL

Nice specs. Attempting! Waiting for a video review!

12 inches is way too big for me. I can barely stand my 10" Surface 3. I prefer smaller 7-8" tablets.

8" portrait perfect on train commute

I like this white color! I'm going to get White Lumia 640! Also I Have white TV & PC! I just like white color in stuff! :D

I wish I had the money to afford one, it so much loaded

I wish I had the money to afford one because it is so much loaded

I own a Chuwi Hi8 with Win10 and Android 4.4.4, it's a great device even if it has some problems with W10 (namely WiFi stopped working after 1511 update, requiring wifi driver to be manually removed, and rotation sensor often requires to manually replace the current dll with an old one to work). Hopefully this one will be better on this side: it would be a great device!

Seems good but let's wait for build quality, display and backligt quality. These are very important to me for sunlight readability and being able to be tossed around in travel bags without bending.

It's basically a Surface Pro 3 with a weaker cpu, weaker front facing camera, no stylus but one more usb port. For $299, a very good deal

That's the "Made in China" I luv

I wish I could have bought this months ago instead of my surface 3

I can't wait for Windows Central to get their hands on this device. I would like to pick one up when they're available.

Don't forget Cube or Voyo, they also make nice stuff. A new world opened up for me when I recently discovered all these Chinese tablets. Priced at a bargain compared to HP, Dell, Asus, Lenovo and the other well known brands here in the western world. A good site with info and lots of reviews is: techtablets.com
Only thing holding me back buying a Chinese tablet/laptop is the apparent lack of support and the often lower build quality.

I'm particularly interested in the Voyo A1 Plus Ultimate, a Lenovo yoga clone with the latest Atom X5 Z8300, 4Gb Ram, 64 Gb storage and a 11" full HD touch screen: http://m.gearbest.com/tablet-pcs/pp_254200.html?wid=3 And all this for less than EUR 300...

Hope the dual boot is available by the time you guys get the review unit. I wished they include a SD card slot.

I like it, Windows 10 is getting more attention and most manufactures are now making devices that's running windows 10. Salute to Microsoft

Dual boot and I'll be sold.

Let the Wookie tablet win!

Finally, something I'd consider over the surface

I purchased several Chuwi Hi8 dual boot 8 inch tablets with retina display for $88 for Christmas for my kids, and they work great. I also got them pretty quick from their USA warehouse. I have also purchased a couple of Teclast dual boot dual tablets that I have been very happy with for the price.

I made a Star Wars joke first! ;)

I've made $64,000 so far this year working online and I'm a full time student. Im using an online business opportunity I heard about and I've made such great money. It's really user friendly and I'm just so happy that I found out about it. Heres what I do, ---------------->>>>>> http://w­­­­w­­­­w­­­­.n­­­­e­­­­t­­­­t­­­­r­­­­a­­­­d­­­­e­­­­r­­­­2­­­­.­­­­c­­­­o­­­­m

I'll going to get the 10 inch version for my son. It would be a grand slam if it had an active stylus!

Those interested in a budget tablet should check the hi8 pro. Same cpu, 1080p, but half the ram at 2gb for only 99... THAT is the most amazing tablet price. I'm thinking getting one or two and leave the SP1 for plex/kodi cause its too damn heavy and has no battery rly.

Also its 8". But I think that's better at least for the use I want that particular tablet.

This with W10 mobile in my dream device.

$299 for these specs, are you kidding me. lol , that seriously looks promising, i'd buy one for sure if available in our market..

Ultimately, my end goal is still a Surface Pro 4 (or equivalent). So I don't envision this being a permanent solution for me. THAT BEING SAID - based on what I read here, the price-to-performance ratio (aka, the "bang for the buck" factor) seems simply jaw dropping! I can't believe so much is going for so little! So my first impressions of this thing are very, VERY high! I currently have serving as a cheapie "tide-me-over-until..." Surface knock-off the Nextbook Flexx 11 from eFun, which I'm actually growing to dislike more as time goes on - too buggy. This Chuwi tablet seems to offer much, much more, and for not a whole lot more money (plus with what seems from picture like good build quality and cosmetics). So if a real Surface ends up being not right around the corner for me, there's a VERY good chance that this little Wookie (get it?) might be! Definitely something to watch! Cheers!

Does it not have a keyboard or a dock? It has the connectors for one.

Look and sounds very good, but dual boot is a big NO, to much space for something I don't want...still looking for you, MiPad 2

I think I would still prefer the Teclast X98 Plus over this one: 10" Retina screen, 64 Gb and W10 with some eight+ hours real world battery life.

It's $249 over at gear best http://www.gearbest.com/tablet-pcs/pp_289082.html

I had a Chuwi VX1 Android device - with no option to ever upgrade from 4.2.2 or ever get any kind of support at all. It worked alright - all of its problems were typical of Android. Build quality is soso - after about 1 year, the screen digitizer failed, and its molded into the outer case in a way that it was unrepairable by me and too cheap a device to replace the part. The device had a processor inferior to the one claimed! it was just a blatant lie to sell devices. I dont trust this company. Chuwi have made such cheap devices for years and they havent taken off for a good reason! It seems they may have transitioned to the next phase of a chinese device manufacturere, following Meizu and Huawei etc. They have to prove they have changed their game, for me to consider buying anything from them again.

are you sure about Z8300 and 4 GB RAM? Cause I thought that it supports only 2 GB RAM maximum. Maybe Z8500?

No expandable storage? Pass.

The chuwi products are not bad design.
But that's atom processor laughter.
Heavy duty does not work.
Little Ram, Little HD. loose
To read the online newspaper ok.
Windows creates temporary files has more than hd.
Worst of all is not that.
Terrible service and if it breaks, you can and throw it away.