The $299 Chuwi Hi12 Windows 10 tablet packs serious hardware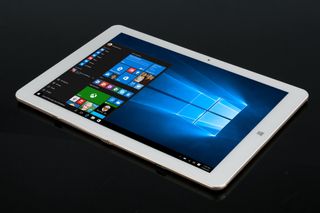 Chuwi is not a name most people will be familiar with, but the Chinese vendor has announced a Windows 10 tablet that merits attention. The Chuwi Hi12 — which is set to make its official debut on January 28 — offers a 12-inch display with a resolution of 2160 x 1440, Cherry Trail CPU, and a magnetic docking keyboard.
The specs include a 1.44GHz quad-core Cherry Trail Z8300 CPU with Intel's Gen8 iGPU, 4GB of RAM, 64GB internal storage, 5MP camera at the back, 2MP front camera, Bluetooth 4.0, HDMI out, one USB 3.0 port, one USB 2.0 port, Wi-Fi 802.11b/g/n, and a 11000mAh battery.
All this for just $299, which makes it a rather enticing proposition. Chuwi claims that the Hi12 will also offer dual-boot capabilities at a later date, allowing you to switch to Android 5.1.
We'll be getting our hands on a review unit of the Chuwi Hi12, so stay tuned for in-depth coverage of the tablet. Based on the hardware on offer and the price, what do you guys think of the tablet?
Image 1 of 6
Looks awesome. In what markets will it be sold?

Looks too much like an iPad knock off

I agree... If it has good hardware, who cares what it looks like?

Many more similar devices here...
http://www.aliexpress.com/af/category/100005062.html?spm=2114.30010208.3...

..But without the actual issue of being labelled as an superficial and shallow sheep.

Too many people don't think of anything else but Apple. Clearly your thought process is stuck on one brand, which is incredibly dull.

Apple took most of their designs from Braun :) and yet nobody complains. Also their iPhone 6 has a large screen just like any other phone manufacturer. Shall we remember how Apple was suing everybody making a phone that looked somewhat like theirs ? :)

The backstory on that is that a chief designer for Apple roomed with the product designer of Braun back in the 90s, when Braun was introducing their"industrial" design. Something else Apple stole.

It does not run the homosexual Apple operating system and it does not cost 500 thousand dollars as the gay IPad does so the zombie Apple users can show off with other homosexual users that they can afford to spend that amount, even when there is no reason for it.

Should have released it during the star wars release

With a chewi-backalit keyboard included?

Online only, you are risking your money buying one of these.

This makes Windows 10 lively.

You can buy it right now for AliExpress. http://www.aliexpress.com/item/New-12-Inch-Chuwi-HI12-Win10-Windows-10-T...

Aliexpress are not a scam but they have a large number of customers who do not receive their orders and are not really set up to get your money back so you take a chance

My credid card offers a full refund if I don't get the product..so that doesn't worry me. What worries me is warranty. Doesn"t say if it has US warranty support in case something goes wrong. It's being shippped from over seas..so, do you send the unit back for a whole lot of money or is there a repair center in the US?

I wish you guys write a complete round up of available/soon in the market windows 10 tablets. I am very interested to get one for the parents. I think it'll be easier for them to handle something with a touch interface but not as expensive as hybrid systems.

We'll do just that once it's available for purchase.

You look like the Indian version of Abe Lincoln Harish

I've been looking at these Chinese tablets recently (very interested in the new Teclast Pro) but have read too many stories of defective units and no recourse for returns. People basically saying "you'd be better off burning your money than buying one of these.". Probably it's more like Russian roulette, you've a one-in-six chance of getting a defective unit and won't be able to return it. I think it's irresponsible to be posting about this until you've actually got one and can test it and have done some research on it. Too many people will be tempted by this (because it does look like a lot for the money) and purchase it and regret it. When something looks too good to be true, there's a reason.

"Irresponsible" is a bit too strong a term, given no one is telling peop