Citilink Indonesia releases official app for Windows Phone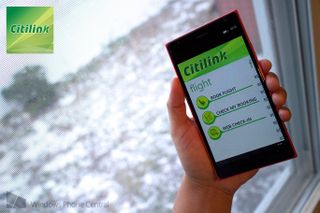 Citilink is a low-cost airline offering domestic routes in Indonesia. They have introduced their mobile app for Blackberry, Android, and iOS in September, but now there's one for Windows Phone. The official Citilink mobile app for Windows Phone lets customers book flights, check in, and check their booking.
Based in Jakarta and Surabaya, Citilink serves 21 domestic routes daily in 19 city destinations all over Indonesia. They currently operate 22 Airbus A320 aircrafts and plan to operate 50 by the end of 2015.
The Citilink Indonesia app is a free download at the Windows Phone Store. If you're in Indonesia and plan to fly soon, this app could be worth checking out.
How are Lumias(WP) selling jn Indonesia?
Anyone from there?

I'm from Indonesia. I don't know the exact number but I rarely see Lumias in public places. Just a few couple. :|

yes it is :(
recently Lumia 1020 launched here, I hope those 41MP cameras can give it the attention its deserve.

woops, where are u live? Windows Phone market in Indonesia almost 10% market share, under Android and BlackBerry. And have significant progress after 520 and Nokia MixRadio launch.

10% & bigger than iPhones? I seriously doubt it, any links to back it up?

I might be the only Ativ S user in Indonesia :). I like it that way, I love to see people reaction when they see my phone & goes "what kind of samsung galaxy is that...."

Lol. Samsung Galaxy Ativ it is

I am from Indonesia, and one of the early adopter of WP platform.
I recently pushed my family and friends to use a Windows Phone. It's certainly growing, but slowly. Heck, even BlackBerry 10 get more attention than WP. As I can see, tha lack of popular apps (Instagram at the time, Path, BBM, etc.) easily push people away from WP. Many of my friends said that "If only WP has (unavailable app), I will buy a WP as my next phone."
Many news sites also reporting bad news regarding WP, such as Kompas and Detik, both are leading online magazine in Indonesia.
Xbox services are still not available in Indonesia. Therefore if I want to buy a song in Xbox Music, I can't pay with carrier billing (many people prefer that way here).
Would love to see continued support from international friends to give support for us in Indonesia. And also hoping to see some 1st party app to come to WP.

Agree. Indonesians are crazy about Path & it could be one of the top factors why WP users are still low here. Carrier payments on WP is a winning factor indeed, many of android & ios users I know are quite impressed with such seamless payment. RBT & premium content payment via local carriers is quite profitable here. If MS wants to increase WP share in Indonesia they should tap this opportunity & market it well to attract local developers for such potential revenue generator. Anyway it's good to see local companies like citilink to start jumping on WP bandwagon.

And BBM...(shiver)
Here in Indonesia, ones could be so addicted to BBM that renders other OS obsolete for having no BBM app or subpar BBM experience.

For a moment I read that as Citibank. :)

When L525 come to indonesia,. Still waiting,

Looks decent and better than Garuda app.

Judging by the traffic and users at id-windowsphone, then WP is growing. The recent support by Microsoft for Indonesian marketplace as well as mobile payment are putting the platform in a better position against others. Unfortunately only Nokia is promoting the platform. Even that is very minimal. Samsung never wants to sell the Ativ S. They never tell the public about it. Moreover, not a single Samsung Store in the whole Indonesia has the device on display. I agree that if Microsoft wants to expand the Indonesian market, give us Path & BBM.
Windows Central Newsletter
Get the best of Windows Central in in your inbox, every day!
Thank you for signing up to Windows Central. You will receive a verification email shortly.
There was a problem. Please refresh the page and try again.