Clippy takes on Siri and the world in this amazing music video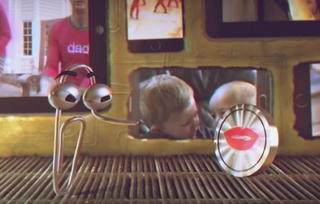 Before Cortana, there was Clippy. Clippy and the BSOD are a few of the many legacies associated with Microsoft usually meant to poke fun of the company. Clippy, in particular, is still used in pop-culture and is a solid reminder of Microsoft's failed attempt at an Office Assistant 20 years ago.
A new video though portends a different future for Clippy. The video begins with Clippy helping someone in 1995 and then fast forwards to a bleak future with the little guy (virtually) hanging himself with the old 'loop tool' (clever!).
From there, Clippy goes on what can be best described as a journey of self-discovery after learning about Apple's Siri, err SHANiA.
How does it end? You need to watch it for yourself. We will say this, though, the video does an excellent job of further anthropomorphizing Clippy. It is hard to not feel for the maligned helper even if he does go a little berserk at the end.
The song 'Ghost' by Delta Heavy is surprisingly catchy too.
Watch it. Comment.
Source: YouTube; Thanks, everyone, for all the tips!
Windows Central Newsletter
Get the best of Windows Central in in your inbox, every day!
Daniel Rubino is the Editor-in-chief of Windows Central, head reviewer, podcast co-host, and analyst. He has been covering Microsoft since 2007 when this site was called WMExperts (and later Windows Phone Central). His interests include Windows, laptops, next-gen computing, and for some reason, watches. Before all this tech stuff, he worked on a Ph.D. in linguistics, watched people sleep (for medical purposes!), and ran the projectors at movie theaters because it was fun.
After watching this video a few times and laughing, this song is totally stuck in my head. It's a pumpin, upbeat tune. Kind of the most awesome thing I have seen today.

Delta Heavy is just crazy. Been a fan since long ago.

Omg Delta Heavy has like the best music vids. Go watch Get By and Hold Me on the UKF channel they are crazy just like this vid. Especially Get By. Posted via the Windows Central App for Android

Agreed, very catchy song and the video was freaking cool, still a Clippy fan from long ago (even though he was annyoying back in the day)

Yep, I love the song! I have a few Delta Heavy tracks on my Spotify playlists already & will be adding this one too... I've been a fan of d'n'b for 14+ years :)

I almost cried. Pumped me up too lol

Thanks for the name of the song.. I like it..

Can't watch in Germany ... annoying GEMA. I could find many other words for this ... institution, but I'll restrain myself.

Ich weiß was du meinst -.-
Proxtube ;)

I usually used the cat assistant instead of Clippy.

I love this music video, I miss old Clippy

Wow so many memories!!! Reminds me of win95/98, the maze and pipes screensavers! And 'it's now safe to turn of your computer' hehehe!! Those were the good old days!!! I think I'm really old lol!

Well depending on if your PCs acpi function isnt working it should still ask

When you can remember DOS and Windows 2.0 then you're old. Old... Windows 95... Pfft!!! ;-D

DOS is modern compared to programming basic on a C64 ;-)

That was... actually pretty amazing lol.

Check out Get by and Hold Me by the same artist (Delta Heavy). Posted via the Windows Central App for Android

Poor clippy, or... maybe Microsoft included some small bits of code into Cortana to allow Clippy to live on in some small way. And maybe... just maybe... *#+!&... wait, who am I kidding, its a bent clip pipe dream right, I mean, Clippy has been disassembled...right?

Ask her - "Do you know Clippy?"

Not sure why I can't upload a pic into the comments?

or ask Cortana what do you think of clippy

Cortana said "What's not to like? That guy took a heck of a beating and he's still smiling."

Loved how they showed Siri inside a rotten apple :D

They should have done some thing with Cortona instead of Siri...

It's the nostalgia that makes this and that is lacking with Cortana. Wouldn't work.

I just asked Cortana where is Clippy, and she told me (leaving you all in suspense to try it yourself)

I just asked Cortanta "Where is clippy?". She responded "Clippy? He's taken up Canasta. He's gotten so good he doesn't need any tutorials." lol

Clippy/Cortana. So basically anything that starts with C is better than Siri.

I switched to the robot and kitty when they were introduced.

Would have loved to see him spear Bonzi Buddy

Nice reference to How-Old.Net at 2:11!

Excellent use of ye olde screen savers and memes ripped from The Time Before Memes.

Clippy was actually good.

Clippy should be male version of Cortana.....
Exclusively for Windows Mobile only.
Agree or not?

It should be an option to use different avatars for Cortana including an option to have clippy as an option avatar for xbox

Clippy's ole school, get Master Chief!

Strange how everything microsoft introduced was a failed project to you guys. I think clippy was pretty cool

Failed means no longer around nor evolved into something of today

Wow I like this Drum and Bass

Clippy for president.... You have my vote

This totally made my day..

Wasn't that Ask Jeeves in the recycle bin?

Please sort out your video links on your windows phone app !!!

Epic, Microsoft should use this song and video as promotional material

I forgot that there was a music playing. I concentrated much on the video. @_@

Before Clippy, there was Bob :P.

Before Clippy, there was Bob. But Bob really didn't get out of his basement or rather his parent's basement :P.

This you found amazing? I found it fairly stupid.

Taste is the enemy of art..

This was pretty awesome. Not that I don't think it's not possible for someone to create this without Microsoft's involvement, but I am curious as to whether Microsoft had any role in this?

That's really cool! I love all the old school screensavers and icons. The song is really catchy too. Posted via the Windows Central App for Android

Anyone spot any teapots in the pipes screensaver section?

The link isn't working for me

Oh dear. The link (the video?) does not work for me either.
(I am from Brazil, but I'm currently in Canada.)
Has the video been pulled? If not, please WindowsCentral geeks, why isn't it working?

It works for me and I'm in Canada. If you're using an app for Windows Central, try the website instead.

I dint know him that much, but now my heart is hurting, where are you Mr Clippy? I miss you.

This is absolutely amazing! Thanks for the share Daniel! Poor Clippy, glad he got his revenge! I wonder if Delta Heavy are Microsoft fanboys like us LOL

Clippy for avatar with male voice in W10 mobile!

In all honesty, I would change Cortana's icon and voice for clippy, not because l don't like Cortana, but because I think Clippy would look cook :)

Not me, I love hearing Jen Taylor saying my name..

The old guy in a trash can is ask.com, the blue triangle in the beginning is AOL.

ha i forgot about Ask Jeeves

The face you see behind clippy near the start seems to be from Encarta 95 and 96.

That is some pretty trippy Clippy flippy!

I loved Merlin. I was using it even in software development using Microsoft agent APIs.

I loved Clippy. And even if I didn't actually use him (I did occasionally though), I sometimes would conjure him to appear just so I could see him LOL!

That is pretty funny. I cant help but feel for clippy. Back when it was a thing the first thing I always did on a new install was turn it off. I could'nt stand him/it. It constantly bothered me when I was trying to write a paper or something else important.

Loved the video, hated the song. Not a pop guy. It's nice to see Clippy come back and come out on top in something.

Don't mess with clippy Siri. That was amazing. Crashed o.s. A half dead AOL logo. Lots of jewels in that vid. Hoped y'all caught them.

I am the first to pledge allegiance to Clippy. We have always been at war with Eurasia. Siri is thought crime...

Feel the rage of clippy! :'D

watch out apple, here comes Clippy

Did clippy do a little poopy at the 2:58 mark?

Awesome video! Microsoft should adopt this video as a "return to Microsoft" advertisement. Like Siri what? I'm clippy, reincarnated as Cortana and I'm here to kick your ass Siri! lol
Windows Central Newsletter
Thank you for signing up to Windows Central. You will receive a verification email shortly.
There was a problem. Please refresh the page and try again.