A closer look at Fhotoroom for Windows 10 Mobile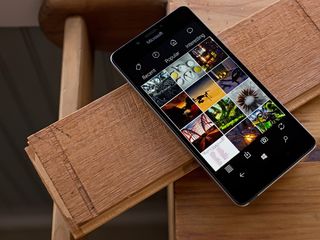 Fhotoroom is a popular photo editor that has been available for Windows Phone since the days of Windows Phone 7. We have watched the photography app update through the years and expand to the PC platform. Fhotoroom recently made the jump to Windows 10 Mobile with a new beta, adding a host of new features with the transition.
The update increases the number of RAW file formats to over 650, adds Continuum support, adds full Metadata support, changes the user-interface and more. We took the updated version of Fhotoroom out for a test drive this past weekend to see how well it matches up with Windows 10 Mobile.
One of the many appealing points of Fhotoroom has is that the app is not only a photo editor but also a photo-sharing network. The app has dropped its own internal camera app and instead will launch your Windows Phone camera from within the app.
To access the social network features, you will need to create a user account (free) and if you are more interested in the editing features, you can access the photo editor without the need for an account. The social aspects of Fhotoroom allow you to upload and share your photos with other Fhotoroom users. Key features include:
Follow, like, comment and share photos with the Fhotoroom community
Join community started Fhoto challenges
Share and learn photo filter recipes
Share your photos to Facebook, Flickr and Twitter
While the photo-sharing network helps make Fhotoroom stand out from other photo editors, the feature-rich photo editor makes the Windows 10 app shine. The Windows 10 Mobile update brings the Windows Phone version of the app more in-line with the Windows 10 PC version. While there is a good amount of consistency between the two versions, the smaller screen does create some slight deviations.
The editor supports up to 41MP HD image files with full EXIF and GPS Metadata support. The Windows 10 Mobile update bumps the image file support to over 650 RAW image formats, as well as the standard JPG, JXR, WDP, PNG and TIFF formats. You will also find support for Continuum and the ability to import and replace Metadata information.
Fhotoroom opens up to the social network page with thumbnails of the most recent submissions taking center screen. You will find options to view the most recent, popular and interesting submissions running across the top of the thumbnail gallery. You will also have icons to search for hashtags, view your friend's activity, jump back to the home gallery and check your chat messages.
Along the bottom of the opening page for Fhotoroom, you will find a menu, the option to load an image to the editor, launch your Windows Phone camera and refresh the thumbnail gallery. The menu holds options to log into your Fhotoroom account, access your profile, view your likes, check out your friend's activity and rate/review the app.
You can load images from your Windows Phone photo gallery or open the camera to capture a new image to edit. Editing commands run the bottom of the screen and a menu sits in the upper left corner to give you access to the image's metadata, import metadata, an option to restore purchases and choose your maximum image size.
Editing tools are sorted into four main categories:
Edit: This tool set includes the fundamental adjustments such as crop, straighten, exposure, brightness, contrast, hue, saturation, sharpen, vignette, grain, black point, white point, fade, temperature, and tint. You also have tools for classic vogue, highlights, shadows, H tint, S tint and opacity. You also have mask tools, a history view of your edits and the option to tag an adjustment series as a favorite.
Frames: Over thirty frames to wrap around or over your image.
Presets: This is an extensive collection of effects filters to apply to your photos. Each filter is adjustable to meet your specific needs.
Pro Tools: This is a collection of advanced editing tools such as an HDR filter, tilt shift adjustment, curves, lens correction, panoramic rotation, light effects, mirror images, double exposure, a drawing tool and an integrated Tiny Planets tool.
Please note that while many of the tools with Fhotoroom are included in the free version, there is an in-app store where you can add free and paid filters/tools to the app as the need or desire arises.
The workflow with Fhotoroom's editor does require you to confirm the application of an edit and confirmation to apply all the edits when you exit a particular tool set. For example, if you adjust the exposure of an image, you will have to confirm that adjustment. If you move to crop that adjusted image, you will have to confirm that adjustment. When you are ready to move out of the editing tools, you will have to verify application of all those adjustments before you can move to another editing tool set. This may be the only design issue I have with Fhotoroom, in that it feels a little awkward and will take some time to get used to.
Edited images can be saved in either JPG, PNG or TIFF formats, with the ability to select the quality of the JPG file. Saved images can be sent to your local Windows Phone memory or your OneDrive account. You also have the ability to share an image from within Fhotoroom and upload the picture to Fhotoroom's social network.
A little buggy but on the right track
Fhotoroom has been a staff favorite for two reasons: the number of features and the aggressive support from the developer.
I can see the appeal the social network has, but it may not be fore everyone. The photo editor, on the other hand, should appeal to a wide range of photographers. While there is not a "one-touch" editing feature, the editing tools will appeal those looking for a quick fix to their images without a lot of effort. If you dig a little deeper, the editing tools will also speak to the seasoned photographer looking for a more advanced transformation of their images.
While the update increases Fhotoroom's horsepower, it also has several stability issues. I experienced a lot of lag times while moving from one editing tool set to another and frequent crashes of the entire app. It felt as if Fhotoroom has outgrown the limitations of our Windows Phone hardware or unresolved bugs in the code. I did find more stability after lowering the Max Resolution of images, but still experienced issues. Keep in mind that the Windows 10 Mobile update is a beta and bugs will still be present.
To illustrate the aggressive support the developer has with Fhotoroom, and update to address some of the bugs was pushed just one day after the initial Windows 10 Mobile version of the app landed. The Windows 10 Mobile version of is still a little buggy, but we are confident that it will not take long before whatever bugs are left are squished. The whole point of the beta process is to find and squash those bugs.
Fhotoroom is a free app with several in-app purchase opportunities to expand your editing tools. You get the core tool set with the free version that will do nicely for many photographers. The add-ons include some of the Pro Tools such as HDR, Tiny Planets, additional filter sets and more that may not appeal to everyone. While it may cost a little to expand the tool set, you only buy what you want and purchases are universal. In other words, buy it for the Windows 10 Mobile version and it is available for the Windows 10 PC version.
Fhotoroom is a fantastic photo editing option to consider for your phone, tablet or PC. While the update needs a little fine-tuning, it is great to see it make the transition to Windows 10 Mobile.
Download Fhotoroom for Windows 10 PC and Mobile (opens in new tab)
George is the Reviews Editor at Windows Central, concentrating on Windows 10 PC and Mobile apps. He's been a supporter of the platform since the days of Windows CE and uses his current Windows 10 Mobile phone daily to keep up with life and enjoy a game during down time.
Since updating last week on my Lumia 950 I've only been able to open the app once. Even then it slow and seemed stuck. Every other time when I try to open the app I am brought slowly back to the app list. Same results even after an update that appeared yesterday. I've tried uninstalling and reinstalling, soft resets to no avail. I'm disappointed to say the least.

@Mike have some patience.. The OS and the App are in BETA..

Thanks. I'm trying to have patience. I can live without most any app. I love the is and the phone, don't get me wrong.

That is weird it works for my att 950

On my 1520 photos are not rendering right. Instead of three columns I have two columns. It only shows recent and popular photos.

Can you add texts to photos as well?

one of the best replacement solution for VSCO on Windows platform

The app is crashing like hell!

It's working fine on my att 950 which phone you using? I edit 4 pictures today

I have a Lumia 950 on AT&T. Unusable.

For me it's the best photo editor and easly beats fantasia painter but its fillters aren't as good as fantasia. Crashed once for me.

Seems only fair that since they have dropped the camera portion that they should unlock Fhotolens for those who paid for the feature in Fhotoroom! Or refund the peoples money. These developers have always been sketchy

Crashes after taking a photo, haven't been able to use it not even once

Every time they do a major update it's like they take 2 steps back. Not only does it crash all the time, it won't restore the full version that I have already purchaced.

Same problems!!! I have purchased this and fhotolens twice! After no responses to email to the debelopers I decided negative feedback was warranted. After doing so the developer then proceeded to email me and get nasty and belligerent with me for my negative feedback and calling them out. DO NOT PURCHASE ANYTHING FROM THIS DEVELOPER!!!!!!

absolutely great app Posted via the Windows Central App for Android

Sorry, but what do you mean by "it adds full metadata support"? As far as I can see, it does nothing of the kind. I tried the latest version on Windows 10, and although it seems to preserve Exif metadata, it does not display XMP metadata, and worse, will strip it out when photos are saved.
Windows Central Newsletter
Thank you for signing up to Windows Central. You will receive a verification email shortly.
There was a problem. Please refresh the page and try again.