A closer look at Rich Capture, the best feature on Lumia Camera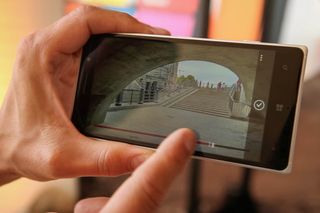 If you ask me to name one thing that I liked the most from the recent Microsoft press conference, I'd say it's the new Lumia Camera. If you haven't heard, Nokia Camera will be updated to Lumia Camera as part of the Lumia Denim update. What I'm really excited about is the feature in Lumia Camera that Microsoft calls, Rich Capture. It's a new mode that can be quickly enabled with one tap. Watch the demo on video to see what it's all about.
With the new Lumia Camera, there are three options on top. You can quickly change to the front facing camera, turn on/off/auto flash, and enable Rich Capture. Several things happen when you take a photo with Rich Capture on, but users don't really need to know how it works. Basically, you can avoid the hassle of adjusting camera settings so you can shoot first, and then edit and select the perfect shot later.
When you take a photo, Rich Capture analyzes the current scene, captures multiple images and merges them together. It applies auto HDR with dynamic exposure steps and flash settings to provide the perfect shot.
When Rich Capture is on and the flash is off, Lumia Camera takes a traditional HDR photo. This means multiple photos are taken with different exposure values and then merged into one image. After the photo is taken, you can edit it later to adjust how much HDR effect you want. There's a slider available to make the adjustments. The amount depends on users. I'd probably stick to about 33%, but you can go all out with 100%.
When Rich Capture and flash are enabled, Lumia Camera takes multiple photos with flash and without flash. After the photo is taken, you can edit it later to adjust the strength of the flash. Microsoft calls this feature, Dynamic Flash.
I was told there is also a third mode when Rich Capture is on and flash is off, but I was unable to see that demo. Lumia Camera takes long and short exposure images. I imagine you can adjust the slider afterwards when editing to try to get the sharpest image possible in low light conditions.
I'm really excited about the new Lumia Camera and its new Rich Capture option. Don't forget, Lumia Camera also brings other features. It makes capturing images faster, brings 4K video capture to supported devices, and Moment Capture. When you hold the camera button, it instantly starts recording your subject in 4K at 24 frames per second. Each of the frames captured can be saved as an individual photo.
The new Lumia Camera will be available for the Nokia Lumia 830, Lumia 930, Lumia Icon, and Lumia 1520 as part of the Lumia Denim update. It that starts rolling out in Q4. It's worth noting that the Lumia 830 will shoot Moment Capture in FullHD, not 4K.
Are you excited about the new Lumia Camera? What do you think of the Rich Capture option? Sound off in the comments!
Windows Central Newsletter
Get the best of Windows Central in in your inbox, every day!
Sad to see my 920 won't get the Lumia Camera...

Yeah even ny 925, but they are a year old so kind off okay.

Right? You think it would work with PureView cameras or something. Or maybe (insert technical talk I don't understand).

i think alot of this is made possible from the new qualcomm chips. i remember they have a built in image processor. if this was just software, it should work with older cameras as well.

Even 2 years old android Phone support the new operating system, KitKat.

the OS it self can still be updated from Microsoft, especially for those who is in DP. But as I understand, the new Lumia Camera might need some hardware/firmware support, which sadly for 2 yr old L920, it doesn't have that. And besides, Android OS updating is the worse of all smartphones.

It should (with limited functionality) unless Microsoft completely skips the Denim firmware for Gen 1 WP 8 devices (minus the ones with SD800)

So then which features would the L925 get? Plus T-Mo doesn't even have Cyan yet, so like I hate seeing ask this stuff for Denim especially when I don't even have Cyan and it's not coming out soon. T-Mo said later this year

That's why I got a 1520.3 to run on my T-MoUS account. Instant upgrade over 925. Instant Cyan. Hearing now about all the advances coming with Denim, glad I'm factory unlocked and won't wait for carrier approval before I get an OTA. Super glad I have a Snapdragon 800. Enjoying motion sensor right now and eagerly awaiting other 800+ SOC implimentations. All the gained advantages are totally worth way more than the sacrifice of WiFi calling. 1520.3 is a beautiful beast of a device. Check it out.

Well it's not like Cyan brought any new features to first gen. devices ( Snapdragon S4 ones ), so Denim will ship to all devices but will not bring features.

Well Cyan did bring the brightness profiles to all devices.

Idk, maybe for you it did, but my Lumia 920 has Cyan and no brightness profiles.

It didn't. Only to some devices.

@pankaj981 Which Gen 1 WP8 devices have the SD800? I wasn't aware of any.

The 1520, it was at the end of Gen 1, which is why it's the 1520 and not 1530, as well as it coming before Windows Phone 8.1. ;)

There are no gen1 WP8.1 devices with SD800.. The 1520 is a gen2, including sensor core.

Well, they kind of skipped cyan, as I have a 920 and it has none of the new features promised by MS. The only think new is the Lumia cream title in extras+info. Very sad

My thoughts exactly when I got Cyan on my 1020. Didn't even get the new custom brightness slider (Which, honest to god, was the feature I was most excited about, seeing as I was already on 8.1.1 thanks to DP). Other than saying Lumia Cyan in extras + info and the new data transmission arrows (for AT&T, at least, they're new), I honestly wouldn't even know I successfully upgraded.

Everyone with a Lumia gets Lumia Camera, but not everyone gets all of the features. (Lumia Camera replaces Nokia Camera as an app).

What features do we lose if we don't have those phones?

Even I would like to know what features will be available for older Lumias. I would not mind if I don't get 4K, but Rich Capture/HDR is needed....

So all Lumia phones get a faster starting Lumia camera app???

When taking so many pics at a time, what resolution will we get?

A more curious question is how many will go into OneDrive with auto uploads? It's already a nightmare when you edit sometimes!

That's why I simply don't use auto-upload. Makes things too messy. Simply sync my phone's camera roll with my Surface ever night, with the OneDrive folder. All my photos get automagically synced and uploaded to the cloud as I sleep, changes and all. Magical. Not perfect, I do have to manually remove some stubborn photos that won't die when I edit them, but that's fine. Gets the job done, makes me happy.

8 mp when recording in 4k, not sure about the 830 with 1080p...

Does the Rich Capture feature require more powerfull hardware to function? More powerfull than L920? If the answer is no, then MS is just trying to make some money on the new devices. I really hope that L920 (and previous models) will get the Rich Capture, the same way less powerfull phones got Nokia Camera (originally available only for more "expensive" models)

It requires functionality not available on the S4 SoC. So all 1st gen WP8 devices won't support these features. Frankly speaking you'll see little advantages from Denim (and Cyan really)..

That's so sad. So my Lumia 1020 won't get the Rich Capture feature, nor the Dynamic Flash feature when Denim will be installed on my phone. Also you're saying that the shot to shot time on my Lumia 1020 won't be reduced once the Denim is installed, is that right?

We are beginning to see more fragmentations on WP devices now, based on the hardware configurations. Whether it has 512MB or 1GB RAM, whether it has quad-core processrors and whether it has OLED display all make differences in feature limitation. We probably should all wait for the SN 805 phones for safe. :-)

What do quad core processors get you (all quads, not just some quads)? What requires an OLED display?

Some of the Denim features only apply to Snapdragon 800 phones. No Glance feature for OLED display due to the lack of screen memory. In the future, you have to decide which features you want before you select the right models. So you won't get surprised after the purchase. I understand that Snapdragon 805 will have some sophisticates graphic capabilities. So may be the future Lumia firmware updates will take advantages of those features for SN 805 phones only. We just don't know.

At least we aren't getting OS fragmentation like Android Suffers, it's closer to the Hardware fragmentation (like iOS) - we just get Carrier fragmentation when they are too 'lazy' to push out the updates. I mean we cant expect 2 year old Hardware to be able to do everything that new hardware can do, we have to be able to let go and move on. (and it's an excuse for us to upgrade devices as well) I for one don't want new devices 'limited' so that old software can do everythting the new ones can.. And what happens in a couple of years when the SN 805 is outdated, more complants? :)

It's ridiculous that in this way, they oblige you to buy a 700$ phone each year.

Come on please yangstax.... If you buy a low end device or if you have a "older" device that are just no capable of processing the necessary way then be realistic and understand that 2 years ago they did not know the future. Just be happy for the people that will get the features.. It's time to upgrade and enjoy with us. Be fair, you can't always have the best, you had that for at least a year... Better things come along that is just how life is. And btw nothing is scattered

I wish all the phone features can last 2 years. My Lumia 900 lasted 1-1/2 year before WP7 hit deadend. I was forced to upgrde to L920 for the WP8 sake. Then AT&T quitted supporting Qi after one year without warning. I already invested in 3 Qi charging pads and one JBL Qi speaker. Now after one year I owned L1020, I was told that Denim's main features won't support L1020. Now I have to upgrade to L1030 if there is one. Obviously, the mobile techs are moving fast. WP is playing catch-up. Some of changes they have to make and are beyond their control. But there are things they could standardize. They can quit making 512MB phones and start all low end from 1GB. So all phones can run all apps. The Xolo Win q900s has much better specs than L630 at the same price range. MS can standardize all the mid to high end phones with 5MP front camera, microSD and internal wireless charging. So we don't have to worry about which phone model has this or that. These basic things should be all there. L830 is a good start with its replaceable battery and Qi cover design. But I just don't understand its selection of 0.9MP for its front camera. High resolution selfie camera is the trend in the industry. HTC One has a 5MP ffc. All phones above L730 should have a 5MP ffc. In the Chinese market, for instance, phones without front camera just won't sell. L530/L630 will have hard time there.

would you prefer they don't update hardware so everyone stays on the same hardware? fragmentaion refers to people being on different versions of an os making it difficult for developers to make apps. there are always differences in hardware.

Would this mean everyone will get to enjoy fast camera app start and fast photo by photo capture?

Can you eventually do a summary article on which phones get which update features? This is a bit confusing. Would be good to know to plan an upgrade

Wut, why do you say that??

I,wonder y... We do have hdr on single core apple iphone 4... Fine with not having moment capture or 4K....but this rich capture feature is possible with 920's camera imo...

You can always use HDR Photo Camera or a similar App right now. I use it all the time for any photo of relatively still objects. Not as fast as this firmware enabled mode obviously, but the results are great!

Because Apple has been doing everything in-house for years, so they can optimize the hell out of everything? Also, the iPhone 4 only has to push 5MP?

Not even the 1020 Seems like we're officially on old hardware haha. I suppose it has something to do with the proccessor. All those phones have QuadCode

Ironically the 1020 has a faster processor than the 830 and it still won't get any of the new features. At this rate, they might as well not give us the Denim update.

Lumia Denim is more high end device oriented not like for all lumias .! There ain't any awesome feature which we 720,920,925,1020.. Users get..!,:/

It comes as a kick in the gonads to have the best camera phone in the world (1020) but not the full feature set of the Denim update. You'd have thought that Nokia would have future proofed the 1020 for at least two years.

That's what happens when they cheap out on the processor.

But 730 and 830 aren't high-ends...

Wait, a dual core snapdragon s4 is not better than the quad core snapdragon 400. The S4 was pathetic, even when the 1020 was announced. They didn't even get the S4 pro.

S4 was awesome. still is. and yes it is atleast equally powerful as snapdragon 400, in terms of cpu and miles ahead in terms of gpu. s4 has 2x krait cores at 1.5Ghz with adreno 225 and 400 has 4x poorly optimised A7 cores at 1.2Ghz with adreno 305. they are more power efficient but essentially weaker. the real problem here is the 41mp sensor. not even a snapdragon 801 has enough power to snap multiple 41mp shots in a second. the 808 pureview did it using a dedicated imaging coprocessor. i would really like the 1020 successor to have that reimplemented.

It has been tested, on this website with the Lumia 1020 vs the Lumia 635 which features a 400 CPU. It performs better than the 1020 does in terms of raw computing power. Quit spreading misinformation about how capable this processor is

i dont know what this site did, but gsmarena did the same and found out that 1020 is equal, if not better on several benchmarks http://www.gsmarena.com/nokia_lumia_630-review-1080p5.php

Interesting. I didn't know all the snapdragon 400s weren't krait CPUs. Either way, neither are/were considered high end, so they weren't meant to be "future proof." I still wouldn't call it "awesome" or miles ahead, though. I agree, They really need that coprocessor. Hopefully they can make the camera better than on the 808 and keep the device slim.

i was talking about the gpu when i said 'miles ahead' adreno 225 is 'really' more powerful than 305. they are less efficient than 305, but far more powerful. i hope you know the naming scheme of adreno gpus. first digit represents the generation and the rest two represents the performance rating. (similar to that of radeon hd series) ;) and i dont know if windows phone supports coprocessors yet, but i'm pretty sure that if they do, thats the way forward. it can lead to dslr level capabilities like 8fps 41mp bursts :D really not needed, but very useful for HDR composing ;)

I'm still not sold on the GPU naming convention though. Does that mean that the Adreno 225 is still more powerful than the Adreno 420 on the snapdragon 805?

Ok, let me put it this way. a change in generation often brings more efficient chips, at the same time, slightly improving performance. which means, number 25 in second generation maybe equal to number 10 or 15 in fourth generation. but, not so much as to make 225=305. adreno 320 might be the one with same performance as 225. adreno 420 might be comparable to 330, but more efficient. after all, the performance of the gpu also depends on the amount of shared memory it has. 305 on a 1gb device may perform better than a 225 on 512 mb device. there are even more variables in that equation like heat sinking and related to it, performance throttling.. etc by rough laboratory estimates under equal conditions, what i said in the first para applies.


I don't think the 1020 has a faster processor it just has more RAM.

Actually no. The 1020 is a dual core first gen WP8 device. Excluding the camera the 820, 920, 925, 928 and 1020 are pretty much the same device. While clicked slower, the 830 will generally outperform to 1020..

I agree with the first part (displays were also different, though).
"the 830 will generally outperform to 1020"
Except, of course, in the graphics department. Adreno 225 > Adreno 305. period. Also, usually the processor speed matters more than the core count for gaming. So in that regard, the dual-core S4 @1.5 GHz on the 1020 and those other 1st. gen. Lumias is looking better than the quad-core Snapdragon 400 @1.2 GHz on the L830. (Note that each core maxes out at that speed).

Actually, thanks to the utilization of those extra cores: the 630/635 gets higher benchmark scores than the 1020. I imagine the gap will only be wider with the 830. While not every application makes proper use of those extra cores, you can be Lumia Camera does, and all the benefits that come with those extra few cores.

The New camera features need the power of the SD 800 ;) mobilegeeks.de was talking to the german product manager

Oh really? The 830 didn't have a SD800 and it's getting Living Images and Continuous Focus. It's something that I believe can be done on the 1020 processor.

please don't spread bad information, lumia camera will be available to all current WP8 lumia phones as an update to nokia camera, it won't support 4k recording if your phone can't handle it, but everything else should be there, of course you can't expect this to run on your 920 as fast as it does on a 1520/930

Yes thanks. And also Lumia Denim will be bringing Update 1.

Be careful yourself about the information that you spread. It seems pretty clear that all Lumia devices won't be getting "rich capture" either. I'm not certain what (if any) of the new, advanced features will be active for "older" devices like 92X and 1020.

What?! So my 925 wont get it? Oh man, I was looking forward to it..

As I carry my HS20 everywhere, everytime to capture every scenes, still no need to change my 920. Maybe the next big thing from WP ......

He heals and solve most of the problems & sickness which are failed to be healed by other doctors/healers. He solve bad luck, pregnancy problems, lost lover, sexual weakness, early ejaculation, witch-crafts, broken marriage, poverty, debts trouble, divorce, court cases, domestic problems, gambling losses, Lost jobs, promotions at work, Do you need penis enlargement? Do you want to be Rich? Do you need many children? Are you tired of jealousy people, Evil dreams, all long illnesses, blood pressure, HIV & aids, skin infections? etc. He use strong herbs & magic spells as well as powerful ancestors. Get healed today by this greatest miracle doctor who has healed many people through his experienced ancestors. Join the rest of the world to cerebrate his miracle healings. he can even read and tell you your problems before you say anything to him. He can connect you to talk to the spirit of a deceased of your family member or friend. he can also tell you your future through reading palm, play card, a mirror/water. He uses many ways of healing just to make sure that he certify his clients all over the world. he is the only traditional healer who does fully corresponds with all religious beliefs. contact him on his email address at fiokporspiritualtemple@gmail.com

Bring on the successor to the 1020!

Exactly. MS is just teasing us with all these awesome camera and photo updates that the 1020 can't even take advantage of. They need to announce the 1030 soon, I simply can't upgrade to a phone with a lesser camera now.

We should all put pressure on MS, on every occasions, to release the L1030 ASAP. It is crime for MS not doing that. It is simply not acceptable.

A crime? If MS did deliver a successor to the 1020 that was anything less than spectacular, they would have a lot of very upset phone owners complaining that MS just threw out anything. Unless my 1020 was broken, I would rather keep my 1020 a few additional months than getting something I would be grumbling about for the next year or two. Yes, I have the 1020 and I am anxious about a new phone.

I think there will be more feature to come before they will release 1030... When all feature that they have planned have been made then they will release all the feature to the 1030... Hope its like that xD because if they release all feature before 1030 then there isn't big things to them to announce in the event

I came from the 1020 to a 1520 and it really isn't that much worse. Color reproduction has been better for me (no yellow tint from the Xenon) and shot-to-shot time is much improved. Only downside is less zooming and lower shot quality after zooming. Also, being able to use the dual LED light as a flashlight is nice.

I'm with you on this one. Upgrades that don't hit the best phone camera in the world are unacceptable - it's really an outstanding camera with a smart phone built in if you ask me.

Dear god please I need a 1030 to upgrade to!

That's much more better than the one we are now using. Hope MS could release it ASAP!

ASAP? This is a WP firmware update, asap isn't an option, carrier testing, phased rollouts, don't expect it till next year. Just ask Verizon or T-Mobile WP users.....

My 930 is ready and waiting!!!

Same! Lumia 930 - Denmark

How is it.. Better than the 830 recently announced?

Of course, Lumia 930 is THE flagship, the 830 is just an affordable, less powerful option

Verizon even start Cyan update I can imagine when they're going to release Denim.

I was going to get a icon unlocked and use on att (sane shit as the 930 since it doesn't support lte here in USA) but knowing the cyan and denim update have to get approve by Verizon fuck up the whole thing. I can get dp in it but not cyan and denim maybe in a year lol

1st make a decent xbox music+video app

Yeah lets all diss on a really awesome set of features in favour of something that is totally out of context and is happening on a regular basis anyway...

I totally agree, since none of those features will be coming to the majority of the current WP owners. Making a polished music app will actually please more users rather than this Denim update that brings no new features for us 52x, 62x, 72x, 82x, 92x, 1020 users.

Why all the hate for Xbox Music? I think it's good and better than ever now. Yeah, I could use Zune wireless sync again, but it ain't no thing.

I wouldn't use the word "hate". It's more of an expectation, since the previous Music + Video app on WP8 is noticeably smoother and faster than what we currently have. It's something that you gotta admit.

Yes, the old version starts faster. However, I have noticed the new version's Shuffle feature is better, which is something I care about more than waiting 1 second for the app to load. I'm hearing songs now that I had completely forgotten about. It also remove an annoyance from the old version when you tap on the current playing album, it wouldn't take you to the album, but to the artist. Now it goes to the album. So, it's the little things that make me like the new version more. And I like that we're getting WAY faster updates now.

You do have a point. I've also noticed that the shuffle feature has improved in the new version, but I still expect a faster music app from Microsoft, considering that WP has always been known for its fast & smooth UI. It's little things like this that makes a device feel great.

Everyone is completely wrong on this Denim firmware update. The second generation devices will of course be getting this new Lumia Camera app. And yes they will be getting every feature that does not depend on new processors. that is 4K and that's pretty much it, so anything on the Lumia Camera app that uses 4K will not be found on that particular phone. 110% sure that any older Pureview device will get the HDR feature. The mid range devices will probably too but without the quality of a Pureview device of course.

Amen brother...and i would also like to see bigger buttons in music app for play/pause and forward/rewind. They're just too damn small. And i also wish for bigger slider while listening to music.

I wish they had more sample images. Seeing the same ones over and over is somewhat disappointing.

Hopefully Verizon can roll out Cyan before Denim comes out. These two updates are looking pretty sweet

Yeah, darn. But my old 920 is getting near 2 years old, so maybe it's time to upgrade to a 930 or something? Just really, really hard to find anything Lumia in Canada. Actually, any top end Windows Phone is near impossible to find in Canada. Back on track, the new camera feature looks awesome, but the HDR lens app works well for me. Not quite as fast, but it does the job.

Most people don't have Cyan and 8.1 but they are already talking about Lumia Denim Firmware and 8.1 gdr2 what the absolute F***

Define "most people"? On our Tracker page, Cyan has to be on about 75% of devices now. I think you are referring to Preview for Developer users, which are about 3% of users max. Regardless, I am not sure why Microsoft should not be showing off forthcoming features.

Here in Brazil all phones have Cyan. Just don't update, who don't wants.

Daniel, this is what happens when the OS starts to becoming more fragmented. It's feeling a lot like Android in the WP world since each device is running various os and firmware versions. Yes you have a tracker page, but who can honestly keep up with all that if you don't work in it daily? You see WP and Nokia posting all these new features to FB and it's a bummer to find out your 5 month old flagship doesn't have them. Yes, I know, it's the carriers fault. But when old boy is walking down the steet with a cheaper windows phone that has glance, double tap to wake, good low light photography, and the latest firmware, you get a little frustrated that you 5 month old flagship doesn't

@Trey Abel
My first Gen 920 had Glance, double tap, good low light... what flagship are you talking about? My 1020 and my 1520 also have those features...

The Lumia Icon. It's predecessor, the 928, had all of those features too. Cyan is supposed to bring the better low lighting photography but who knows when Verizon will release that. Hearing about Denim, while not out of line, is frustrating for us at big red. It makes sense for them to advertise it indeed but I feel like I did back in my Android days when alls I wanted was 2.2 so I could put apps on my SD card...lol "When do I get Froyo?!" It creates this paradigm where we become disappointed with out already very awesome and capable phones.

Switch to AT&T. Never thought I would be suggesting that. (Sent from my AT&T Lumia 920 with Cyan)

This is not OS fragmentation. This is a software feature in an aapp specific to some phone's hardware. Is it OS fragmentation when the flash isn't available on phones that don't have them?

Well some people have 8.0, some have legit 8.1, some have DP 8.1 and the Lumia line is all over the range of firmware. You are right, double tap to wake and glance are hardware features. Low light photography is a joke on the Icon and I has the hardware for that. Hopefully cyan will fix that, if Verizon makes it happen. BUT what I'm really saying is, all the update hype and some people getting it and others having to wait reminds me of just the reason I left Android... And no that's not a threat to jump ship.

those who were in dev preview, it was their choice not to wait for the official one, well atleast we have a choice, unlike android, most mid range device ics 4.0 were not even upgraded to 4.1 and so on, atleast in wp even 520 is still recieving an update

Well, there are really only two versions active now and only because of the carriers not allowing the updates based on their software requirements. Cyan did improve the camera speed and most users are oblivious to what version they are on. Case in point, when I informed my wife that I updated her 920 to Cyan 8.1, she said, "what?". I then showed her Cortana and she said, "cool." Point being, people that aren't following tech sites don't know. People that see the commercial may go buy "the new phone" with Cortana not caring they will get it at some point. This isn't the fragmentation we saw with Android, four major releases with updates in between scattered across handsets. Cyan is like Sense on HTC or TouchWiz on Samsung. The OS is stll just 8.0 and 8.1 for almost all devices being used.

Okay, OS fragmentation are not the right words. I'm not trying to get into semantics here. Just pointing out that reading this website, which I enjoy, makes me want more stuff on my already awesome phone. That is all. So you have an Icon with legit 8.1 and Cyan - or even DP and Cyan?? And it improved the camera speed, but how about the terrible low light photography?? I've read over and over that Cyan will help low light photography. This has been a huge disappointment coming from the 928. In fact, the 928 was a better point and shoot camera. I have to try much harder with the Icon to get a clear pic and it usually requires the flash.

I think the problem the time between showing new features and those features getting pushed to us.

Exactly. Show off upcoming features, that's great. But when it's been 5 months since announcing WP8.1 and 3 months since releasing it, and we STILL don't have it with Cyan (on Verizon). then it feels mostly like a slap in the face to us. Of course, Nokia can't hold back on stuff just because a subset of users are at the mercy of the carrier. But that's still how it feels.

Most people on this site with DP yeah...
Didn't you see the latest stats...? cyan is there on more than 20% of WP phones...
So yeah that's a failed generalisation mate...

1030 with Denim on Xmas please

I wouldn't want a rushed 1030. They've made a mistake of releasing premature hardware with the 1020. Which results in poorly optimized hardware and camera software performance. I expect the upcoming 1030 to come with the latest hi-res 2k or 4k display and the latest SD805 processor so that the shutter lag can be a thing of the past. (And SD card support so that we can actually make use of DNG support without storage limit)

All what you said is 100% true but I'm just a dreamer... :)

I honestly don't think the 1030 will come with a 2k nor 4k screen they are gonna leave it 1080p just to let the camera have more power. It should come with SD805 which supports up to 55 mp camera.

Can't sit tight for my Nokia Lumia 1520.

The ability to hide the on screen navigation bar by swiping may be a part of the denim update. As I am waiting for that feature. Hope they release the update in between October.

If i ain't wrong it is present on wp8.1 Lumia Cyan.

I wonder how this is on the battery Posted via Windows Phone Central App

I'm interested in selling how fast is the camera using this rich capture function.

I'm interested in buying! ;)

It's one heck of an update...

Yeah now i wish i could have been there & would ask what features would lumias with Snapdragon S4 would get in Photography specially Lumia 1020.

I just don't get it, only phones with sd800 will be able to do that rich capture thing?

The feature was demoed on a 830 which has a SD 400.

And yet the faster performing Snapdragon S4 Plus on the 1020 can't support Rich Capture. The irony.

Stop spreading false information. Rich capture is coming to older Pureview devices. HDR is more than capable of running on the older snapdragon S4 chip. There is more proof of that.

Then I'd like to know what will actually come for x20 series

We have no new features from the Denim update, except the WP8.1.1 features (Live Folders, Xbox Music live tile, app corner).

Don't know about 512mb users but 1gb ram users shall definitely get it.

...i hope they dont make 8.1 update 2..n jst straight away put up to threshold......and launch threshold with that 1020 successor which wil replace all the 920s coz everyone woth 920 here wants that...well so do i

Wot features won't be available on Lumia 920??

Unrelated, but football starts in 10 minutes! MS Surface promos are prominent. Hope it translates to sales. Related, I really want this on my +1520.

I want to see this spiffy new speedy camera take a picture. I've heard a good bit about that, but not one video I've seen shows someone actually taking a few pictures and showing the capture to capture time :( Also, Daniel, any confrmation on if the new camera speed enhancement is Nokia phones only? Or an OS level integration? (Can you tell capture speed has been a huge turn off for me? haha).

Denim is firmware and therefore only for Microsoft phones.

I wouldn't call them Microsoft phones. Lumia phone is a more accurate term. ;)

They are a responsibility of Microsoft, therefore they're Microsoft phones =P "Lumia" is a surname I never used when the phones belonged to Nokia and I'm not changing that now that Nokia is out of the phone business. They're still, to me, the "Nokia L930" or, in the case of these phones released after 25th of April, the "Microsoft L830" ;)

Well that's the point of my question. The fact that it is now possible via firmware, will MS allow the same integration and tight control to other manufacturers. It's akin to the dot view case for the HTC One. That had to have deeper OS level integration to allow for the hardware/software interaction, (in fact I think that's partially where the Lockscreen apps were freed up to exist). So I'm wondering if MS is opening this capability to other manufacturers or is it this one time working with Nokia thing.

Denim will be an OS update, but only Nokia phones will get Lumia Camera as it is an update to Nokia Camera, which is only available to Nokia.

OS update? Sorry, but this is a Lumia firmware release. Just like Amber, Black, and Cyan before it. No Nokia phone, not getting it.

Et voila, I just want to see the L830/L730 version of this iPhone 6 video (leaked before release no less). I really want to see what this camera speed up is like for WP (Only temp I hope, for Lumia devices): http://youtu.be/eQopSbASO40?t=3m16s

My 1520 is waiting for this update :)

My Icon is still waiting for Cyan

Ouwww sorry to here that. Because of verizon right?

This is super pathetic! I understood them not giving a dam about my 928, but dragging their feet on the Icon is mind blowing.

All Lumias will get the Denim update.

Awesome, but I would prefer 120fps (slow motions)...

Seeing how basic features like HDR and continuous focus are only restricted to devices with newer processors only, for all we know Microsoft will announce that slo-mo require new hardware with SD805.

It sounds cool. I'm interested in trying it out.

My 1020 feels lonely and is crying...

So Daniel if a version of 1520 for example would come with S805, any difference would there be from S800 aside from 30% graphics improvements like Adreno 330 vs Adreno 420?
Just curious as I really am going for the 1520 so...can somebody tell?

As fast as windowsphone are concerned, S800 or S805 has negligible impact ondaily usage, heck you won't find difference during gameplays as well. Source: L1020 user that doesn't see any significant difference when using a L1520(except the imaging department).

I'm getting the 830. Now as it happens, I'm not sad that moment capture is not at 4k resolution. Probably can be attributed to the SD400 processor. Full HD is not too bad for me. All in all quite happy to replace my 720 with the 830. Cant wait for it to go on sale

I guessing the 730 won't get Rich Capture? I'm looking forward to buy it..

My 1020 isn't excited about any future updates to camera by Microsoft.... Hope the successor comes soon

Our 1020s are basically crying and feeling depressed after being dethroned as the phone with the best imaging experience. Slower camera performance, no HDR, no continuous focus, no Living Images, no 4k recording.

You had to know it wasn't going to be king forever.

Yeah, I know that. But I'm not expecting a mere 930 or 1520 to dethrone it. I was hoping the 1030 is the one to do that. And Microsoft do know that they cheap out on the processor......

The only thing I want is a better twitter and music app, I mean seriously they suck!

No i am not excited about these because my Nokia Lumia 625 don't get these features so why i think about these features if i am not getting it !

Absolutely stoked for this, until I realised it is not coming to the 920. Roll on 1030.

I don't expect most of the things to arrive on L720 or similar device but please at least let us have rich capture, I promise I will upgrade to 730 before GDR2

Oh look...Microsoft abandoned every single device that wasn't released for sale by them. Even the 1020. How typical. Well, I'm not updating the 1020 just for them to rebrand the app. If they were lazy enough to drop the 1020, then I'll be lazy to update just so they can just steal credit for the Nokia Camera they DIDN'T develop. My 1020 firmware is stopping at Black (since they haven't released Cyan for the DP... Another thing they fail to fix).

Dude lets be honest, not every blame goes to Microsoft right or just ppl like to do that alot for no reason?
I mean sure the firmware section like 4k,rich recording etc are all NOKIA stuff. Sure their in MS now but the team is still the same whereas the software aka THE OS from the WP team is still giving us everything. What each high end is getting the low end is also getting. MS is doing an excellent job and if they deserve this praise,they deserve it! If you don't want to update don't. But saying that these features are being abandoned for older devices because of MS, its wrong cuz Nokia is responsible for firmware EVEN AFTER THE ACQUISITION. Technology evolves everyday so its the best to buy the greatest.

No "dude" Nokia is NOT responsible for the firmware. Nokia has washed their hands of Windows Phone the moment the acquisition was finished. It's Microsoft Mobile who's legally bound to support the Nokia-branded phones, not Nokia. Therefore it's Microsoft's fault that hardware is being abandoned. There's nothing to praise here, don't be a fanboy. Microsoft dropped support even for the 1020. That the likes of the 520 wouldn't get more advanced camera features is understandable. That the 1020 can't record 4K due to the processor in understandable. That Microsoft didn't took time to create something special for the 1020 to take advantage of the 41mp sensor, and places it on the same bag as a 520 is NOT understandable. Microsoft loves to ditch things. They don't give a flying f*ck about their users, that's the truth. And spare me the "they're the same team bullcrap. First Microsoft fired half the team. Second, that team is no longer working for Nokia for following Nokia's values. That's why where being ditched. Nokia would have created something. Microsoft doesn't give a sh*t. No, I'm not updating just so they can steal credit. I won't give them the satisfaction.

Well I ain't a fanboy first of all. I accept what's real unlike bit*ching around by making sure what's wrong is right. Sure you do have a point also.
This thing all started with the Cyan update where living images and CAF were not present in 1020. I was also shocked and angered too. I was told by Juha that the reason 1020 can't do both was due to WEAK HARDWARE. Really?? I mean of the galaxy s3 having the same chipset can do CAF,why can't my 1020? Well the answer was same and the same goes for the Denim update.
So maybe your right about them ditching their customers so right now what can we do? We can only get OS updates right? Nothing new in the firmware which is from now on only for QUAD CORES.
Even I felt sad when they did this with my 1020 but here is what I think, I'll give them a LAST CHANCE by getting 1520. So if they make this mistake again about the so-called HARDWARE ISSUE, I am totally done. Edit: This came to my mind too that not only Microsoft has the habit of leaving, also Samsung has too. I hope you know what happened with the S3 users who didn't got kitkat due to RAM issues as according to Samsung the S3 had low RAM which was 1GB and kitkat was optimized for 512MB RAM whereas my 2 year old 920 too is getting OS updates until now so i still have HOPE from MS.

Note I said to not be a fanboy regarding this "MS is doing an excellent job and if they deserve this praise,they deserve it!" It's because of the precedent with Cyan already that I think Microsoft deserves everything but praises. And if you already knew the experience, then you'd know why I'm pissed. I never saw Nokia do this. I'm sure they would have come up with something for the 1020. Microsoft simply just wants us to ditch the 1020 in favour of the newer hardware. And I even have a 930. I could not complain at all but I don't think it's neither fair nor justified what they're doing. This HD Moments or whatever it is they're calling it. Yeah, the 1020 can't do 4K. Sure. That's fair. But they don't expect me to believe that the 1020, which captures 1080p videos with a 41mp sensor can't take images out of the video on resolutions higher than 2mp. I've given them more than enough chances. I gave them another opportunity when they ditched the WP7 devices not even a year after launch and I gave them even another opportunity with the 930 which so far has spent its time at the Care Centre awaiting replacement (6 weeks) and will only now be replaced (though I must say, Microsoft was decent and offered me a wireless charger as an apology). I'm out of chances to give which is why if they're dropping the 1020 with those excuses, I rather buy a DSLR than the 1030 (which I wouldn't buy anyway because I said I would never buy Microsoft Mobile phones and I intend to keep my word).

Well I know in what state you told that about the fanboy part but getting this part out, sure that's the point. I know that Nokia could have done something too but lets be honest even we knew that 1020 was a very minor upgrade from the 920 which only has an extra RAM which I think has no use and it used a DUAL CORE CPU and the shot to shot was slow so the one who were going to buy knew it but still....where someone is wrong even if that is my favorite company,thing etc,its wrong.
And also the reason why i am getting the 1520 is because it has better specs and to to be honest I have yet to have a quad core, full HD phone which has A GREAT BATTERY LIFE TOO so I am keeping an eye for that.
Whereas the talks about the so-called 1030 goes,I am already ready to be gifted a DSLR. So I don't need to wait or see.
My opinion, enjoy your 930 while you can and buy a DSLR. It's a best decision and you wont regret just like me.

That won't show them. What will show them is when I move all the smartphones in my home to Android because of sh*t like this.

But you do realize that if you move to Android, fragmentation will be even worse?

The difference is, neither Sony abandons 1 year old high end phones, but even if they did, I can actually change the version of Android I'm running myself. On WP I'm a hostage of Microsoft when it comes to that. Google has a harder time screwing people over with the hardware excuse.

Just bring me a 1030. Nothing else can move me away from the 1020.
New features looks just gr8 :D

Patience is a quality every WP user needs to have, if not, simply fork up the bucks and get the new "flagshippy" phones... MS is trying not to make the same move s WP7 to WP8, but smartly, and business sense wise, there has to be something to push users to upgrade, even if there 2-3 year old phones does exactly what they want it to do. MS has wet our tastes buds with WP8.1 for all WP8 users, now it's time to separate those users with different features that we all would want. WP8.1 is all about potential, expanding the potential of the OS and related firmware/hardware, will garner more users.

Rich capture HDR seem an awesome feature and i knew they will bring 4k recording one day, some looser said "its impossible... you know nothing bla bla" who know nothing now ??

So the that means that The 830 won't capture 4K , anyways , I don't have 4K TV

Doesn't the new HTC phone have a similar function?

The HTC Will not be getting Lumia Camera. But it will be getting the Denim Update.

Why would an HTC phone get Nokia firmware? That obviously is false and makes no sense.

Oh yeah, sorry. I don't know what I was thinking. I was confusing Lumia Denim with GDR1.

Every single phone I've seen has HDR in their camera app regardless of the OS they're running. The only phones that DIDN'T have HDR were Nokia phones.

The only thing i want to my 1020, is the faster open of the cam...

Why not Lumia 1020?! The best camera on the Lumia market?!

I bet they want us to buy a 1030 later in the year...

I know right? All the "because of hardware limitation" excuse is starting to get old. If Nokia can figure out how to capture 41MP images on a dual core 1020, I'm sure basic features like Living Images and continuous focus is possible.

Better yet if nokia can figure out to get a 41mp camera that can record 1080p videos on an ARM11 cpu like in the 808 so could MS. Seriously none of these features are coming to my 1020???? Feels like MS totally f**ked us 1020 users

And that's exactly the problem. Nokia is not in charge anymore. Microsoft is. And Microsoft just doesn't care.

Does anyone know if this FINALLY brings photo taking while taking a video?

Yes it does...its called moment capture...

I'm ok waiting for the new camera modes. I'm getting antsy waiting for a 1020 successor. I might just buy one outright for the camera. Anyway, great features coming. :D

I just want a faster capture speed for the 1020. Give us an option to completely turn off saving a 40MP picture.

You might give Proshot App a try, there you can turn off hires image ...

Apparently Microsoft is expecting us to get a new 1030 if we want a faster camera. How disappointing.

Sounds great, can't wait to try it out! :-)

Will be available for the Icon, awesome! but wait! Verizon has not even released the Cyan or anything 8.1 related yet! Maybe in 2 years? My contract will be over by then... :( Come on Verizon!!!! Users are waiting!

Completely off topic but I prefered the internal update name debian red or something like that

Also, 4k looks amazing but I'm not sold on devices right now having it. Yeah its a selling point but I know zero people with 4k displays and I work in the tech field. Also, not all video capture is created equally. It's coming but by the time 4k is mainstream, these devices will be old. Again, better to say it can than it can't. ;)

looks cool... i suppose it comes 512 mb ram devices .

My less than 1 year old "Uber flagship" 1020 feels outdated and old how cool is that?

Welcome to tech. Is this your first phone?...

You mean over a year old? Phones are dated within 6 months of release. That is the world of technology. Sorry chief.

Still no exposure lock for video capture though. *sigh*

Not too interested in HDR, its useful for still images. Now 4K video recording and each frame can be a photo, I'm loving ❤

Will us Icon users ever see Cyan? Thanks Verizon.

It'd be great if someone can clearly answer if these lumia features will be available on legacy devices. Such as 920 or 1020. If it'd, then would it full features or limit to something?

Nope, none of these awesome features are coming to any of those devices. In other words, Lumia Denim will just bring WP8.1.1 and nothing else. Apparently there's a "hardware limitation" again because Living Images and continuous focus requires lots of processing power. #Sarcasm

MS is a joke! First Xbox Music, then no cyan update for preview for developers and now this crap!

It looks like MSM have gone straight for the perceived weak points of the current camera application. I presume this is due to the increased capabilities of the various quad-core processors that are now finding their way into the Lumia line. I'm very much looking forward to the speed improvements, HDR and the 24 fps burst mode. I've been loving HDR mode on my Nexus 5 since it launched and am genuinely happy to see it finally added to the Lumia line. In the future, I'm still hoping to see slow motion recording, tidying/merging of the array of Lumia imaging apps and a proper improvement to the panorama app (Google's panorama/photo-spheres make Nokia's effort look very half hearted). Still Denim has gone to where the attention was most needed, which makes me a very happy 930 owner right now.

It's really hard to take all these new camera effects serious taken in consideration that they slaughtered their own Creative Studio (5.5) and replaced it with a piece of shit. So.... take great photos, adjust them how you see fit and then wreck them again with the Android/Ios style bullshit filters from Creative Studio 6.0. Now...Ad on the differentiator "Facebook integration" they removed and the removal of internal music listening and detection..... Hmmm...... I really want a new Lumia for a lotta reasons. But WP moving closer and closer towards IOS and Android isn't one of them.

Already got 8.1 update on my phone. Plus another one after fully flashing my phone with 8.1 last night. (developers preview). I also use pro shot that gives tons of features.

@flattie the slow mo you can add with an app called slowly. The icon looks like a snail

Thanks for the heads-up; will check it out. Posted via the Windows Phone Central App for Android

Don't waste your time. You can't make decent slow motion video unless you record at 60-120FPS, (60 at the very least!) which our phones currently cannot do. But if we keep bugging Microsoft about it, maybe we'll get that functionality one day.

Lumia 730 supports rich capture???

It's still widely considered that the iPhone 5S has the best smartphone camera.

because of that we should support Nokia by sharing these articles and videos with family friends and even workers :)

lol
please check 1020 or 1520 ;)

That's the biggest lie I've ever heard.

They showed the 3rd rich-capture-mode @ the presentation

Argh...so I need to start using Nokia camera now?

According to the article, only for the 830, 930, Icon and 1520.

Another great feature by Nokia. One thing that looks like a minor issue, when dragging the slider it looks like it might interfere with the notification center.

Well, my 1020 will wait in vain ... :'(

I knew this sort of thing was going to happen. I originally was pining for a 1020 and I didn't care for the 1520 but I knew I had to get something future proof.

Time to get an unlocked 1520.3 to use on T-Mobile US.

Also, the 1520 should've been named the 1530. But I guess they wanted to wait until WP8.1 for that.

but it still has the pro mode?

Lumia Camera should be available for the 1020. Don't be a bummer, Nokia.

Yeah!!! That's Lumia Beyotch!!! :D Did i hear someone say lagdroid or icrap? ;)

This feature works with 730?? Please conform it

You forgot about the L730 and its Denim firmware.

It gets the Denim firmware, but not all the features.

It will get the same features the L830 will get, except for Glance.

I can't wait to use this feature on my 1520...

It sucks coz its comong only to high end lumia phones

That's important about new commenting system. Up or down vote not visualized. You should guess where to tap.

Will Lumia Denim be available to all 8.1 devices?

I think we need some facts checked. The article says Lumia Camera coming to the higher end models, and yet in the IFA event the camera expert lady said it would come to all devices. DR even says that here too. While features like 4K requires an 80X CPU, perhaps Moment Capture might be more limited to promote newer devices. Other things like faster time to shot and Rich Capture might be possible and I thought the IFA comment of 'coming to all Lumia devices' applied to this feature. Even when technical requirements exist, a 630 has the same CPU as a 830 so taking two photos back to back should be the same. I can see WPC needs a big feature matrix somewhere of all the phones and features. Would help users really know what the deal is now there are so many phones now.. HTC.. Blu... more and more each week. Great but confusing to know where each phone stands.

Atleast nokia give old devices HDR capability.

It's wonderful that Microsoft is innovating new and improved apps, but we are still missing Madame Cortana, we've received 0% information on when we are truly would have a Personal Assistant.

This probably wont work too good for any shots taken in motion. For example the lumia 928's xenon flash is excellent for freezing life with its quick flash to in a sense freeze time. Unfortunately using this rich capture will result in a blurred image since the flash will be good but the previous pic taken before the flash will be blurry and when you are sliding the slider (atleast from what i understand) you are merging the two images together. TLDR this will be great for portrait photos where your subject stands still for the shot, but for anything taken imprompto with potential movment, wont turn out so good.

So this wont work on my 1020?! If not, lame!!

When are and where are these phones launching? Is MS waiting for iPhone event on Tues or just don't have any carriers lined up to carry these devices

Considering how long it took Cyan to roll out, I'm not holding my breath.

How does capturing 4k pictures work with a 1080p display??

my dslr has a 12mp sensor and the screen resolution is 320x240 pixels. magic huh?!

I really like the new camera app & the features they showed.
Now I'm interested in getting the Lumia 930, i already saw the Orange one & i like it a lot.
Come January, the Denim firmware will be the deciding factor for me in the One Vs 930 choice.

I'm excited for the 730 , for the price it's best, 830 has a 5 inch display, so won't be ideal for me to use it along my galaxy note

So the Lumia 1020 will finally be a superb camera experience with the denim update cool

No, looks like the mighty lumia 1020 will be completely ignored by MS even though it has hardware that support some of these features

For me, Rich Capture is the most exciting feature I have seen in a long time. I replaced my 1020 with a 930 yesterday to make sure to have this feature as soon as possible.

Troll Mobile is just waiting for the rest of the world to release cyan first, because they secretly enjoy watching us suffer and complain.

When i hear crap from MS or someone else that L1020 can't support Rich Recording or continuous focus due to hardware limitations i say it' bulls*it!!!
I call it poor and sloppy programming and sucky optimization.
We went to the goddamn moon and space 55 years ago with today's obsolete technology and we could do it again with that same tech. Now the only excuse is "due to hardware limitation"...well screw on that. I think it would be much easier to say "Sorry customers but you won't get it" then i would know where i stand with MS and their products.

I look forward to the update. I'd love to be able to shoot 4K video on my Lumia, is that asking to much ?

Unless you have 4K TV that will support that. Did you also forget that device will overheat while recording 4K and how much space will it use?

Let Microsoft hear what we need for Lumia 1030 http://windowsphone.uservoice.com/forums/101801-feature-suggestions/sugg...

Two words. FREAKING AWESOME. Is it coming to developer first?

Let Microsoft hear what we need for Lumia 1030 http://windowsphone.uservoice.com/forums/101801-feature-suggestions/sugg...

I think every Lumia will get Lumia Camera, with Rich Capture, HDR and Dynamic Flash. Only 4K video that requires s800 SoC?

I'm sure daniel is running denim already. :)

Scroll scroll scroll. Look for daniel comments. The rest bla bla bla.

what about manual mode? is it still there?

Bring it on. My 1520 will love it :)

Denim rollout Q4 2014
On your device Q4 2015... TOO SLOW

I guess MS need to push out what older devices will get with the denim update sometime soon. However even if they did that, there will always be people whinging "why are they talking about denim when I don't have cyan yet!". News flash, updates don't just appear on your phone automagically it has to go through the usual channels. To those who say apple can bypass the carriers why cant MS? That is because apple has one line of devices and there are no exclusive carrier variants like the Lumia icon, the 928, 810 etc. To the posters who think this is becoming like android just because their model doesn't have the latest app features or advancements, maybe you need to get your heads out of the sand. Last I checked even low end devices were getting o/s and firmware updates. The same cannot be said about android, if your phone doesn't have the latest app features or additions. There are reasons for that a) to distinguish new phones so users upgrade otherwise what would the be point in releasing new mid range and low end phones? b) your phone may not have the necessary hardware to support the additions.

Will denim be affected by those of us without cyan, or will it just install over black?

Has anyone else notices Flipboard app on the start screen??? That really confuses me

This is exactly the reason why i chose 1520 over 1020. Besides the full hd screen, i have much longer support for updates. I'm glad i chose this phone above other Lumias..

I don't really care about it until the true successor to the 1020 comes out. THEN the Denim update to the camera will actually mean something.

I think the best feature will be the improved speed, if it is substantial

Only thing I'm curious about is will the 4k at 24 be able to export as a video, or do you only have the option to choose a frame?

What!? Not for 1020? This is insane.

A 1020 has the hardware needed. If MS plans to bring more phones like the 1020, they need to first keep testing the new updates on it. How else are they going to know the full potential of it unless they dont try!

Sad to see 1020 won't get this update! I'm a 920 owner

Guys guys guys this stuff is for new phones not old ones. Poor people don't get new stuff :)

F#$k off, I'm paying my ass of for my 1020's contract and you calling us poor because we have older devices???

Lumia camera will be available for all but needs denim update for it! and its not for just specific best camera phones and even denim will be available for all, the doubt is just WP9 will be available for even 512 MB Phones too!

Shame this needs firmware though s5 already has these features and based on track record no one is getting denim till next year

how about 730? shouldn't it get what 830 has? they share the same chipset

So it would be possible to use these features along with the reframing features? That would be so killer that no other OS can do

This "Dynamic Flash" is quite an interesting innovation. I love the ability to edit/adjust the amount of light exposure post-capture. I wish this update would be available on the Lumia 1020 however.

Will this lumia camera will be available to lumia 630?

Dear Daniel, can you clarify with MS on whether older devices will get Lumia Camera? Don't need the 4k, the only feature I need is fast start up and the ability for the camera to ' throw' the image processing to the background(minimal shutter).

As long as it doesn't take 10 mins for the camera to start.....

I am done with microsoft and their update/feature policies. I am going back to iphone again. At least they are giving proper updates.

My HTC is good in all terms except support.Im thinking about buying a Lumia 830,I want that rich capture!

I wouldn't mind that it's not coming for my L1020, if there was a good alternative for me to choose now, or at least announced. The L1020 is still their flagship camera, but they are leaving it behind now... They must be announcing something new soon since they didn't include it in the devices that are getting this...

Flawed logic, mate. Microsoft just isn't that big on older hardware, preferring to concentrate on the new. This time next year the 830/930/1520 crowd will be seeing the same lack of attention when new models are released.

Someone knows wen the WP 8.1 update 1 is coming for the HTC 8X (Developer Preview)

Loved it but same time disheartened as it wont be there for my phone :(

Finally HDR ! That's awesome !

To bad the 1020 gets no 4k..

I don't really care about other features but i do want the Living Image so badly!

One thing i don't get....not sure if its possible..4k video is going to take 24 frames per second and with each frame at 8.3 MP....now i have a 1520 which has 20 MP camera...why cant 4k resolution take each frame at 16 MP in aspect ratio 16:9....that's sad that 4k video is not using full camera's capability

Release it, I believe we're getting better experience than watching.

So if the 4k still imaging won't falls into L1020, then HD video should able to get just like 830 right?

So they're gonna sell a new phone just to give people a native HDR option. That's quality business ethics right there.

Why am I not able to update my Nokia cam to Lumia??? I am from india

Because the update will be available in Q4, not now...

Nokia created Lumia 1020, the best camera phone and Microsoft just killed it. What are you planning to do? Release a successor every year and make us buy it? Now you're starting to be like Apple.

Perhaps you might want to learn how it works, and get a basic understanding of HDR, before blathering on like a shill (or used car salesman) about perfect shots. HDR is anything but natural in most applications. It is also a remakably foolish person who thinks that in camera HDR will not involve serious performance (or other compromises). As for titling something blah blah best feature and then saying "I imagine you can adjust the slider....." says it all. Either you don't know enough to be posting the article in which case you sound like a amateur hour fool, or this really is just an example of paid advertising masquerading as op ed masquerading as news.

I'd really like to see a burst mode function like they have on iOS

Rubbish...they are really forcing us to upgrade our phones. Blasted money making.... 521 user

Kinda wish they would focus on speed...

I still waiting to see when will Microsoft add the opition to pause videos.

I have updated my lumia 925 to latest cyan version (3051.50009.1424.0003) but still facing Camera bug (post processing or yellow/greenish tint).Should I flash my phone with Nokia Care Suite? Pls help me...I m from India Thanx in Advance...

U guy's are not giving link for Lumia camera

I am excited about the Lumia Camera, and can't wait to have it on my 1520.

cant download lumia camera on my 830...only lumia camera classic

He heals and solve most of the problems & sickness which are failed to be healed by other doctors/healers. He solve bad luck, pregnancy problems, lost lover, sexual weakness, early ejaculation, witch-crafts, broken marriage, poverty, debts trouble, divorce, court cases, domestic problems, gambling losses, Lost jobs, promotions at work, Do you need penis enlargement? Do you want to be Rich? Do you need many children? Are you tired of jealousy people, Evil dreams, all long illnesses, blood pressure, HIV & aids, skin infections? etc. He use strong herbs & magic spells as well as powerful ancestors. Get healed today by this greatest miracle doctor who has healed many people through his experienced ancestors. Join the rest of the world to cerebrate his miracle healings. he can even read and tell you your problems before you say anything to him. He can connect you to talk to the spirit of a deceased of your family member or friend. he can also tell you your future through reading palm, play card, a mirror/water. He uses many ways of healing just to make sure that he certify his clients all over the world. he is the only traditional healer who does fully corresponds with all religious beliefs. contact him on his email address at fiokporspiritualtemple@gmail.com

He heals and solve most of the problems & sickness which are failed to be healed by other doctors/healers. He solve bad luck, pregnancy problems, lost lover, sexual weakness, early ***********, witch-crafts, broken marriage, poverty, debts trouble, divorce, court cases, domestic problems, gambling losses, Lost jobs, promotions at work, Do you need penis enlargement? Do you want to be Rich? Do you need many children? Are you tired of jealousy people, Evil dreams, all long illnesses, blood pressure, HIV & aids, skin infections? etc. He use strong herbs & magic spells as well as powerful ancestors. Get healed today by this greatest miracle doctor who has healed many people through his experienced ancestors. Join the rest of the world to cerebrate his miracle healings. he can even read and tell you your problems before you say anything to him. He can connect you to talk to the spirit of a deceased of your family member or friend. he can also tell you your future through reading palm, play card, a mirror/water. He uses many ways of healing just to make sure that he certify his clients all over the world. he is the only traditional healer who does fully corresponds with all religious beliefs. contact him on his email address at babaka.wolf@gmail.com
Windows Central Newsletter
Thank you for signing up to Windows Central. You will receive a verification email shortly.
There was a problem. Please refresh the page and try again.