A closer look at Rich Capture, the best feature on Lumia Camera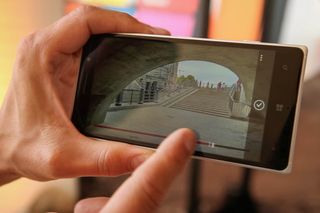 If you ask me to name one thing that I liked the most from the recent Microsoft press conference, I'd say it's the new Lumia Camera. If you haven't heard, Nokia Camera will be updated to Lumia Camera as part of the Lumia Denim update. What I'm really excited about is the feature in Lumia Camera that Microsoft calls, Rich Capture. It's a new mode that can be quickly enabled with one tap. Watch the demo on video to see what it's all about.
With the new Lumia Camera, there are three options on top. You can quickly change to the front facing camera, turn on/off/auto flash, and enable Rich Capture. Several things happen when you take a photo with Rich Capture on, but users don't really need to know how it works. Basically, you can avoid the hassle of adjusting camera settings so you can shoot first, and then edit and select the perfect shot later.
When you take a photo, Rich Capture analyzes the current scene, captures multiple images and merges them together. It applies auto HDR with dynamic exposure steps and flash settings to provide the perfect shot.
When Rich Capture is on and the flash is off, Lumia Camera takes a traditional HDR photo. This means multiple photos are taken with different exposure values and then merged into one image. After the photo is taken, you can edit it later to adjust how much HDR effect you want. There's a slider available to make the adjustments. The amount depends on users. I'd probably stick to about 33%, but you can go all out with 100%.
When Rich Capture and flash are enabled, Lumia Camera takes multiple photos with flash and without flash. After the photo is taken, you can edit it later to adjust the strength of the flash. Microsoft calls this feature, Dynamic Flash.
I was told there is also a third mode when Rich Capture is on and flash is off, but I was unable to see that demo. Lumia Camera takes long and short exposure images. I imagine you can adjust the slider afterwards when editing to try to get the sharpest image possible in low light conditions.
I'm really excited about the new Lumia Camera and its new Rich Capture option. Don't forget, Lumia Camera also brings other features. It makes capturing images faster, brings 4K video capture to supported devices, and Moment Capture. When you hold the camera button, it instantly starts recording your subject in 4K at 24 frames per second. Each of the frames captured can be saved as an individual photo.
The new Lumia Camera will be available for the Nokia Lumia 830, Lumia 930, Lumia Icon, and Lumia 1520 as part of the Lumia Denim update. It that starts rolling out in Q4. It's worth noting that the Lumia 830 will shoot Moment Capture in FullHD, not 4K.
Are you excited about the new Lumia Camera? What do you think of the Rich Capture option? Sound off in the comments!
Get the Windows Central Newsletter
All the latest news, reviews, and guides for Windows and Xbox diehards.