Hands-on with the new Lumia Camera from Lumia Denim update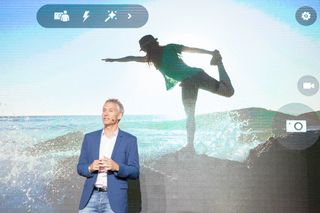 The Microsoft Devices Group did not just announce new hardware and accessories today. They have also announced the Lumia Denim update, which brings extra features and enhancements to existing Lumia smartphones. One of those new features is Lumia Camera. We've searched the demo area after the press conference here in Berlin to bring you a hands-on demonstration. Go watch our video!
Following Lumia Cyan, the Lumia Denim update combines the latest Windows Phone 8.1 update with exclusive experiences for Lumia smartphones. The biggest feature that it brings is Lumia Camera. Check out what's new:
Fast camera startup and capture speeds. Take numerous photos with just milliseconds between shots.
Moment Capture, a long press of the camera button within the app automatically starts 4K-quality video recording at 24 frames per second. Each frame is of high image quality at 8.3 megapixels, allowing every single video frame to be selected and saved as a still image.
Rich Capture simplifies things with auto HDR and Dynamic Flash. Avoid the hassle of adjusting camera settings shooting first and edit and select the perfect shot later.
Updated imaging algorithms for better low-light performance.
We've been waiting for a built-in HDR functionality for Windows Phone, so we're really excited for Rich Capture. Not only does Microsoft bring this long-awaited feature, but they've also expanded on it by giving providing adjustment controls.
We're also excited about 4K recording. It will be an option available in the settings, but you can record 4K footage automatically by just pressing and holding the camera button.
Lumia Camera will initially roll out as an update with Lumia Denim for Lumia 930, Lumia Icon and Lumia 1520 and as an over-the-air update for Lumia 830 in the fourth quarter this year. Lumia Denim will roll out as an over-the-air update to all the other Lumia Windows Phone 8 smartphones, after partner testing and approvals.
Are you excited for the Lumia Denim update? Which Lumia Camera feature are you looking forward to the most? Let us know in the comments!
Windows Central Newsletter
Get the best of Windows Central in in your inbox, every day!
That was fast Microsoft. :) Hope will get update as fast as it was announced.

I found that hard to watch/listen to. He sounded like he talked with "jitter"

Looked like he needed to run over the presentation one or two more times.

Clearly English isn't his first language, but I understood his message just fine, and I'm sure Mark thanked him for the demo.

We now launch the camera, in just under.... as fast as we can ..... yeah thats because of his english. Last part of the video was kinda scary, what happens when the phone is hot? you cant take 4k videos? what happens if i do?

Probably the app just exits or worst case scenario - phone restarts.

That's sad and scary. We are known for our amaaazing battery life, I hope this doesn't make it more amazing.

Then you need to brush up on your English because I understood everything he said.

I want this right now❗❗❗❗❗❗

*sigh*
I hope we get 60fps video recording in the next update...

What phone do you have dennis

Same here, 60fps and 120fps!

I wonder, will the next update be called Lumia emerald?

Well i just recently got lumia black update. Now waiting for cyan probably by next year. And now lumia denim...ok maybe in 2016 my carrier will add it

Which carrier do you have?

I got Cyan just recently :) Don't lose hope :D

That sounds too similar to Amber. Emerald would make more sense

I must be completely dense. I had no idea that they were going in alphabetic order until you mentioned this LOL!

i hope so http://dongtam.info/forum.php mu moi ra thanh lap cong ty cho thue phong tro diễn đàn rao vặt dịch vụ seo từ khóa máy xông hơi đồ chơi ô tô nội thất ô tô thiết bị mầm non phụ tùng ô tô

Someone explain to me the point of buying a new device with the same/SLIGHTLY better specs when your old device will have the same exact functions apart from hardware? Frankly thanks to 8.1 I don't think I need to upgrade from my 820 for at least another year.

I completely agree with this. But what Windows Phone needs the most urgently right now is to attract new users, and for that a wide variety of phones with up-to-date specs to choose from is a must.

RTM, then to carrier, then to user. Right now it's been running 4 to 6 months, so hopefully by February.

Im waiting for Lumia Camcorder

That's what Lumia Camera is...

Am wating faw loomia picture taker

Lumia 1020? The camera phone??

The hardware is too old. :(

it's about time for the 1030 to show up... you simply can't go back after having the 1020.

Agree, love my 1020 really don't think i can go back to anything other than a 1030.

Ditto. Sad to see that with hardware in phones so close to desktops that the 1020 only got a year of life. Hopefully when soc is there we at least get 2 years of updates...
Guess I'll be waiting for a new phone for awhile.

Hardware in phones is nowhere near desktops. The number of cores and speed in GHz might be similar, but that is meaningless when comparing different arcitechtures. Phones are still becoming obsolete very quickly because the hardware is so weak. Modern desktop hardware has finally matured to a point where upgrades every year or two are no longer needed. Many laptops and desktops are still running quite well after 5 years or more.

Lol...phones are obsolete???!!! HAHAHA, What F'ing planet are you from? Phones aren't as powerful as desktops(obviously) but to say a phone is becoming obsolete is as close to a retarded statement as ive heard lately.

I'm pretty sure that he meant old phones over new ones. Not all the phones as a whole, at once.

1020 would really benefit from a faster camera.

Indeed. Sometimes a photo opportunity calls for a fast camera launch.

Lumia 1020 is only just over a year old since its launch. The phone, I mean camera phone, should get at least another year of firmware update before Nokia moves on to the next flagship... (1030 fingers crossed)

Even with 1030, 1020 will still be a top notch camera phone. You may not have more megapixels in 1030. You may have 4K video, better lens and OIS system that's it

Not sure if I should get excited as I'm not sure of what will come to my 820 yet

I'd like to see if it will support those photo's clarifying effect I saw during the presentation

Us old timers(1020 owner) will most likely get "improved camera algorithms" and nothing else. That's the way technology works. It's fast and unforgiving. My year old 1020, like the Cyan update, won't see many benefits from this new update.

It's not clear to me when can we expect to get this if we have a Lumia 930?

Any chance that any of these features will come to phones like Lumia 520

I guess you won't get Moment Capture coz it needs 4k recording stopped by SD80x. Always happy to help

Devices without 4K support get "HD Moments" instead. Similar, but not as high resolution.

Thanks for mentionning Daniel.

Where can I learn more about "HD Moments"?

Have you seen pictures taken by an 830 if so are they better in quality than the 920?

I believe this moments thing is useless. Try to make fast camera launch, stop the green screens, make Creative Studio more powerful with text, transformation effects, paint, textures etc. Oh and also, stop playin with the H and H+ indicator. We need to see 3G 4G or LTE

None of the new video stuff but the hopefully the faster camera app and the rich mode maybe

VERY excited. Microsoft is quickly closing gaps and bringing leading edge functionality/design to market. Don't slow down now.

Would be good if you could clarify that most, if not all of these new features WONT be coming to older devices. The blanket statement "Lumia Denim will roll out as an over-the-air update to all the other Lumia Windows Phone 8 smartphones" seems to imply all devices will get the features mentioned. Would save people a lot of angst when they eventually get the update and find features "missing", like with the cyan update.

They will get the core aspects. Even devices that can't shoot 4K will get an "HD Moments" version. The whole architecture of the camera app/system was re-written for Lumia Denim and Lumia Camera V for speed, as processing of images now happens in the background. So I disagree with your statement.

Do you mean that the 1020 is getting faster capture (even though not as fast of course as a 930 or 830)? If faster capture and Rich capture (that HDR/flash capture are coming to the 1020, I'm a happy bunny, even if the performance is not on par with the latest generation (which is legitimate).

Also curious on that. Pretty disappointed with how little support the 1020 gets for being an year old device... Can't we at least get HDR?

This is by far the most exciting thing out of today's announcements... the speed update. I hope they announce a 1030 soon so I can upgrade, and I hope the speed improvements will be noticeable on the 1020 if not.

Agreed, soon, but my wallet needs a little time to fatten up, haha.

Basically what you said is what I was asking for, clarity on what features would come to older devices so people can set their expectations accordingly. Adding this info to the article would be a big help to everyone.

Oh come on now!. we are talking about a camera application that takes ages to load, this is the basic problem. Background processing, may be catastrophic for the performance of the phone because it will hog memory and CPU cycles, and we will experience lag if we fast switch to another app, or home screen, and i will be unhappy because i will not be able to roll back, bbut only wait for the next "big update" tht might solve this problem. Uhhhh!

No information about devprev edition of denim?

The firmware is not available on Preview for Developers. You get only the software update.

That was the excuse when the phones were Nokia. But Lumia Denim isn't a Nokia firmware anymore, it's a Microsoft firmware. Therefore there's no reason why Microsoft can't put the firmware on the DP too. Apart of course from one thing: carriers.

I guess you forgot that not only Nokia/Microsoft Mobile make Windows Phones

I don't think u have the right idea on what a firmware is. Firmware is specifically optimized drivers for different models, and that's the reason why firmware updates take a long time coming cos they have to work on each phone model that can run it and optimize the drivers and stuff and it doesn't change in anyway with MS in control now. Dev preview is just software and will be the same from device to device so they just need to release it universally and anyone with compatible software can update to it. If firmware too was included in dev preview then it wldnt really be a dev preview now wld it?

DP of the OS brings all the new features of the WP system, but is not guaranteed to be the same as if you have installed the new firmware. So, Lumia Denim, is the software NOKIA or MICROSOFT develops specifically for every device (this is why is not available at once for all) including fixes and additiions on hardware drivers, or apps/software aimed for the device. Full fubnctionality of the 8.1.1 version of WP will be achieved only in combination with Lumia Denim. DP of the OS, is for DEVELOPERS, and not for early adopters or "can't wait to upgrade"-ers. I totally disagree with this policy, to make available via DP the OS to everyone. But what do i know?

That's because the preview is for the OS win 8.1 and Lumia Denim is firmware.... No preview for firmware only OS

Update has already been released for DP. We don't get the lumia firmware through DP

I don't know they do public beta for firmwares. The developer preview is for OS updates.

Will it be available for nokia lumia 1020?

It? What you mean by it? 4k recording? Denim update? Or something else?

if only this could've worked for the lumia 1020, i guess i gotta wait for successor to replace mine

Some of this will work with the 1020.

It would be great if you would say so in your article, if you know about it, of course. Otherwise you're only to get a hundred questions in the comments and forums.

That is what forums are for, disscussions. Daniel needs to make sure your all reading these articles carefully and asking sensible questions later.

Curious about this"Fast camera startup and capture speeds. Take numerous photos with just milliseconds between shots" One of the annoyances of a lumia camera is the time it takes between shots. The auto focus, the actual taking of the picture, and then the processing takes about 5 or more seconds in between shots. I understand it takes time to have a quality shot, but sometimes things happen and you want to take a rapid succession of shots by default as opposed to using an app for the camera. That is one of the key strengths of iphone cameras, it focuses once at the beginning and you can take a number of shots. The lumia auto focuses on every shot which creates the long delay between shots. Hopefully at some point, lumia devices will have the camera work the same way without sacrificing too much on quality.

I've found that if you press the hardware camera button without letting go of your finger allows Nokia Camera to take pictures in succession with minimal lag in between shots. Maybe this will work for you?

Holding the button to record 4k video is a bit insane. Should have been tap to capture type.

I believe you can change it in the settings to default to 4k so it will work with a tap, the explained functionality is for when you normally have it in 1080p or less as default. The main purpose isn't even for having 4k video IMHO, its to have a constant stream of high quality images so the time between photos is just 1/24, which in turn would guarantee you always get the perfect shot and never miss a moment. Quite brilliant

You only need the long hold to launch the camera into 4K video mode. Why is that insane? It beats holding the camera button with a normal press and then navigating menus to select "4K", and then back to the capture screen. This way saves time.

Gaahhhh I want MS to solve the DP update issue already! Unlocked 1520 here on DP, but still on Lumia Black version... :'(

My At&t 1520 got cyan from 8.1.1 DP tho.

It's a staggered rollout for some reason, starting with at&t and one other carrier first. Was hoping for mass rollout. Hopefully todays announcement means things will be coming more rapidly.

Back it up, use the Nokia utility to download Cyan, restore the backup, done. Easy, peasy.

Well most of this, if not all probably won't trickle down to the x20 series. Cyan didn't bring a great deal so this will probably come with even less.
Hopefully most people who want it will be near upgrade time.

Well I won't be updating my 1020 til there is a true successor. Hopefully one will come by the beginning of next year

Read Daniels comments above. The whole architecture of the camera app/system was rewritten for Lumia Denim. Something Lumia Cyan didn't go through. So actually expect more from Denim than Cyan (for the older generation)

Well I would have done at the time, only I wrote my comment before his.
It'll be interesting to see what does make the jump, manufacturers don't support their devices for too many years.

I wish he would've actually shown how quickly you could launch the camera app and take a photo as opposed to just talking about it.

Exactly what I was thinking. The speed of the major feature here... show us!

that was so fast, than we didn't have the time to see it.

Fast camera startup and capture speeds. Take numerous photos with just milliseconds between shots Give me this for my 1020 and I'm happy. I don't care about the HDR or 4K, I want to shoot fast with the best camera.

The point of the 1020 being slow is because of the processing time for the preview and sensor size. I suppose there could be an option to take smaller sized images but then it wouldn't be the best camera anymore. I would rather get the 4k and hdr because I take proper videos and pictures and not yet to take a quick funny picture of my dog on the fly

The 1020 takes 1920x1080 HD video at 30 fps, which is ~62 Megapixels a second, so if it is just software the 1020 should be able to take an ~40 MP image every 0.7 seconds, not the current 4.5 seconds. Here is hoping it happens! :-)

Although your mathematics is correct it isn't as simple as that in the real world. For a start the each frame of the video doesn't put each frame through the pureview algorithm (hence a 'pureview off' mode in the camera settings would be needed and that would degrade the whole point of the phone). Secondly, any action on the phone causes heat. I don't know about yours but my 1020 hearts up quite a lot sometimes so if the process was sped up for video it would increase the stress and heat in the components in the already two year old design

I would have loved to see the camera app start up time..

lumia 1020 , need 4k recording update ...

That is availale on the Qualcomm Snapdragon 800 series devices only
Lumia Icon/930 & 1520

Intrigued by Rich Capture, Dynamic Flash. Just amazing stuff from the team. Looking forward to the update which will be next year for my 920.

Now all we need is slow motion capture.

New camera feature will available for all Lumia or only 930, 830, icon........ ? Can anybody tell me !

Core aspects will be for all Lumias, including the re-written camera architecture for processing images.

I think that there should be an article on what the older Lumias will get with Denim update. There is a lot of confusions going on about it as Microsoft Mobile has not mentioned clearly regarding what new features will be available for older Lumias (except 1520/930/Icon)


Yes there should be an article for it. This make too much confusion.

Two things. Man I hope Demin brings kick ass features to the 1020, the Nokia camera app is quite slow to start up, snap and save atm. Secondly, from the looks of things if I want the greatest features of WP first, my next device will have to host a 8xx cpu.

That's just part of technology evolution. U don't expect your iPhone5 got latest features of iPhone5s even tho u did upgrade to iOS7 right? Some features are restricted by hardwares. I am glad that my 1520 is still on the edge...tho 801devices are popping out now...

Believe me,I understand tech and software. I expected that older hardware will suffer when new tech is released but my hope as stated is that demin improves the performance, speed wise of the 1020s camera app. If possible, all the other stuff would be nice extras.

I too am really surprised that the Lumia 1020 will not be one of the first phones to get this update. After all, the 1020 is THE trademark Lumia for taking the best quality photos possible on a mobile device.

To be fair, it's also based around last generation technology and was one of the lowest selling Lumias. That said, I'm dying for a 1030.

Where in blazes is the true successor to the Lumia 1020? THAT is the device I'm waiting. Plug an even more impressive 41mp camera and improved OIS onto the newer specs....no device will be able to touch it! I'm not about to waste my money on a 930, 1520 or HTC One m8. I LOVE the camera on the 1020. Come on, Microsoft, bring on a REAL flagship!

Totally with you. Shot even a 1520 with 1020 camera would do for a new flagship

Maybe even slim it down a bit, I read last year that there will be some slimmer forms of xenon flashes available this year.

Will they still be keeping full manual mode? I kind of like the control to get my photos the way I want rather than relying on auto and fixing later.
It's cool they are adding this mode but I hope we don't lose the awesome manual modes as a result.

I doubt they will do away with the manual controls as that is one the key differentiators from the competition.

*Sigh*....Still waiting for WP8.1 on Verizon.....

Denim will be out first before we even get Cyan most likely.

Fast startup and milliseconds between shots? Bye bye pureview... No thanks!

I'm confused by this statement? Aren't those good things?

Oh no! The waiting starts again! Hahaha

After this will be WP9..... :)

As soon as I get one firmware update, another is announced,. Aye chihuahua :P. Wonder if the 1020 will get 4K recording. I would be happy with just getting a faster camera function, though.

Quallcomm Snapdragon 800 series has the needed hardware for UHD capture.
That means the Lumia Icon/930 and the Lumia 1520

Meh, since these updates won't affect Nokia Camera on the 1020, I don't really care. I will be curious to see how Microsoft implemented the 4K recording compared with the way Sony did it. Judging by the video, they know that 4K will heat the phone quite a bit. Sony has implemented a temperature measurement on the Z3 that shuts down the camera app when the phone gets too hot to avoid damage. Let's see if Microsoft also thought about that.

The whole camera architecture and system app was rewritten with Lumia Denim. That will be coming to your 1020 :D so theres that. Which should result is faster startup and images will process im the background now with lumia camera.

Since the 1020 doesn't have an SD800, it won't get the 4K recording. Which means it won't have that HD Moments or whatever its called. Daniel said something about other devices getting a similar feature but I haven't heard a thing about it taking special use out of the 41mp camera. So if the 4K recording gets 8mp frames from a 20mp shooter, what is the resolution for each frame coming out of a 41mp shooter but that only records in 1080p? I heard nothing about that. Which leads me to believe they didn't care to make the 1020 get more than the 520 will get out of that feature. As for the faster start-up and background processing...well, let's see how it runs on the 1020. I'm not one of those that gets imensly bored by the start up and processing times but then again my object of photography are almost always buildings...and those don't move, don't run and don't disappear. So I can't say I've lost a lot of photos for lack of time. But we'll see. I have the 1020 on DP so I should get Denim by 2015...considering I still haven't got Cyan...lol

Dude, just go buy the Sony Android phone you've been waiting for. Sheesh.

30th September is the given arrival date for the Z3 Compact. If it really comes out by then, you won't have to wait much longer...though...I'm keeping the 1020 as a camera so you might be disappointed if you think I'll just move to Android Central and say f*ck you to WP. Actually, if Sony releases a high end WP device, I will probably buy it.

I'm excited that two things I voted on Uservoice are coming to Nokia Camera with Lumia Denim: faster camera startup and more accessible lences.

Those of us with an Icon will be lucky to get Cyan by end of Q4. Thanks, Verizon.

I just hope there will be a 1020 successor soon so I we can benefit from these updates

So is this Lumia denim update = GDR2 update? I'm confused, someone answer pls

The denim update is firmware, gdr2 is software. It is possible that they will launch together (8.1 launched with Cyan) but not necessarily

I understood you. No this Lumia Denim firmware will correspond with GDR1 OS update.

No, Denim is the firmware for GDR1's software update. They always come in two. But I understand your confusion. GDR1 is already official...but remember...it's official on the HTC M8. HTC phones don't get Lumia firmware's. For all intents and purposes, GDR1 is only official on Lumia devices now with the 830 and 730. And has such, it comes with a firmware update so:
WP8.1+Cyan,
GDR1+Denim,
GDR2+Emerald (assuming GDR2 will be out before WP9+Fuchsia arrives)

Probably in 2016. Windows phone users need special ability... XTRA PATIENCE

Hope its not gna be a long wait like Mr Cyan did

Seems faster. Their update rollout, that is

Will the Nokia Lumia 1020 get it too?

Do you not bother to actually read the post and comments. Your question has been answered many, many times already.

When will we get Lumia denim for Lumia 520

Sharper pictures, that's all I want. Sharpness was good with Portico, got ruined by Amber, and was never repaired in Black nor Cyan.

But does it have a pause/resume button for video recording?

A million dollar question indeed...

Also the ability to record and snap photos at the same time

Start-up time to me has always been the biggest issue with the Nokia camera software. What kind of improvement can we expect?

"After Partner Testing & Approvals" Yep :P
Okay, now i got interested in the Lumia 930

Cyan was a great update and Denim continues this. I love the camera focus they have had with these updates. Microsoft is doing great.

This sounds awesome. Just wish I could get it on my 928...

No Lumia 730 support? Aww :(

Should i get lumia 830? Currently I'm using lumia 925. Im confused.

No you should get a 930. I'm doing the same

Hopefully, there will be a 41MP sensored follow-on to the 1020 to utilize that cool software.

Cant wait for Lumia Camera and the denim update for my 920.. the nokia camera app(s) have been getting sluggish with every update. It sounds like 5 minutes of 4k video recording is enough to fill up the 930.. lol, wouldn't want to auto upload that file.. over cellular data :P Also I might pick up a 1020 as result of the speed improvements if I happen to spot one going cheap.

Lumia Denim!!!!!!!!! Where is Cyan for the preview for developers people!!??? Can anyone tell me?? That's if there is any left as they will be on their way over to apple! As answer would be appreciated as I'm lost for words.
Peter

MS had isolated the BL and had started a staggered rollout of cyan for dp users. Though I wish it was more rapid at least we know its coming. So far at&t dp users have received cyan for some dp devices. Hope this helps.

I am genuinely impressed with the camera announcements today. The speed improvements are very welcome, as is the HDR mode. Seeing a continued focus on imaging gives me hope for a 1030. Come on MS, we've had new handsets for the 5, 6, 7, 8 and 9 series; time for 10.

He's wearing the 730/830 colors.

More generally, he's wearing orange and green the 2014 colours. (630, 635, 730, 735, 830, 930 and green 1520!)

True! Looking at the other hands-on videos seems like they are asked to wear those colors.

This might be the death of the Lumia 1020, if its hardware isn't able to support these highly desirable features.

Sorry MS, I've been loyal for 4 years now. Its time for me to say good bye to you and hello android.

Did your loyalty have an expiration date that automatily kicked in after 4 years? If not, you didn't tell anyone why you are leaving, even the worst breakups have SOME type of reason. "Hey, I've been loyal to this job 10 years. I quit." Whaaaaaaaaaaaat?

I've had the 920 for 2 years. 930 isn't a genuine flagship in my eyes. I was hoping on 1030. Didn't you get my memo ? RE: loyalty expiration. Check your junk mail :P

ok bro, no prob, its a free world anyway :p

I find the 930 a truly exceptional phone, what arte you looking for in a flagship???

Considering I haven't gotten cyan yet, it will be likely I will not be excited by the time I get it. #verizonsfault

Once you have had the 1020 camera you cant compromise. Come on Microsoft sort it out. In have 11 months left till I upgrade

Brilliant update, the camera on my 1520 tends to irritate me with the slow shot-shot time but this would be history once i have Denim :)

Really hope that this actually comes to my 1020 and that is not only for the newest phones. I'll believe it when I have it on my phone. Watched the event in recording on Nokia conversation and this new camera software is just pure genius.
Not very impressed with the Nokia conversation page though... "needs flash player to run"
Great to be unable to watch a Lumia event ON a Lumia...

Thanks you! I cant believe they have people working on denim when pfd people cannot upgrade, to me that is shabby. Thanks anyway
Peter

What do Windows Phone Central have to say about denim coming out before loyal pfd people even get cyan. I think its terrible and shabby!..why do you think numbers are down?
Peter

Time for me to invest in a 128GB Class 10 or better MicroSD card for my 1520. Bring on the 4K recording. Now, if we could only get Microsoft to update the specification pages after these software updates. Lumia devices have so many new features than when they were originally released.

I'm sorry for being a little dumb, but I didn't get the whole thing. I assume that the 4k recording it's not coming to all devices, but what about the other features, they're gonna be avaliable to the other phones?

UHD is supported by the new Qualcomm Snapdragon 800 series = Lumia Icon/930 & 1520.
Lumia Camera with most of the features is also available on the Lumia 830. Snapdragon 200/400/600/800 all have the DSP needed for the low power "Hey, Cortana!"


So does Lumia 920 can get the 4k Video Recording?

Qualcomm build this new feature to the Snapdragon 800.
Only the Lumia Icon/930 and the Lumia 1520 has the SD 800.

So what about the snapdragon s4 in the 1020?

Snapdragon S4 just doesn't have the UHD recording

So this denim update is only based on camera features?

Still waiting for Lumia Cyan to be available for 920 here in New Zealand... c'mon, Microsoft...

5 minutes of 4K in one shot and then the Phone needs to cool down?

For me it's just nice for short "sight and sound" clips during travel.

Wait, no Lumia Camera for the 1020?

yes you will get the new camera app on the 1020, but the 1020's hardware will not support all the features of this update.

Kaka, Waitting.... Massage Da Nang

When do those on the dev preview get Denim? I've a 930 with Cyan/update 1/dev preview and am curious.
Edit: According to the news section in the "My Lumia" app, most of what will be in Denim is already in Update 1.

Cool, I'm now TWO firmwares behind, Microsoft is seriously dropping the ball on the update front, I'll pull for WP as much as I can, but this is inexcusable.


I dont thinks its a MS problem, most carriers have had the update since july, some are extremly slow in their testing process, like tmobile and verizon.

where is the smart mode??

Integrated in the Lumia Moments feature.

And still no flash on/off button, pause and touch to focus while shooting a video. Very dissapointing.

Super excited with Lumia Denim, my powerful Nokia Phablet can't wait. Yay!!!⌒.⌒

I think this proves that a phone upgrade to the 930 is more than good enough for current 1020 users...
but I will wait for the 1030!!!

Microsoft didn't announce anything worth mentioning today. There marketshare will continue to drop, if it does rise, it won't go above 4%.

Its great they announced Denim today, but sadly my DP 920 hasn't recieved Cyan yet, oh and my Titan 2 never received 7.8 even thou it was promised. /sourgrapes.

Don't blame Nokia or MS for that, that was purely a decision of your Carrier. Don't forget that.

Sounds nice! Options, that I want to see are AE-Lock and manual focusing during recording ( tap on screen ). But I think this won't be implemented, at least for now.

'Jaw droping' daaaaamn now thats a big improvement on a camera. Bravo!

Seems like I'll be getting this first before cyan. Gosh.

I'm waiting so long about extended shutter speed time :(

Is lumia 920 support 4K record?

It won't be as it's camera resolution of 8MP is not 4K compatible.

Well... Could be worse... If it was an android phone you wouldn't get this mutch updates
I talk from expirience with Galaxy S3 phone... No major updates... only small updates with bug fixes that brought more bugs

now we just need to wait months for the carriers to release the Denim firmware update

So wait... I still do not have Cyan FW and there is a new FW called "Denim" being prepared...

Seems like not bad, pls keep improve and bring us more enjoyable in the camera function, thanks.

Seems like I don't get it. So this Lumia Camera is a new app? Or it's an update for the current Nokia Camera or the default MS camera??

I still don't buy in the logic of removing the dedicated camera button from a phone line that is touted as the best in class for photo taking. I can understand MS making this optional for other OEMs but at least they should have carried on with adding the hardware button on their devices.

This is really awesome, and I hope people realize the true potential of the WP 8.1 OS and Lumia line. My only query is if/how long the "Hey Cortana" will stay limited to the S80x chipset... It seems weird given the push, and success I'd say for the assistant. Would come in handy for devices without a dedicated cam button... I know hardware...but...

This is so going to be "Memory Killer". Guess I really have to get memory card for my 32GB 1520 by that time.

Any one tell me. Have any news for Lumia denim update release for developers for preview?

Wow! So many new features. Does it take pictures too?

What about developers? Have they forgotten about us?

In the last part of the video, he mentioned "less data when the device is hot", is that an addmission of the overheating issues? I hope Denim solves that as I'm fed up of my 930 acting like a hand-warmer.

Finally, Microsoft changes the image processing to the background, the camera is finally catching up. But the app gap still...(There are still a few apps that I would like to see in WP store, I'm looking at you duolingo)

shortcut to front camera, finally, i hope this thing opens and snaps instantly like the rest of the world does with their droids and apples, also taking pics from video recording in real time would be great

Hey is 1020 supporting 4k video??

4k video recording.. Ok, that's great... But when are we going to get high frame rate recording? Like 60-120 FPS??? I'm sure the SD800 in our 1520s, 930s and Icons can handle it!

Great camera apps but then can't make a decent, easy to use panorama app. What a shame.

I feel really sad for my 1020. For the first time I didn't get excited on a firmware update. There's still a lot of features to improve for old Lumias but they seem to only care for the new ones. At least continue to improve the camera algorithm, please.

No reason to party......even after 5 months of launch MS is not able to handle 8.1, cyan is still a dream and they are comming up with denim. MS should stop fooling around wp users who invested their hard earned money in this stupid colourful box which MS call a smartphone. Rather than doing this type of propaganda, MS should quietly work on the things which actually make their idiot box, a smartphone. They should concentrate more on old and regular problems like xbm, email attachment, action center, one ear headphone etc etc rather than jumping into new things.

MS are not holdng up WP8.1 and Cyan, your CARRIER IS.

I'll be looking forward to better low light performance and rich capture. Can't wait for denim.

I focused more on the guy than the camera..... Posted via Windows Phone Central App

I guess it's time to retire my 520 & 920

They should also update the video recording function - pause button (no brainer) and zoom in/out and change focus WHEN recording..

Seriously excited as a photographer enthusiast, I need Denim on my L1520! Please let MS roll it out soon! Can't wait!

does this update also contain, Slow motion video recording ??

Can someone explain to me why the 808 was possible to record 1080p videos with a Arm11 soc? And why the soc in the 1020 only supported up to 20mp but yet it has 41mp? I find it kinda disappointing that the only wp with a 41mp camera and the flagship wp cameraphone don't get any new camera features! And why does the new version of cortana will only be available for the snapdragon 800+ soc's? While the same features is available on android devices with less specs?

Will Lumia 920 get the 4k Video Recording?

And also an inbuilt Panorama app , please

Fix the cyan update or speed up the update for preview developer user 1st, then things will solve.

The update from AT&T for 1020 took ages for WP8.1. It would be better if update for Camera alone is released for all Lumia phones. It would make phones worthy. Battery has been of great concern.

I am still waiting for Lumia Cyan for 1520 WP8.1 P4D

So I m currently using 925 but I m kinda confused if the denim/Lumia camera will bring the enhanced speed/HDR to my phone... (also for 920/1020) Lumia Cyan did NOTHING at all to my device except better battery life. No living images/no equaliser via speaker/etc etc so what gives?

I really hope the 1030 comes out. I need a worthy succesor for my 1020. I dont use my digital camera since I had the 1020. My dream is a green Lumia 1020 with the green camera grip case. This update to Nokia camera makes this app even more excellent.

Heck, I don't even have Cyan yet on my TMobile 925 and we're talking about Denim already?

I'm confused what will happen to the update GDR 1? the lumia Denim and GDR 1 are together?

", after partner testing and approvals." Needs to end. Zero reason for carriers to have any say if these updates get released or when if the Manucfacturer is done with them. Ok, maybe some testing if really really needed. But they should NOT get to decide IF they will be released. "We have new devices that are capable of these features, we will not be releasing any updates to the older phones, you should just buy a new one" and people are perfectly ok with that? That's just moronicly stupid.

Denim looks great! Now if only Verizon would update the 928 to Cyan...kinda ridiculous that MS is showing off the next update when a huge share of existing devices can't even get the current update yet. OS fragmentation was one of several reasons I never wanted an Android phone...kind of a shame to see some shades of that with WP (even if temporary). The Apple update model is badly needed.

According to Juha Alakarhu the imaging improvements in Denim are only for Lumia 1520, Lumia 930, Lumia Icon and Lumia 830. No improvements for Lumia 1020. https://twitter.com/jalakarhu/status/511730610801770496

Lumia 1020 gat denim... I have a 1020..

great. no enhacements for lumia 1020!! WTF?????

I was thinking of upgrading from a Lumia 920 to a 1020 until the next flagship comes out, which could be anytime from february to june or july, maybe later. But is there any point if it doesn't get some of the Denim camera improvements? C'mon MS, it's only shy of a year old.

Should i get lumia 830? Currently I'm using lumia 925. Im confused. Máy xông hơi.kaka
Windows Central Newsletter
Thank you for signing up to Windows Central. You will receive a verification email shortly.
There was a problem. Please refresh the page and try again.