CloudZync launches on Windows Phone, introduces wireless payment options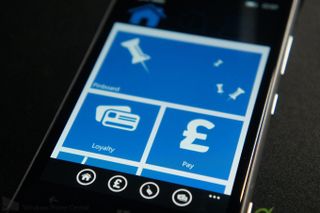 CloudZync (www.zync.co.uk) is a British mobile commerce company that has launched an app for Windows Phone. With 280 merchants and stores already signed up, Zync Wallet makes it so you don't need to carry along a wallet in your pocket with numerous cards and cash at hand. Relying on your mobile phone for almost everything in life, mobile payments are slowly catching on with deployment taking place using NFC capabilities.
This Windows Phone app aims to help consumers take steps to make it easier to pay for services and goods with loyalty cards and more.
The company is going further than simply releasing Zync Wallet for Windows Phone though. As well as the consumer interface, businesses can utilise cloud-based tools to set up, brand and manage their own loyalty and CRM schemes, making them available through the Windows Phone client. What's more is there are no fees or charges for merchants to make payments with the service. Really neat.
How it all works is consumers load money onto their Zync Wallet account from a bank account and payment is then transferred when needed. The app is super nice, with registration support built-in. Creating a PIN is easy, which will then enable you to register with the service using your Microsoft Account (or other social networks), fill in some basic information, and after that you're good to go.
The UI includes an interesting use of icons in the panorama view and the overall experience is pretty much what you'd expect from a Windows Phone app. You can view your current balance, initiate a payment (opens up a QR code), view current deals added to the wallet, and more. Sure, basic functionality, but should wireless wallet payments kick off, this is going to become rather useful indeed.
There's a number of bonus features too. Merchants are able to update users with deals, updates and other exciting notifications. Launching on Windows Phone first (as well as iOS - Android support coming later this year), you can download Zync Wallet from the Windows Phone Store for free. Windows Phone 8 only. Check out the official website linked above for further details.
via: Internet Retailing; thanks, Nishy, for the tip!
Rich Edmonds is Senior Editor of PC hardware at Windows Central, covering everything related to PC components and NAS. He's been involved in technology for more than a decade and knows a thing or two about the magic inside a PC chassis. You can follow him over on Twitter at @RichEdmonds.
Hmm, I feel a bit mislead, the headline says wireless payment, then you go on to mention NFC, so I went to install it straight away.
It uses a QR code for payments, this isn't really classed as wireless or NFC here in the UK. That would be NFC. Which this isn't.
I am disappoint.

I looked at their website after reading this article and a similar one on another site and nowhere was the actual payment mechanism specified. Seems like it would be helpful to make that really clear.

Good point. However, the app uses QR codes so that any SME using the business app on their mobile can generate and take a mobile payment. The apps may have been released on Windows Phone 8 first, but they will be available to users and businesses alike on the iPhone and Android platform. This ruled out NFC as an option. In addition, NFC is no good for sales experiences inside an app, online or even over the telephone. The approach the Zync Wallet app takes works almost the same way, giving the same experience to the user no matter the sales channel.

If Microsoft actually made a half decent attempt with the Wallet this app would be unnecessary.

I would have to concur. C'mon, MS Wallet w/ NFC Payments!

If your carrier has secure sim cards than you can use the nfc wallet built into WP8. This is up to each carrier and not Microsoft.

Another first for WP, sweeeeet!

The problem at the moment is actually being able to use your phone for wireless payments. I would love to eliminate the need for carrying around plastic and change entirely and live off paying via wireless. Sadly is a slow mover due to what missuse can occur from wireless payments.... :S

Can I see the list of participating retailers somewhere before signing up? I've looked at their website, but cannot see anything.

I miss google wallet on my gs3

Does this app only work in the UK

Currently yes. Though plans are in progress for this to be rolled out to the USA, Canada and Europe

I use to use my Nexus(Samsung) to make mobile payments all the & got a kick out of other shoppers and cashiers faces

Pretty useless app, since you have to physically topup the Wallet before you can use it, being able to add card details would make it more ussefull.

Top / up or PrePaid isnt for everyone, we know that. Its ideal for some users, especially those who like to budget their spending, while others want to be able to spend without the hassle of pre-loading (even if that can be automated through a standing order). The experience you after is ok, but we have our Zync Tab feature that will be coming out soon, this provides you with the kind of experience you describe (though even easier) and with the option of deferred payments
Windows Central Newsletter
Get the best of Windows Central in in your inbox, every day!
Thank you for signing up to Windows Central. You will receive a verification email shortly.
There was a problem. Please refresh the page and try again.