Coca-Cola Freestyle app for Windows Phone and Windows 8.1 updated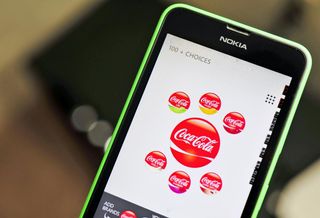 The official Windows Phone and Windows 8.1 apps for Coca-Cola Freestyle, which let people find the locations of those cool machines that offer over 100 different types of drinks in one place, have been updated with a number of features.
While there's no change log for the Windows 8.1 version, here is what is new for the Windows Phone app, which includes a way to get a coupon for a free Coca-Cola drink:
Improved Connect Menu - removed locations service and geofencing from this feature to improve device performance and reliability
Added Share a Coke functionality – Pour a Coke, Diet Coke, or Coke Zero on Coca-Cola Freestyle and get $1 off 20oz Coca-Cola coupons avail from 7/1-8/30
Added MyCokeRewards email log-in as alternate method to Facebook Connect for authentication
Various stability and security improvements.
Updated privacy policy
What do you think of this update and will you use the app to get a coupon and give a free Coke to a friend? Thanks to Kevin and Syed for their tips!
Windows Central Newsletter
Get the best of Windows Central in your inbox, every day!
I wonder why you say that. If its because Coca Cola is an American brand or because you feel that it supports Israel. I'm sorry to say your just silly and stupid. While your at that why dont you go back to the stone ages. Down grade from a smart phone (iPhone, android or windows phone), stop driving any american band of vehicle (also incluing some Japanese brands that were designed in the USA) e.t.c. Get a life...

It's a a Coke machine that allows you to mix different unique flavours, and there's over a 100 different combinations to choose from. For example, you can Coke Vanilla, Coke Grape, Coke Sprite, etc. The perfect way to go on sugar overload and burn a hole through your stomach :)

I was going to ask the same thing, but this is a very good and damn funny explanation! Lol

Coke which you can drink, while doing the freestyle. :)

Dint know this existed...

I find It crazy when people say Dr.pepper taste like medicine. Hands down my favorite soda.

+1520. I think Mr. Pibb is the best, but I'll punch someone in their ovaries if they say Dr. Pepper is nasty.

I used to drink Dr. Pepper untilt hey changed the formula. Now I just can't stand the flavor. But that's just my personal taste.

This is such an awesome idea. You walk up, scan the QR code on the machine and it automatically pours your drink for you, in perfect proportions

Or you can drive though McDonald's get a coke and never have to walk or open an app

▶ It wouldn't have been as bad if he didn't say "never have to walk".

But McDonald's only has one or two kinds of come. This machine has one hundred.

▶ I really hope you meant "coke". Lol. Because if McDonalds served come I don't think it would be good for business.

Any major company that supports WP is good. Now give me my Dunkin donuts and Starbucks apps.

For Starbucks, just use SBUX Card... Works great... :)

Yea! Dunkin app, please! Been asking for this for awhile.

I work for Coca-Cola, and I didn't even know we had a freestyle app on this platform. Nice!
Now where's the Ambassador app?

Why cant I download it :|
Not available for your device.
Does it not support 8.1 update 1

I have a 1020 with 8.1 update 1 and it works for me.

Too much of it, moderation is key.

It's also carcinogenic and disgusting.

Say No To Cola........Quit Cola.....LoL

These machines are literally the greatest invention ever. Literally.

Not a fan. Sprite and cherry coke taste weird

Then don't drink Sprite and Cherry Coke. There are a myriad of other flavors.

Point was all the flavors are off from the bottled or regular fountain. So if I just want a regular sprite or Dr pepper it tasted like I tries to make it at home

Lumia 520 not supported. Btw, by the time this finishes loading in indian network 2G, i wud have lost or even forgotten that i needed a coke

Lol, it is supported, I just downloaded the app and look good. Sadly, I doubt I found a machine near my location.

It says, this app is not available for your device

Why would you still use 2G in 2014? Data prices for 3G is not that bad. But I doubt we have machines like this in India. If there is im coming to that state asap :P

Its funny that even though they've updated it alot lately. They have locations in Canada yet the app isnt listed there(my guess is mycokerewards didnt replace icoke yet)

block zionis apps
#PrayForGaza

Ι just want to sniff some

My kids love those machines! This is cool.

don't share this app !!!!
#FreePalestine

http://www.snopes.com/inboxer/outrage/nocoke.asp

Hmm Coca Cola fuck you and all the Israeli who have a hand in the company's profits.Already boycotted in India.

I dont drink black liquid