Confirmed: Lumia 710 will not get Windows Phone 7.8 update from T-Mobile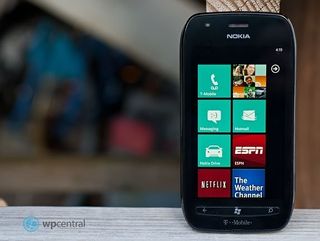 Hate to be the one that said "we told you so", but we told you so. T-Mobile USA has confirmed what we previously reported – No Windows Phone 7.8 for the Nokia Lumia 710. And just like that, a hundred cries could be heard tonight.
On Friday we reported that an email between a reader and a Nokia employee revelealed that T-Mobile had chosen to pass on the 7.8 update. For a phone that can out about a year ago, it's a definite slap in the face to customers who signed a two-year agreement with the magenta carrier.
In a statement to TmoNews, our original story is collaborated by T-Mobile itself:
A really sucky situation for anyone out there who picked up the Lumia 710 on T-Mobile in the past year. Not all hope is lost though, if you're reading our site odds are you can handle manually installing the update via the CAB files. For the rest of the population, our hearts go out to you.
Source: TmoNews
Windows Central Newsletter
Get the best of Windows Central in in your inbox, every day!
Don't have a 710 but very disappointed to hear T-Mobile doing this.

Neither do I, but if VPN is in the pipeline, I'm sure they can't stop it. Lets see what happens after mwc.

I think that vpn support is going to be only WP8

Could have sworn I heard it would be also added to 7.9, could be wrong but I guess time will tell

Love my job, since I've been bringing in $5600… I sit at home, music playing while I work in front of my new iMac that I got now that I'm making it online.(Click Home information) https://goo.gl/xnaQc

Can we do something about these idiots that post this work online trash. Getting really annoying.

I've updated my 710 (non-carrier here on ID) and there are no such thing called VPN. Whatever their reason there, it won't be because of VPN. IMO, VPN will only available on WP8 future updates.

He said 7.9... you updated to 7.8. I don't know if VPN will be in WP7.9 or if WP7.9 will even come to all WP7 devices or if it's just a Nokia thing. The rumor about WP7.9 coming after WP7.8 was supposed to have come from Nokia and not from MS.

I wouldn't count on any more updates for the 7.8 platform. Look how many months it took them to add bing lockscreen and a new tile size. It's just so users wouldn't be in a huge uproar. WP8 already eclipsed WP7 usage and it will only become a larger percentage of the WP users. WP7.X is dead.

Glad I left that crap hole

Glad I left there also..tmo sucks

I'm only with them because they are only network that won't cut my line off after 90 days on prepay.

Same here. Still dealing with the ETF BS, but so worth it!

Glad I left! I left for the 920 on launch day.. Sucky service where I live I hated every moment with tmobile.. Never going back.

"T-Mobile is committed to enhancing customers' experience with our devices..." ...except the 710, I take it? Talk about spin.

I have an HTC Arrive, and I'm too scared to do it myself!

Worst case scenario...you brick it (which is highly unlikely if you follow directions). You've got to be close to your 2 yr commitment. So upgrade to WP8.

I used the seveneighter program with complete success on my arrive. Didn't lose any app data or personal data either.

I updated Radar via the seveneighter tool, and it runs 7.8 flawlessly on stock T-mo spl without need for any hacking...took 6 updates to get it on 7.8...Guys, you who are delaying it are robbing yourself of your phone's new lease on life...

Like Sam said if you just got this less than a year ago this sucks. What ever happened to MS being able to bypass brain-dead carriers?

That's what I'd like to know! I thought they could jimmy around them!

I think no one WP from T-Mobile will get...

9/11 may not be what you know. Give it a thought, for the best of your owm. I live near this home, and you should not fuck with my home.

This is not an articles about upgrades to your tinfoil hat.

For the last 2 days I've complained on Tmobiles Facebook page about no 7.8 and they deleted it. I'd recommend enough people complaining and maybe tmobile will get tired of deleting them and push 7.8

I've been doing the same on twitter....

Updated my HTC Radar 4G to 7.8 with .cab
Stupid T-Mobile...

My only choice now if I really want 7.8 is the CAB files. But what are the risks? I can't afford to brick my phone. I'm no rookie when it comes to manually updating phones, but I always had a back up plan. This time all I have is my 710 so I'm a bit hesitant.

Use 78er tool. Upgraded both 710 and radar on t-mo.

How? Everytime I try it, it gets an error. I am using the 64-bit verson, on windows 7. I have the windows phone dev tools, zune, ect.....

have tried to search for the error?

Simple to upgrade by .cab if you need help on how to look on xda developers. I updated my unlocked Samsung focus s on tmobile. I was able to push the at&t updates for the focus s then I pushed the 7.8 after that a hard reset & everything works good. Good luck!

A great disturbance in the Force, as if millions of voices suddenly cried out in terror, and were suddenly silenced.

:(

Run, run away fast, WP users on T-Mobile!

It would be great to see Nokia step up and do something about this if Microsoft isn't willing to bypass T-Mobile

I know it's not just against Windows Phone... carriers and OEMs do this to LOTS of Android and other phones too, but this is one more reason why Microsoft needs to bypass the carriers and take control over their update process. This sort of thing is ludicrous.

Totally agree, it would actually be a great selling point for WP if Microsoft made sure each customer gets an update regardless of what the carriers do.
I wonder how much bad press Microsoft and in this case Nokia can take before they decide to screw the carriers and cut them out of the update process.
I recomend everyone who owns a Lumia 710 to complain to Nokia and Microsoft about this.

There goes Microsoft's promise

I agree, pretty sad, This is a strike 3 against Tmobile, almost a strike two against microsoft and Nokia.

Hmm, where did you see this "promise" from MS? I've seen bloggers talking about it repeatedly but never seen an official statement from MS.

IT was part of the orginal wp7 launch.

Won't jaxbot's seven eighter program handle this easily?

Failed our my lumia 800 also.

I suggest you all cancel your contact on the grounds of failed to provide support

Wish I could but I don't think I can afford it. But honestly beyond this T-Mobile has always treated me very well and has always provided good support. Im just hoping in the back of my head that they change their mind or otherwise its 78er time or pick up a W8 phone and hand mine down to my brother.

And just like that, hundreds of people will be switching to Android. Great move T-Mobile. Google commends you for your services.
Were I incharge at Microsoft I would give order to roll out the update regardless of T-Mobile's wishes. My only concern is that T-Mobile Deutschland does the same thing with the Lumia 800. They still haven't released the update (however they've already rolled out "Portico")

Well, they were the first and only support Android had in the beginning... However, Android isn't much better at all with updates to low-/mid-range phones. Try finding a hack or even help for the "openness" online and I don't think you'll get further than finding unanswered posts from other users. I wonder if MS really has the deal about carriers not being able to block 2 updates in a row. And, really, besides testing an update themselves, I still don't understand why they wouldn't just let the update through if they don't care.

This is true. However, Android seems to be picking up with this. Hell the Thunderbolt (which came out like 3-4 years ago?) got ICS today.

You might be right. I'm on t-mobile & yes we have windows phone but not a high end device like the Nokia lumia 920 so adding that they won't push the update makes me just want to switch over to at&t as soon as my contract is over. But I'm sure others will just jump to Android.

Wow T-Mobile is usually one of the best with updates. Well 710 owners, get with the CAB method and this will not matter. Enjoy.:)

LOL sucks for them! Wait...I have a 710, on t-mobile!!!
Good thing I did a manual install ;)

I got the same slap in the face from HTC just use this if your willing to no one has reported any problems and 710 users have already used it
http://windowsphonehacker.com/articles/want_windows_phone_7.8_now_try_th...


I used 78er so haha just waiting for the Nokia firmware update

I already updated through the cab files but wow of that's not a dick move I don't know what is. I left them anyway and honestly love that I did

OOhh man , HAHA , and i thought WP couldn't get any worse. The 710 was one of the most popular WP devices. Okay folks , go to Android, iOS , or even blackberry , atleast they give you updates, and have basic things like universal search and an actual notification system.

Troll somewhere where people care. Oh, but then I expect there's no room for another post on the Android Support Forums, jammed as they are with desperate plea's for help. Throw you fellow sufferers a lifeline but don't bother us here.

That's total BS. The Lumia 710 is not even EOL yet. Microsoft should just buy T-Mobile USA and put them out of their misery.

I bought the top of the line Samsung Tablet from AT&T, its never been updated in over three years. Lessons learned: don't buy Androids or Samsungs. Happy with Lumias here on AT&T. T-Mobile customers take note and jump ship.
T-Mobile has also declined to produce an App allowing WP to use their WiFi calling feature, which shows you how little support you can expect from TMo.
Move On...nothing to see here...

...but I love my Lumia 810! Oh wait...I love my Lumia 710! :'(

Is this like the announcement from HTC that they wouldn't be delivering 7.8 at all (especially to HD7) and then it was delivered a week later? :P

Well technically no. MS rolled out that update. And AT&T rolled out the L900 update. The US carriers still have to approve of the updates before they are rolled out to their customers. When a US carrier usually says that they will not push out updates...it is final.

Is there a way to update via the cab files with a Mac desktop computer?

Not sure i would just use a work or lirbary computer and remember to try it more than once if your doing the automatic version unless you get 7.8 on first try

Sure, if you upgrade its OS to windows first..

idk, only the major different is new tiles. All other is the same than W7. I see not big deal. I have Lumia 800, i pushed w7.8 and see no different except new looking tiles.

Its not really about what it adds to the phone, its about the basic premise that carriers should be made to automaticaly provide the update to all customers if the OS developer (i.e. Microsoft) creates one.
I am also pissed off at Microsoft for allowing the carriers to do this blocking shit.

I am glad I am not with t-mobile and stuck with the 710 and this convinces me never to switch to t-mobile. The jury is however still out on ATT and the update for my Samsung Focus (gen1).
If Rodgers can do it in Canada what the hell is ATTs problem!?

I have and love tmobile but this is a huge let down. Just switched from the 710 (which is an awesome phone) to a 920 so it won't matter to me. My brother who has a 710 was disappointed but I used the tool reported on here and it worked like a charm. Anyone with an older device, I highly recommend the cab file tool.

What a bunch of bullshit. I hate hearing this type of stuff considering the 710 sold very well. Nokia cannot be happy about this. I own a 920 here in Canada and I created a forum post about Rogers not offering colors and our voice was heard. People just need to voice their opinion and they will change their mind

I thought 7.8 was the last update for WP7? Am I wrong? I have family members that got the 710, and this sucks for them.

Just updated using the WPhacker tool. Works great and easy to use. Happy Lumia 710 WP7.8 user here. TMO you let me down :-/

Um it says "at this time" which means "not right now". Bad article.

According to the email/tweets I got, hd7 has no plans at all to get 7.8, that's why I use the seveneighter tool. Why would they update a 3 year old phone if they wouldn't update at 2 years, or year in the case of the 710?

HTC HD7 (T-MO). Same thing here. Updated it yesterday manually. So called 'CAB method'.
So dont wait guys. If you do everything by the book no chance you brick your phone or loose you data...

Do you lose your texts?? If you do the cab method or do they get restored?

What about the HTC Radar 4G?

are us t-mob l710 phones coded to t-mob sim card?
im on cro t-mob and my l710 can accept other cards even tho im on 2yr contract.try putting another sim and update if it isnt coded

The problem here is simple if all of the OEM got together from all sides & put the updates on there own servers the carries would come back into line. They can't say we won't support or sell your device as without any phones a network is useless! I got a Lumia 920 SIM free & use Vodafone in Australia & it works perfectly even though Vodafone don't supply it on contact. So its up to the OEMs to stand up & grow some balls & stop allowing carriers to fuck the customer over

Maybe we're not getting 7.8 because we'll get 7.9. Woohoo! T-Mobile you're the best. Whoa, what? 7.8 is it. TMo you suck!

I don't have a Nokia but I feel for you! I went through the same thing with my LG IQ "WM6.5" waiting for a update to WM6.7 but never happened, Microsoft instead bring out new WP7 & WP7.5 and some lucky with WP7.8, Microsoft just killed us WM6.5 users and dropped support for Windows Mobile and killed it's name! I moved from WM6.5 to WP8 with my new ATIV So awesome! Some of you WP7.5 & WP7.8 on a 3 year contract will upgrade to next generation WP9.

T-MO is a joke....wait I'm on that trash network. i have one of them no bars phone....

No big deal, 7.8 doesn't add much, it's all cosmetic. Tmobile users can just buy a WP 8 phone off contract for 300 on eBay.

How about firmware fixes for hd7 they're holding out?? The haven't even pushed tango. Im effing pissed

I don't blame ppl for being angry about not getting Tango. Need that, but 7.8 not so much.

And I dont have $300 to waste now. Who decided our phones become bricks after 2 years? Would you accept that with your $6-800 television set? Tablet? Car? Etc etc

Microsoft is no better than Android when it comes to updates

That's why I go with big companies att,Verizon,sprint they always look out for customers

sprint is the worst of the bunch with WP support. They were reluctant to even support WP8. Stay far away from sprint. I have my arrive and had to force update beyond just basic Mango.

Yeah I hate T-Mobile but I've been running 7.8 since maybe late November, fully unlocked so yay go me and go XDA devs!

Updated my two T-Mo Lumia 710 phones using Seven-Eighter tool. Not a big deal. I like T-Mo service.

i've had the 710 since summer and i hate everything about it. not sure if i got the runt of the litter but it crashes all the time, freezes and the app hardly ever work right so i'm not sad at all there's no updat. i miss android so i'll be moving on to the g s3

Something is very, very, very wrong with your phone then. I've had my Lumia 710 since February of 2012 and not had one crash, not one freeze, and all my apps work fine. Ditto for my wife's Lumia 710. You should return yours and get a replacement. There are bad Lumia 710s out there and it looks like you got one. Get it replaced and your thoughts on the Lumia 710 will be changed, I swear.

T-Mobile has great service where I live and their plans are very aggressively priced. Plus how can you beat unlimited high speed data for $30. Sucks they won't push the 7.8 update, but the WPhacker app works great.

I was about to get a 710 but decided to hold out for the 900 good thing I did. This would be fine if they were handing out upgrades

I bought a 710 because I'm a prudent smartphone user, as I would imagine most 710 owners are. Really everything you need for a very good, basic smartphone experience. And now the T-Mo execs expect these same people to go out and drop more money on a new phone less than a year and a half after they bought their 710? Or even less time than that for some people considering it isn't even EOL.

This is moronic executive decision and mentality at its finest. All this actually does is turn people against you. It is so incredibly easy to do that. Yet earning customer loyalty through common sense and respect lasts so much longer and is so much more difficult to tarnish.

And so I will vote with my money. At the beginning of the month - goodbye T-Mobile. Although Im sure they could care less...

Don't worry fellow Lumia 710 T-Mobile owners! There is an application out now called Seven-Eighter that will update the T-Mobile Lumia 710 to Windows Phone 7.8. I updated mine last night, its awesome!
Google 'Seven-Eighter'

This just strengthens my thought on how all US carriers are trash.

At least the developer crowd is showing some love to us.

US carriers are the best.

It's not really the services that bother me. Its usually the support. While I had no trouble using seveneighter to force update my Lumia 710, some of the less technologically attentive will not even realize there's a way to manually install updates. Hell, a few friends of mine owning 710's as well were shocked upon seeing the new start screen, assuming I modded the device to use WP8. While it doesn't affect the average Joe, us tech geeks/enthusiasts will react negatively to the action taken by T-Mobile to bypass the 7.8 update. Funny how they'd leave us WP7 adopters in the dust while they play around with their lagdroids crammed with bloatware and Google's famous way of tracking usage information.

I got 7.8 on my Lumia 710 O.o.. Now its got bluetooth and resizeable tiles... and i got a lotta theme colours too

its time to delete this page or correct your wording T-mobile said & At this time, the Nokia Lumia 710 will not receive the software update key word NOT saying we wont get it at all just that of what i heard Microsoft had a bug issue they were working it out after some failed updates on other devices and are now starting back up to push out the patched update a couple of recent comments from t-mobile Workers on my Questions under Dhanson89 aka me in the t-mobile support forum t-mobile said to me they only just stared hearing it from Nokia and that's all they know

and for users who claim to have the update for the 710 we are talking about T-mobile and their Offical update and if its coming to T-mobiles Lumia 710 USA network... not any other other carriers or cab installers so go post somewhere else please like xdadevelopers or a place in this site where they talk about your carriers Brand of Lumia 710 unless you did that on purpose and wave it in our faces then DaRn YoU and good for you!

Just installed WP 7.8 on my Tmobile branded Lumia 710 yesterday, via seven-eighter. No problems and it works perfectly, to any naysayers out there. I may have voided my warranty, darn! That's what insurance is for.
Windows Central Newsletter
Thank you for signing up to Windows Central. You will receive a verification email shortly.
There was a problem. Please refresh the page and try again.