Impatient for Windows Phone 7.8? Fetch the CAB files and DIY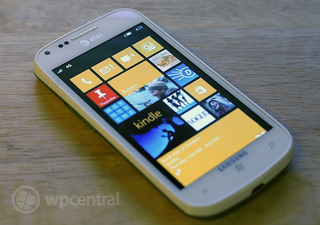 Windows Phone 7.8 is just heading out to consumers, but appears to be wrapped up in a strategic deployment. Should you wish to no longer wait for the update to prolong the lifespan of your Windows Phone 7 handset, XDA Developers forum has the CAB files listed for download. Be sure to file this under "Experienced users only."
As well as Windows Phone 7.8, (build 8858) files are also available for the previous build 8779 aka 'Tango'. So how does one go about this? We published an in-depth tutorial which also builds off of this article on how to go about updating your Windows Phone manually. Both are well worth checking out if you're considering this path. Just like forcing the Tango update, while following such a guide, be sure to ignore previous build numbers in the article and use what's stated over on XDA.
Windows Phone Central cannot take any responsibility should a process you undertake render your Windows Phone useless. Continue at your own peril! And remember, you won't get any OEM specific firmware that may come with the update, so you may want to wait a few days.
Source: XDA Developers; Thanks, tire_007, for the tip
Rich Edmonds is Senior Editor of PC hardware at Windows Central, covering everything related to PC components and NAS. He's been involved in technology for more than a decade and knows a thing or two about the magic inside a PC chassis. You can follow him over on Twitter at @RichEdmonds.
Yup updated my DVP a while back works like a charm!

I updated my DVP a while back this way too but I don't gave the new colors and can't access the lockscreen settings. I couldn't figure out which language files to install so I just did English so I'm betting that's the problem.

You can go into settings and look at region+language then look at display language. You should see a list of languages supported and should get the cab file for each. If you are developer unlocked there's a app you can side load that will tell you exactly which language packs you need (don't remember the name but it's been discussed here in the guide they did awhile back)

Will this work for my HTC radar c110e

YES!
i just updated mine, directlu from zune

Wow! All this BB10 news, and we're not talking about our own platform!! Lol!! That's ok because tomorrow its back to business as usual..

Cant wait for a Focus rom with this final build.

You'll never get a complete rom for it. I'm thinking about doing the cab push on my old focus

Still doesn't have tango and is over 2 years old.

I think you'll get the full rom, just not from at&t if I understand it all corectly. Focus technically has the rom, (It came from one of the canadian providers).

To be clear, when I hear ROM, I think of an image that is specifically built for that phone/carrier/etc. I'm sure the generic updates will push though through zune

I meant custom roms. I am running build 7.10.8835.35 on my focus.

Just use the disconnect trick on your device and you will get the update.

lol I guess you didn't switch to Windows Phone before NoDo, otherwise you would understand that :D

I updated my HTC Arrive this way as soon as all the CAB files were listed. I did it all in one step. Worked like a charm. Gotta love XDA!

Glad to see it works with the Arrive! I'll be doing this tonight :)

What's the most easy method in doing this? I want to update using the CAB files on my Dell Venue Pro.

Hey! So I have an arrive as well but for some reason (probably something dumb), the update wouldnt take. it had build 7.10.7720 with only English (US) as the only language pack. what files/language packs did i need to install? i downloaded 3 language packs (one for each of the 3 os steps up)


I cant figure this out. im on 7.10.8107.79 and cant get anything else to install after that. I thought i was on the right track and 2 hrs later not much further. I'm done for the night. Maybe I'll find something tomorrow :S


How did you get to 8107 if you dont mind me asking..? I'm normally pretty savvy with this kinda stuff but I feel like a noob :/

wow finally got it. and it was so quick once i figured it out! I kept trying to do one lump install... instead of each os update with the corresponding lang pack at a time. 7.8 running smoothly! :D


How did you get past 8107? Everything i try to install comes back with a message saying cant update device due to error. I know i need to go to Tango then do the 3 updates to get to 7.8 but i dont think im getting the right files.

I had quite a time at this as well. I had a lot of trouble getting the updates to take, so I did it in a few stages. If you've already gotten to 8107, then you should probably only need to move forward from "Stage 2." Folowing the tutorials posted above, the stages I list below just indicate which files you need to "send" using the "WP7 Update Cab Sender." For each stage, put the files into the same directory as your WP7 Update Cab Sender, then use the sender to send them (with the S command). After each stage is completed, your phone should boot up and say "Update Successful." You can check Settings > About > More Info > OS version to see that the update got you to the appropriate level before moving on to the next stage. Remember to remove the previous files from the directory where the WP7 Update Cab Sender exists after each stage is completed, then move the files for the next stage in and run the tool.
**Below is a list of the files that I used. This assumes you're starting at 7720 using an English (United States) Sprint HTC Arrive. PLEASE MAKE A BACK UP (it only takes 10-20 minutes)**
Stage 1 (7740 and 8107) send the following files that are linked from this article:
Download link to use: http://www.wpcentral.com/force-updating-your-windows-phone-os-build-8107... File 1: diff-7.10.7720.68-7.10.7740.16-armv7-retail-microsoft.pks_2cb1bfdd82133914239b8ee1a78e61e9000d124a
File 2: diff-7.10.7740.16-7.10.8107.79-armv7-retail-microsoft.pks_c9b7f3bc5bb340ba30473b566b4557de0cf3322e
Language: diff-7.10.7740.16-7.10.8107.79-armv7-retail-microsoft.lang_0409.pks_bfd9c047a7b27c28208c8a717f8d7511fb2586f1 Stage 2 (8112)
Download link to use: http://forum.xda-developers.com/showpost.php?p=27960331&postcount=929 File 1: diff-7.10.8107.79-7.10.8112.7-armv7-retail-microsoft.dpi_262.pks_24bb20423e86130365686c1796577d4b22343be9
File 2: diff-7.10.8107.79-7.10.8112.7-armv7-retail-microsoft-pluspkr.pks_d500a10eeb11fb6c1913adac4759d67185474d3e
Language: diff-7.10.8107.79-7.10.8112.7-armv7-retail-microsoft.lang_0409.pks_ae068921fd637ba2e3e268b28e6ca1c9f3a9c11f Stage 3 (8773)
Download link to use: same link as stage 2 File 1: diff-7.10.8112.7-7.10.8773.98-armv7-retail-microsoft.dpi_262.pks_4dbf7302a7b3da01eeafbcfbf1b9b75e6f6de15e
File 2: diff-7.10.8112.7-7.10.8773.98-armv7-retail-microsoft.pks_113460c78ac6233e3bb776ceddb6ac94e98c4221
Language: diff-7.10.8112.7-7.10.8773.98-armv7-retail-microsoft.lang_0409.pks_3e940c840ee4815422610bb6da8f28ac327767cc Stage 4 (8779 and 8783)
Download link to use: http://forum.xda-developers.com/showpost.php?p=37384687&postcount=1478
File 1: diff-7.10.8773.98-7.10.8779.8-armv7-retail-microsoft.pks_b9598a098a3a4e902d043cef778a79ff3e6b0869
File 2: diff-iucorefixed-7.10.8779.8-7.10.8783.12-armv7-retail-microsoft.pks_8a50b92b21951c7baf9f3600cea8c77e0918021f
Language: diff-7.10.8773.98-7.10.8779.8-armv7-retail-microsoft.lang_0409.pks_4d87f62a11c7898a516df7563a9333e1082fad57 Stage 5 (8858)
Download link to use: same as stage 4
File 1: diff-7.10.8783.12-7.10.8858.136-armv7-retail-microsoft.dpi_262.pks_39b9cc884c90d83c0df50ed5623166e9257d1162
File 2: diff-7.10.8783.12-7.10.8858.136-armv7-retail-microsoft.pks_d6fb2a271eed6a5d1187b17aba60806753d0ffce
Language: diff-7.10.8783.12-7.10.8858.136-armv7-retail-microsoft.lang_0409.pks_653898f93f54d951992766d317db1b846ca71e36

Thank you for the detailed instructions! I go my Arrive up to 8773, but the next step fails. I treid 8779 separately and also 8779 and 8783 together, Fails every time. Any other tricks I could try?

For me, it was a lot of trial and error. I ended up doing the 8779 and 8783 together (with the language pack associated to 8779, so 3 files in the directory with the WP7 Update Cab Sender). Once I was confident I had all the packages correct, I used the Cab Sender tool to restore the backup that I had created prior to starting all of this (sent me back to 7720), and then I started from the beginning. You could also delete the cab files from whatever computer you are using for this and redownload them. With names like "diff-7.10.8773.98-7.10.8779.8-armv7-retail-microsoft.pks_b9598a098a3a4e902d043cef778a79ff3e6b0869" it is easy to mistake one for another. Good luck!

Nice, thanks, worked for me, now on 8858. Seems like they removed the arrow and the margine and made the tiles bigger.

I was missing the language pack in 8773. Your list helped me spot it.
Back to square 1. Good thing i made a backup!

Thank you, thank you thank. this helped soooo much...

Dude, you are the man! Thanks! My Arrive is slightly less lame now!

did anybody try to put the 8779 8783 and 8858 all together? I only found one restore point, for the 2 steps upgrade.
Is there any official update for Arrive? are we blocked from the official update since we did the force update ourselves? I had those updates to 8773 long ago, and didn't find any problem, so it's not a big deal, but just want to know.

hey there thanks for the tip... appreciate it.. im about to try and upgrade my samsung focus s att using this.. but i had a question and i rather sound dumb askin this than screw ma phone up.. so what i wana find out is how do you recognize the language packs you need against the 24 odd packs available,, my phone has 22... anyone who can answer this???
thanks a tonne

For the HTC Arrive, it was simpler since we only had the English (United States) Pack. I found someone in the xda thread that had recommended that the English pack was the file with "...lang_0409.pks..." in the file name. I don't want to steer you wrong with the Focus S and ruin your phone, but the article below outlines a new tool. You may be able to go through the tool, and when you get to the language selection part, only select those languages that you find when navigating (on your phone) to Settings > Region + Language > Display language. If your phone contains languages that the tool does not contain, it may be too risky to proceed though.
http://www.wpcentral.com/tool-make-installing-windows-phone-78-update-ea... Good luck!

Thank you very much for the procedure. It worked in first try and no issue.
Simple steps and perfect. Please post on XDA also. Now my HTC Arrive is usable again

The detailed instructions provided by you helped me update my Dell venue pro. Thanks a lot. I hope 7.8 is not the final update. There is nothing new except the screen and bing wallpaper.
Not worth the loooongg wait. :-(

ahabenezer,
I joined wpcentral.com literally just to say "thank you" for your instruction. In just 25 minutes, I was able to backup my phone and go all the way to Windows 7.8 and it is great!
Something that I did to make this a little easier is... I made a folder in My Documents called "Windows 7 Phone" and a subfolder of "Update to Windows 7.8" I downloaded the "Force Update Package" file and extracted it to the "Update to Windows 7.8" folder creating the "Cab Sender" folder. For each "stage" listed above, I created a separate folder "Stage 1", "Stage 2", etc. and put each file you'd selected respectively into the corresponding folder. Once I was ready to transfer the files using the Cab Sender program, I copied the files from each "stage" and pasted them into the "Cab Sender" folder and followed your instructions. Upon receiving the visual update from the phone stating "Update Successful", I double-checked the version # in the "About" section of settings on the phone and if it matched the 4-digit version # you had written at each header of each "stage", I deleted the 3 cab files I'd pasted from the "Cab Sender" folder and went to the next "stage" folder to copy/paste and repeat the process. This was so easy, I can't thank you enough for creating this tutorial!
Thanks again dude, you are the MAN!

I'm an HTC Arrive user and am looking forward to getting the WP7.8 update on my phone.
I was doing fine up to 8107, but am having trouble now.
How do you load the code for the updates beyond 8107 into the Cab Sender?
When I click on your links, it takes me to the thread that lists the actual code, but it doesn't upload the cab files to my Cab Sender like the prior links that got me to 8107.
I've tried loading the code onto WordPad and transferring those files over, but no luck.
Any help would be greatly appreciated.
Thanks!

First off, thank you for posting the instructions.
Nevermind, figured it out. Yay, for me. Now to get up the courage to actually do it. Don't want to brick the only phone I have.
One question I have is how do I back up the Arrive? Do I use the Zune software?

If you're on 7720, that would be 7 steps up... You need to go through 7740, 8107, 8112, 8773, 8779, 8783, and finally 8858. All the CABS are there at the start of the same thread. Be sure to do one step at a time, and install each cab with its corresponding language pack (only English). Also check if there are any firmware updates along with the first CABS. They would be in the first posts as well.

I was successful with this method to upgrade to Tango but now I'm getting " 2be8e98c - b04a3a9f - e781edb9 - 88cff6bc Complete with error code: 80070013, error message: An unexpected error has occurred." I did everything the same way I did it last time. Anyone else run into this error? Know a fix? Thanks.

Does this method result in your app data being deleted?

Seeing as this is the last 7.x generation, there's no reason not to

I'm sure I saw a 7.9 update in a leaked Nokia schedule months ago...
So there may be more updates coming for WP7 as well :)

Yeah probably only for Nokia devices. They are good with updates.

And if that's the case, we can just push the CABS as well ;)

Will this work with my HD7 even though we've read that HTC isn't sending an update out?

Left an angry tweet for HTC claiming to be a Titan owner who was disappointed that I wasn't getting an update and that I was ready to jump ship to Nokia (I have a Lumia 920 already). Hopefully with enough pressure HTC will cave and release the update so that people aren't forced to do this. I noticed quite a lot of angry tweets in addition to mine and the corporate reps seemed to be running out of apologies so hopefully that's a good sign.

well technically MS sent out the update all unbranded WP7 devices today. ATT sent out the L900 update today... If you are on a US carrier, i would leave a angry tweet there asking where the eff is your update.

For those of you who don't feel comfortable with the .cab method, an easier method is the "Disconnect Trick". While the .cab method can break future updates (which we probably won't get any), the "Disconnect Trick" doesn't break future updates. In my case, I plugged in, Rogers on Lumia 900 here. Wouldn't detect update... Tried a bunch of times, no luck.
Then tried the old "disconnect trick" with Zune, it worked!
First Update (to):
7.10.8779.8
Second Update (to):
7.10.8783.12 Third Update (to):
7.10.8858.136

Instructions here: http://www.stephenwagner.com/?p=660 and will be posting details as I progress!

I am trying this. I timed the 2 seconds exact. The phone said there was an update, like the pic headlining this article but nothing in Zune. Now phone says no update again. Weird.

So I did this for the Tango update that was never pushed to the HTC Titan through AT&T. If I do this method and a few weeks later HTC and AT&T release the OEM specific update, will my phone recognize/prompt me to update or will I miss out on that aspect?(the voice notes was the only thing that didn't work with the Tango CAB update).

yes or no...I wouldnt hold your breath for an actual update from ATT. I think only some phones on ATT will get the update. ... not all, including the Titan. But yes if there is a bootloader (SPL)/firmware update (which ATT Titans are supposed to be on 4.x not 1.10, then yes it will prompt you for an update) otherwise no, you will probably not get a notification for an update.

Either way this is good news for us who are frankly tired of waiting around. Microsoft never even made an official announcement and I signed up for the newsletter thing to stay up to date and never received one email or anything news related. Thank you XDA!

I won't be trying this, but thanks for the posting :)

so these cabs will update all phones and not only nokias?

ive got a samsung focus 2.

i updated using cabs last time. would this work for me?

thanks

Is it even worth flashing back to stock rom for official update? I'm running voluptuary's clean rom.

Cant get it to beyond first update. Keeps on getting 80180048 error in both methods(zune and can sender). What should i do ?


same with my mazaa :(
Edit: Got it working!!! But I used the links in this Post: http://forum.xda-developers.com/showpost.php?p=21394184&postcount=2
I used th Cab sender Tool und put these files in it::
http://download.windowsupdate.com/msdownload/update/software/dflt/2012/0...
http://download.windowsupdate.com/msdownload/update/software/dflt/2012/1...
http://download.windowsupdate.com/msdownload/update/software/dflt/2012/1...
http://download.windowsupdate.com/msdownload/update/software/dflt/2012/1...
http://download.windowsupdate.com/msdownload/update/software/dflt/2012/0...
http://download.windowsupdate.com/msdownload/update/software/dflt/2012/1...
http://download.windowsupdate.com/msdownload/update/software/dflt/2012/0...
http://download.windowsupdate.com/msdownload/update/software/dflt/2012/0...
http://download.windowsupdate.com/msdownload/update/software/dflt/2012/0...
http://download.windowsupdate.com/msdownload/update/software/dflt/2012/0...
http://download.windowsupdate.com/msdownload/update/software/dflt/2012/0...
http://download.windowsupdate.com/msdownload/update/software/dflt/2012/0...
http://download.windowsupdate.com/msdownload/update/software/dflt/2012/0...
http://download.windowsupdate.com/msdownload/update/software/dflt/2012/0...
http://download.windowsupdate.com/msdownload/update/software/dflt/2012/0...
http://download.windowsupdate.com/msdownload/update/software/dflt/2012/0...
Dont forget to adjust your language packs! I used this 6: english (uk+us), german, espanol, francais, italiano

I might be being completely dense, but I can't make any sense of any of that stuff over on the XDA thread. I registered to ask there, but you need to make 10 posts before you can post there -_- so maybe someone here can help?
Firstly, when I forced the keyboard fix update on my Omnia 7 using this method, it stopped Zune from ever recognising my phone again. Will this be an issue?
If not, my current software version is 8107, what do I need to do to get it to 7.8? There are 3 updates and a Nokia thing on the linked post, plus a load of language packs, but I don't know which languages or updates to install on my Omnia 7 because they aren't labelled (I need Deutsch, English UK, English US, Espanol, Francais and Italiano)
I'd really appreciate if someone can make sense of it for me

EDIT: Never mind, all sorted

I did this on both mine, and my wife's Verizon Trophys. Worked a charm on both. For anyone wondering what language codes equate to English and Spanish for a US Verizon Trophy, they were 0409 and 0c0a. I just replaced the cab files win the previous update zip with the ones linked on the XDA thread (and with the correct language files accompanying each update) and followed the instructions. You should have 8 cab files if you're updating a verizon trophy. Since she'd been nagging me for the last four months as to when this update was coming out, I'm very glad it worked. I guinea pigged mine before touching hers, because my two year contract just ended and I could order a replacement 8X if I broke mine. Since I have the update, I'm going to wait for the high end Nokia to show up, and let the new feel of 7.8 make that wait easier.

Are you sure it's 8 cab files? I have 2 for the OS and 2 for the languages on my verizon trophy. What are the other 4?

Wow, just did the update, all fine, the OS if working fine and smooth as usual, not many new features though. Samsung Focus S on ATT

I'm working on mine as we speak, took me awhile to get all setup (backups, downloads, etc...) since I'd done a fresh install on my laptop since the tango update came out. I can't wait to get those tiny tiles.

Hey if you dont mind me asking how did you get that update, iv been trying the disconnect trick on my samsung focus s sgh i937 w/ os 7.10.8773.98 for over ten times with no luck :( any suggestions...do let me know.. cant wait to get ma hands on it....thanks...

I did the cab sender method talked about in the article.

I have the flash. Can you please tell me which langage packs you used? phone only has 22 language packs but site has 24,not sure which to not load.

Updated my Omnia W (SGH-i677 in Brazil).

just did the update. works perfect! Samsung Focus Flash ATT

Can you please tell me which language packs or all of the cab files that you used? i have the same phone and im stuck on 8783.

I made it as far as 7.10.8783.12 but not cooperating now!

Here we go....7.10.8858.136 coming in now.

Anyone have luck on a Samsung Focus yet?

Doing it as we speak, just about done. I will update when it is and let you know. It's been all good so far. Starting on the 3rd "package".

Works Great for the one minute I used it!!! Awesome!

Does 8783 require no language packs or do you reuse the ones from 8779?

I didn't use them... Just did the 8783 only

There weren't any language packs for 8783, but there are for 8858.

Finished on my 900, Now onto my wifes 1st Gen Focus. Update 8783.12 on the Focus installing. Both on Rogers in Canada.

Updated on my Arrive using the CAB method. Everything seems to be running fine. The start screen refresh may be enough to keep me interested until Sprint announces it will be the exclusive launch partner for the Surface Phone (why not?) Oh and it looks like the Office tile got a little love.

For some reason on my Arrive I cannot get to the 'Lockscreen and wallpaper' seeting, it crashes out each time. Also, my calendar tile seems to not work well anymore. Anyone else that has an Arrive with the foreced update see the same thing?

I also have an Arrive on 8107. Exactly which OS file do I download, and which language pack? I know we only need English, but the file names dont indicate which is which from what I can see.

It's late for me and I'm tired, however I believe it's the 409 pk that's English.

Hello.. I have never done anything like this and XDA is very hard to find stuff. I have an Arrive at 7720. I realized I have to do each step up to 8858. Can someone please post step by step instructions on how to get this updated? If you could post the links to the CABs that I will need for each step will be appreciated. I have the bat file and I downloaded the files for 8779, 8783, 8858. Just not sure really where to find the other 4 steps. And not sure how to actually update the phone. I really want to get updated but I am kind of leary of doing this on my own. :) Thanks!

I'm in the same boat. A clear explanation would be very much appreciated. I also have the HTC Arrive with 7720. Thank you!

Scroll up to the post by ahabenezer, it contains links and a good walk thru of the process. Good luck. And by the way the start screen of 7.8 makes good use of the Arrive's smallish screen. I'd say it's worth the 1/2 hour. Of course doing this is at your own risk.

what packages should I install? I want to do this to my samsung focus! Please help!

I got my Titan II updated and will update my Quantum later. Start screen is pretty nice now.

I have an Arrive on 8107, can I go from 8107 straight to 8858?

Unfortunately you cannot go from 8107 to 8858. You'll have to follow the progression listed earlier by thinkdan. You may be able to do it all at the same time - I don't know for sure, as I've only done 1 at a time.

Perfect! Because I told myself I was just going to play it safe and go 1 at a time using that progression...still have a ways to go though lol Thanks!

I always get the Error 80070017... With Zune or the Cab sender... I have a mi7ROM installed. Pretty sure it causes the error. Any idea how to delete the Custom Rom? :(

If you made a backup prior to installing the custom rom you may be able to restore to it and then do your updates.

i don't, because it made a new backup while trying to install the update :(

This method worked great on my HTC Trophy.

I'm really liking this update. It will help hold me over until Sprint finally gets into the WP8 game.

Thanks for the updates details... I will try tonight at home... Never hacked before, hope this works. Is there anything else I need to know before I start???

I always get stuck on the connect phone to computer screen. Nothing happens. Device manager doesnt recognize my phone. Its some type of COM issue. Also tried the support tool, and that doesnt recognize it either..

wth

Is cable trick same as downloading .cap files? If I do cable trick at zune, do I get those OEM specific filmwares?? Please help me..

Updated my LG C-900 Quantum. Runs 7.8 smooth as my Lumia 710. Sweet.


Updated my HD7s all the way from 7720 to 7.8! So nice to have adjustable tiles and no dumb gutter!

HD7 (TMO) update going smooth. Love the SevenEighter tool! One question, though! When it updated from 8773, the tool made a bacup of the device. Where is the backup stored at?

Here is another vote for the SevenEighter tool! Worked great for me.


SUCCESS!!! UPDATED MY HTC RADAR 4G FOR T-MOBILE TO WP 7.8 OS!
No major major problems, get a lil error message when I go to Related page while looking at an app on Marketplace, but that's all I've ran into since I updated it with the cab files.

^also the volume always pops up when I go to unlock my phone, its an acquired feeling I guess
*****UPDATE: all above errors have disappeared, they've actually been gone a little while after I updated it. I'm pretty sure it was after I later turned off my phone, but then the Super Bowl was on so I never changed my previous comment...

that feature was implemented to make up for the fact that lockscreen music controls are now completely GONE.

Seriously? I listen to podcasts all the time, and use the lockscreen music controls many times every day! I wonder if there are any 7.8 advantages for me to compensate for this. :-/

What? Haven't received the update yet (unlocked L800 in Germany), but what were they thinking? Having just read about the issues with the tiles http://www.wpcentral.com/all-well-live-tiles-windows-phone-78, this update really starts to look borked, especially when considering how "many" new features they added...


The picture shows Samsung Focus 2 with 7.8. Whch CAB file did you use? I cannot find the one for Focus 2 listed under the Samsung CAB files???

You have to find cab files for your specific phone, not just random files, you probably could, but it's probably better to find specific files

Can anyone point me in the direction of the chart that shows which 4 digit code is which language??? I know i saw it and now i can't find it.

cant update my lumina to 7.8 help anyone

HTC TROPHY:
LOCK AND WALLPAPER FIX UK.
As some people ,myself included have encountered the dreaded lock and wallpaper problem on there HTC TROPHY,S after doing the cab 7.8 update i decided to try and fix it.
The solution i found was that i didnt install the correct language packs after the final update.
To fix this i resent the correct language cabs to my phone via the cab sender.
Here are the language packs.
ONLY INSTALL THE LANGUAGE CABS AND NO OTHER CABS.
Spanish (0C0A):
http://download.windowsupdate.com/msdownload/update/software/dflt/2012/05/diff-7.10.8773.98-7.10.8779.8-armv7-retail-microsoft.lang_0c0a.pks_3a0b5492a3b3bbbdbb0aa57f66faaa14c88df184.cab
http://download.windowsupdate.com/msdownload/update/software/dflt/2012/11/diff-7.10.8783.12-7.10.8858.136-armv7-retail-microsoft.lang_0c0a.pks_29c153eae13ce7184ac8abc63eb6345694e9fce0.cab
English - United Kingdom (0809):
http://download.windowsupdate.com/msdownload/update/software/dflt/2012/05/diff-7.10.8773.98-7.10.8779.8-armv7-retail-microsoft.lang_0809.pks_255010547a84862a8621b8819aa202e0d2aa9b0d.cab
http://download.windowsupdate.com/msdownload/update/software/dflt/2012/11/diff-7.10.8783.12-7.10.8858.136-armv7-retail-microsoft.lang_0809.pks_45cef4457233690e536db6b7821af0a39b8aeb98.cab
Dutch (0413):
http://download.windowsupdate.com/msdownload/update/software/dflt/2012/05/diff-7.10.8773.98-7.10.8779.8-armv7-retail-microsoft.lang_0413.pks_4151025cfe909a57fadca5e55992bc1c5b048f31.cab
http://download.windowsupdate.com/msdownload/update/software/dflt/2012/11/diff-7.10.8783.12-7.10.8858.136-armv7-retail-microsoft.lang_0413.pks_753be0cb9312af1bac326f9ee30643985b776a8d.cab
Italian (0410):
http://download.windowsupdate.com/msdownload/update/software/dflt/2012/05/diff-7.10.8773.98-7.10.8779.8-armv7-retail-microsoft.lang_0410.pks_1645c0de81f21046e42bad6feadcc50a621bb025.cab
http://download.windowsupdate.com/msdownload/update/software/dflt/2012/11/diff-7.10.8783.12-7.10.8858.136-armv7-retail-microsoft.lang_0410.pks_01ab9c5b927d1fdfb5de71774056a146697065ac.cab
French (040C):
http://download.windowsupdate.com/msdownload/update/software/dflt/2012/05/diff-7.10.8773.98-7.10.8779.8-armv7-retail-microsoft.lang_040c.pks_b345d08ab6583dbf9e1d132533ec68e2af411e0f.cab
http://download.windowsupdate.com/msdownload/update/software/dflt/2012/11/diff-7.10.8783.12-7.10.8858.136-armv7-retail-microsoft.lang_040c.pks_b34792a900bc0aeafeb0a2aaa666b490e44eb1ca.cab French (040C):
http://download.windowsupdate.com/msdownload/update/software/dflt/2012/05/diff-7.10.8773.98-7.10.8779.8-armv7-retail-microsoft.lang_040c.pks_b345d08ab6583dbf9e1d132533ec68e2af411e0f.cab
http://download.windowsupdate.com/msdownload/update/software/dflt/2012/11/diff-7.10.8783.12-7.10.8858.136-armv7-retail-microsoft.lang_040c.pks_b34792a900bc0aeafeb0a2aaa666b490e44eb1ca.cab This also fixed the Bing wallpaper and the new Colour themes.



Error: Update device 1ad7bbb5 - 2b606dd1 - 86bda68f - 1e614d0e Complete with error code : 8018004D, error message: IU (Image Update) installation failed on phone: No ap plicable packages. Im a Lumia 710 user this is what i couldnt update to WP7.8 someone please help me out!

I'm also getting this error number 8018004D. The first three sets of numbers are different however. and my error message just says "due to an error"...have you or anyone else figured out a workaround for this error? I have tried re-downloading and installing the cabs with no luck, and tried seveneighter as well with no luck. also have tried with and without making a backup.
If anyone has anything that would be great. I used this technique on my old arrive and it worked great and I loved it. Then i dropped it and the pixels shattered, so I got it replaced, sadly now the update won't work. I'm currently stuck on OS 7.10.8783.12, the one right before the real 7.8 update.
please help!!!

Just was wondering... If I manually update my Nokia 710 (T-mobile, so no update coming to me), will I lose all the Nokia software that came with the phone??

Plss can someone help me on how to use the cab sender.I want to update my samsung sgh i917r to windows 7.8