Congratulations to Fhotoroom on 4 million downloads and counting!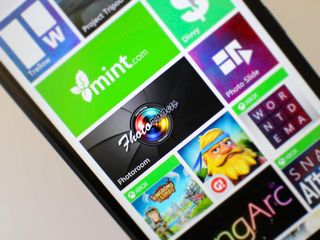 Only a handful of apps have been in the Windows Phone Store for years. The number of those apps that continue to get consistent updates is even smaller. Fhotoroom is one of those apps that has been around for a very long time, but still gets regular updates that fixes bugs and add features. We first reviewed Fhotoroom over two and a half years ago in January 2012. Today we're not talking about an app update for Fhotoroom, instead we're giving them a little congratulations for hitting some impressive milestones with Windows Phone and Windows 8.
It was last June that we celebrated Fhotoroom hitting the 2,000,000+ download mark for Windows Phone. An impressive feat for any app. We've got some new numbers to share about Fhotoroom that are worth celebrating.
As of April, Fhotoroom for Windows Phone has been downloaded over 4 million times. The Windows 8 version of the app has seen over 1 million downloads. Huge congrats to the team behind Fhotoroom.
Those are just downloads though, do users still engage with the app after download? Yes they do, very much so. User Engagement Calls is a metric to measure user activity. It consists of things like comments, follows, likes and other modes of interacting within Fhotoroom. For the team at Fhotoroom, they just passed 500,000,000 User Engagement Calls. An impressive feat when you consider that doesn't take into account photo views, which the team says is in the billions.
That 500,000,000 number was measured over the past six months. The team saw over 160,000,000 User Engagement Calls in the last 30 days alone. Meaning there's some impressive growth happening with Fhotoroom.
Looking ahead we can expect an update for Fhotoroom that targets Windows Phone 8.1. This update will bring support for the Notification Center, a new transparent Live tile, tap to capture, Cortana integration and more.
There are plenty of stellar photography apps on Windows Phone and we're happy to have Fhotoroom pinned to our Start screen. Based off those numbers above, it looks like we're not alone. Congrats to Fhotoroom for showing developers that success can be had on Windows Phone.
Download Fhotoroom for Windows Phone.
Download Fhotoroom for Windows 8 (opens in new tab).
Awesome. I truly love this app along with 6tag and camera360 for my photography. It truly is a great app

Agreed. Usually touch up my pics with fhotoroom then throw them in 6tag. Pretty happy with fhotoroom after using a number of photo editing apps on WP

I don't use it but congrats to them

I love this app! Congrats! :)

Amazing! Love this app and the dev is seriously talented and cool!

Beautiful app. use it way more than I do with instagram. Great work by the dev!!!

So this is like an instagram for the windows phone community?

No we now have official Instagram app http://www.windowsphone.com/en-us/store/app/instagram-beta/3222a126-7f20-4273-ab4a-161120b21aea

No there is Instagram, actually we saw our greatest growth ever since Instagram has come to WP so maybe we should also say thank them as well ;)

Nicely replied. Congrats.

Fotoroom is the Best app for Photo Editing, no doubt in it! But I felt that the styles section needs to get more effects. Unlike, this app all the rest are focussing on this style section to attract the customers and they do provide a lot to pick. If more styles are introduced, it will be more better. Eg: Camera360 - Really loved the way they categorise the styles..

Wow. Tesla, FIRST Robotics and every other non-WP/Windows supporting company needs to know about Fhotoroom's success.

Is this the first app, which hits 4.000.000 downloads in the WP Store?

Off the topic, but I am still hoping to see an article on WhatsApp, guess its never gonna update for us. :(

I downloaded this about 3 days ago. I was part of this!!

It's my go-to app for photo editing. It's just damn god.

Just realised I have it and have never used it.

I still use fhotoroom and love using it.

I love this app!!!!congratulations to the developer

It's an old one, but a very, very, very good one. They deserve success for that app. It's my goto app for photo editing every time.

Thank you everyone, it took a bit to announce this number as i just couldn't believe it. Now that it's at 500,000,000 seeing a our first billion metric coming soon is pretty awesome. We are super proud we found our roots on WP and that really big things can start on WP not just wait for it to come to us. Thank you everyone again and you can still expect A LOT more awesomeness from us ;)

When can we expect a future update?

Woah, take it easy tiger. Give them a night to celebrate.

very soon hopefully in a week or so.

Hope you made some money as well...

So happy for you guys. This has been a staple since WP7. Thanks for all that you do.

I use this and creative studio for photo editing it's very good. Congrats

As always thank you so much Sam for the article.

It's been one of my favorite apps since it debuted on WP7. The dev team is really responsive and are great at answering questions. Congrats FR!

Greatest photo app on the platform. Wish it would take off as a social network for every other platform

My go to editing app. Congrats

This is a great app. Congrats to them!

Congrats! Love this app!!!

its a decent app and they deserve it congrats :)

Never got the appeal of the fhotoroom network. It's just full of teenagers posting poorly shot selfies in front of their mirrors. There are some good photos there but they never get noticed because of all the selfies.

you might want to goto the interesting section or look into the fhotochallenges. Fhotoroom molds to your use, if you never click on the recent section it will not take you there as we preserve your preferences. You can also pin partically every part of the app to your home screen, such as the editor, or camera or a tag and the app goes there.

Not true. You must follow the wrong people. I find it to be sucked with tons of great photography.

Me too. Guess it depends on what you look for :)

Great app. It deserves the acclaim.

Congrats to the the Fhotoroom team! Been loving and enjoying this app long before Instagram came to Windows Phone and I would have been ok if Instagram didn't come. I think the app is more personal and real, one really connects. Most of the time I edit my pics on Fhotoroom before I send them to Instagram that's how good this app is. Keep up the good work!

Congratulations developers :)

I have long been a fan and user of Fhotoroom and now Fhotolens. Fhotoroom is a nice editor app that I use as my "go to". I've also been active in the network and know some great photographers over there. I also love that my pics aren't restricted to square cropping. :) FR > IG

Please correct the typo on the first sentence "have been have been" CONGRATS FHOTOROOM!

Love this app:) Been using it for a year and a half and do all my photo editing thru it.

Love it! I use it whenever I need to edit my photos... even on my PC, I use it since it's easier than opening PS or PSP. you know, just to quickly edit photos.
Hope MS adds image editing like Fhotoroom to OneDrive so I would probably making it there. but for now, Fhotoroom is enough, and I like it on Win8 and WinPho

I guess I don't get the point of these apps. Why would I want to edit a picture on my phone?

Here's a toast to the developers for this amazing app. Waiting for some 8.1 goodness.

Fhotoroom is really awesome.

This is the main app I use in enhancing pictures I took with my Lumia 520..

Deserves all the praise it's getting. It is a superb app.
Windows Central Newsletter
Thank you for signing up to Windows Central. You will receive a verification email shortly.
There was a problem. Please refresh the page and try again.