Fhotoroom, hits a new milestone by reaching 2,000,000 downloads!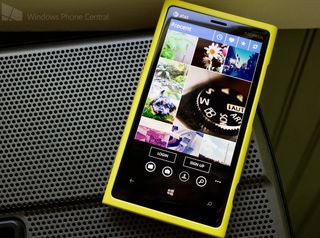 Fhotoroom is a popular Windows Phone photo app that is part camera app, part photo editor and part photo sharing network. Fhotoroom is a distinctively well rounded Windows Phone photography app that recently reached a new milestone, passing the 2,000,000 download mark.
In it's first year, Fhotoroom reached the 1,000,000 download mark and just six months later, Fhotoroom has added another million downloads to the grand total. Not too shabby at all.
The developers give credit to the introduction of Windows Phone 8 which almost doubled their downloads overnight and see this as a clear sign that the Windows Phone platform is very healthy and growing.
And the developers aren't sitting around content with 2 million downloads. Updates to both the Windows Phone 8 and 7.x versions of Fhotoroom are in the works. The update will move the app away from HTML 5 and provide a more pure, native app experience.
We'll keep you posted on the update and if you haven't given Fhotoroom a try, it's a free app that you can find here in the (opens in new tab) Windows Phone Store.
Windows Central Newsletter
Get the best of Windows Central in in your inbox, every day!
George is the Reviews Editor at Windows Central, concentrating on Windows 10 PC and Mobile apps. He's been a supporter of the platform since the days of Windows CE and uses his current Windows 10 Mobile phone daily to keep up with life and enjoy a game during down time.
Does the windows 8 RT version run RAW files?

yes, it does with support for 150 different digital cameras.

You guys should add support for So.cl.. If that's even possible.

It is on our radar just haven't spent the time to research this.

Thanks for the quick response. Love the app and have it on both windows phone and windows 8 RT. Planning to do some serious photography over the summer and being able to plug my camera in via usb to my surface and edit RAW files is exactly what I needed.

2,000,000 on windows phone?? Wow!?

Didn't know there were so many teens girls on WP lol...

Dude, I had the most insane desire to troll you for that comment, lol.

My go to photo editing app. I also use their photo sharing social features.

All the more ironic that this app doesn't get as much promotion as others, could be pushed as a good exclusive WP app instead of focusing on all the other insta clones. Congrats to the devs anyway.

i agree. Glad that the constant flow of app envy people have hasn't stopped this app from growing.

If you listen to some "sources" there aren't even 2M WP's out there.

It isn't going to be an exclusive for long.

It's just a shame that they can't spell, lol. I'm a grammar nazi, so I can't tolerate the app name. :-\

it is a Canadian thing and play on words. Foto is French and Photo English and Canadians can't always make up our minds so > Fhoto ;)

I just need fhotoroom for my iPhone and iPad! I already have this amazing app on my windows phone! :p

Gawd, the minutiae that people complain about. Technically, "Fhotoroom" is a proper noun, as it is a name, thus it is not a spelling error. Also, spelling and grammar are different parts of language. Can we please just focus on the app??

Even though they could have another design change, I'm really happy with all the filters in Fhotoroom!

I like it but the app doesn't seem that popular with all these downloads.

Shame the store doesnt show number of downloads

Congrats to them, I've been using this app for long time, great job

Eeeeh 2 millions download and can't download it in UAE!

But how many users? That's the question. And how many active users?

We can answer that, we have over 1.2 million activty month users and over 90% of those 2 million have spent more than 10 minutes in our phone app in the last 2 months. We also unlike most apps don't restricit you from using our app regardless if you are registered or not. Lastly on our Windows 8 app, ppl spend 5x more time in our app than they do of the average of the top 5 apps in the same category.

Well, can you answer this?.. Have you made good revenue from this app?... And if so, can I borrow 50 bucks?.. They're about to turn these lights out over here, and I'm runnin low on 40's kid!

Thank you everyone for the support, I have enjoyed developing for WP so much and it was all the amazing feedback that helped us make a better and better app over the past year and half.

Love the app on my Lumia 920, HP Windows 8 laptop and Surface RT!

I LOVE this app. When I show it to my friends with their old and bad looking iOS/Android they use to say 'wow, this is better than Instagram' :)

I got it from day one and love it better than instagram

Great app, but they don't make it available in Vietnam. I had to change my region to US in order to download it. BTW, it crashes from time to time.

We are always adding new regions and have been reject by several so these things are not always our choice, that is the nature of social network apps of any kind in the world dynamics today. We will judge our chances of getting approved there and if so we will definitely add it.

glad to hear that. Btw, did u take a look into the issue I mentioned above?

I think it is better than instagram, this has more effect than instagram, can upload a image with full size, instagram is only with rectangle. I can edit my picture by change constract, brightness...

true. The filters of both Fhotoroom and Lomogram are miles better than those of Instagram.

They've done everything right as far as I'm concerned. I'm happy they're going to move away from the HTML5 platform, that's been long overdue, and I'm happy that they updated the Win8 app to include your friends and feed.

2,000,001 now! It is mine.

This just shows that there is no reason for developers to complain about WP. If you do it right, you get your user base.

Fhotoroom, you guys are AWESOME!! Give me more options to spend some money in your direction :)

yah. I am willing to pay for this app if they make it available here in Vietnam.

Fhotoroom HDR is also a KICKASS editing program for windows desktop. I use it for my professional edits

How the hell do you unlike something? Was simple on instagram

Im using a lumia 920. When i tap the link the store said it doesnt support your phone! What??!!

I want this app on my iPad and iPhone!! :p i have it on my wimdows phone.

Sweet. Instagram lost to instance too

I hope it stays Windows Phone exclusive longer or charges iOS/Android. This is one of the gems that I use when showing off the platform. Surprisingly many people like the social network better than Instagram because of not being restricted to squares and Fhotoroom users seem more interested in general photography than just selfies, food and pets drenched in hash-tag.
Windows Central Newsletter
Thank you for signing up to Windows Central. You will receive a verification email shortly.
There was a problem. Please refresh the page and try again.