Consumers not happy with EE exclusivity in the UK, problems with availability and plans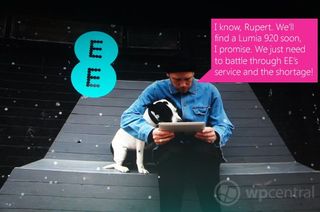 It hasn't been the best of starts for the new UK carrier since it launched the first 4G network in the country. EE holds exclusivity on the Lumia 920, with available handsets at Phones4u locked to the network, forcing consumers with different providers to look online at unlocked prices - which went anywhere up to £550. So why has there been so much outrage at EE and the Lumia 920 launch?
It firstly boils down to Ofcom allowing EE to launch its 4G network ahead of the competition. A single provider of a service can set pricing accordingly due to little competition. O2, Three and Vodafone each complained at the decisions made by the regulator (though carriers were also at fault for the delay in 4G rollout - according to reports), which were backed up by consumers who wait for 4G coverage to be introduced. That's problem numero uno - cost of services offered by said company.
We're not looking at the pricing alone though, but also what's included. EE currently has an allowance of just 500MB on its cheapest plan. Now remember, this is on a 4G network. We're sure you'll be able to work out the math on just how quickly that limit could be reached. It's slightly ironic that the carrier's advertisement highlights the ability to stream video quicker than a 3G provider, but at least you'd be able to watch more than 500MBs worth in a month, right?
If you'd like to take advantage of the 4G speeds, you'll be looking at a minimum of £36 a month (opens in new tab) (for 24-months). For unlimited call minutes and SMS that's quite a reasonable price. But you're being limited by that ludicrous 500MB limit. To compare against a competitor plan with similar allowances, Three offers its One Plan (opens in new tab) (£25 a month) which includes 2,000 call minutes (with 5,000 to Three numbers), 5,000 SMS, unlimited data, and it's on a rolling 1-month plan.
It hasn't been a smooth ride for the new network (but then is the service 100% perfect on any network?):
.@ee Does Bacon know how you rotten sods wouldn't upgrade a business customer to 4G last week? One with 30,000 followers? No, thought not..@ee Does Bacon know how you rotten sods wouldn't upgrade a business customer to 4G last week? One with 30,000 followers? No, thought not.— AngryBritain.com (@AngryBritain) November 12, 2012November 12, 2012
Problem number two that's rubbing consumers up the wrong way is the decision made by Nokia to make the Lumia 920 exclusive to EE. The manufacturer has decided to go with EE until at least the upcoming festive holiday period, so if you're hoping to pick up a Lumia 920 from Phones4u (or another retailer) for use on a different provider, you're stuck until 2013 - at the very least.
The Lumia 920 shortages hasn't helped matters. You've probably (or should have been) following our coverage of dwindling stock on a global scale. Telstra in Australia went out within hours, as did Clove, AT&T and Rogers stocks were almost non-existent, and Expansys UK sold at least 50 handsets at the unlocked price of £550. It's been an odd launch to say the least.
EE do, however, have some awesome advertising...
... which is then hit by more feedback from consumers:
Now, back to EE. The data limits will not affect you if you're a light user who keeps up-to-date with friends and downloads an app here and there - but if that's the case than 4G really isn't for you, not until other carriers launch their own 4G plans at more competitive prices and coverage improves to beyond a handful of cities. Consumers have left comments on EE's Facebook and Twitter profiles regarding its service, pricing and current limitations on available plans.
Let's never forget why we're improving the infrastructure to accomodate 4G speeds. More data, at quicker rates. This requires larger plans, not limitations with maximum pricing. EE's selling point is 4G. They'd have a more positive time if they lower pricing, increase (or remove) data caps, and further increase the rollout speed of 4G coverage across the UK. I will remain skeptical about the network and wait until Three (and other networks) roll out their own upgrades in Spring 2013.
Have you had a bad experience with EE? Have you used its 4G service? Be sure to head on over to our community forum to sound off your thoughts on the 4G UK situation, you'll also be able to join in the EE discussion.
Windows Central Newsletter
Get the best of Windows Central in in your inbox, every day!
Rich Edmonds was formerly a Senior Editor of PC hardware at Windows Central, covering everything related to PC components and NAS. He's been involved in technology for more than a decade and knows a thing or two about the magic inside a PC chassis. You can follow him on Twitter at @RichEdmonds.
HA SUCK IT UK! Now you're suffering EXACTLY the same pain Canada is suffering: 1) ridiculously priced plans (plus canada has a minimum of 3 years on contracts) and 2) Lumia 920 exclusivity on the network that refuses to teach their sales reps anything about windows phone.

Anecdote: i walked in to a rogers store today, waiting in line to ask about the lumia 920. The lady in front of my asked about the lumia 900, in fact there was a lumia 900 box right in on the table between her and the sales rep! the rep said, "I don't recommend the Lumia. It's extremely difficult to use. iPhone is much easier." I was so pissed off, i left. I was afraid my temper would make me say things that I would later regret


please note that I'm not actually trying to offend the UK, i'm just a very dissatisfied Canadian Rogers customer

"HA SUCK IT UK!" was kind of a "douchey" statement but I still giggled at its silliness. It reminded me of stuff sports fans say.

oh dude you should not have left. You should have said: "Lady actually this man is retarded and does not realise that wp is actually just as easy (if not even easier) to use than ios" or you should have just punched him in the face, or both ;)

I was actually talking to my friend afterwards about wanting to punch the guy in the face lol! And yes I know I could have said something, but I was honestly too pissed off at the time. I was afraid I wouldn't sound coherent, and I was afraid I'd say so many swear words that i'd be kicked out of the store.

Or even better...

"Strange then that Windows Phones have more satisfied customers in three different ratings. Why do you think that is so?"

That should get hom to think twice I hope...

You havn't done any good by leaving. you should have said no its not, its actually easier and you dont know anything about this phone because your a ifunboy...

Congrats now they know how I feel about at&t. But I can wait 6 months.

My first thought exactly. Why should they be any different than those of us on Verizon?

EE is ridiculous, I can't get this phone on contract because I fail every credit check (I'm not in debt, just don't have a credit rating apparently). And god knows how long I would have had to wait until I could purchase it sim free.
I've ended up buying the 900 to replace my broken 800, it's a shame though, I like Nokia and was hoping to get the 920.

Bailey, it sounds backwards, but you can improve you credit rating by getting a credit card (you would think not having one would be more beneficial, but it works other way round)

To be honest, i skipped ee's 4G on my lumia920, instead opted for orange... Couldn't be happier, 3G in London is pretty fast on orange. I get speed of 8-10 megs. For some it wont be fast enough, but the lumia is such a pleasure to hold, that 3G speed becomes secondary!...

Seems to me theres an easy solution, buy another phone on another network. Problem solved.

Its the only 4g network. Therefore we all already have another phone on another network.

That's what i did, got the 8x instead. I wanted to give Nokia my custom but they don't seem to want it :)

The Lumia 920 is such a nice phone to hold. The solid feel of it and the weight compliment each other so well. The screen looks great and responds very well. I was disappointed Rogers only picked up the black initially but happy I decided to pick one up on preorder. Very happy with it. Now if only Google would release some of their services/apps to the platform such as a Native Google Talk app and TD Bank would release an app - I think I would have all of the requisites ticked. :)

Alas this seems to be a "Perfect Storm" of "Unfortunate Circumstances!"
Nokia's quest for 'promotional exclusivity', which, whilst seemingly reasonable in other countries, has run into the UK's slow uptake of 4G, which is currently only available from EE (and won't be available from/on other carriers for another 6 months!). Which, of course, leads to the situation of the 'Captive Market'. Except, in this case, in their Eagerness to capitalise on their [temporary] exclusivity, they have decided to Overcharge and Underdeliver, which, in turn, leads to a very (S)low uptake.

I, for one, am on Orange, unfortunately their website is absolutely crap! Its one of those sites that as long as you are browsing, it's seemingly fine. However, should you have the need to access any functionality linked to your account? then it just falls right in the toilet. Log-in's log-outs. enter your password. site down. enter mobile no. for one-use token that leads nowhere. circular clicks. etc.
I may want the phone, but nowhere near that bad to put up with such a time-wasting site. Much less pay an exorbitant monthly price (or early contract change fee). Or accept such a miniscule, pointless data plan. Or..., you get the picture.

I fear that, for the UK at least, the Nokia exclusivity/EE 4G network issue may backfire. Either way, I won't be paying [EE] to help them recoup their investments in just one year, before competition Forces them to lower prices and raise data caps.


lol, guess you've not tried the O2 site then, just as broken, can't view my account online, and i'm signed up to online only billing...i had 2 email addresses at the time i signed up to it, i've tried both, both of which apparently have an account linked to, but neither is the one that really is my O2 account.... they have all the right information, but when i click my bill (or any other account related link, it says something about no linked account found) and because of that, i can't sort out the upgrades or shit, nothing works on the site, i try to sort it out with support, they didn't help, admittedly, that was the last time i upgraded nearly 2 years ago, but still, it would be nice to have online access to my account

well, hopefully when this exclusivity runs out we'll all start to get a proper service, but i think it's more likely that every other company will just jump in with pricing to match those fleecing sphincters at EE (or whoever got exclusivity in the other regions)

Why do people want such a fast mobile internet speed anyway? 3G is plenty fast enough to stream a 720p movie in my experience. What's the big rush?

I used to think the same way that 3G was fast enough. After getting LTE on my 920, I will never go back to 3G. Things just work much faster and much more pleasant.

Microsoft continues to "upgrade" our phones removing key experience features :'(

All I need to know is when the supplies will be replenished as I'm eager to show off to my coworkers. They have been bugging me to buy the iPhone.

Is it me or is Nokia just really dumb. Exclusives on brand new UK carriers, exclusives on USA carriers, poorly performing apps e.g. Words with Friends, Xbox Music (guess this is MS but can't Nokia be like wtf...) have to say I love my Lumia 920 but if this continues I may look elsewhere for my next phone.

I totally agree with you, I was sooo impressed when I learned that you can have an unlimited data plan for 35$ in the US !! I have never ever seen an unlimited data plan in Canada WTF ! I pay 40$/month and I have 100MB of download (I turn my data connextion off all the time and turn it on when I need to use it). And I for the so cool (not!!) 3 years contracts...lets just say that I've never been trought one (my max was 2 years lol). So for my friends in the UK, we, canadians, Totally know what you're feeling about all this...in hope that things will change someday ;)

'tis a lil poor atm for us in uk :(

Yep. This whole thing is why I now have an 8X. Luckily i haven't looked back. Actually glad I didn't go for the Nokia.

Wow. I have with my network (Free Mobile):
- unlimited voice calls in France (mobile and "classic" phones)
- free calls to more than 40 countries ("classic" phones only)
- unlimited text messages (SMS/MMS)
- unlimited Internet (H+, E after 5Gbs)
That's for 19.99€ a month (or 15.99€ if Free is already your ISP). And the best? No contract engagement, you can leave after a month :)
(as you can guess, Free Mobile doesn't subsidize phones, so you have to buy them unlocked by yourself)

Wait till you guys see the wp8 were working on here at Microsoft ;) Nokia did do a great job with the 920. Thanks for all the Microsoft support!

Am upgrading today, have use 4g at work and should have it at home in less than 4 weeks love how much faster it is, like river optic on the move

Ordered from EE on the 30th September and STILL waiting for the phone. Only 12 month contract though so it works out quite cheap for 4G.

Yep, Nokia totally ballsed this up. Rich you didn't mention how in terms of their 3G coverage/speed/customer service EE and it's constituents are total rubbish in half the UK. I was very keen to get a 920 but without even a useable 3g signal where I live and 4g a distant pipe dream, the EE deal made it a total no-go. The various reports of bugs with WP8 have kinda put me off being an early adopter too. Gonna stick with my trusty old 710 for foreseeable future now and save myself some money.

I got my 920 from Phones4U on Orange(owned by EE) so it exclusive to the group, not just the LTE network. Plans on Orange are actually competitive, and cheaper than O2 (looked at them for the 8x). Though i haven't tested it as i don't have another micro SIM, i'm pretty sure the phone is unlocked. Only disappointment for me was that they didn't do anything less than a 2 year contract. I normally go for a year or 19 months and pay a bit more towards the phone. Bought off of Phones4U website so I didn't have to deal with their clueless shop staff (I had to tell them which phones ran WP8). Also P4U is the only place you can buy colour phones. EE group only sell black and white. Nokia have definitely shot themselves in the foot though, as this is the first big exclusive in the UK since the iPhone 3g, and on this side of the pond we don't take very well to being told which network to use.

You might think that you could get around the uncompetative tariffs by sticking on 3g with Orange or Tmob Uk (the constituent companies of EE) and then moving up to 4g when prices drop. But oh no, they got that sown up too.
If you try that, you have 6months to upgrade, and that will cost you £99
If you wait longer, you will have to buy out the full 24month contract (up to 18mths at around £25pm = £450) and start again!
Needless to say, I'll be waiting before upgrading my 7pro untill the other UK carriers get 4g.

I stuck with o2 and purchased an unlocked handset. I now have the freedom to use whatever provider i like and i can still use my Chinese sim when in china.

Good move. Pity that facebook and twitter in China are blocked as me and my family are planning to go to Beijing next year. Something I can live with, but if I was working there it'll be a pain.

Nice to see an article on just how useless ee have been. I pre ordered my 920 from them on the 1st of november and on release day (9th) had heard nothing from them. Phoned up their web sales team on the 10th to be told the phone hadn't been released yet... I waited until Wednesday to see if the preorders would ship but nothing, phoned the web sales team again but got told again that the phone hadn't been released yet... So I phoned a local store to see if they had any in stock and they had 10! So during my lunch break I wandered down to one of the ee stores to pick up a 920, I spent 2hrs in the store as they tried and failed 5 times to move my account from orange to ee without success. Finally they had to phone through to a support number to get my account moved over. Apparently they haven't been able to move a single customer over from either tmobile or orange to ee in store. They did try to charge me £20 for the phone... After all this, but I managed to get them to give me the phone for free. My wife is having the same problems with a preorder for a 820 from ee... They don't have any phones and don't know when they will be dispatching them... The launch of the Nokia phones on ee had been a complete balls up and it looks like the launch of the ee brand had been a complete balls up to if there stores cant migrate existing customers over to ee and 4g

It has been a total mess. I pre-ordered on the 30th and I'm still waiting for my White 920. EE haven't contacted me once about the delay or even to confirm the order! I've contacted them 3 times by phone and they've now blocked my tweets from appearing on their feed. They even told me they didn't place my order internally until the 5th and now I have to wait up to 30 days for delivery.....yet their website still advertises 14 days?!?!?
I don't care about 4G, I can't get it where I live and as I have wifi access all day i use less than 10Mb a month. I went with EE as nobody else offered the phone when I placed the order. As they've taken the money from my account (on the day of order no less!) I can't afford to get one elsewhere and cancel my EE order.



The one thing I will say in EE's favour is that they have given a lot of 920s to their call centre staff so they are actually super enthusiastic about the handset. Oh, and I managed to get a 12 month contract. Whoop!

Can't get any signal on Orange or EE in my area so i am going to be switching to o2 when my contract ends... Hoping that o2 will be given the cyan N920 as an exclusive... unlikely, but here is hoping!

I was duped by p4u into swapping to orange (ee) from o2, with a lumia 900 and it's the worst decision to make from a carrier point of view as i can't get a signal indoors and I'm stuck with them till 2014, so here's a tip for everyone. Orange/t-mobile decent signal outdoors, rubbish signal indoors. o2/vodaphone decent signal outdoors AND indoors.

I find just the opposite, in fact vodaphone is one of the worst signals ive ever had

I was one of the first to order the phone from EE on the 30th October and I received it last Tuesday. EE did estimate delivery on the 17th so it was good to get it sooner. I switched from o2, worried about signal problems, call dropping etc but really wanted the 920. It's an amazing phone and 100x better than my old brick - the HTC HD7. I paid £19.99 for the handset on a 12 month contract, paying £56 a month. That is the most I've ever paid, but actually for the price of the phone alone that works out as a good deal. In fact, as soon as the phone was released officially, they changed the price of the handset to something like £159.99 on the same contract. I do get 4G most of the time and it is really quick. I'm one of the happy customers.

Pre-Ordered Lumia 920 on 30th October from EE & still had no info on when I would recieve the phone by 15th Nov. I started getting worried after reading complaints on Twitter re the EE service. I called CS to find out the status of my order. Was told it was on back order & after speaking to 3 operatives, no date was forthcoming. I was so pissed of at this point I cancelled the oder.
Decided to order an HTC 8x via BuyMobilePhones.net & managed to get a great 12 month deal on Vodafone. I am really happy with my purchase.
This nonsense with EE & Nokia is going to cost them both dearly. People like myself with money to spend on a Lumia 920 have bailed & gone to other OEM's as it was next to impossible to get one. I hope a lot of arses get kicked. This nonsense should never be allowed to happen again. As someone said previously, Nokia have shot themselves in the foot.
I would never touch EE Contracts ever again, my experience was so bad & as for Nokia WTF are they up to? It's beyond belief. This rollout is beyond embarrassment.

Maybe EE lost the keys to the container from China... Or the whole damn ship sank... Surely Nokia must shoulder the blame with the appalling availability. Im into my 4th week waiting for a white one. I don't remember what life was like before this mountain to climb- its a phone, im not trying to beat the whole system. *waves weary fists at EE*

Also: has WPCentral approached EE or Nokia UK for comment on this?

We have, and are eagerly awaiting a templated PR response :-)

So I purchased the phone on EE - £50 quid handset, £41 quid per month for unlimited texts and calls and 1 gig of internet. I would have vastly preferred to get it sim free and use a different carrier, and this was only possible using Orange or T Mobile (or, as was later found to be the case, virgin.)
Most UK plans apart from those on three come with 1gb of internet per month as standard. With anything approaching unlimited minutes, the 3G plans tend to cost £37 per month, which means the 4G premium is £96 over two years. With £75 cashback readily available, this amounted to £21 over two years for 4G, which isn't such a price premium - even the extra £96 for the new tech is not entirely unreasonable. EE have caught an awful lot of flak for their pricing, but if any of the cashback deals that they indirectly fund are used, it's really not that bad.
The comparison to three is also unfair - if you want the One Plan on a rolling monthly contract, you would pay at least £400 for the phone even if it wasn't an EE exclusive.
This isn't to say that EE is all roses - the network is sometimes (often) totally rubbish, but appears to be slowly improving. There is also no easy way to check your data usage on windows phone which is infuriating (although you apparently can't just bust through your data limit without it warning you.)
Whilst it's not the best deal in the world in terms of data alone, the 4G is nice to have and my usage in terms of data is similar to how I used to use my iphone - videos etc on wifi, and maps, browsing etc when out and about. I don't foresee the data limit being much of a problem - just because I could use it up in ten minutes, it doesn't mean I will!

Counters app in Nokia Collection? Not sure if its on WP8 yet but I can get it on my 800

I can't seem to find that or Data Sense - might not be out in the UK yet or on WP8. Cheers though!

I would like to know exactly what Nokia are getting from EE for this exclusivity deal because its certainly not advertising! If you look on their site, it is plastered with iPhones and GS3's. It's only when you start digging into the site that any information can be found about the 920.
Like many others here, I pre-ordered at the end of October. Due a to lack of any sort of information regarding the delivery of my phone from EE and then seeing them start to become available instore at Phones4u, I cancelled my pre-order and got the same deal from Phones4u.
A total shambles of a launch from all parties concerned.

Just looking at tariff options as I am at end of contract.
A guy asked me in the EE shop, how much data do you use a month at the moment, I say about 300MB. He said i'd be fine on the 500MB tariff. I then said that I would change my habits if I had more bandwidth, streaming music/movies/radio etc. Apparently they don't have a tariff for my requirements... :(
GiffGaff running on O2, 250minutes, unlimited text and 3G data, £12 a month!!!? I think this will do until the 4G competition arrives.

I honestly can't see the point of 4G in UK - speaking from experience, in London and Bristol 3G speeds are really good (I get H+ icon on my 8X), certainly good for YouTube streaming and good quality Skype video calls. Although in rural Wales I'm lucky to get 2G... (to be fair, it can be quite fast as well).

Agreed. My HD7 can get H too, no problem. 3G here is perfect at the moment (I live in Portsmouth) and I believe 4G is a pointless upgrade until it really starts to kick 3G's arse.

EE need to sort this out. Ridiculous plans and advertisements even I haven't read nor watched. I live in the UK! What does that tell you? And Nokia shouldn't be ducking here - making the Lumia 920 an exclusive to an upcoming service such as EE is laughable to be honest. How Nokia expect sales to increase, the Windows Phone platform to become a more stable competitor and Nokia to have trust from consumers again is beyond me with stupid decisions like this.

Luckily I'm with Orange and the service is okay where I live, so I was able to upgrade through Phones4u on Wednesday last week, and got my Yellow 920 by Saturday. Kept the same contract (Panther 31) and the phone was free.
However, from what other people are saying in these comments, it seems to be the situation that instead of the 920 causing customers to switch to EE, it's EE driving customers away from the 920.

Does the 920 also support the 42Mbps HSPA+ data speeds run by someone like Three (if you can get hold of one unlocked)? I just got a Nexus 4 (you usually find me on Android Central btw) and I'm seeing speeds of 21Mbps down a lot at the moment which is pretty damn good. And it's unlimited. EE aren't really appealing much right now to heavy users!

Bah,

Virgin mobile work on the EE network so I went out and bought a sim only package from them, 5 mins with a pair of sissors (virign arn't there with micro sims on their rolling 30 contracts yet) and a 20 min call to the with my PAC code and I was on my way to having a EE free experience with my phones4u lumia 920 red.

Nokia must have known they were going to have production problems, and couldn't get significant amounts of stock out for a few months. In view of this, it possibly makes sense to only make the phone exclusive - sure, it's douchey and will annoy a lot of people, but those people were going to be annoyed anyway due to stock shortages...

huh, fair points. However watching 1:30 video 10 times will take 15 min not 13, just saying ;)

Nokia needs to bring sim free 920 to the UK none of this contract rubbish at least expansys and clove have got the right idea :)

I was going to get a 920 on EE. Lack of stock and silly tariffs stopped me. Also, the staff in th dull stores are awful. On a new iPhone 5 on 3. The one plan. Now very happy

i bought the phone sim free from Phones 4U website then went into an EE shop and just bought a std SIM only 1 year contact all you can eat for £21. Dont have 4G where I live so great deal.

EE have been so stupid. Any smart phone user wants 4G if they can get it. Since EE had the ludicrously unfair advantage of being allowed to offer 4G in the UK before anyone else, all they needed to do was set stupidly cheap tariffs - £30p.m. for unlimited 4G, or even cheaper - something really headline grabbing. £10p.m for all you can eat 4G. Whatever. Users from every other network would have been very hard pressed to come up with a reason not to abandon their current provider and migrate, especially those wanting a Lumia 920. As it is, EE have totally messed this up, pricing the new technology in such a way that most people have been happy not to take a chance on the coverge of 4G and wait to see how much it will cost when O2 and Vodafone are finally allowed to offer it. It's so expensive that it's not even slightly attractive, and the opportunity to steal users from their rivals in their droves has been completely missed by EE.

You're on 3 and you're happy? I think you're the first person I've heard say that!
Windows Central Newsletter
Thank you for signing up to Windows Central. You will receive a verification email shortly.
There was a problem. Please refresh the page and try again.