Lost? CoPilot GPS now officially available for Windows Phone 8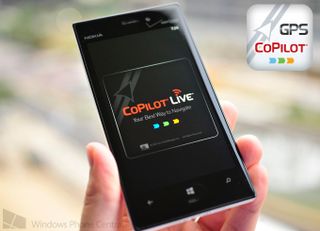 We first saw CoPilot GPS for Windows Phone 8 back at Mobile World Congress. Over the last few weeks, the app entered into final testing and tonight, the app is finally available for download.
The popular navigation app brings yet-another solid choice to Windows Phone users who are looking for a concrete driving solution. Truth be told, we've been using the app for a few weeks now and have been quite impressed with its bold graphics, traffic integration (we really like the traffic bar to the right), voice navigation (yes, some of the voices even announce street names) and overall "smartness" of the app, including a ton of various configurations.
CoPilot is itself free with some limited features and the company has embraced the in-app purchase model where you buy features as you go and as you need, rather than plonking down $20, $30 or $40 for the whole app with all the tools, whether you use them or not. We understand some don't like IAP but we're big fans of the À la carte model for software in 2013.
Other features of the app include:
Premium quality 2D street maps stored on-board your phone for offline use
Powerful door to door route planning with multi-stop trip optimizer
Millions of Points of Interest
Alternate Routes: choice of up to 3 ways to your destination
Driving directions: manually scroll through the turns to your destination
Walking mode: explore unfamiliar cities without data roaming
14 days FREE use of full voice-guided navigation and ActiveTraffic™ features.
IN-APP UPGRADE TO VOICE-GUIDED NAVIGATION
Upgrade to full in-car navigation features via in-app purchase and enjoy unlimited use of turn-by-turn guidance with voice instructions, 3D maps, speed limit warnings, ClearTurn™ display, lane indicator arrows and much more!
AVAILABLE MAPS
Download any ONE of the following for free: US + Canada; UK + Ireland; Balkans; BeNeLux, Russia; DACH; France; Greece; Iberia; Italy; Nordics; Poland; Romania; Turkey; Ukraine, Southern Africa; Australia + New Zealand; Brazil; Middle East/GCC.
Traveling abroad? You can add extra map regions through in-app purchase
Sounds like something you may be interested in? Then check out our quick hands on of the app above or just head to the Store here to download the app yourself. Sound off in comments on your thoughts!
Daniel Rubino is the Executive Editor of Windows Central, head reviewer, podcast co-host, and analyst. He has been covering Microsoft here since 2007, back when this site was called WMExperts (and later Windows Phone Central). His interests include Windows, Microsoft Surface, laptops, next-gen computing, and arguing with people on the internet.
Looks great, just the 'skeuomorphic' view doesn't suit the UI ... No go for me on WP.

It's really quite minimal, in fact it's only on the lower 1/3 of the navigation screen and there, it's not too bad (everywhere else, it's all flat, square and simple icons). I honestly don't understand why some of you are such purists on this issue, but to each his own...

I'm with you on this one @Daniel Rubino.

+1
Hey Daniel, sorry I'm asking you here, since the forums didn't help.. but i have a Lumia 520 which creaks when i press the right side of the phone. Feels like the back panel doesn't fit well. Are all 520s like this?

Thanks @expresswagon. I shall check with nokia care then.

iOS interface? Ouch... Is It using Navteq maps?

aka Nokia's Maps.
It wouldn't surprise me. Navteq (Nokia) is one of the largest providers of 3rd party mapping data.

It looks very similar to the old Windows Mobile, that's all.

Hi Daniel could you do a feature for a comparison of the various gps software. I've been noticing this week that gps software relaeases have been making a comeback lately. Microsoft has released higher resolution maps, mapquest has released their gps software and now I'm hearing about co-pilot. Could you do a segment on microsoft maps vs nokia/here vs mapquest vs co-pilot vs navigon? Thanks.

How is Navgon as the King stand against the competition.

That would be good. There's also a thing called "GPS Voice Navigation", which looks like it piggybacks on other maps. And "Wisepilot Navigator". They might be pants.

I would also appreciate knowing if we will ever get an update for Garmin? I would really appreciate WP8 resolutions and background multitasking. If it had that it would still be my top choice. I know they are owned by Navigon (or vice-versa), but it was an expensive app and it's kind of shitty for them to not update it.

Yes, a comparison would be nice. By the way, is Nokia Drive really still the only navigation app to use the WP8 run-in-background feature for gps apps?

How is it better than Here Drive/Maps??

and why should i pay for consumer level navigation apps?

Waaaay more features including traffic rerouting, multiple routes, better POI, etc. Honestly, it's night and day but the differences only matter if you drive a lot.

Is Drive that bad? I've always seen people saying it was one of the best free things about Lumia's.

Drive is not that bad. I've used it on multiple long drive trips, never had a problem but it lacks in certain features when compared against premium GPS apps. However, Drive is free and you can't beat that. For other premium GPS apps, you have to pay a hefty amount. So if don't drive a lot, you can actually use Drive just fine. If you drive a lot, then you might wanna invest into a premium app.

Not having used dedicated GPS apps or hardware, I think that Drive is great, but traffic integration is something I'd like to have. That said, unless an app is really high on the value index, I'd rather wait for HERE Drive to come out of beta (at which point it will have traffic integration and multiple routes [at least for commutes]).

Here Drive has a lot of issues in Serbia - streets are there but routing is awfull. In the center of the capital, Belgrade, I would get killed or inprisoned if I would drive as Here maps suggest. In 2 minutes of driving he suggested me to go into 2 one way streets in the wrong direction, then cross double full line to make a turn and another one full line. It would be understandable if the changes to those very frequent streets vere recent, but the route I took has not been change since it was built over 60 years ago. It seems that the software guesses where you can turn instead of "knowing". I am sure that most large cities are covered well but Belgrade is a 2 million city and should be covered properly...

I had them on Windows Mobile and loved them. Unfortunately, they pissed me off by not developing for Windows Phone at the time. I am glad that they finally decided to go this route after 2+ years, but it's way too late for me and probably others as well. I wish them luck, but I am quite happy with Navigon at this point.

What annoyed me was their complete refusal to consider WP. I too used them on WM, but they wouldn't even hint at the fact that they may develop for WP. Because of that I spent (what I consider to be) way over the odds on Navigon. The whole offline nav on WP has been a very frustrating experience.

Just goes to show that being the third place mobile OS is really paying off for Microsoft, it means that companies can no longer ignore Windows Phone. If you still have your account for co-pilot then if you login using that account then your license should transfer automatically. I used this on Android and entered my login details and it transferred my licenses automatically.

Ditto. Nokia satnav didn't cut the mustard for me, so in the absence of CoPilot I bought Navigon.
Sorry CP, you've missed your chance!

I totally agree. CoPilot worked great on Windows Mobile and Android, and I would go with them if I had not already bought Navigon long ago.

I used to have that on my HD2 and it was great. Will definitely look into it. Can we avoid the "why do I need that when I have Nokia Drive" comments? That's just silly, choice is great.

I'm not sure it's "silly" fir someone deciding on whether this is a good use of their funds when they have a functional nav app included with their device. I think it's a fair question.

Well people have always said one of the advantages of the Lumia and WP over iOS/Android was having Here Drive built in for free. With this and other nav solutions coming out lately people have been saying that Here isn't that good, so it's both good that alternatives are there but at the same time is a blow to Nokia.

Not having a car I've never played with Drive, is it really that deficient? What do Nokia need to do to improve it?

Yeah - it's completely silly for someone to ask about the features and benefits over the stock choice when considering if the app will bring utility and value to the table.

Bummer... Nothing for Asia :/

Interesting. I don't drive THAT much and Here Drive seems to be doing the job. I'd love traffic redirection and I hope Nokia/HERE adds that soon or I might be using Waze or an option like CoPilot. Does anyone have "price list" of what these in-app-purchase are and what the cost is?

I am buying needed a well rounded working navigation with out too many bugs and great features good to see Windows Phone getting apps like this I am all go!

Been using this app on Android and iPhone for years. Really glad to see it come to WP8, looks great on my Samsung ATIV and my already owned licences (UK and full USA maps) transfered across with no pain at all, 1.5Gb downloads later and I'm happy.
Have used Nokia Here Beta for Uk navigation to date and although it is good for 'free', CoPilot is much more feature rich and a much better driving experience.

I hate Here Drive on my 920. While driving stop updating my location and stuck.

Yeap, same here, multiple times.

What are you in L.A. for right now Daniel?

I would guess E3 (Electronic Entertainment Expo).

if you have purchased it before on Android and sign in with the same details it will transfer your license so you dont have the purchase it all twice!

Yes it will, my UK and USA licences came across OK. If it fails on first attempt, press the 'Try Again' button and it will get them.

Just downloaded the program and licenses did in fact transfer without any problems. So now I have the voice navigation feature without paying any additional fees. It will be interesting to test how this compares against Nokia drive.

Great shout! I didn't even think about it, but my licence from my iPhone 3g (a long time and 3 phones ago) is still valid!

Not sure if anyone else has this issue...but i had to restart my phone to download UK maps. I am using a Samsung ATIV S.

This looks interesting, but I'd find the review more helpful if we had an idea of the pricing of the IAPs. I'd rather not go through the trouble of DLing if the pricing is a non-starter.

Regional maps are $9.99 I believe and Active Traffic is $9.99 / year

Daniel,
I think you guys should do a review of the different car systems such as mylink or lync and how they integrate with the windows phone! I think both these systems are developed by microsoft (not sure)
I been thinking about getting a chevrolet (here in Brazil) and the car comes with an old version of MyLink which still works with gps apps such as bringGo, do you know if there are any plans for this gps to come out for the windows phone?
It will suck not to be able to have gps integrated with the touchscreen on my car just because i'm on windows phone =(
Regards
Márcio Cattini

Márcio,
MyLink/Lync doesn't integrate well at all. It would be a waste of time. I tested them out at a dealership. 1 out of 10, I would give it.

I would like to know what the pricing is also. That would me decide if I want to use this or not. *edit* I have downloaded this just to try it out and maybe even get the pricing info. If the pricing is not to bad and it works like I hope it does it just might replace Here Drive+.

For this kind of app I find the freemium model annoying because there doesn't seem to be a way for the Store to display what features are included for free, and what cost money (and importantly how much). It seems more designed to suck you in with a free app, then persuade you to part with your hard earned cash once you're already hooked. I would like some up-front transparency to allow comparison between apps and actual prices - otherwise the pre-paid apps have a built in disadvantage.

I just looked into this app, after installing and downloading their maps, to find that after the 14day free trial it will cost $8.99 to keep the navigation. I guess that is not a bad price but a little more then I can afford right now. I guess I will give it a try for the 14 days and then determine if it is really worth it. So for I can say I like the interface better then Here Drive+ but I have to see how it does while driving.

Much needed GPS map. Just replaced my drive tile. Just transferred my registration. Much happy indeed.

Very unresponsive and freezing on Lumia 920.... thumb down... need more bug fixing....

Where is it freezing? It's been working fine on my 920

Same for me on my L920. Been smooth and no freezing or lock ups.

NOT AVAILABLE IN MARS!!!... No Go... = (

This is awesome!! It picked up my old license from the WM6.5 days!!

That what makes this great that it's able to transfer your license over

B.T.W. Speed cameras on the way?

Daniel,
Does this app rotate into landscape mode? Guess I can try later, but that won't be until another 24 hours.
Thanks

The POI search via Google is crap on this app, I have no idea how it gets the matches.

Used this app when I was on iOS. So glad to see it come to Windows Phone! It's always got me to my destination safely :-)

How does it compare to Nokia Drive?

I use Nokia's on my Lumia 920 and it's great; I downloaded all the maps I needed and no complains.

I lot more options available. Custom detours, multiple alternate routes(I've been testing alternate route variation between the two and CoPilot seems to get a little more creative with them), I havent checked yet, but in iOS you could manage your music from the GPS app as well. Points of Interest seem more accurate as well.

I'd be very careful with regards to a Co-Pilot purchase. I used to have Co-Pilot when I had a Windows Mobile phone and it worked beautifully and when I went over to Android, I bought, from Amazon a copy of Co-Pilot for use on my Android phone. No matter what I tried that damn thing wouldn't work and after many many support calls with the Co-Pilot's support desk, their conclusion was that I'd bought a Windows Mobile version as opposed to an Adroid version. This patently wasn't true, for one, the damn thing installed on Android no problem and ran, the only problem was it kept deleting the maps, secondly, printed on the cover bold as brass were the words 'For Android'. I've steered clear of Co-Pilot ever since.

I did the same thing; bought for Android and Win Mobile but registered each one with a differend email; gmail for the Android version and MSN email address for the win mobile. That allowed me to keep each one up to date. As I state in a later post here, I just downloaded the new Maps using my MSN email address on my Nokia 928. Seems to work just fine.

Nice supprise when I signed in with my old CoPilot ID from when I used CoPilot Live on WM6. It activated the voice guided navigation & 3D maps feature for free, no expiration.

I owned this on Android and Windows Mobile. I downloaded the free part of the program. I was asked to sign in and I used my Win Mobile sign in and it worked. It asked me to download the maps I had back then. I down loaded the North American Maps and it works fine. Not sure if there is a hidden catch and it will stop working in a few days but now it seems to be working just fine. I like it better than Nokia or Garmin but it's a subjective thing.

Give it a try.

Why don't I see speed and speed limit alerts? It is on in the options.. It do I need to pay the $9 for that feature?

Mine is enabled too but I didn't get any alerts either. At least no audible alerts. I'm still learning to get around this thing but good guestion.

Best I can tell so far, is that it shows your speed when no destination is set and you are just using the map. Still, I get no over the limt alerts.
When navigating with a destination you don't see the speed gauge. You can choose either the bottom left ot right side of the map display and change the info from distance to go, to speed, but still there is no over the limit alerts as far as I can see.
Also, looking at all the screenshots and videos of this app, I don't see the speed posted in any of them during navigation.
I hope it gets added/fixed.

Today I used a freeway and when I reached 70 mph (in a 65) I did get an alert. A 65mph speedlimit sign popped up on the right side and showed my current speed under it. I also made a loud alarm type noise.
So the alerts are there, just wish I knew how to keep it on even for local, side streets.


This app is great! Shows destination address oncreen and UI is way better than here drive. This is my go to Navi app. repalcing here. I would like them to add bing as search engine and also make it easier tobenter an address....like this:
9191 maple street instead of:
putting in city, then street name then number.....other than that this is a must have app if you use you WP8 phone for navigation daily like I do, great job!!

Looks good, but it have freezed/crashed 4 times in two days now! Just stops...- nothing happens.... Nice app, but need more work....

I've just tried CoPilot and the map is very out of date for Fuel Stations - there's one listed in Oundle Road Peterborough which closed at least 15 years ago. The navigation worked ok a few times but last night froze and I had to use the Nokia Drive to complete journey. I'm a bit disappointed with it.

A question i wasn't able to find an answer to yet. The maps can be downloaden from within the application. Is there a way to store/move the maps (I downloaded all maps of Europe) on the SD Card instead of on the phone memory itself?
Windows Central Newsletter
Get the best of Windows Central in in your inbox, every day!
Thank you for signing up to Windows Central. You will receive a verification email shortly.
There was a problem. Please refresh the page and try again.