CoPilot to unveil new Windows Phone features at MWC, also coming to Windows tablets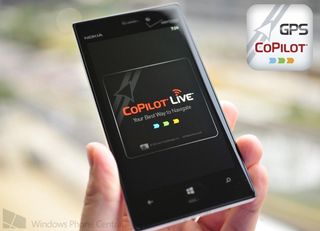 With Mobile World Congress (opens in new tab) kicking off in Barcelona this week, users of CoPilot Navigation for Windows Phone are in for a treat as the company is to unveil a bunch of new features to make the app even more user friendly and feature rich. Not only that, but the experience is coming to Windows 8 tablets.
I know we have HERE Drive (opens in new tab) available for Windows Phone – and that does one heck of a job, but it's always good to have choices.
CoPilot will be announcing the following new features to there already hugely popular voice guided navigation application:
CommuteMe: CommuteMe makes everyday driving quicker, easier and more predictable by intelligently learning a driver's preferred route to and from work. It then automatically scans the route for traffic to avoid delays and provide an accurate estimated time of arrival. If a driver alters their preferred route, CommuteMe recognizes the change and proactively adapts.
ActiveRoutes: Ever wonder which route is the fastest at a particular time of day? ActiveRoutes intelligently answers this question. It uses actual road speed data and the time of the day to accurately predict the fastest route - any time of day and day of the week.
MirrorLink Connected Car Demo: CoPilot has long been ready for the connected car revolution and designed for safe, non-distracting in-car guidance. ALK will be demonstrating CoPilot running with MirrorLink at Mobile World Congress, in partnership with leading automotive solutions provider, HUML GmBh.
CoPilot for Windows 8 Tablets: CoPilot's roots were in Windows OS, with the world's first desktop trip-planning software providing door-to-door directions in 1995. Now CoPilot's dependable offline, in-car navigation and mapping experience is coming to Windows 8.1 tablets such as Microsoft's Surface Pro and Dell Venue Pro.
Adopted by over half a million working drivers operating across a wide range of industry sectors including utilities, emergency services, postal, delivery and courier services, CoPilot Professional has become the "go to" GPS navigation and route optimization solution of choice for leading Independent Software Vendors (ISVs) and international hardware manufacturers.
Sounds good to me. Once we can get our hands on the update we will of course put it to the test and give you our impressions. Stay tuned to our feeds for more MWC news. If you're on a Windows Phone, check out CoPilot on the store for free.
Windows Central Newsletter
Get the best of Windows Central in in your inbox, every day!
The excitement is just killing me. Don't know what will happen at BUILD :D

We will faint hearing the exciting news then on 5th arpil we will be discharged from the hospital to go home and update our phone to WP 8.1

Won't we be getting 8.1 dev preview on April 2 itself? What's with April 5? Or was it just random?

Dont get too excited, you might get disappointed!!!!!

That sentence was wrote after having knowledge over the upcoming features in Windows Phone 8.1 so, it's not any disappointment for me. Instead, I am waiting for them, go official ;)

Sounds good but Here Drive is getting better all the time and has 'drive to work' feature already. Copilot is very good but takes up alot of memory and you have to pay for extra features.

When they say it's coming to Windows 8 "Pro" tablets that probably means Win32 desktop client rather than a lovely (Metro) modern user interface app. :(

The Here Drive "drive to work" feature works like absolute crap. You could take five hours to drive your route to work every day for five years and the app would still estimate your transit time to be 30 minutes or whatever number it pulls from the ether.

HERE drive for the win! On a side note does anyone use here maps? I only use HERE drive.

I use both ... Oh .. And Here Transit too :)

If only there was Google Maps on wp. Here sucks

I want nokia to change their physical buttons of volume and camera on the right side of the phone. Maybe putting a metal button or a better plastic button

Yeah, sure, and it totally makes sense to post it here. Or doesn't.

Its poorly rated in the store.. Doesn't even feel like trying it.

Co Pilot is so much better than Here Drive that its all I use for guidance now. Active traffic and route calculation based on traffic conditions is better. Looking forward to the new features!!

A map update once in awhile would do. I uninstalled CoPilot because of it.

Off the wall question. Does anyone know of a navigation app (web or OS) that if you put in two locations, it will give you a meeting point half way that is ideal?

Navigon has the option to make a route with an in between stop.

There's a grammar mistake in the third paragraph, it should read their not there.

Is this saying mirrorlink is working on win phone 8. I would kill for that. They supported it previously. Reflect my screen on a nice double din display would be killer

Seconded. MirrorLink OS-wide would be fantastic. Weren't Nokia big on MirrorLike before Windows Phone? Wish that's something they would add.

With a name like that I am sad its not actually for flying... I have been looking for a good flight navigation app.

We'll see. Copilot has not been the dream I expected when I paid for traffic last year.

Just try Waze!!! It's awesome!!

Waze is good but it's missing features in WP. No landscape support either.

Its a google product now. It'll probably never see another update on this platform.

True, but I guess I'ma stick to it for now, cuz Here Drive still has no support for my country!! Weird!!

How about fix it so it aquires and keeps a GPS fix? Most of the time I have to shut it down and switch to HERE+ because copilot loses its GPS, which really sucks since their maps are more current.

Shouldnt try it. you will get disappointed.
Windows Central Newsletter
Thank you for signing up to Windows Central. You will receive a verification email shortly.
There was a problem. Please refresh the page and try again.