CoPilot to unveil new Windows Phone features at MWC, also coming to Windows tablets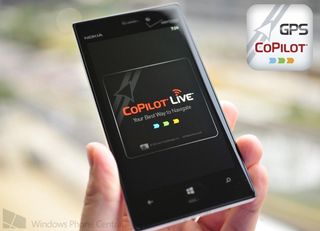 With Mobile World Congress kicking off in Barcelona this week, users of CoPilot Navigation for Windows Phone are in for a treat as the company is to unveil a bunch of new features to make the app even more user friendly and feature rich. Not only that, but the experience is coming to Windows 8 tablets.
I know we have HERE Drive available for Windows Phone – and that does one heck of a job, but it's always good to have choices.
CoPilot will be announcing the following new features to there already hugely popular voice guided navigation application:
CommuteMe: CommuteMe makes everyday driving quicker, easier and more predictable by intelligently learning a driver's preferred route to and from work. It then automatically scans the route for traffic to avoid delays and provide an accurate estimated time of arrival. If a driver alters their preferred route, CommuteMe recognizes the change and proactively adapts.
ActiveRoutes: Ever wonder which route is the fastest at a particular time of day? ActiveRoutes intelligently answers this question. It uses actual road speed data and the time of the day to accurately predict the fastest route - any time of day and day of the week.
MirrorLink Connected Car Demo: CoPilot has long been ready for the connected car revolution and designed for safe, non-distracting in-car guidance. ALK will be demonstrating CoPilot running with MirrorLink at Mobile World Congress, in partnership with leading automotive solutions provider, HUML GmBh.
CoPilot for Windows 8 Tablets: CoPilot's roots were in Windows OS, with the world's first desktop trip-planning software providing door-to-door directions in 1995. Now CoPilot's dependable offline, in-car navigation and mapping experience is coming to Windows 8.1 tablets such as Microsoft's Surface Pro and Dell Venue Pro.
Adopted by over half a million working drivers operating across a wide range of industry sectors including utilities, emergency services, postal, delivery and courier services, CoPilot Professional has become the "go to" GPS navigation and route optimization solution of choice for leading Independent Software Vendors (ISVs) and international hardware manufacturers.
Sounds good to me. Once we can get our hands on the update we will of course put it to the test and give you our impressions. Stay tuned to our feeds for more MWC news. If you're on a Windows Phone, check out CoPilot on the store for free.
Get the Windows Central Newsletter
All the latest news, reviews, and guides for Windows and Xbox diehards.