Cortana can now predict the results of English Premier League football matches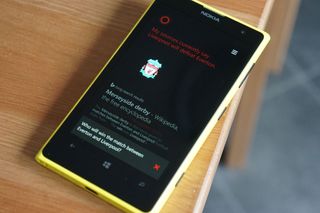 Cortana is bringing her popular Bing-powered predictions to the world of British football. After the 2014 World Cup and the NFL, Windows Phone owners will be able to see what results Cortana will predict.
Asking Cortana who will win in any upcoming Premier League match will tap into Bing's data modelling, utilizing a combination of sources. If you failed to test out this feature in the Scottish referendum or the NFL, it's worth having a laugh with, especially if you have a match night with friends.
So, how easy is it to command Cortana to offer predictions on upcoming matches? Simply ask her to "predict Liverpool match" or more specifically "Will Liverpool beat Everton?" It's predicted Liverpool will come away with the three points from the northern derby between the two clubs and Microsoft's virtual assistant pegs Arsène Wenger's Arsenal side as victors against fellow London club Tottenham this weekend.
Source: Microsoft (opens in new tab)
Rich Edmonds is Senior Editor of PC hardware at Windows Central, covering everything related to PC components and NAS. He's been involved in technology for more than a decade and knows a thing or two about the magic inside a PC chassis. You can follow him over on Twitter at @RichEdmonds.
It said man u will lose to west ham!

I imagine his point being that Cortana predicted that United will lose to West Ham

Now that's a nice feature.

How come. She's not available in the UK

Let also Cortana predict the winner of each world cup cricket match for 2015!

Formula 1 would be awsome. Forza Ferrari ;)

Who actually cares about cricket?

Who the hell cares about a jackass like you

Hey dude ! Nice musical taste ;)

Sri Lakans care about cricket too :p

Brits, Indians, Australians, New Zealanders, Irish and increasingly Pakistanis.

@double m you guys care about some chipmunks running around killing each other,your american football shouldn't be even called football coz there is minimal usage of 'foot' in the game! And hey I forgot to mention that boring shit oh is it called baseball?? What's the term even mean! Lol

I wholeheartedly agree with you!!! Haha American 'football' is bullshit:P doesn't deserve to be called football

That's because you don't even know WHY it's called "football" or why we call it "soccer". I'm not sure why people repeat this dumb stuff. Enjoy what you enjoy.

Just call it "American soccer" ;)

I'm going to eat a cow now!

I care about cricket, it's far better than that football or any American sport.

Vote Here http://cortana.uservoice.com/forums/249009-general-cortana-feedback/sugg...

we need world cup cricket and ipl both xD

Cricket is must for Cortana, at least in India.

I'm not a Liverpool fan, but this is something I love about your club. You never stop believing, no matter what. #respect

YNWA & NWA. I'm happy with both. Let's hope Cortana has this one right :-)

I feel more for Dortmond fans now :(

Wow. I hope it will be available soon for Italian football matches.

But still can't dictate punctuation. Still.

...but that will be in W10, as Joe Belfiore demonstrated himself two weeks ago.

Hadn't seen an official posting of the event on WC yet. Trying to find it online. I hope what you say is true, we should have had this years ago. Thanks for the heads up.

THIS!!! I'm so much in the habit of saying 'period' and 'exclamation point' from my other devices! It would be so nice if WP could do this so I don't look like more of a bafoon than I already am exclamation point

Another nice feature might be the prediction of the W10 preview release... :D

Chalsea... Posted via the Windows Central App for Android

Cortana predicts Man City beats Chelsea to take the league cup.

Chelsea is a good team. Not sure id vote against them yet

American's don't know what cricket is, they are clueless about the sport and only know about cricket wireless :P

They don't know what England football is, that's why they call it soccer lol

You do know that England used to call football soccer right? They changed it some years after it was already in the US and the US didn't bother changing it with them.

Not true. 'Soccer' is an abreviation of the term 'Association Football', which is the full name for Football. The game has been called 'Football' since it began, it is rarely called 'Soccer' by anyone apart from Americans or ex-Public Schoolboys. In fact the world body is 'FIFA' - notice the 3rd 'F' standing for 'Football', and the European body is 'UEFA', again notice the 'F', stadning for 'Football'.

Plus, there is the argument, why do Americans call it Football when they rarely use their feet?

Because the ball is one foot long, which is about 30cm.

It's not really an argument. It's just stupidity on repeat when someone wants to think they are being cleverly anti-American.

I love Americans, well mostly, so your point is stupidity!

The point is that this isn't really a valid argument and it IS supposed to be making fun of the most popular sport in the US. I think making fun of things that other people like is really stupidity on display. Football isn't called "football" because of kicking a ball with your feet...all varieties of "football" are called that because they came about at a time when most sports were played on horseback. These new sports were played standing "on foot". Just so people can stop reposting this on every soccer/football/rugby post. This is from Quora: "At a time when most sports were played on horseback, the term "football" was originally used to describe games that were played on foot (not a game in which you kick a ball with your foot). This includes soccer, rugby and American football. "Football" as the rest of the world knows it (or "soccer" in the U.S.) was originally known as Association Football, which became "soccer" for short before being widely known as just "football." American football is more an evolution of rugby football or Aussie rules football, which emerged around the same time as Association football. The term "soccer" stuck in the U.S. while in Europe and other parts just "football" became more popular than "soccer." So when people say it's weird that the U.S. calls it "soccer," they only do so because the term was invented in Europe, and was the original term for the sport before it became just "football". In short, American football is known as such because of it's similarity to rugby football."

You seem to agree the US should catch up as per use of the word football. Of the 45 national FIFA (Fédération Internationale de Football Association) affiliates in which English is an official or primary language, 43 use football in their organisations' official names (Canada and the United States use soccer).

I don't actually. The phrasing evolved to where it is based on the popularity of the sports in their countries. Soccer would get buried even further in the US because our "football" is, by far, the most popular sport here. Language is a regional thing. A "loo" is a "bathroom". "Pants" can mean "trousers" or "underwear". It's just regional language and people get all bent out of shape over nothing. Soccer is also used in South Africa, Ireland, The Phillipines, Singapore, Pakistan, Liberia, Nigeria, etc. It may or may not be in the name of the organization, but it is in common use. Not that it really matters, except for those that want to make fun.

My original comment did end in lol, like many comments here about nations, sometimes it is just fun. But if you Americans are so tender, better not read the comments too often.

lol = the new "no offense" :/ It's just the repeat nonsense. Wait until the next NFL football app comes out. That's when this stuff turns nasty. I'm not offended, at all. It's just silliness and I'd rather talk about tech stuff without comment section litter.

Your comments litter here more than anyone one else. And, you used the term American Football in your argument above to describe what football is in America. Exactly my point, thanks again for your support.

Whatever makes you feel even more superior. For the record, I didn't use the term "American Football"...I copy/pasted someone's explanation from Quora. They used the term because it was defining the differences between countries. So, I'm not sure that your point is what you think it is.

Enjoy your "no offence" world and have a nice day :)

For someone not offended, your multi posting whining sure seems like butt hurt. Its not anti American, stop being so childish. Pointing out that you've screwed up the naming of your sports, is your issue. American Football, isn't football at all. Its Rugby in full body armour :/ Football is played with the feet, and the vast majority of places refer to is as such, just get over it. There is no harm in it, but people will forever point out how weird y'all are. :)

That's the kind of moronic comment, that needs someone to counter with reasoned FACTS. Football is not called football because of the feet-based "kicking". If you're going to criticize, at least do it with facts. It's only called "football" because they were played "on foot" when most sports were played on horseback. The only really offensive thing is the lack of originality in the comments. Football is just rugby with body armor. Come up with something new or take your own advice and "get over it". You can keep pointing it out and I will, from time-to-time, call you out on it and point out that your ignorance of the name's origin is at least as weird as what the name is.

If we were all the same, spoke the same it would be a very boring place, though as boring as it is, this I think is all meant in jest. 99% of the time it is known as football in the UK but even the largest sports network here Sky often refer to it as soccer. Now onto what should be regarded as a 'World' Series... ;)

So everyone has to come up with something original, whilst you just incesintly whine like a unoriginal baby. One rule for one, one rule for the other. Just to correct you, I didn't say its called football cos its played with the feet. But... There is no 100% perfect etymology of the word football, which could have come from the game being played with the feet. So "on foot" has no more validity than "with foot" so stop coming off all smug like you know something you don't. Oh did I mention to stop whining. The rest of the world calls it football, get over it.

There actually is etymology for the word, so don't act smug to hide the fact that you just learned something. I'd say "whining" is more closely related to repeating the SAME complaint on EVERY article that is about ANY variety of football. You might also want to look up the word "original". I'm not copy and pasting the same thing, over and over. We call it soccer. So take your own advice...stop whining and get over it.

Gees I've dated girls like you. Can't take any criticsim and always try to turn their own faults around to be other people. Look how many posts you made before mine, you are clearly the whiner in this thread. I just pointed that out, and that you are wrong., You're still wrong, there is no 100% proof of the origin of the word. You also cannot even comprehend or refer to your own posts (gees are you really this stupid) _you_ were the one telling me to be original, so I suggest that you had no right to ask originlialiuty from others, who are you to tell people to be original. I full well know yanks, and the minority of the world call it soccer - I don't need to accept that. You just need to accept that everyone else thinks its daft when everyone else calls it football and stop WHINING. But I imagine you will yet again whine like baby, point out my grammatical mistakes and generally do everything else to not except how tedious you are. I will leave it you to dissapear up your own behind with whinyness and self pat on the backness.

I'm surprised you've dated at all with such a large amount of arrogance and limited perspective. Even if I was wrong (I'm not), your own post says that there's no 100% proof of the word's history. Why repeat the "they don't even use their feet" nonsense, if the origin of the word is in question? The origin of your critique is wrong. Still wrong. I have "so many posts" only because I respond to people. It's called dialog. Look in the mirror and give yourself the no "WHINING" advice. It's not "whining" to point out when you are wrong or to answer your personal attacks. No preemptive "if you respond...you're whining" will shame me from responding. If you're leaving, it might be time for some introspective searching. Instead of attacking people when they don't fall in with what you want to them think, try learning a little bit about what you're talking about. Lovely ending with insult. The usual clue that the person is either incapable of grow up discourse or the realization that they don't really know what they are talking about. FYI - I didn't correct your grammar, once. I'm not sure why you decided to throw that in. Oh right, you needed to make it look like I was avoiding the subject. Got it.

See it. Again. Read my lips : " I DID NOT SAY THE ORIGIN OF THE WORD COMES FROM KICKING IT WITH THE FEET". There, can you read that? Go back and read again, and try to get it into your noggin. I just said football is played with the feet. Your comprehension skills are worse than your whinyness. This isn't dialog, you multi post emoted all over the thread like it was your personal mission. I just find it amusing that you keep trying to turn it back on me, when your assertions are incorrect. If you take what I said as an insult thats your perogative, its just a fact you are tedious its not specifically intended to offend just turning the mirror on you. Again, I didn't say DID try and correct my grammar only that you would try. And the irony, is that is exactly what you've done, pick up on the my words which you seemingly still cannot comprehend. I knew you would be a line by line nit picking douche, and you didn't let me down.

Name calling is ALWAYS the sign of the insecure. Well played. At least you revealed yourself. If by "playing with the feet", you didn't mean kicking, please edify me as your meaning. Again...read MY lips...just because someone counters your trivial nonsense, doesn't make it "whining". Of course, redefining words to suit your purpose probably works with some people.

So, you started the name calling, calling me "moronic" your words, yet you are going to try and take the moral high ground? You're so deluded its laughable. Do you even realise how stupid you sound, trying to be clever? Ive restated twice (at least, I cannot be bothered to read passed your dribble) that I didn't not say what you thought I said, but you are so bone headed you just keep re-stating something I didn't say. Go edify it yourself its up there in black and white that you misquoted me. And go read other people calling you a whiner, you whiner. Whine harder, whine some more. I bet you will. Just watch. More whiining in 3...2...1

I called your COMMENT "moronic". You can make a moronic comment without being a moron. Try harder. Your memory appears to be troubled. I bothered to scroll up to find where you said: "Football is played with the feet, and the vast majority of places refer to is as such, just get over it. " So you did say that football is played wth feet. Your accusations and misrepresentations only look good to people who are also too lazy to scroll up. Keep on whining that the Americans dare call a sport by a different name that you. Oh, the humanity. ha ha. Keep also deflecting the whining accusations to make yourself look good. ha ha...classic. If you can't rely on logic, just act superior, type nonsense in the form of a (not so) clever insult. Great strategy.


I see no point in this it is not something that's even useful

Then y don't you do something useful...?

The point is, its one up on Siri

Nor is your comment, strangely.

If you don't watch the premier league you wont care. Just like I didn't care who won the Superbowl. I still appreciate the features tho.

Here's the cool thing about the world. If you don't like something, you don't have to use it. What really has "no point" is belittling things that other people like.

Is this available for Cortana alpha?

Wow, Cortana can do a lot of stuff as long as you're not Canadian.

Rubbish league. Now I'd be happy if she predicted La Liga and Bundesliga

Glad I've added humour to your life

Rubbish league? Seriously? Bang you're head on the wall.

Most popular doesn't necessarily mean better you know. To me the English Premier League is like...YAWN.

Ok, but Bundisliga, really. How many points between Bayern and Fulsburg? Even after they beat them!!!

I predict Barcelona or Madrid. So that narrows it down to the usual two horses . You're welcome..

Last year Atletico won. So it is usually the three. Barcelona and the two Madrids. Valencia and Sevilla are also top notch.

Although my favorite team, Barcelona, is in La Liga, the Premier League is currently the best overall league in my opinion. Far from rubbish.

Cortana is predicting West Ham united to win over Manchester United. So disappointed.

But next match, Cortana is predicting that Manchester United to win.

Dear Cortana, can you predict when the fcuk Sammy gonna release 8.1 update for ATIV S?

It has been out for 3 months already, I am on ATIV S now running official WP8.1.1 aka Windows Phone 8.1 Update, :)

Quality !! Can we have Scottish Premier League please ?? Also F1 would be awesome .......

lol, the higher leagues and the mls (because microsoft is based in america) will probably come before the scottish premier league, sorry.

Let's make Cortana can predict release date of windows 10 for phone preview

LOL, just tried and only giving web pages!!!

Is it for the UK version of Cortana or can the US version do it too?

Doesn't work for US version as US think it's called soccer, joking.

This works in India too...yaayy !!

Start betting depending on what Cortana says I'll soon be a millionaire

Come on Cortana predict IPL matched too...

Cricket World Cup predictions?

Will Barcelona (FCB) beat Athletico Bilbao this weekend? More importantly, will Sevilla beat Real Madrid ?

Heard the bookies are recruiting hackers to sabotage Cortana as they stand to lose too much money.

What the hell without giving Cortana more coverage to more countries and improve from alpha to beta stage... Ms are going behind predictions funny jokes...wtf...

Great news. But it needs to cover most of football including Spanish, German, Italian leagues as well as UEFA Champions league.

Arsenal VS Tottenham... 6:0 for Arsenal.. :D

I second that my good Sir.

Can she make me dinner yet

ICC World Cup 2015 is around the corner. Wish Cortana predicts results for that, too. :|

That's cool but would like to see NHL and MLB game predictions as well.

There gonna be a war in the U.K. with this feature ! Oh God, can't wait for the cricket predictions , atleast IPL this summer

I'm afraid that if it works to well brokers will be loosing business and money

Maybe, maybe not. 'Bing Predicts' was showing EPL predictions since some months ago, and isn't THAT accurate (I did bet believing in her for one week, and just did it right in one of four matches. I didn't loose too much money... just testing). Also, there are people who makes picks already.

I'm tempted to conduct an experiment...

she says odd's are Swansea beating Sunderland this weekend.

What about Spanish, Real Madrid for example ;-)

How about turn of a single alarm without asking "which one?"

How about the ICC World Cup 2015 ??

Seriously, you couldn't find another team to have highlighted in the story photo? Come On Ya Blues!

Chelsea Chelsea Chelsea :)

Did you see that ludicrous display last night?

What was Wenger thinking?

-Enough of sports, Cortana. Tell me when is Windows 10 arriving???
*long pause*
Are you there???? Hello!!!
~Sorry, I didn't catch that.
-Stop catching the ball, please.

Not happy with her first prediction of the Derby this weekend. It's ok. She'll learn.

Booo, spurs are gonna win!!

Doesn't predict anything for uk cortana, just web searches..

And world ice hockey championship?

can't even get cortana to appear in the first place, with us english as language, region, speech, keyboard and everything

I tweeted Joe. B about this. Playoffs around the corner

Arsenal for the win this weekend Posted via the Windows Phone Central App for Android

EPL is unpredictable I think.

But she still can't make her way onto the Lumia Icon.

Well Cortana might not do too well here cus epl is so unpredictable....

Enable it for cricket world cup 2015

Cortana should make predictions for the Cricket World Cup '15 and the T20 Indian Premier League too.
Trust me this feature would bring Indians to Windows Phones in droves.

Cricket predictions, or even the ability to show cricket scores / results by cortana would be nice and I suspect this will be added in due course. I notice that BBC have updated their android BBC sports app for wicket notifications, end of innings scores and results in time for the cricket world cup. No mention if this function is coming to windows phone, I will not hold my breath.

Yes Cricket is much followed in countries like India, Pakistan, Bangladesh, England, Australia, New Zealand, and few others. So it would be better to have Cortana support this sport.
'Support this sport' lol.

even in Canada there a lot of Indians. Canada also havs their own cricket team but they didnt get selected. Scotland and Ireland Afghanistan as well as Netherlands are proving themselves in cricket. hope icc allows tuem to play regular matches with the current teams.

I agree, the associate nations need more exposure by playing more against the 10 Test playing nations.

Notice how no one is bashing football here. Guess we know who is mature. Not one bad comment cause in the USA we love ALL sports.

Right? Some people are STILL taking the opportunity to bash the American version. The ignorance of the repeated "they barely use their feet" comments is astonishing. I just say "Good for them" that they can have Cortana predictions and that they enjoy their sport. I wish everyone would just like what they like and leave others to like what they like, without all the superiority BS.

Bundesliga in Germany Please! :)

Ipl is all fixed,everyone knows wholl win,Cortana need not predict that

Hope Cortana can predict upcoming ICC Cricket World Cup matches going to be in Australia and New Zealand.

Anyways City or chelsea will seize it finally !! :(

It'd. Be useful if I ever got the blasted Cortana!

For once Cortana is rubbish! Everton will be victorious on the Merseyside derby!

But when it will b available for Indian users??? Please reply anyone. Is it still in alpha version?

Doesn't work. It just brings up web pages! Seriously Cortana is behind I
Siri and Google most questions just bring web pages with Cortana

She can't predict for cricket...she doest knew abt Cricket

MOTOGP, WSK and BSB would be good

She has just told me West Ham will beat Man Utd! No Cortana think again!

funciona para cortana en España?

Time to take my acca game to the next level!

Step in the right direction but lets have some lower league attention for once! Not everyone supports the overpaid underworked so called superstars of the Premiership. IO SHAYMEN!

I would also like Cortana to predict the results of international cricket matches, ICC events and T20 leagues like IPL, CPL and BBL.

Well Cortana has some work to do as she doesn't seem to recognize Chelsea (and don't tell me it's my accent, I grew up in SW London). <Cue the smart responses>

MotoGP please, and Formula One too

What do you have to say to get the results? I have tried "who will win the next premier league match?".
Windows Central Newsletter
Get the best of Windows Central in in your inbox, every day!
Thank you for signing up to Windows Central. You will receive a verification email shortly.
There was a problem. Please refresh the page and try again.