Cortana cut from Johnson Controls' GLAS thermostat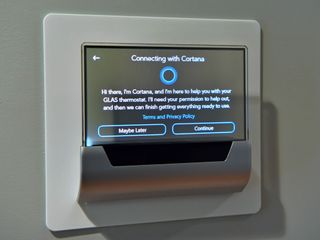 What you need to know
Johnson Controls is removing Cortana from its GLAS thermostat.
Cortana will be removed in a forthcoming software update.
Owners will still be able to use Alexa and Google Assistant to control GLAS, Johnson Controls says.
GLAS, the smart thermostat whose claims to fame were its intriguing design and Cortana integration, will be dropping Cortana soon. In an email to users, Johnson Controls, who makes the GLAS thermostat, says that Microsoft's voice assistant will no longer work with GLAS in an upcoming software update.
"The Microsoft Cortana voice assistant will no longer work on your device," Johnson Controls said in the email. "Moving forward, you will still have access to other voice assistants to control your thermostat through the Works with functionality of Amazon Alexa and the Google Assistant."
Cortana's removal from GLAS shouldn't be surprising to those who have been following news about Microsoft's plans for the digital assistant as of late. The Harman Kardon Invoke, a Cortana-powered smart speaker that launched in 2017, was a one-off device that failed to make a dent against the likes of Amazon's Echo speakers and Google Assistant. Likewise, Cortana voice commands are being removed from Xbox One, though you'll still be able to use voice commands with an Amazon Echo or the Harman Kardon Invoke.
On Windows 10, Microsoft has broken Cortana out into a separate app and is opening the door to other voice assistants in upcoming feature updates. Going forward, Cortana is expected to have a more contextual future under the direction of the Office team. The goal is to make the assistant's AI smarts available to users across Microsoft apps and services without them even knowing they're using it.
Thanks to Vincent L. for the tip!
Latest and greatest
(opens in new tab)
Ecobee SmartThermostat with Voice Control
If you're looking for an alternative to the GLAS, Ecobee makes some excellent smart thermostats. Ecobee has taken the design of its previous-gen thermostats and improved the look, feel, and smarts of it — though without Cortana.
Portable (and affordable) power accessories we love
Each and every one of these charging gadgets will keep your favorite gear and gadgets going for longer, and none of them costs more than $30.
VisionTek 8,000 mAh micro-USB power bank (opens in new tab) ($13 at Dell)
This compact dual-output powerbank can speedily recharge any and all your devices, thanks to a two-amp "fast charge feature," using its micro-USB out port. Its simple design includes an LED indicator, and it costs about as much as a single ticket to the movies.
Panasonic eneloop AA batteries (opens in new tab) (From $13 at Dell)
Panasonic's rechargeable batteries are among the best available, and just a couple of them will keep your favorite remote, mice or other peripherals powered up when you need them. They're also eco. And the company's affordable charger (opens in new tab) fits and charges both AA and AAA batteries at the same time.
Belkin Qi Wireless Charging Pad (opens in new tab) ($30 at Dell)
This unobtrusive Qi wireless charging pad looks good (and kind of like a UFO …) and easily charges all your Qi-compatible device up to 5W. Its LED indicator lights up when you're charging. And it costs just $30.
Windows Central Newsletter
Get the best of Windows Central in in your inbox, every day!
Dan Thorp-Lancaster is the former Editor-in-Chief of Windows Central. He began working with Windows Central, Android Central, and iMore as a news writer in 2014 and is obsessed with tech of all sorts. You can follow Dan on Twitter @DthorpL and Instagram @heyitsdtl.
Another one bites the dust...

Given all the recent controversies surrounding voice assistant recordings, I really lament the loss of Cortana to its rivals. From my understanding, Cortana is still the most secure. The only privacy concern was the undisclosed auditing of real time translations in Skype. At least Cortana wasn't constantly recording people and allowing people at Microsoft without permissions to listen in.

But people were listening in at skype

On translated conversations, were you had a clear notice that this will happen.
I'm still not happy about it, but it's not as bad as the other leaks.

How do they improve the service without listening in and making adjustments based on that data? You really think Microsoft isn't listening to Cortana recordings? They were listening to Skype calls, that is worse!

Is not worse when you know they need that data to make the product better or just release a new feature. I wonder how people think making new tech or categories or making new programs works. I think they were using the conversations to make the translations better which they will need that data from people conversations to do so? If people don't want people listening at the dumb things they say they shouldn't use voice chat to begin with and use the old telephone call 🧓 (of course there's the FBI listening in if you are on USA territory 😂)

I agree. If you are using any technology, you should always assume it isn't private.

This is just freaking ridiculous. I guess the Invoke is next? It's not really like it does much as it is already.

Too bad. I was actually just about to order 1 of these. Now this saves me the expense.

Full Windows is still good, but I agree with you, everything else sucks.

The only real chance for Cortana to not fail was Windows 10 Mobile. Microsoft killed Cortana by killing W10M in 2016.

I'm afraid i'm wrong. At least the Cortana as the enduser sees it. Cognitive Services and and the Azure Magic based of Cortana features is still awesome and unmatched.

The invoke failed due to two reasons - lack of wide spread availability and price.
Amazon sells echoes as low as £31 and is available in many regions thus enabling wider market exposure. So compared to Cortana, who is currently available in limited markets and even then not even fully capable unless you reside in the US (or change your entire device ecosystem's region to US). Therefore this was bound to happen sooner or later... I hope Microsoft starts putting more investment in the Cortana team soon.

This isn't exactly accurate. From an audio perspective, the Invoke is an order of magnitude better than the tinny little junk speaker in the Echo. It was positioned to compete against some of the Sonos models, but with an AI value add. It failed, as you said, like all other Microsoft initiatives... No marketing

Exactly! Microsoft's marketing is just... oh wait you're right; no marketing.

I would add that Amazon just had better skills and was too ahead of the race by then. Google has Android to back it up but nobody uses Windows as much as their smartphone and specially talk to Windows desktop which is why Cortana hasn't proliferate as much as Google Assistant. Even then Google Assistant is way behind the Echo in skills support.

Idiots. Complete and utter idiots. I WANT to know I'm using Cortana. I want nothing to do with Siri, Alexa, Bixby, etc. I'm sick of these companies being run by idiots.

It is time to switch ecosystems. Microsoft's will only continue to bring you frustration. There is a reason these services keep failing, the competition is superior.

No it's not... But the competition has the atte ti9n of the sheepels... But most Apple and Google solution have been historically and continuously inferior....
MS is still today the most stable company when it comes to futur proofing their portfolio... Google but Apple in particular has zero foundation and backbone... They have iPhone and derivative and that's pretty much it... They are about as stable than Nokia an Ericson were... They aren't....MS is still the better company and has many many many years in fro t of them if the competition keeps doing Mass market product with low long term brand equity...

The only solid service Microsoft has is Office and that is only useful if you need it for work. Everything else is dead or garbage.

You're out of your mind if you think W10 is unstable or dead. Ask the public, military, government, and privated sector. For that matter, just go to the numbers of the most used OS. Oh, Azure, Dynamics, etc. While I dont agree with many of Satya's decisions, even I cant argue with the facts as much as I dislike much of what he does.

"For that matter, just go to the numbers of the most used OS." You sure you want to go there? Right now it is Android 40%, Windows 35% worldwide.

I didn't say anything about Windows. I like Windows, but I don't really see it as a service. Yet.

You are in the tiny minority. "These companies" are in business to make money. You make money by selling products that the majority want to buy, not a tiny minority. If they were run by idiots, they would continue to attempt to sell Cortana devices. The fact is, most people - if they use a home assistant at all - use Alexa, followed by Siri. Period. Cortana is a distant 4th place. It does not matter what you or I or anyone else here wants. Why do you think the Harman/Kardon speakers were dumped at firesale prices? No one was buying them at $150. But at $40, its a GREAT bluetooth speaker, even if Cortana stops working at some point. Which will probably happen in the near future. BTW, I now have 2. Harman/Kardon will not be selling any more Cortana speakers. No one else will either. Because no one is interested in Cortana anything.

Nobody uses Siri at all. Like at all. Look at those sorry homepod sales by quarters and months after initial release.

Even less people use Cortana.

Can somebody explain how is Siri superior to Cortana? Because I see both in the same field of "failure".

Yes! For once I didn't trust Nadella's new Microsoft to stand behind its products, and it paid off. I was tempted, but learned me lesson. I got suckered on phone, band, Groove, etc. Funny how Azure, Office 365, and Surface all released under Balmer.

The band, phone and Groove was released under Ballmer dummy. Azure was made the priority because of him because Ballmer saw it as a pet project and was still in the mindset that Windows was the future of Microsoft as a company.

"Likewise, Cortana voice commands are being removed from Xbox One..." I haven't found that to be true at all. I have the new dashboard on my Alpha ring Xbox, and Cortana still responds to voice commands via the Kinect as always.

I stand corrected. As of tonight, I said "Hey, Cortana", and my Xbox popped up a message that said Cortana isn't supported. 😔

I held out as long as I could with Cortana, but I finally gave in and grabbed a bunch of echo's for my home.

Wow, you almost never see support removed from a smart device. You'd think it would be cheaper to leave it there and just not update it. It does make me wonder what Harmon will eventually do with the Invoke. Perhaps nothing will happen because (presumably) the Invoke sold way more than GLAS, especially once the price dropped to $50, but that's still no guarantee.

What they will do is stop offering Invoke but keep their Citation series (Google powered) and Allure series (Alexa powered). At least that is my prediction, a phase out of a dying product. Sad.
Cortana is both dead and still going strong as a product, it depends on your view.
Cortana is dead as an interactive voice assistant targeted at consumers in the same manner as Alexa, Google assistant and Siri.
Cortana is going strong as AI support in applications and computing.

Your Prediction? The Invoke is already gone. They sold the remaining inventory on eBay for $39 each a few months ago.

I'm not too worried today's assistant are very gimmicky still... None of them will survive the passing of time at least not in there current form... Ai assistant has a long long way to go to be a real tool... Home automation too, it's still pretty weak IMO... But it's getting there...

Cortana is dead, it does not have the full backing of Microsoft, it doesnt have the data points thats needed nor the ecosystem to provide that data. Microsoft need to come out and SHOW the world what its strategy for mobile actually is. Do or dont do, there is no try, and thats why they fail, again and again and again, half arsed, non commited plans without real money behind the decisions.

We already know what Microsoft's mobile strategy is. Get all their apps and services on Android and iOS, then get serious about selling Samsung phones.

I'm really getting tired of investing in Microsoft's consumer products, only to have them cancelled down the road. They keep doing this. They launch a product that has great potential, and then either ignore it or move way too slow on it to make it what it really should be. Windows phone, microsoft band, groove music, kinect, and now cortana. WTF microsoft - get your head out of the clouds and do some consumer products right!

Microsoft showed they don't care about Cortana, and partners are taking the same stance as with Windows Mobile. If Microsoft doesn't care, why should we. I loved using Cortana when I still had a Lumia, but without a mobile device, my need for Cortana lessened to the extent that I uninstalled the app.

I still use the Cortana app on my Android device, but she did seem much more capable on Windows Mobile.

C'mon man, lumia and windows 10 mobile has been gone for at least 2 years now.

Really was tempted to buy one of these when they were on sale for Amazon Prime Day. Glad I did not now.

Prime Day was when they got me, had been eyeing it for a while and wanted that Cortana device to fit into the Microsoft ecosystem. Faith misplaced.

Uhhg Man that really sucks for recent buyers like you who bought this because of Cortana. That is not a "cheap, oh well.." device.

It added support for Google Assistant and Alexa, so you can still use it with your new ecosystem.

Cortana is way better than any voice assistant out there. I'm disappointed in this news about GLAS losing Cortana. I just barley purchased the GLAS thermostat and the main reason I did was that it worked with well with Microsoft and Cortana. I use it with my Harman Kardon Invoke device with Cortana to tell it to control GLAS. I would not even have heard of this GLAS device if it were not for Cortana, because when you click on "Add device" in Cortana for Windows, it lists "GLAS thermostat by Johnson Controls" as a choice. So I researched then purchased GLAS. Now they tell me they are removing the main reason I wanted it. Don't think it is the best idea, to get Microsoft out of the picture, as it may be good advertising for them. I was glad that GLAS worked with Alexa, Google, and Cortana, but now they are taking away Cortana, which is what they originally built it around when designing it (learned from watching their videos.) Yes, I'm a Microsoft fan losing faith in Satya Nedella's leadership as they keep pulling the plug on my devices I love and use. Yes Ok, so I'm a die-hard Windows Phone user, they pulled the plug, I was a die-hard user of the Microsoft Band health watch, they pulled the plug on hardware last year and the services last month so it stopped working, they dropped support for my Kinect device when got XboxOneX, and now finding they are starting to pull out Cortana services more and more, will they just drop Cortana all together? I'm a Surface fan still, will they pull out of Surface products some day? I'm losing faith in Microsoft products because I keep getting left disappointed. If Microsoft keeps disappointing and losing trust for even their diehard fanbase, I think it could hurt them in the long run. I'm already scoping out a Samsung Galaxy to replace my Windows phone that they are killing at the end of this year, but looking forward to getting apps I've been missing out on, but will miss the cool features that only Windows Phones have like live tiles and other cool features.

Just bought three of these on prime day for my house for my Microsoft ecosystem. I chose these specifically for cortana and the voice control on the thermostat. I don't trust Alexa or google. What a disappointment that they are removing cortana.

NO!, we don't want to use multiple assistance when dealing with Microsoft based products, including Glas! One of the main reasons I got this thermostat was because of the Cortana integration, which has been amazing. How do I get my money back?

You don't get your money back, unless you bought it in the last 30 days or so. As always, "features and specifications are subject to change without notice".

Microsoft announced at Ignite that Johnson Controls managed to sell only 20k units of GLAS since it was launched a couple of years ago. I feel like one out of a proud 20k, that sounds cool. But it is really sad to see how poorly Microsoft Azure IOT and AI was doing prior to them removing the AI from the equation, with the stripping of Cortana. Really sad, it was an excellent concept, but as usual, not executed with a consumer focus.
Windows Central Newsletter
Thank you for signing up to Windows Central. You will receive a verification email shortly.
There was a problem. Please refresh the page and try again.