Hands-on with the shiny new dashboard in Xbox build 18362
Microsoft unexpectedly rolled out a new dashboard experience to Xbox Alpha and Skip Ahead users this evening. Here's our first look.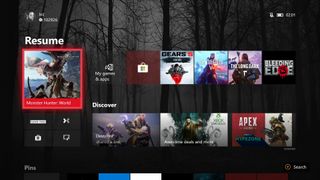 (Image credit: Windows Central)
Earlier today Microsoft rolled out what it's calling a "Home Experiment," testing out a new dashboard for the Xbox One. Xbox Insiders in the Alpha and Skip Ahead rings are gaining access to the new dashboard as part of Build 18362 in waves, and we were among the lucky few able to give it a look.
The new dashboard is a lot less cluttered than the previous iteration, surfacing more of your recent games and reducing the amount of "dynamic" content like ads and suggested activities below the fold. There's still a large "resume" button for the currently active app or game, and the rest remains largely the same. You can still attach pins, the guide menu works as usual, and you can still modify the background picture and so on. The most noteworthy change can be found in the tabular interface, which is now gone entirely.
Instead of the tabs across the top, with a horizontal navigation for Mixer, the Store, Game Pass, and the Community feed, Microsoft has placed four buttons below the large "Resume" tile. This gives you quicker access to the specific tab you want to access, without having to navigate through multiple pages. Anecdotally, it all seems a lot faster as a result, with smoother transition animations and faster load times.
Another major change in this build is the way Cortana is handled. She's no longer present on the box itself, instead, you must use an app on your phone or speaker device like an Amazon Echo Dot (opens in new tab) or Harman/Kardon Invoke (opens in new tab), or even your PC. The reality is very few users were accessing Cortana this way, meaning that she was taking up unnecessary resources which could've been allocated elsewhere. Xbox's non-Cortana voice commands will remain, however. But if you want to use Cortana's more powerful features you'll need to grab the Xbox skill (opens in new tab), which is currently only available to a few markets. Alternatively, you can use the Amazon Echo Xbox Skill (opens in new tab) which is available far more broadly, due to Amazon's more global focus on voice control.
Personally, I think this is a very positive change for the dashboard. It looks a lot more organized, and the more rapid access to other tabs is a welcome change. What do you think? Hit the comments, let us know.
Xbox
(opens in new tab)
Main
Excellent and affordable Xbox accessories
Up your Xbox experience with one (or all) of these budget accessories, all of which are approved by the gamers of Windows Central.
PowerA Play & Charge Kit for Xbox One (opens in new tab) ($15 at Amazon)
This charging kit keeps your Xbox One wireless controllers juiced up, and it offers batteries for two controllers. At just $15, this is hands-down our favorite budget charging companion.
ElecGear 4 Port USB Xbox One S Hub (opens in new tab) ($19 at Amazon)
This brilliant little USB splitter hub attaches perfectly to the side of your Xbox One S console. It's ideal for use with chargers, controllers, headsets, and more.
Controller Gear stand (opens in new tab) ($13 at Amazon)
Proudly display your Xbox gamepads with this stylish and functional stand. The licensed design is minimalist and black, and it has a hidden storage compartment, making the price of $13 a real steal.
Windows Central Newsletter
Get the best of Windows Central in in your inbox, every day!
Jez Corden a Managing Editor at Windows Central, focusing primarily on all things Xbox and gaming. Jez is known for breaking exclusive news and analysis as relates to the Microsoft ecosystem while being powered by caffeine. Follow on Twitter @JezCorden and listen to his Xbox Two podcast, all about, you guessed it, Xbox!
I'll be using my Harmon Kardon Invoke for Cortana, thank you, VERY MUCH.

Kinect still works too but you have to use the old Xbox commands in case anyone was wondering.

hi, mine doesn't work anymore... how can you re-enable ?
thanks

Let me know when they bother to allow the Xbox (or PS4 for that matter) to be loaded into the last app used when put into rest mode.

What happens when you press the Xbox button on your controller? Does it have the mini start menu still or is that now gone as well? Kept waiting for you to show/talk about that Also like no tabs now! Ads are total boo🤬, Now just make it one simple start and drop half the customization. So much fluff and over design in the xbone software. Make it all vertical scroll and simplify it. The speed improvements are very welcome if a few steps short of making a great versus an ok to use interface.

im sure the mini start menu is still there. as this was more of a revamp of the main home screen to increase its responsiveness.

I havn't got the update. I must be the 50% that didn't get it today. Either way Ill get it when its released to the rest of skip ahead. they seam to do this to limit major problems when they do major changes. … As for the buttons vrs tabs. I am happy to see this. Previously we were forced to see mixer when going across to the store. Not that I dont like mixer I stream on it at times and do watch it. the point I was makeing on twitter a while back is that takes time to load and data that is loading that im not useing. so it slows the home screen down. im glad someone out there heard this. Its good to see that we have the choice to click on what we want to load.

Very Nice
Seriously, where is it to play ?
In the cloud ?
Find the match You tube/Twitch (for esport dollars)
Scadia + Twitch, probably
Scadia + optical disk (owner format, the game does not belong to you, cool for China market) + Twitch
Cool

Not Very Nice ?
You make publicity, and i'm feel good

The fact they'd remove the ability to use my headset to say "Cortana take a screen shot" or "Cortana record that" seems neive and is very annoying. FAR more users have headsets than have echo devices lol. No reason not to allow both options.

I'm apparently the 1% of the 1% -- regularly use Cortana on Xbox via Kinect. This is on the Xbox One X, carried over the Kinect from my original Xbox One.

me too, don't use cortana but the voice commands seem to of gone now...

Voice commands are still there but they are not as functional as before. I'm not able to shut down for example. How often did I listen to music via my Xbox and did shut down via the Cortana command when leaving. That's gone now.

Well... You're not alone with that. The ability to boot up the system via the Cortana-commands was the main reason I chose the Kinect when I bought my Xbox One. Also the other commands like volume control and screenshots were in good use. Now with the changes, the Kinect is like a crappy big and bulky thing on top of my TV that only works as camera for Skype Calls with my family. I have an Echo and already changed to the new system but It doesn't work as good as Cortana did before.

Yes, argh! I skipped out on the upgrade to Xbox One S (or X, really) because they stopped making the adapters for the Kinect. And I've been fearing the future ever since. I very frequently boot up and shut down my Xbox with voice commands (hands full with plates in hand walking over with dinner? No problem, Cortana will set it up and even open Netflix for me). I also frequently used volume control and pause. Screenshots/recordings as well occasionally.

After a few days of use, I find the new design cumbersome--it was much easier hitting the bumpers and zipping through the tabs. It's only been three days, but I find myself not visiting any of the other sections anymore, and it makes my Xbox feel less engaging and interesting. Having to thumbstick down + A, then press home and thumbstick down + thumbstick down again + A, then press home again and thumbstick down + thumbstick right + A, and so on is a deterrent. I won't be surprised if they look at the data and find community engagement, Mixer views, and Game Pass / Store views way down and then decide to never roll this out to the masses. Personally, I'd be happy if that's how it plays out. That said, the Day One dashboard and UI was, by far, the best. Every single update they've had since then has made things worse--stripping away features, padding in junk, etc. It's inexcusable that they forcibly "upgraded" us instead of letting us stick with what we bought an Xbox One for.
Windows Central Newsletter
Thank you for signing up to Windows Central. You will receive a verification email shortly.
There was a problem. Please refresh the page and try again.