Harman Kardon Invoke review: An impressive Cortana speaker that sorely lacks a killer feature
By Daniel Rubino last updated
The Invoke Cortana speaker by Harman Kardon is a quality product, but the market is now flooded with more well-known – and often cheaper – alternatives. That leaves the Invoke to the Windows fans and may not yield many converts.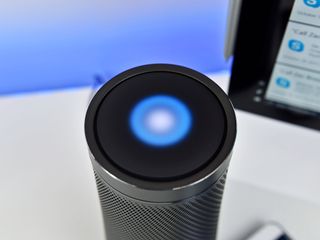 Smart speakers are weird. They're neat and kind of lame at the same time. The new Harman Kardon Invoke speaker featuring Microsoft's Cortana digital assistant does not change that fact, but it works it looks cool too.
How the Invoke differentiates itself in a sea of smart speakers, however, will be its biggest challenge.
About this review
We evaluated two Harman Kardon Invoke speakers for this review. One unit was used during beta testing and development while the other was supplied by Harman Kardon for review. The Invoke should go on sale in the U.S. on October 22 and will be available from Microsoft, Best Buy and from Harman Kardon. Suggested retail price is $199.
boom blaster
Harman Kardon Invoke hardware
The Invoke is like the 2017 Amazon Echo. It's a tall, cylinder with a grated 360-degree speaker grill. There are two colors for the Invoke: graphite (black) and pearl/silver (white).
Weighing 1 kg (2.3 lbs), the Invoke is solidly built. That is in part due to the six powerful direct-radiating speaker, including three woofers (45 mm), three tweeters (13 mm) and two passive radiators.
Those speakers can fill any room with rich, full audio that easily beats the 2017 Amazon Echo.
Image 1 of 2
Image 2 of 2
The top of the Invoke is a touch-capacitive matte black dome that houses Cortana LEDs. Those lights match the Cortana animations in Windows 10. There are a few different animations, too. There's the blue Cortana when the assistant is "talking," a red Cortana for when muted, and spinning white lights when updating. It's clever and looks great.
Spinning the dome acts as a giant volume knob for when you want to tune down the music physically.
There are the usual functions, as well, like Bluetooth 4.1, which lets you pair any smartphone or laptop to the Invoke for direct audio streaming. Audio formats like AC, MP3, Vorbis, WMA, WAV, and FLAC are supported.
There's also a micro USB plug on the bottom next to the AC barrel charger so you can use alternative ways to power the Invoke.
A crossed-out microphone button near the back lets you disable the seven far-field microphones. Harman Kardon has its own proprietary far-field voice-recognition technology called "Sonique" that is used in Invoke. It works well, and with Microsoft's Cortana artificial intelligence (AI) it's supposed to learn your room's acoustics to improve recognition.
Overall, the Invoke looks excellent. It also doesn't draw attention to itself but instead looks like a part of any kitchen, bedroom or living room setup. The build quality is excellent.
easy peasy
Setting up the Invoke is a breeze
Microsoft did a fantastic job for compatibility and ease-of-setup with the Invoke. Working with iOS, Android, Windows 10, and yes, even Windows 10 Mobile, the Invoke works just the same on all devices, any of which can be used for initial setup.
Naturally, Microsoft assumes that people who buy the Invoke will own a Windows 10 PC. But you don't need a Windows 10 PC for it to work; the system works just as well with Android or iOS.
The one caveat is you need a Microsoft Managed Service Account (MSA), or just a Microsoft email account (Hotmail, Outlook) or an Xbox account.
For Windows 10 PC and Mobile, users can simply say or type "setup my Invoke" to get the process started. From there, users download a helper app from the Windows Store (Cortana Device Setup, which guides you through linking the Invoke to your Microsoft account, connecting music services (Spotify, iHeartRadio, and TuneIn; Pandora is coming soon), and getting the Invoke onto your local Wi-Fi network.
Android and iOS users will need to have the Cortana app installed. They too can just type "setup my Invoke" and get the same walkthrough experience.
The entire setup took about three minutes.
Once connected to the internet the Invoke checks for software updates. For those curious, the Invoke runs a custom build of Linux as the OS, with Cortana built in.
While the Invoke does not have a display, any device that runs Cortana can act as one. At any time, users can pull up the Cortana app on PC, phone, Android, or iOS and navigate to "Devices." From there, they can manage their Invoke settings.
Finally, once the setup is complete Cortana takes you through various skills and features that the assistant can perform as a mini-tutorial.
Overall, the barrier to entry in using the Invoke is very low. The setup was straightforward and easy to understand. After multiple installations with two Invokes, there was never an issue during the process.
"Hey, Cortana…"
Invoke and Cortana – What can they do?
Considering Amazon and Google are market leaders in smart speakers, it's exciting to see that Cortana mostly matches those services already. Microsoft has been quietly building out Cortana-Invoke features during the invite-only beta period during the last three months. The feature-set is robust, but like all smart speakers, it suffers from the issue of having to remember what to say and how to say it.
There are two ways to engage with the Invoke. Long press (three seconds) the top of the speaker and Cortana will turn on. Or just say "Hey, Cortana" along with a command. Just tapping the Invoke once makes Cortana volunteer a random fact about the world, or give tips on using the assistant.
Here is a subset of Invoke functions:
Report on the weather (today and tomorrow).
Play music.
Identify currently playing music or the album.
Ask about mapping information, such as "Hey Cortana, how long will it take to drive to Boston?"
Get the latest news headlines (plays NPR hourly update from TuneIn Radio).
Answer questions, such as "What time is Home Depot open until?"
Set reminders, location-based reminders, alarms, and countdowns, which can then be transferred to Cortana on your phone.
Create a calendar appointment, or ask about your next appointment.
Make Skype calls.
Add items to a list or have Cortana read back what is on that list.
In addition to all of that, there are also Cortana Skills (third-party integrations) and smart home functionality.
Cortana Skills let users connect various outside services like Fitbit or Dominos pizza to the Invoke. Users can then ask Cortana for their daily step stats, re-order their favorite pizza, and more. As of now, there are around 170 different skills.
"Turn down my lights…"
Invoke and your 'smart' home
It was always implied that the Invoke and Cortana could play nice with various smart home technology, but it is now confirmed. Indeed, many of the big services are now able to be connected to your Cortana account including:
SmartThings.
Philips Hue.
Nest.
Wink.
Insteon.
Harman Kardon and Microsoft are working on Honeywell, Ecobee, TP-Link, Johnson Controls, IFTT, Geeni, Iris by Lowe's, iDevices, Ring and others to integrate in the coming months too.
Once you link Cortana to your smart home service users can simply say things like "Hey Cortana, dim my bedroom lights by 50 percent" or "Hey Cortana set the temperature to 72 degrees".
At least in theory. For my Philips Hue lights, it's all or nothing now. So, I must say, "Hey Cortana, turn on my lights" but I can't specify living room or bedroom. Things like this are being worked by the Cortana team, so I'm not too concerned.
Again, none of these features set the Invoke apart from any other smart speaker on the market, but the fact most of it is already here on day one is welcomed.
A modern home-phone
Making calls with Skype
If there were something close to a "killer feature" to the Invoke it would be Skype integration. With a linked Skype account, you can make calls to other Skype users or, more interestingly, call any phone number to landlines or cell phones.
To make a call, simply say "Hey, Cortana, call Zac Bowden, " and the speaker does the rest. You can also specify a phone number, or ask it to call an unspecified contact like "call the closest car repair shop."
Call quality is quite good. However, if your contact list is not sorted, or there are multiple phone numbers, it can be a little frustrating at times.
Unfortunately, you cannot (yet) send text messages.
The Invoke can receive calls too. If someone calls you on Skype, the Invoke rings just like any other device, and it also announces who is calling. Microsoft is working on a feature in case you miss a call that lets you ask Cortana "who just called?"
Previously, to make calls to non-Skype contacts Microsoft would charge users via pre-purchased Skype credits. At least for now, Microsoft is offering free outbound calling to U.S.-based landline and mobile phones for six months. The company is also exploring various pricing options in the future to keep competitive with Google, which offers free calls.
Overall, making calls with Skype on the Invoke is interesting, but hardly groundbreaking. There's a lot of room for improvement, but seeing where Skype on the Invoke is now compared to just two months ago, it is clear the company is working hard on features.
Serious sound
Invoking aural perfection
Probably the most common use of smart speakers is to play music. With Spotify, iHeartRadio, TuneIn, and soon, Pandora, there is a lot of potential for the Invoke.
The audio quality and dimensionality of the Invoke are outstanding. Compared to an older Amazon Echo the Invoke was louder, richer, and just better sounding. The Invoke is a serious audio speaker, and letting it play in the kitchen while prepping dinner, or using it in the bedroom is a wonderful experience. The sound will easily fill any large room, and the acoustics, timbre, and resonance are exceptional.
Playing music is a breeze with voice commands. Merely ask Cortana to play a song, album, genre, or playlist. Add on the service name at the end to get specific. Once playing you can tap the top of the speaker to quickly stop, or spin the top hub to adjust the volume.
The same can be said to for the seven microphones, which never had an issue in picking up my voice cues. Microsoft's A.I. and Harman Kardon Sonique promise to allow continual tuning, letting the speaker adapt as more feedback is gathered.
You can easily have multiple devices on the same network. All of them will get separate IDs in the Cortana app, and you can rename them to whatever you wish to easily identify them.
Currently, users cannot link multiple Invokes for audio, like the recent Alexa feature that lets you play music on multiple speakers at once. This ability is borrowed from Sonos, which is famous for remote speakers that can play individually throughout the house. However, Microsoft is currently exploring ways to add that feature to the Invoke
Another neat feature is being able to pull up Cortana on a smartphone to see what music is currently playing. This ability to use your phone as a screen for the Invoke is valuable. It lets you see the album, play, pause, repeat, control volume, skip tracks and more. The Amazon Echo has a similar feature.
If you have a preferred streaming service you can set that as default. Calling up the latest headlines, though, still goes to TuneIn Radio for an NPR hourly summary.
Portable, high-quality streaming music seems to be the main use of these types of devices, and here the Invoke does very well. Sure, more music services would be welcomed, but having Spotify there on day one – especially since Groove is no longer supported – covers most of the streaming market.
Too little, too late?
Conclusion: Harman Kardon Invoke is simply not unique
Here's the deal with the Invoke. It's a much better smart speaker than I had anticipated. I've been using the Invoke for roughly two months now and have seen the progress the Microsoft Cortana team made in adding features. In that sense, think of Invoke as an ongoing project to enhance and augment Microsoft Cortana.
As a speaker, the audio is fantastic, and it will quickly rival or even beat other similar speakers. Being able to pair any device to the speaker through Bluetooth is useful too. The Cortana animation is a nice touch. Making Skype calls works well, but it's not clear if this is a major selling point.
Microsoft found an excellent hardware partner with Harman Kardon, which took the idea of a home Cortana speaker as far as it can go. I really have no complaints, save for maybe the comparatively high price.
However, the Invoke is 100 percent a "me-too" device, emulating what Amazon and Google have already done. It's remarkable Microsoft has caught up in many ways to those speakers, but there's no clear differentiator here.
Right now, the Invoke is great for those who love the Microsoft ecosystem and rely on Cortana frequently, but it's not necessarily great for converts. Without a phone platform of its own, Microsoft is relying on Android users – and, to a lesser extent, iPhoners – to ditch Google Assistant, Bixby, or Siri for Cortana. That's a fierce struggle.
Some of these issues may be addressed with the forthcoming Cortana-Alexa partnership between Microsoft and Amazon. That partnership will let Cortana access Alexa features, including ordering from Amazon. That deal is born out of desperation, however, rather than power. Amazon faces a similar struggle with Alexa, which is not native on any platform either and competes against Siri and Google.
Once completed "later this year", Alexa will be "a guest" of Cortana. Still, it will be weird to say, "Hey Cortana, open Alexa" to order some cat food.
The other issue is adoption. The Harman Karon Invoke is only available in the U.S. through Microsoft (online and in stores), Best Buy, and from Harman Kardon. Leaving out the rest of the world is a common problem for Microsoft, but that doesn't make it any better.
Throw in the $199 asking price, and the Invoke has some ludicrous competition from Google, which now has four home speakers ranging from $49 to $399. Then there's Sonos, Amazon, and soon Apple. With that many players on the field, and Google leading the search and query market, it seems improbable that the Invoke will do much business, especially with no real killer feature.
Invoke mirrors the story of Microsoft's Windows phones, where excellent hardware and a good software experience were overshadowed by the competition. There's nothing wrong with the Invoke, but there's also nothing groundbreaking, which is a problem when you're trailing in mindshare. Had the Invoke come out last year, this conclusion would be different.
If you are heavily invested in the Microsoft ecosystem, Invoke is a great choice for your home. For those not using Cortana already, however, there is much less incentive.
Pros
Excellent design.
Outstanding audio.
Cortana already does a lot of "smart" stuff.
Can make Skype calls.
Cons:
Price is a bit high.
Google and Amazon have similar products.
No "killer feature."
U.S. only.
Daniel Rubino is the Executive Editor of Windows Central, head reviewer, podcast co-host, and analyst. He has been covering Microsoft here since 2007, back when this site was called WMExperts (and later Windows Phone Central). His interests include Windows, Microsoft Surface, laptops, next-gen computing, and arguing with people on the internet.
Savior - Rise Against is a good song haha
One of my favs

That is a good song, and while we're on the subject of music.. Daniel, you should've listed Groove as a con... I would've been pissed if I bought this speaker just to find out that Groove is being canceled. 🤬🤬🤬🤬🤬🤬🤬🤬🤬🤬

Would be nice if the ability to invoke Groove to stream your OneDrive collection remained. Not sure that it doesn't. I have had the device for a while in the beta, and agre with everythng said. Fine device, just not special. If I had nothing, it would be on my list of options, but I'm pretty embedded in Echo. Some, I'm sure, have opted for Google Home. Apple enthusiasts, if they haven't already been sucked into Echo (less likely Google) are potentially waiting for the HomePod. Pretty hard to pull them into a 'MS' product I would think. Yea, MS doesn't make it, but it relies on Cortana, not Siri. One thing not brought up is that people often have a number of ways to access Cortana, desktops, laptops, XBox, so she isn't all that unique or foreign. In fact, wiithout disabling her on some of my other devices, invoking (hee hee) the Invoke tended to set off other devices. That's an area that all the players need work in. I swear my Echo's sometimes both yell 'got it' and then drop the ball. I haven't done much with the phone control aspect, but that could well be an interesting differentiator. I imagine being able to direct my Invoke from my Surface. That would be neat.

I know this might be a dumb question, but I'm not sure how these speakers work... If you have smart bulbs, or other appliances, can this speaker work with them?... Is that one thing they're for?

Yes, the smart home integration is supposed to enable you do that. Activating other smart home devices by using voice commands to the smart speaker.

Will this play music & playlists from music on my onedrive, or just from stream services?

agree with your review. my findings are similar after a month of hands on.

What about voice recognition of different people/multiple MS Accounts?

it recognizes everybody as one voice as far as i know. not aware of any option to identify individual people.

I was wondering about that too. I thought the Invoke would be a family device with voice recognition. Without that it looses alot of household functionality. Or am I thinking about the elusive Microsoft Hub? If so, will Invoke and Hub be combined?

Multiple MSA support is being looked at, but think of Invoke as the step towards Hub. They have to build out Cortana first, which they are doing. Over the last 2 months they did a lot to add functions here requested by beta testers, honestly, it was a fantastic experience.

Have you played around with the new Echo? How does the audio compare?

Not the new one, I just have the last model. HK still has more speakers/power, so the audio should still be better.

Invoke has a 40-watt premium speaker while Echo has a 3-watt speaker. Invoke can co-exist with Echo. Invoke's price is quite reasonable when comparing to other premium speakers. You can use Invoke for music and Skype calling while use a cheap Echo for using its 25,000 skills.

OK, thanks Dan. I'll pick one up when the speaker can tell me and my wife apart. Wouldn't surprise me if a lot of others would wait too (basically anyone not living alone or using it only in their own room or dormitory).

Same here, that is pretty important functionality for a family. Hopefully they won't kill off the product before this happens. Will wait and see.

While family voices would be cool, echo doesn't do that now, does it? I think they recently just added the ability to increase voice recognition of different family members but I don't think it customizes your services based on your profile. It's funny how folks often hold MS to difference standards than everybody else.

It isn't using Windows? Won't that limit support when One Core is ready? Why would they continue supporting a custom Linux device when they have One Core done?

Isn't Android just custom Linux? If they've developed it for one is it that much more difficult to develop for the other?

Yeah, for sure. It is just weird for Microsoft to be releasing Linux based products. Don't they have their own IOT platform? It just doesn't make any sense. I wouldn't buy this with any expectations for support at all.

You do know that this is not a Microsoft product, right? It is a Harman Kardon product, has a Harman Kardon label on it, and is a company owned by Samsung. They are using a Microsoft service, the Cortana service. Microsoft is promoting this product because it uses their service, but it is a HK product. If anything it shows how open Microsoft is that their service can run on other platforms. Would Apple open up their products this way? Can I plug "OK Google" into my app that does not run on Android? A few days ago I needed to find a local veterinarian. I went to their web site where they had a map to where they were located, and it was a Google map. Does that mean Google owns that vet because the vet uses that service? I know you are here to troll, but to try to make the jump to this being a Microsoft product and then turn it into a trust issue is just another one of your wild fantasies.

If the vet was trained by Google and only used Google services when administering treatment to my pet, yes I would see her as a Google Vet.

Maybe HK plan to release a bixby version or something similar where having a shared architecture makes sense? Probably not, not a guess. Do Win 10 IoT devices exist yet? I want to say yes, but I can't think of any off the top of my head.

@bleached - proving once again how you and your comments are completely useless.

It is but only as far as the kernel, everything else is custom.

I don't get why we need such devices when we have a digital assistant in out phones. What's special with this device compared to Cortana on windows 10?

think of it like "computer" on star trek, its there, its always on and you can ask it almost anything. think back to the time when you saw capt picard ask the onboard ai a question or give it a command.

You can still do the same on your pc and phone

And tablets. Works great (room Tab Pro S)

My thought as well. It would be so awesome if there was integration with Windows Server 2012 or 2016, here. I've always felt that Home Server was the perfect product to create a Home Automation partnership with other devs in the industry. Had MSFT innovated this arena years ago instead of abandoning Home Server, Cortana would be so much better and far ahead of the competition nowadays. Moreover, I'd love to see the ability to stream my music to the Invoke over WiFi from my Windows Server. As it is, I would have to use my PC or phone, with an app running on it, in order to stream via BT. To the OP, I really don't see the benefit of this or any other smart speaker in my home when I am already surrounded by Cortana. I just hope that MSFT parallels the feature set so that all Cortana apps have the same functionality as the speaker.

If I'm making dinner and my phone is in my pocket, then odds are it won't recognize me. Sure I could leave it sitting around on a counter somewhere, but then it would get in the way and be no different than having one of these speakers. I was given an Echo Dot, and it recognizes my commands more reliably than a phone ever has. It's nice to have options.

Yep, PC or tablet never are in my pocket ;)

I wonder how this would react next to my Xbox where I confer w/ Cortana via Kinect? Would they step on each other? Probably.

yes they will. i kept the speaker away from my gaming area.

I was looking forward to the Invoke, but this was always on the condition that they solved that issue of "too much Cortana" first. Well... I suppose the biggest part of that will get resolved when I finally give up my L950 for something that doesn't support "Hey Cortana". I already have it shut off on my Surface b/c of the constant conflict.

You can switch your Xbox One back to listening for Hey, Xbox.

US only. Oh and Microsoft wonders why they fail so often.

We really don't stuff like that in Europe, so just a shame for some.

Multi-billion dollar company that has been around for 30+ years... yeah, they absolutely fail. Often.

let me ask you a question, do you think microsoft create this product ?

Let me ask you something, do you think they can compete with other companies with that excuse ?

Well at least it narrows it down for me to Google Home or Amazon Alexa. I have to say though that Alexa is pretty good having used one briefly while on holiday.

The next product to be cancelled by Microsoft. Seriously, no mindshare and no must have feature makes this a non-starter. Also failure in not using Windows IoT. There is zero excitement surrounding this device and Amazon keeps adding skills to Echo and now has Echo Video as well. This is another me too device and it will fail because they are not investing to win. At $99 it might make for some nice bluetooth speakers but that is about it.

I so wanted one but refuse to get burned AGAIN by MS on another device they're not 100% behind (Band 2?) Advertising has been negligible. If they really pushed this out there it might have had a snowball's (instead of snowflake's) chance in hell to make it work.

Same reservations about future support, but remember the Invoke is a Harmon Kardon product, which just uses the Cortana APIs. Cortana isn't peripheral to MS strategy like the band was. Though who knows how quickly this may (or may not) get updated say if Spotify changes their requirements in a year or something.
Also, not yet released so maybe too soon to judge marketing efforts. But yeah, historically MS seems to have some disdain for letting the average person know about new products / features.

This could last as long as the Kin phone...

Microsoft can't cancel a product that they don't make. Tard.

I'm happy with my Lumia 950/ two Nokia 360 speaker combo.

How does this work "at home?" Is there a way for my wife and I to use it without overwriting each other's calendars and contacts? I have to say, I'm pretty impressed with how the Google system is really designed to be throughout the home for everybody and to help everybody in the home communicate. But, I am pleased to see that there is some connection to Alexa. Finally, what about the fact that I have two "identities", my MSA identity and my Office365 identity? I'm still not sure why Cortana doesn't allow me to add both identities on the desktop.

Multiple MSA support is being looked at/investigated, but for now, like all other smart speakers (google, amazon), it's just one user account.

Google Home allows up to six accounts and has voice recognition.

Google allows multiple accounts with their own contacts... so this is a big step behind. And in the lounge or kitchen, which is really where this would be used the most, 50% of the useful functionality is unusable without this.

Amazon allows multiple users and supports voice recognition on its Echoes
https://www.engadget.com/2017/10/11/amazon-alexa-multiple-users/

The voice recognition is recent, but Echo's have supported multiple accounts for a while. You just needed to tell it which account to use. Did have an issue with that feature a little while ago. Alexa got switched to my Wife's account, and guess what, she didn't have any home control devices, only I did. Easily fixed, but took a little thought to understand why, all of a sudden, we had no home control devices.

thanks, I'm Canadian and interested for my family. Have been using a simple Bluetooth speaker in the kitchen/family area a long time... This feels like a good step and we can slowly expand our use case as the feature set builds out :) Don't see how they would ignore multiple accounts and interested in Skype landline / mobile calling for calls connecting families to other families. it should still just work while in Canada no?

This is a very good point. We use an Echo at home - and everyone adds their alarms and wake up calls throug it (esserntially acts as an alarm clock). With Cortana this will be an issue - since all alarms will now be triggered on associated Cortana devices (Phone, PC) even when I am away from home with my phone - if I linked my account to Invoke.

Looks fun not enough Cortana in this world. 🔵

I predict a very good future for Cortana and Invoke speaker, because CEO Satya Nadella is focused on AI and Cloud. According to Forbes, Microsoft has become #1 in the could (posting the link is not allowed here).

Lol, their AI assistant cant even reach many countries while google is everywhere

So you can't use it like a car bluetooth stereo where you can say "Play Music" and it streams Groove from your phone, Or call XYZ and it calls from you mobile carrier? And not running on Win 10? Maybe I'll pass and wait for a future version.

No, none of them do that exactly. You can use it as a BT speaker.

If they still had Windows phone..this would be great....But....they broke that concept..too bad..
Thanks, Dave

Where is the phone part? It's a stand alone device.

That's not exceptionally relevent, except for Cortana being the default/built-in AI on Windows phone. This like the other options, is a standalone device.

Bet this would be great with Groove on a Windows Phone....oh, wait....

i've been testing one for a couple months now. I loved it when you could stream music from your groove subscription, the sound quality is incredible. Of course, then microsoft killed their service, and I haven't signed up for spotiy yet - yet another service to subscribe to. They have definitely changed the power supply between the test units and the production unit you got. Mine had a 110v cable to a power supply, and then the cable to the invoke. What I don't like is that it doesn't recognize different voices as different users, which is a pain in our household. Overall, I never found it very useful. The lists are nice, but they go to wunderlist and not microsoft's own to-do app? and if you don't have smart devices in your home, that functionality does you no good. skype calls are a nice idea, but i've always got my cell phone on me so I very rarely used that feature. And again, since it doesn't recognize different users, the caller id from skype is always that of the user who set up the speaker, not necessarily the user who wants to make a call (like my spouse). And since I also have an xbox one in the house, saying "hey cortana" out loud would always activate both the xbox and the invoke. This was a pain. So if you are single, this speaker is for you. If you are married, it probably will only be useful to the person who sets it up.

You can switch the Xbox One back to listening for Hey, Xbox.

Wunderlist is MSs to do list, well, one of them anyway.

I want to get one just for the audio quality. HK is known for their great products. However, I'm not ready to drop $200 on it. Maybe I'll rack up some more Bing search reward points to drop the price. Hopefully MS supports this platform for a long time.

It is using Linux. Could it be Android Things?

What do you mean, Android Things?

It says this is running a custom version of Linux. It might be using Google's Android Things platform. That would probably allow Microsoft to use their Android Cortana to power this. https://developer.android.com/things/hardware/index.html

That would be interesting. I have Bixby, Cortant, and Ok Google on my S8+ lol. I think I'm pretty well covered. Cortana is still my favorite, but Bixby is actually getting better.

Wow Dan, such pessimism. Here's how Dan Seifert concluded his review at The Verge: "But if you do live in Microsoft's world and sound quality has some importance to you, there's a lot to like about the Invoke. It's further along than where Amazon or Google were at their debuts, and it already does a lot of things you want a smart speaker to do. Plus, it doesn't compromise on sound quality quite as much as the others. If Microsoft is able to deliver those promised improvements and perhaps make Cortana work better with non-Microsoft services, the Invoke could be a compelling smart speaker for the rest of us." I get that you are disappointed that Microsoft is trailing in yet another important consumer device category, but I never thought I'd see The Verge write a more balanced synopsis of this product--one which does not suggest people should dismiss it out of hand for lacking a "killer feature"--than Windows Central.

How is that different from my conclusion?

"If you are heavily invested in the Microsoft ecosystem, Invoke is a great choice for your home. For those not using Cortana already, however, there is much less incentive."

Same thing. I'm concerned for those who are NOT using Cortana already, how will they get on board with this? What's the reason? It's a tough problem and Microsoft

is

far behind here. I point out

numerous

times of the amount of progress made with Cortana and functionality here over the last few months; that doesn't make up for the fact it's still quite late to the market. Why would someone buy this

over

Google Home or Alexa? You're really into Microsoft? OK. Now, what about the rest of the population who are

not

in the minority? Pointing out that this speaker does not do anything really different from what is out there

is

important. If the Verge wants to overlook that then I think that's a flaw in their review, not mine.

This biggest issue is WHY should anyone buy a consumer product from MS? Especially when MS cans so many consumer products and services leaving people abandoned. This product would have been better with a native phone platform and native music service but MS just killed that too. Unless it's Xbox or PC, MS has screwed you if you bought a MS consumer device or service. This product is just screaming that Satya will kill it at a moment's notice

I don't know anyone that uses Google home. My wife is a die-hard iPhone user and never uses Siri has been harassing me over my Windows Phone (although she always wants the pictures I take with my Windows phone). we now have an Amazon dot in the house. No one uses it. But I like music and I want this device to play music. My attempt to get Sonos working in my house bombed. no one uses it either. I know I will use this device in my family room. My expectation is my wife will use it too. Maybe this will get her to use Cortana on her phone.

A year later, but how did your plan with the Invoke work out with multiple users? I picked up a couple of Invokes as they're on sale for $50 at MS stores and only have a few days use without any Alexa use yet (I have not used any Alexa devices before). They'll be used mostly for music in the kitchen and living room when want music on the side while gaming, using pc or watching tv all with a real sound system. So far, I like the sound quality and Spotify integration which is seamless as a premium member.

I agreed with Dan's review. 4/5 yes, as a heavy Windows user, its nice but other products have more mindshare...

How do you use this thing as a family? We are six people, with different MS, Skype, Spotify and all kind of stuff that could integrate against this thing.

Despite you claiming you're a Microsoft fan, I actually see absolutely nothing in your comments indicative of that supposed fact.

I am a Microsoft fan. Definitely a salty one though. They have been dropping the ball since Vista and it has been cringy to even watch. You will notice even Microsoft centered journalists are very salty these days. Even this site has become a bit negative about Microsoft and it's actions.

I am very salty myself. The difference is I am not constantly encouraging people to jump ship on every single product. Case in point: Surface is a good family of devices and I approve (so do many other independent journalists) but you don't. You don't recognize how the devices are very well crafted and the line actually inspired a new category that was followed by the industry but I do. And this device here is good, and it may lack a feature. But I wouldn't say "Buy a Google Home". I would say "apparenty the device doesn't support that for now". It's not just this one thing, it's a collection of comments together that suggests you only claim to be a Microsoft fan. By the way Microsoft started dropping the ball after some idiot though they should demote the desktop to an "app" on devices that only supported mouse and keyboard: Windows 8. Before that it was a hit and miss with Vista and 7. I hold that 7 is by far the best OS Microsoft has ever created.

Vista was a train wreck, especially the development of "Longhorn". After a couple service packs it was fine though. Windows 7 was awesome though, I agree. I think Microsoft's biggest issue back then was lack of cloud services. While Google was building up Gmail and a whole range of easy to use and access services, Microsoft was just sitting back riding the Windows and Office train. Only the past few years have they started to actually take cloud services seriously. This severely impacted their other initiatives like Zune and Windows Phone. They were reliant on outside services and even services from competitors. Now they are years behind and are struggling to stay relevant. The quicker people move away from Microsoft, the sooner drastic measures will be taken to seriously address these issues.

I don't often agree with you but when it comes to Microsoft you've got it spot on. I give this speaker 6 months on the market before Nadella kills it by cutting off access to Cortana APIs, why I hear you ask? Well, simply because it's a consumer product. I also predict that in a few years consumers won't be using Microsoft products at all, as Nadella will have Microsoft focusing solely on enterprise and the cloud having retrenched, sorry retreated, from the consumer market altogether.

only problem is it(Google Home) sounds like ****.. I mean there is a reason why Bose sells. doesn't it? Before you get into a stupid catfight saying there are better speakers than Bose, I know!!! Relax..

Yeah, I plan on getting the Home Mini and using Chromecast to control the sound output to my Bose (which I am honestly not that happy with soundwise).

When this was first announced (over a year ago??) I was all in. But it took forever to come out, and the competition just took the idea and ran with it. Not sure I would buy it now. Microsoft has burned me too many times with their incompetence and disregard when it comes to consumer devices. I loved my Band, my Lumia Icon, Groove, etc., but Microsoft wants me to go elsewhere, so lesson learned...

MSFT should have released a simply microphone/speaker device quickly. Then released the high-end speaker (Invoke device) once the necessary engineering was completed. But from what Daniel states, MSFT has been working hard just to get the software for a smart device up and running. I don't have a microphone connected to my PC so I don't use Cortana in the house. My kids and wife don't use Siri. I use Cortana on my Windows phone. So I am perplexed. If Cortana has been on PCs for over a year, and MSFT has been working with Cortana on the 950 for over 2 years? Why so much time to get a smart device into the market? Where is the Surface team?

Why bother with this thing ?
Soon Cortana will be in 3rd / 4th place against Google Home/Now, Siri and Alexa. What "Hit Refresh" guy gonna do? Funny thing is Nintendo Switch is selling way better than Xbox One. Soon Xbox will be the 3rd gaming ecosystem, what "Hit Refresh" guy gonna do ?

The handheld market is very different than the console where 4K and AAA titles exist; don't be silly. The fact you mention that shows how out of touch with technology and the market you are.

Huhh, I don't think Ricardo Dawkins is being silly, He is one of many who are very pissed with Satya's refresh mantra and that usually kills loyalty. I believe what read from him is frustration more than lack of tech knowledge. I could be dead wrong, but I share that frustration. I plan to buy one and our kids at home will be the guinea pigs for testing it out with our Amazon Echo.

Refresh isn't Sathya necessarily.. Win 10 mobile was an unwanted refresh not under Sathya. It was under your savior Balmer

At least Ballmer wasn't afraid of competition in the consumer space, unlike Nadella who is having Microsoft retreat into their enterprise first, cloud first safe zone.

I was hoping it could control my PC....Like hey Cortana shutdown my PC, Hey cortana,Wake up my PC and open Outlook, Edge... etc. Hey cortana, remind me when my PC is about to crash....Hey cortana reboot all Azure servers.

I am sure MSFT is working on this. Cortana, Alexa, Siri, etc. want to be the primary service form which all devices respond. MSFT hired 5000 engineers to build AI. You have got to believe making Cortana a master of all devices is in the plan. I also understand the AI is much more than a digital assistant. But why could you not say, "hey Cortana, email Jason the 2016 P&L and current rent roll." This would require Cortana to know your outlook emails. Know Jason wants the P&L and rent roll. Probably knows that Jason is a mortgage banker that requires the info and is happy to get this info together. If Cortana gets that smart, why couldn't Cortana say, "Jason from the bank is requesting the P&L and rent roll? Should I email the info?" Of course, for this to happen, Cortana would have to be able to access your accounting software, which for me is a SalesForce/Google Docs product. While it is a great integrated cloud-based product, the quality is inferior to the quality of Office documents.

US only...I'd purchase one of these now if it was available in the UK!

I love it...looks great, Cortana is still my favorite Assistant to interact with...however, I will not buy another MS consumer facing product.

I have Amazon Echo, it does not interact with Skype and can not make a phone call skype to line like you just did. My Amazon prime info is not as rich as my MSFT services which makes this better in that regards. Finally, when Echo first showed, it was $199, well this also just showed up, with time price will come down just as echo did. I hope MSFT based speakers can differentiate by allowing multi users setup and that will be really unique.

But you can make calls with Echo. Bing the following "The Amazon Echo just made home phones cool again. Here's how to make calls with Alexa"

I had been waiting for this. Then i got an echo dot and it's Sooo much faster at voice than my Xbox one or elite x3. Then i saw a great review on google home mini and I'm lookin at where we -my house- need to be to be worthwhile and.... As much as i enjoy Cortana the halo novelty of saying Cortana just isn't enough. If i drop $200 on this, after everything else does it have a future? My new hvac system has Alexa for heavens sake

it all have dual Cortana and Alexa support

Would you rather hear music from the dot or the Invoke?

I'm all in on this. Been using home remote on Cortana for home voice control for a while. Basically saying turn on the lights vs Alexa tell insteo. To turn on the lights is the killer feature for me. Also Cortana does follow me around and google does not seem to follow my friends. Searches on home don't reflect on android and chrome the same as the follow me features on Cortana. Once multiple log in is there and u get multiple cortanas to pinpoint your location and let cloud select the responding device you will have the ability to set up a demo that shows that the synergy is the killer app. And if ms were to give free Skype minutes on Cortana devices then u could pay for lte data and not worry about minutes and move to Skype across devices....on an ultra mobile. I will stick with wm till the close of 2019. Based on sataya last week I expect the surface mobile by then. Also if your Alcatel or hp or even 950xl are running slow I suggest full reinstall of creators update. Sometime that will clear out any junk turned off or still broken in the insider builds over time. As for Spotify the best app on any device is spoticast which only supports Windows including phone. And supports hd audio and hd videos as well as cast to Xbox and stream from one drive. It's awesome. Just a different ui than groove. I do miss the groove ui.

I'm all in on this. Been using home remote on Cortana for home voice control for a while. Basically saying turn on the lights vs Alexa tell insteo. To turn on the lights is the killer feature for me. Also Cortana does follow me around and google does not seem to follow my friends. Searches on home don't reflect on android and chrome the same as the follow me features on Cortana. Once multiple log in is there and u get multiple cortanas to pinpoint your location and let cloud select the responding device you will have the ability to set up a demo that shows that the synergy is the killer app. And if ms were to give free Skype minutes on Cortana devices then u could pay for lte data and not worry about minutes and move to Skype across devices....on an ultra mobile. I will stick with wm till the close of 2019. Based on sataya last week I expect the surface mobile by then.

So I didn't see it mentioned... Does this support streaming a purchased music collection housed on a NAS or OneDrive via voice command? (I get that I could use my PC to stream that over the BT, same as any BT speaker)

At least in theory. For my Philips Hue lights, it's all or nothing now. So, I must say, "Hey Cortana, turn on my lights" but I can't specify living room or bedroom. Things like this are being worked by the Cortana team, so I'm not too concerned.

I changed my Cortana language to US yesterday so it could control my Hue lights. Why is it so hard to enable that for Canadian English I don't understand, but that's not my main point. I quickly discovered the same thing. I can turn on or off all lights. I can turn on or off individual lights. I cannot turn on or off rooms, which is the thing I would want to do most often. I'm sure it will come, but it was a letdown after going out of my way to figure out I had to change the language to get it.

Is the trigger phrase any good, I'm frequently saying "hey Cortana" to my phone repeatedly to try and get it to pay attention?
I suppose they may be worth grabbing when they are discontinued and half price :)


Meanwhile, my Surface Cortana came up three times during Dan's video because he said the words. You'd think she'd know better that a video is playing. How hard can THAT be to program into her?

Um yeah that can be hard, why do you think that's an easy task? What parameters would you put in to say x is a real person speaking, y is fake don't listen to that. We're not at the star trek level of technology here yet.

Just need the OS to communicate with Cortana if a video was playing when she detected the phrase. If they have automated closed captioning possible, this should be too.

There's an easy fix for that, have Cortana learn your voice and try to only respond to you.

If you owned an Echo and wached TV at all you'd know it clearly isn't trivial. My Echo is constantly responding to Alexa on ads, news programs, and other instances of her name. It much like the old XBox commercials that were turning on and off XBoxes everywhere.

I don't think it has much to do with the trigger phrase, but more with the microsphones being able to clearly pick you up...which is why these kinds of devices (echos, invoke, google smart speakers I forget their name) have specialized microphones to be able to more clearly hear you when you'r speaking.

So, apple has nothing... just a rumor of something coming later. Yet, Microsoft is "late"? How the f*ck does that work??

Large user base already using Siri on their phones would be my guess. It's an easy transition from iPhone to speaker if Apple releases their product.

There are millions of iPhone users and millions more who are happy to pay to continue Apple lock-in; so they can literally afford to arrive late. I'm less concerned about Siri though and more about Google who now has 4 speakers; Amazon too. For just $30 more you can get the Amazon Echo Show with video.

I don't agree. It seems like to most people MS is "late" no matter when, how or where they start. Yet no other company is "late" nor "missing" when it comes to them not offering something MS does. I'll give you price, and the fear of spending that much without knowing if MS will even support it 6 months from now.
As it stands now, and I'm sure you'll have different stats, but I literally know NOBODY (except one) who has, uses, or cares about either device. The one person who has one, just happened to be someplace in SF when google was giving theirs away. He got it, set it up, but doesn't use it.

Actually how does this work with say a 60.00 cube phone mounted as a tablet near it with the app running. Would that be seamless

Waiting for the review test with Cortana, Alexa, and Google Home. Need to give them each the same commands and see how fast, accurate, helpful each one is.

You activated my phone everytime you said "Hey Cortana" :D

I don't use these assistants, I disabled Cortana awhile back on my PC. How do you deal with having multiple PCs, phone, Xbox, speaker, etc. when you say Hey Cortana, or when you get a notification? Do 6 different things all chime at once? I would find that maddening.

I'd love to have a device like this, but the biggest problem I see is that Cortana is not able to determine the language being spoken (my family speaks 4), and apparently also not able to determine who is speaking. While the 'who' part is surely being worked on, the multiple languages issue remains a big negative for me. Even when it tries to read text messages that I receive in various languages, Cortana just garbles it unless it happens to be the language the phone or computer is set to. As good as the hardware may be, I just can't see this being of any use in my household. A shame really, as I'd love to be able to effectively use it.

Are there any of these speakers that handle multiple users with multiple languages?

I think the price discussion is an interesting one. While, yes, Google and others may have cheaper smart speakers, do they sound as good? A smart speaker is two devices: A smart device and a speaker. If we just look at the smart aspect of the device, it sounds like it may be overpriced. When we look at the speaker part, it sounds like it's properly priced. While I have my concerns with how much Microsoft will be dedicated to this device and platform, my thinking is that with Bluetooth onboard, the worst case scenario is I end up with a high quality Bluetooth speaker, which I could use. The best case scenario is I end up with an ever improving smart speaker. Given that I'm heavily invested in Cortana already and I love good sounding gear, seems like a smart buy for me.

Can it play Groove music files stored on OneDrive? From what I understand, you will still have the Groove app, just not the Groove pass, so in theory, it should be able to stream your non DRM OneDrive files, right?

Wel'p, that just saved me $200. But how is that not possible? I have a beats pill that streams my OneDrive collection over bluetooth.

Enlighten me. How does your Pill stream your OneDrive collection? Do you BT to MS servers? Do you maybe BT to a phone or PC playing Groove from OneDrive? The Invoke can do that.

Even before Groove was killed and thus the service was still integrated with the Invoke, you could not stream your own OneDrive stored songs. You can however pair the HK via BlueTooth and stream from your PC or phone.

Can you stream groove from a phone or PC to the Invoke? Your own DRM free files stored on one drive?

The fact is that this model is too simplistic to use today... this kind of device would go in the kitchen and so there are multiple people. When I say call X, that's from a different phone contact list to my wife asking the same.... same with setting reminders etc. Some of the other units do this and to release a product at this point that doesn't cover that is a mistake. I also feel that Groove should have still been included. I have a bunch of MP3 files that I'd still like to be able to play, but cannot. And how many iPhone and Android users even know what a MSA is? There's the whole question of will they market it so will any even sell or will a buyer be one of 100 in the country. The recent history of consumer product support from Microsoft has not inspired any confidence and so one has to say buying a Google or Apple device or Amazon is a safer overall choice, especially given their maturity and more advanced features. With multi-user support, I'd would have purchased one though due to a history of Microsoft tie in. Without that I'll stick with using a mobile and see how quickly this gets updated with critical features like this. We have a Blueooth speaker for listening to music already and this needs to do more to justify the price. Sadly the lack of focus from Microsoft on the consumer mobile space means that the services people use will likely all become Google and Android based. Unless Microsoft make a VERY commited push to be that third virtual platform that provides a premier experience alongside any other device. As Zac said on the podcast the other day, Cortana appears to be in stagnation. This product doesn't show an upfront understanding of the market requirements, and is a dissapointment given the time to deliver.

I loved Cortana on my phone, I loved it on XBox but they killed Windows Mobile and they killed Kinect and gutted it's features even as they replaced "XBox" with "Hey, Cortana", they also killed Groove although to be fair I had switched to Amazon Music Unlimited a couple of months before that announcement. Cortana never got the mindshare required to be able to sell something like this and now likely never will, Echo or Google Home are just more logical choices for most people and now MS don't have a viable ecosystem so they are just wasting their time with this. I wish it wasn't true but it is.

A great idea would be to have all devices (Windows or not) that have Cortana installed, be able to scan the network for all devices with Cortana, then prioritize which one would answer when in range. This would almost solve having someone with an entire MS platform in home, be able to say "Hey Cortana" while playing the XBOX, and if you have the Cortana speaker close by it will answer and not disturb the XBOX. But could integrate with the XBOX with certain commands, so it could pass instructions to another Cortana in the room. Why would I want to disable Cortana on my Surface tablet, or my phone, or my PC, just because I own a COrtana speaker in my house?

R.I.P. Sonique.
Best music player from the 90's visualizations put WMP to shame.
http://www.majorgeeks.com/index.php?ct=files&action=file&id=1171

I was hoping with the release of this that the 'Open Alexa' feature would have been ready.

Re: the "Hey Cortana" command waking all devices in the room, would it be difficult to let the HK pair with them through Bluetooth (or Wifi or whatever) and make them stand down? If this is technologically impossible, then does MS think the future is to call "Hey Cortana on [device]" to get the right device? That doesn't make much sense...

Not much to say on this just that MS is aware of the issue and working to fix it here and everywhere; what that actually means or whether they will solve it anytime soon remains to be seen though. All they have done is acknowledged it and are exploring options.

Why couldn't they establish a hierarchy? If the devices can sense each other (phone laptop PC etc...), then let the invoke take command in its location. I don't have a microphone on my PC. So it could serve as the microphone and allow a window to pop on the PC up when I say Hey Cortana. If my laptop is open, and I say "Hey Cortana, play some music", obviously the sound should come from the Invoke. The laptop would open Spotify to give me the visual cues. If there are multiple sound systems, why couldn't Cortana know to use the preferred device (if your stereo is off, then the Invoke? Daniel, when you said the sound was better than the other devices, you sold me. My amazon dot does not have good sound. And no one uses the dot. But they can sit in the same room together.

To be clear, this is an area needing progress on other platforms as well. If you have multiple Echos they also will all respond if they hear you. Typically one will take action, but I have had more than one set a timer, but only one shut off when done. I have had more than one react, but neither take action. How to handle multiple units is a difficult problem which requires some thought. Echo and Google Home have a little less to worry about as people don't already have multiple devices around the house. You can place your Echo where you need it without having to consider the XBox or PC close by. The existance of Cortana on these devices is actually a hindrance to MS in this case.

Echo Plus for the win, damn it!

A killer feature would be if it were smart enough to recognize if it was me, my wife, or another person, and link actions to their account. So if I ask it to remind to do something tomorrow, it should recognize it is ME, and link it with my cortana. My wife should be able to do the same. Now, that would be cool!

Google Home can do that now.

I will wait another year before buying. In the words of a great CEO who said something similar about the mobile platform, I dont understand the need for another voice assistant........... I will buy it after a year if MS does not abandon the solution.

Even if they stop selling the product, if you were to buy it today it will continue to work for years to come. My MS phone still works even though they don't sell them anymore. Some folks get a little too preoccupied in focusing on sales. Worst case is MS shuts down Cortana and in this instance the Invoke will still be a pretty bad ass bluetooth speaker but that would be years down the line. As opposed to the Echo, if that shuts down, you can't even use it as a speaker. It would litterally be a brick.

Will this work with the harmony hub? Really the only smart home equipment i have currently, but eventually i'd like to get most of my main floor on wireless dimmers (looking at lutron caseta currently). Will this work with those? What about Ecobee3?

Right now just that half a dozen brands noted in the article, but the expectation is more to come. I have tested with Insteon and it works reasonable well. Don't have any of the others to try. Dan notes some experience, and I expect others will chime in on what they have.

Why can't I just do all of this stuff with my existing Xbox One (and soon to be Xbox One X) with Kinect? I don't need another speaker/microphone combo. Get your stuff together Microsoft and let us use our Xboxes and home entertainment systems to their full potential.

Using my new BlackBerry Priv ( ex Lumia 950XL) with Sonos One in the UK... This product is dead in the water... Have Microsoft Launcher and all MS apps installed and it's pretty good... Just miss the photo and movies apps hope MS will make those soon...

Nope. My Windows Phone and my XBox Connect still work as good or better than the day I bought them. True, they aren't adding new features but all the out-of-the-box features continue to work. So unless MS abandons Cortana altogether, this device will keep working even if the product line is canceled.

US only!!!! AAARRRRRRGGGGGGHHHHHHH!!!!!!

I guess I can wait a few months and get it 75% off would not be bad.

I'm gonna buy one today and then hopefully in a few months they figure out how to sync multiple devices together and then I'll buy the 2nd one for 75% off. ;)

Hey, Microsoft. Instead of just doing one consumer device at a time (phone, then band, then IA speaker), try having a complete escosystem for a change that would allow someone to really buy into any of them! Just saying you are planning to create mobile devices an phones in another year or two, could sell a lot of the Invoke speakers now. Instead, this will be another partial solution that will fail because it cannot stand on its own!

I've been waiting for this for a while. I'm a huge Cortana fan. I have an issue with you calling it a "me too" speaker that "Google and Amazon" have already done. Google Home was a "me too" speaker. Amazon did it first, but they didn't market it on TV that well until Google Home came out and Google heavily marketed the google home, so it picked up steam early on, but make no mistake, Amazon was the trail blazer here and it was brilliant putting their AI assistant on it. i just wish they would do what Microsoft did and make their assistant portable on all mobile devices. I do agree that MS has some ground to make up since they waited over a year to get a smart speaker out. At least they were quicker than their Zune MP3 player and their Microsoft phone. I hope they go heavy with the Cortana Alexa integration. If they do that, I think they can corner the market. I'm not sure what Apple's plans are, but it looks to me that if they're planning on releasing a smart home device, it's going to be relegated to the same demographic as those who use Apple TV.

If this thing doesnt connect with Chromecast, or a Miricast or something that lets me say, "Play Star Wars on my living room TV from Plex" I'm out.

Dan can u attach this thing to a portable phone battery pack and make it mobile?

Says it has Micro USB charging, so probably. But Cortana won't work without an internet connection.

I'm curious if this can be used with Skype for business in a conference room for online meetings?

I think the snag would be that you set it up with a Microsoft Account, not an AD account, like you would for Skype for Business. That said, you can combine regular Skype and Skype for Bus calls, so functionally I bet you could get it to work. Not sure you could initiate a call, buit I bet you could bring it into a call.

Good question. I bet it will for 2 reasons. 1. It allows you to connecct a phone via bluetooth so I bet you can use it as a remote speaker w/ your phone, at bare minimum. 2. My MS account is connected to my Office365 account. So it may work natively. I'm going to buy one today and I'll test it out and let you know. If this does in fact work, that would be pretty cool. I'll post back.

She definitely seems as responsive as she ever was. That is better than at least Alexa, which I have problems with delay occasionally. I'm a little unsure of how I should proceed. On the one hand, I love Cortana. I enjoy her ease of use, accuracy, and I use her in other Microsoft software. She is even offering integration for all of the smart home devices/hubs I presently have. So thats great. On the other hand, well... I already have a couple Echo Dots and a Sonos that I use for smart home announcements. I'd love to replace them with Cortana but... will she be sticking around!? And, how well will Microsoft encourage and support skill expansion? I like Amazon because it isn't Google, but they also have a pretty impressive set of skills even if their app/ media ecosystem is wonky. Also, I am super sad *STILL* about Groove. I am struggling to make Spotify and (sigh) Apple Music be what I want it to be. I guess I'll need to wait a while and see how well received it is and also see whether or not Microsoft does a collaboration for a hockey puck version (a la Dot). That is what would interest me most.

The only reason to buy the Invoke is to listen to music easily. I have an Alexa dot in my family room. the sound is not so good. But I will have an Invoke to listen to music. My Sonos device never wants to stay connected to my network. I gave up trying to figure it out. Cortana has always recognized my voice.

Since Microsoft isn't offering a first-party device it is convenient to compare the Invoke to others' first part devices. But it is a poor comparison. With the exception of Apple, first party devices are targeting more mainstream use. Even though the Second-Generation Echo and Echo Plus have improved audio, they still aren't audiophile devices. And the Second-Generation Echo is half the price of the Invoke. The right comparison is the HK Invoke to the Sonos One, which is the third-party audiophile offering in the Amazon Echo ecosystem. I have yet to see a true review comparison of the two, probably because no one has both devices (or the Sonos One is still embargoed). The Echo ecosystem also offers control of the full line of Sonos devices (see my example at https://hal2020.com/2017/10/12/sonos-and-alexa-now-for-niles/) as well as the Denon/Marantz HEOS components. So the HK Invoke isn't interesting to me. But what is interesting is the forthcoming Cortana-Alexa integration. I'm going to live in the Alexa world for the foreseeable future. But Alexa is weak where Cortana is strong, and the two make a wonderful match.

I dont see a point in all these smart speakers. I can do all of that crap on my smartphone.

Is this going to work with my Xbox one with Kinect? Both are called with "Hey Cortana".

"leaving out rest of the world is a common problem with Microsoft". That pretty much sums it up really, I'd hate for this speaker to get the zune treatment. As it looks like a great product.

As a Prime member, I started using Amazon Music way before they killed Groove service and since Amazon Music is not one of the natively supported music subscriptions on the Invoke, this will be unfortunately a non-starter for me.
I gutted my Nokia 6 and shut off whatever Google services possible on it and loaded it with MSFT apps and use Cortana every day, but not having Amazon Music on the Invoke is a serious, serious shortcoming for me. Since I already have Amazon's excellent musicservice, paying for another radio $10 a month would be downright foolish. I've been using the iconic H/K Soundsticks for 15 years now and love their sound, but I'm afraid this is the end of the road for me and Cortana on ambient devices. "Hey Cortana, tell Alexa to tell Amazon Music to play a song..."
Ummmm...
Yikes...

"...Had the Invoke come out last year.." It would have been cancelled this year! Hi Yoooooooo!!!!
I'll be here all week..try the buffet.

I am sure the device is extremely good and extremely high quality from Harmon Kardon. And like Windows Phone and Zune, and Band, I am sure Microsoft will support it for five minutes before leaving everyone who invested in their new Cortana speaker in the dust. Fool me five times, shame on me. Buyer beware.

Dang! I finally sign in and you said everything I wanted to say. Nadella already has his exit strategy in place for yet another "MS Abandonware" device. I have come to totally hate this company for the technological graveyard I have about my house.

I have been extremely loyal and have owned WM6, 7.8, 8.1 and now WM10 (950) plus a Zune30 and music pass subscription. Plus Surface RT and three Pros. Now everything but the Surface Pros have been dumped by MS. I cant do it anymore. I now hate them too. They are forcing me onto an inferior platform, Android, etc. No more, never again. I have a mind to sell the Surfaces too because I can see them dropping that line too, in the near future. Zero trust in this comapany. Zero.

I have a Sonos thing. It never seems to stay connected to my network. The user interface is horrible. I am buying the Invoke, because I like Groove, will switch to Spotify and use the invoke to listen to music in my family room while I am doing my evening chores.

ok, i just saw one invoke (new in box) in bestbuy. i asked the staff and they said they could actually sell it to me. i should have bought it...

Caveat emptor! Microsoft has a little rug weaver named Nadella, who includes his magic carpet in with every product developed. One day you're confidently cruising along with your device and suddenly the whiff! The rug is pulled without warning and you're stuck with unsupported hardware, as the fearless MS leader slips back into the safe confines of...you guessed it...the 'Cloud'. Sorry Satya, I do not wish to buy your merchandise today or in the foreseeable future.

Amazing they put all this effort in a product that we know will loose support for lack of sales a year from now. I can't imagine anyone buying this, apart from the few MS hardcore fans with masochistic tendencies. MS has killed the product category (mobile) that brings all these other devises and services together. Now it has a beautiful device that will get no attention from non-MS fans because there are better compatible devices out there. And the potential user base of windows mobile users was burned by MS, most of them gotten the hint from MS that better products should be bought from the competition. I really wonder what the MS strategy is, I don't see it going anywhere.

Why has Microsoft made a smart speaker? Is it a vanity project? Surely they can't believe they're going to win market share with it

I would have purchased a few of these since it appears it has superior sounds, it is a Harmon-Kardon after all...BUT it is a MSFT hardware product, and given MSFT abandonment of many of its superior products, I will unfortunately go with Amazon's Echo because that's where I do most of my digital commerce, including music...

Why? The ability to use an assistant has to be across all devices and whilst I except that MS has Cortana on Android, it is not the same as the Windows Phone and as such I have stopped using it on BOTH mobile and desktop, so I would not rush out and buy this speaker. However, in MS defense, I would not buy any other assistant speaker also. Since having been "FORCED" to buy a Android phone, due to the lack of Windows devices, my experience with OK Google is poor, Bixby? I have never used it. So until one assistant, trully works across Windows, Android and perhaps iOS (although I have never used it) then my opinion of all the assistants currently outh there are all useless.

"lacks a killer feature" OMG they didn't completely reinvent the category! The article also states that there's nothing to really differentiate the Invoke from the competition. Yet claims that most people use these devices to stream music. Seems like superior speakers and sound WOULD be a differentiating feature.

Anyone know what happens when I receive a Skype call and I am away from the invoke? Will people at home hear my Skype conversation or even pick up me Skype call?

I really have a problem with this speaker ecosystem. I realize this won't affect everyone, but for me, multiroom audio is a huge part of these systems. Right now, after playing around a bit, the Google Home/Chromecast Audio/Google Cast ecosystem seems to be the current champion in terms of getting this to work with voice. (I still prefer Sonos overall from an app perspective.) It's great that Amazon added multiroom for the Echos; while the Sonos integration is in beta, it has the problem that it doesn't currently support grouping via Echo/voice control. Since Cortana speakers don't currently support multiroom at all (but MS is evaluating it), what's Microsoft's thoughts here? Is multiroom a vendor specific feature (e.g HK units will just work with other HK units) or is it a Cortana feature (works with any Cortana-enabled device - HK speakers, tablets/PCs/2-in-1s, Xbox Ones, computer sticks, etc)? Lots of unknowns for being this late in the game.

Totally agree with everything you said. But apparently it is a difficult feature to do properly. If the sync is off by one milisecond, the feature is 100% useless. That said, my Squeezebox from ~10 years ago was able to do this but even that product, it took them a couple years to implement it. It's odd that it's taken Sonos and Amazon several years to get around to this but I suppose it's because it's a technically challenging feature. If it's not 100% perfect, it's 100% useless.

As a long self admitted Microsoft Fan and (dissapointed) consumer of many of their abandoned efforts, I won't be fooled again. I'm letting others take the chance this time.

If this is aimed at productivity, it should be able to connect to my PC, transfer some files to cloud and actually integrates to Azure for monitoring servers. I'm not sure why Microsoft insists on productivity when all you want when you get to home after a grueling 8 hours of work is to just play and relax. Microsoft is the next IBM.

While I don't disagree with your sentiment that this product is a little lack luster, your logic pretty far off: 1. Per Fortune, IBM employees ~400,000 employees worldwide making it one of the world's largest employers with a profit ~80 billion making it the 9th most profitable company. It also holds a record that it creates the most patents for 23 consecutive years. IBM has done this by spinning off much of their consumer market products to focus on more profitable markets. So if MS should divulve to IBM's status, tha ain't bad at all. 2. MS is NOT like IBM as MS is probably the ONLY tech company that has dominated over 4 decades. No other tech company has been as successful over such a long stretch. MS continues to evolve and they've had some not so glorious moments (such as when Gates said the internet is no big deal) but so far they've always successfully course corrected rather than failed. 3. Why would you want to transfer files to/from a speaker? Super confused on that one. ...and how much profit can be made by adding monitoring services to a speaker? Like 4 people would buy that. 4. But if that was desirable, I'm sure this product surely will continue to evolve, like most of these AI products. If people want that, I'm sure they could figure it out as time goes by.

While most commenters repeat their disappointment about various consumer products Microsoft no longer supports, I actually bought the Invoke today. I mainly wanted a high quality speaker that would play my music collection. And this is a very high quality speaker indeed. No drop off in quality even at very high volumes. Voice control is great and works even if the music is playing loudly. Set-up was a breeze. Skype calling was a pleasant surprise and is something I expect to use a lot more. I called a number of land line friends and none reported bad audio quality and the quality on my end was more like a conference call sound, but certainly acceptable. I expect to use the smart home features as well and two ot three of the other skills. The upcoming availability of Alexa's shopping skills will add value as well. I'd encourage Microsoft to work on more integration with Skype, add the ability to play my OneDrive music collection as well as the music services available, and let me connect additional speakers ala Sonos.

Reading the Skype terms for the free calls to mobile/landlines in US/Mexico/Canada, don't see anything about a definitive end-date. That should be something Microsoft should be pushing hard, not hiding. https://www.skype.com/en/legal/calling-promo-terms-invoke/

I heard they were to start retrenching soon on their smart speakers.

This device makes absolutely 0 sense to purchase. Microsoft has made perfectly clear they are NOT competing for the Consumer space. Satya Nadella has abandoned everything Consumer... for that matter he's even abandoned enterprise products... abandoning the OS underlying the HP Elite x3... and recently his henchmen have abandoned the Surface Phone dream. There is a 100% chance Microsoft will abandon the underlying OS for this device, and Harmon Kardon will give up just like HP did with the Elite x3. Save your money... purchase an Alexa. Under Satya Nadella's policies Microsoft is a train wreck waiting to happen.

...or wait for the inevitable fire sale.

Microsoft does not make the underlying OS on this device, just Cortana. The article says it's running a custom Linux system built by Harman Kardon. Harman Kardon, known for audio-based entertainment (in-home and in-car) does not have a history of abandonment, so unless MS cuts the legs out from under Cortana, this product should be well supported.

You are wrong. Microsoft has made it clear that the consumer market is critical to Microsoft. https://www.youtube.com/watch?v=q9jZUQAZlWI

The killer feature is sync across all your devices. You can wake up in the morning and tell your Invoke "when I get to work, remind me to check the mail," and you'll get notified on your phone or desktop PC. Cortana is the only assistant that so readily notifies and reminds you on any device you log into.

Oh yes, let me spend ANOTHER $200.00 on a product MS will discontinue in 2 years so it will collect dust on the shelf with my BAND2 and Windows Phone........at least I never bout a Zune!

Would it stream music from a NAS drive and would it support playlists or smart filtering based on things like genre, artst or year?

ok, so to be clear. It won't stream music from my onedrive collection unless I use BT and have phone/pc actually do the screaming? Lame.

I wish I saw this before I bought the speaker. I spent the last hour trying to figure out how to play Groove music and it can't? WTF?

Bought one, BF, $99 and tax. We will see.

I'm not sure why everyone has to complain about everything. I love Invoke. I use it everyday. It is what it is. I accept that. I don't purchase an item then complain or wish that it was something else. Competition is good for the consumer yet the consumer seems to want only one product to succeed. Consumers are idiots.
Windows Central Newsletter
Get the best of Windows Central in in your inbox, every day!
Thank you for signing up to Windows Central. You will receive a verification email shortly.
There was a problem. Please refresh the page and try again.