Cortana gets a new boss at Microsoft
Javier Soltero, who previously headed up Microsoft's Outlook Mobile team, is now corporate vice president of Cortana.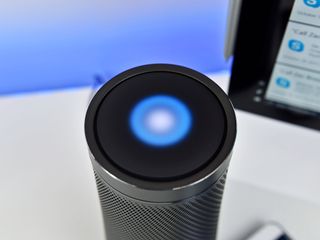 Cortana is getting a new boss at Microsoft. Axios reports that Microsoft's Javier Soltero has taken on the role of corporate vice president for Cortana. Previously, Soltero headed up Microsoft's Outlook Mobile efforts after Microsoft acquired Acompli, a company he co-founded.
Though Cortana is present on every Windows 10 PC, it's currently seen as trailing its digital assistant competitors from Google and Amazon. In speaking with Axios, Soltero recognizes the challenge of his new role, but says that he doesn't see the number of skills as the true competition between platforms: "The real contest is about which company users will choose and entrust with essentially all of they information or the majority of their information." Still, it appears Soltero believes there is a balance Microsoft must strike. "A very private but mediocre experience will not win," he said.
According to Axios, Soltero moved into his new role about three weeks ago. He will now report to Microsoft's AI and research chief, Harry Shum. It will be interesting to see what Soltero can bring to his new role, particularly as Alexa begins to encroach upon Cortana's Windows 10 turf, and Microsoft seeks to hit its stride with a small lineup of Cortana-enabled hardware that currently includes a smart speaker and a thermostat.
Windows Central Newsletter
Get the best of Windows Central in in your inbox, every day!
Dan Thorp-Lancaster is the former Editor-in-Chief of Windows Central. He began working with Windows Central, Android Central, and iMore as a news writer in 2014 and is obsessed with tech of all sorts. You can follow Dan on Twitter @DthorpL and Instagram @heyitsdtl.
Maybe it will help get Cortana back on track. Something needs to be done

Agreed. Cortana has so much potential and I grew with the comment that being g too passive will hurt more than help. Presence isn't enough. People have to want to use it. To start, whatever reason that keeps Cortana llimited to only a few countries would be a good starting point.

Cortana is effectively limited to one country, because simply providing voice search (which is to be discontinued anyway, WC says) and telling you the weather is not enough to claim the service is present in other countries. One country... basically Cortana is a trial technology and the trial is going very badly. Her presence is negligible, so not only is presence not enough, it is still a bar Cortana has failed to reach by a long long way.

One country, or one language...?

Microsoft should have pumped more resources into Cortana as opposed to forcing teams to take the slow lane. There is only so much people can do, there is not many hours in the day to design, code, test, reiterate and cycle through until an optimum is reached. Resources across the board was slashed in 2014 and all the cuts affected mobile heavily as result where does Microsoft languish? The mobile sector and where are they getting trounced by the competition and digital persona? The mobile sector. It's really a no brainer, without a strong windows mobile ecosystem there is only much one can do. Everything revolves around the device you have in your pocket. These days most people do not carry a tablet, laptop and smartphone. They only carry a smartphone. This is why Andromeda must succeed. Hopefully the new VP will be given hellova alot more resources as opposed to a shoe string budget.

Um… Android with the Microsoft Launcher opens up Cortana on those devices. That should fix the worst cases of the mobile play for Cortana. I think she is not the default, which is not the perfect scenario, but I believe it is better than having no option at all :)

Great, Outlook is about the worst email app besides the default one that comes with your phone. I hope he doesn't make Cortana worse...

Different products with different parametrics.

Outlook is bad..? Gotta disagree...

Maybe on Android. I see nothing wrong with it on Windows.

It is quite good on Android now if that is what you are taking about.

I like outlook and a lot of other people too. But either way the hope is he will succeed in this new role.

Nexus5x has a smaller RAM, so a lotta time when I navigate to other app from a email link, come back, Inbox will restarts and take me back to the list view... Outlook doesn't do that, it brings me back to the last email I navigated from. * Also, outlook now supports Focus mode. ↑ Why I switched to Outlook.

"Here comes the new boss" Hopefully NOT the same as the old boss!!!!

Well I hope that him being of Latin origin helps MS focus on expanding to features and regions beyond US English. It's a weird thing to say, but Nadella being from India did benefit his country. I hope Cortana gets bigger and reaches every user around the world with the same features.

tI don't understand why we should be limited to one digital assistant. I would like to be able to tell Cortana to tell Alexa to do something that I need done on an amazon device and vice versa. Since they have different names, seems logical. "Hey Cortana, tell Alexa to buy me some beer" or "Hey Cortana, remind me to add beer to my next amazon order." "Would you like me to tell Alexa to add it to your cart?" "Sure, I hate talking to that beyotch." The big thing is, if they can make Cortana more of a conversational and proactive assistant that can bridge other AI (future assitants, etc), then it can become the defacto go to. It already has the better backbone, let it lift. I want Cortana to greet me at times and ask me if I need something depending on my daily activities. You should also be able to set it to "companion" mode that can detect when someone is home alone. Take for instance, your kid comes home before you do, Cortana can notify the parent but also talk to the kid "How was your day today, is there anything I can do for you little Jimmy?"

I would not mind being greeted by a digital assistant when I get home. I still get a little smile when my Xbox says Hi everyday.

We are limited to one because of $$$$$. Obviously it would be better if multiple companies could cooperate on the AI work, but that doesn't bring them money.

Bingo. Sadly, It's all about the paper. How it's made is what truly matters in the end.

As expected, Cortana is on the chopping block and they are trying to save her....just wow...

Let's hope this new boss has more backbone in him than the jelly donut that ran the Win 10 mobile division. Microsoft cannot afford another epic fail in a device category that they have entered into. Above all else, they need to show commitment to Cortana. There is nothing worse to developers... who spend their blood sweat and tears... on oftentimes hundreds of thousands, if not millions of lines of code... writing an app (or skill) targetting a device that GETS CANCELLED. And you know what they say about a developer scorned... I don't care if they have to give Cortana devices for free to businesses, government agencies, schools, and even consumers... but if you've gone to the trouble of entering your hat into the ring, then show some backbone and fight for Cortana. Improve Cortana. Update Cortana. Market Cortana. Assure your developer base and fan base that Cortana is here to stay.

It can't get worse, they basically did nothing the last two years, and now that Google Assitant will be available in a lot of new languages they're going to be irrelevant in the European market too. Another great strategic move by the MS leadership.

I wouldn't say they didn't do anything, they made Cortana awesome but probably forgot one teeny weeny detail - that Cortana is non existent in many markets.

At least the new boss will improve Cortana and compete against google assistant and amazons alexa

Wow, why doesn't anyone point out a great feature that Cortana can do that Google no Alexa can do. I ask Cortana to remind me to purchase tea next time I'm at wholefoods and it locates which one is closer to me. If I say yes it literally notifies me thru the app next time I'm at wholefoods. I love that feature, yes it's lacking but it does have some cool features.

And will we be seeing Cortana roll out to other Markets as well?
I'm not holding my breath.

Maybe because that only works in the USA ?

You all seem to imply, that Cortana has failed already. But I see no regular consumer outside of the English speaking countries, giving voice assistants one single thought. This leads me to believe, that there is still hope on a global scale, on which voice assistants are still known as nothing more but a flop used by only a procentage equalling that of the current Win10Mobile userbase. (Rather insignificant) TL;DR
Do not give up hope yet, voice assistants has many more markets to conquor before we can truly say that this race is over.
Windows Central Newsletter
Thank you for signing up to Windows Central. You will receive a verification email shortly.
There was a problem. Please refresh the page and try again.