Microsoft puts the founder of Acompli in charge of its Outlook engineering efforts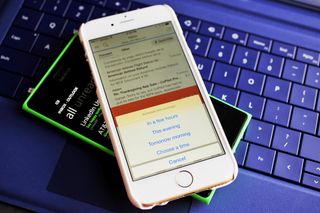 Outlook remains one of Microsoft's biggest software products and the company is making some moves to make sure it stays that way. It has appointed Javier Soltero, the founder of the mobile email company Acompli that Microsoft acquired earlier this year, to be its new corporate VP in charge of all of Microsoft's Outlook engineering efforts.
Acompli created well-regarded mobile email clients for both iOS and Android before Microsoft bought it for a rumored $200 million. Those clients were basically rebranded and released as Microsoft's Outlook Mobile apps for those operating systems. Re/code reports that Soltero wants to make all of Microsoft's Outlook apps, including ones made for Windows and Mac, popular even with fans of Google's Gmail:
It will be interesting to see what new features and software Microsoft will release under the new Outlook team headed by Soltero. We have already seen the company release Send for Android and iOS. which is an app that turns email into more of an instant messaging experience.
Source: Re/code
Windows Central Newsletter
Get the best of Windows Central in in your inbox, every day!
Why is he sticking around, didn't he get a billion?

MS acquired him as well :p

That's what Microsoft should have done with the Nokia crew, create a challenging environment in the device department.

But it didn't happen so get over it

Nokia acquisition was a disaster.. Please don't remind me of it :-/

Ya, at this point, they were better off paying their OEM's a Billion dollars each to release their flagship devices with Windows Phone OS On them

lol that sounds a lot more promising than what they did, could've worked who knows

Not as big as the Danger Inc. disaster

Except it would have been more like Skype, where they fight Microsoft tooth and nail to make it difficult, instead of Acompli, where they really want to make an excellent app and have succeeded and continue to strive for more.

Nokia was never bought to be kept around, it was bought to prevent others from buying it as it was on the verge of total collapse and would have made an easy target for some Android based companies which would have been a disaster for Microsoft.

Sorry to say but palm being acquired by hp didn't help so likely this part of narkia would've faded into obscurity

Most of these people are not money driven.

Wasn't a billion, and the acquisition probably had some sort of an earnout to lock him in for some time period

It's standard in this deals to have a vesting period otherwise you end up with a piece of software with any of the people behind it and unless there are some serious patents there the people are what you really want. Mojang was a notable exception but at least from public comments it seemed wanting out of it was the main motivation behind selling in the first place

I'm sick of these silly little app startups

I wish I had a "silly little app" startup that I could sell for $200 million, lol.

Head down to Starbucks and code your next $100 million app ! :x

You need to learn how to code first. Not that hard, but it takes time

This guy must be sick of his smartphone because everyone isn't an angry bird, or candy crush!

that's one of the reasons i'm sick of hearing about them... $200 million for something so........insignificant.

It's insignificant to you, but not to others

the fact that people need thousands of options for a mail client... is sadder than that kardashian app being the #1 ios app.

You do realize that while you may not need productivity options on your mail app, many others may... Right?

@rld .. Silly?? Yeah right!!. You must be Mark Zuckerberg.. /s

'Apps' are also programs, same stuff, different platforms, different names. It's the skill that counts. Btw, MS was also once a 'silly' little startup. Just like every other mega corporation today.

How many damn calender, email, and messaging clients do we need though?? Not to mention photo editing apps, etc etc.

All we need is one company to produce all the electronic devices we use... But we have thousands of it.. The same applies to software.. Why do you even bother.. If you don't like.. Don't download it.. As simple as that... They are not asking you to pay tax for watching their logo.. Let them be in the store

But when companies are shelling out $200 million dollars for just another one of these things, it's ridiculous. Am I the only one that thinks this?! Geez

Companies are shelling out $200 million not to help the founder of that firm.. They acquire such startups because they see more business in it..
And yeah, you are the only one who thinks like this .. :p MS was a startup.. So does Apple.. And calling a startup as "silly" is foolishness ;)

How many of these "app companies" do you know that are being sold for that much? You make it sound like it's 10s or 100s MS recently bought, Accompli, Sunrise, Wunderlist. Accompli and Sunrise righ away allowed MS to get a large footprint on other OSes, something they desperately needed based on their new strategy. They also have folks that know how email and calendar should work, because let's face it, the apps that we had in WP8.1 developped by MS were not great.

If it hadn't been for Accompli, we would have been stuck with OWA for iOS and Android. Small app startups can be nimble and innovative, because they won't be bound by how "we usually do things around here". They also have the opportunity to employ people who may be excellent developers who might never have sought employment with established software companies. Granted, email is still to/from/subject/body/attachment. But a lot has happened to the clients we use from the days of Oulook 2007 and up to Accompli. Back then email was still a digital version of putting something in an envelope and then dialing up the modem to send via your corporate server... Today we live in a mobile, always connected cloud based world where your corporate server is either non-existent or far from being the only online service you use. Accompli understood these concepts and made apps that worked well in this new World. The OWA apps were sad attempts at taking something that once was very innovative, but in a different time, and wrapping a mobile app around it. I think it is difficult to determine whether $200 million is too much. It may be and it may make you tired, fair enough. I for one do appreciate that we have small startups that can challenge the established companies and I guess part of that game is that sometimes they get acquired for big amounts and sometimes they become the next snapchat, Facebook, whatsapp, Instagram, Slack and even Microsoft, Apple and Google who used to be startups too.

Problem isn't that but when will they flush away the hard work that distinguishes the default app from the 2nd party app

What's it to you, you prefer some apps, other people prefer others, there is clearly a market for more than one of each otherwise they wouldn't be making more of them

Like the cereal aisle.. how many cereal options do you need?

Yes totally the same thing man, but hey if you want to talk about cereal, in 2015 PH acquired MOM for $1.5B. You're going to complain about cereal companies being sold now too?

apparently you've never heard of a metaphor

I think you misunderstood your own metaphor. Cereal is selling cause there is a market for it, so you may only need 1 type of cereal, but the market in total clearly preferes to have more than one.

Lets just have one phone for each OS too...or wait...lets make that just one OS on one kinda phone...

It's called competition. Businesses provide a wide range of products, and consumers vote with their money for what they want. The result is a diverse market where consumers can find a pretty close match for their needs. The opposite end of the spectrum, where there is little competition, means few choices, higher prices, and a lower likelihood of products meeting one's needs well.

@Benjer3 Well put! Thank you!

That's like saying why do we need android, ios, blackberry and windows phone. People like choices and variety.

WTF???? All these big companies started as start-ups!.......

Hell.. Even MSFT bought Hotmail in 1977....

I'm sick of your comment lolololo

...otherwise known as, wait for it, sotware? Microsoft scooped them up before they could become the next Adobe or Oracle.

Who is responsible for all of this ? Satya nadella or someone else?

Satya Nadella is the current CEO.. So he is the one who is responsible..and he should be appreciated

Not necessairly correct. CEO is responsible for big picture and overall execution of strategy set out by the board. The acquisitions typically are not lead by the CEO directly especially for a company of MS size, they usually have a CorpDev department for that

Still the CorpDev have to report it to the CEO about the acquisition plans.. ( Going from Xbox Music to Groove is not necessarily Satya's plan.. But whoever made that decision must report it to CEO and take sanction) right?

Report to the CEO, he and likely the board approve the transaction depending on governance structures set-up, usually transactions above a certain threshold require board approval. The target analysis, negotiation, and deal close are all very likely done by others. So it's more than just Satya that needs to be appreciated.

All the Outlook engineering efforts are for iOS and Android.

Windows Mobile First, cloud First world Google Android and Apple OS can come after

iOS first, Android first.

It's funny when you make that statement a day after Office 2016 for Windows is released and when Office for Windows 10 Mobile is on the way and looks much better than what I have on my Android. Getting Android/iOS users to use and love Microsoft apps isn't such a bad thing for WP or outlook.com

Did you read it? They basically bought existing Apps and rebranded them. Posted via the Note 4/Nexus 7 (2013)/Lumia 1020/Lumia 2520

Sure hope they bring the Outlook client from iOS/Android over to Win10. Focused Inbox and the swipe to auto-move into a pre-determined folder are god-sends for mobile email management!

For now, the best features of the Outlook app are reserved for iOS and Android only. Linux will come later.

That's already the case with the Windows 10 mobile version of Outlook. Swipe right to flag/save , swipe left to send to trash.

You missed the "Pre-determined folder" part in his comment..

It's about time. Outlook is a joke on every microsoft platform. Seriously? STILL unable to share/sync its contacts with phone contacts?

I haven't had any contacts just in my phone (phone book) since I moved on from my Motorola flip phone. The outlook contacts data base is available on all my devices, phones tablets, PCs, and the web app.

Don't have any problem with contact sync

I'd like to see a Windows app please.

I think the current email app for desktop and WP10 is a mess. Don't call it Outlook. It is nothing like desktop Outlook. Desktop Outlook has a much better way of doing everything.

I miss unified inbox for my Gmail and Live account in Outlook app for W10M

I agree that it would be nice to see a true Universal Windows App pendant to the iOS and Android versions. I just don't think there was enough time to make one from Accompli was acquired and up until now. They had to continue on the path they had already started, but hopefully they have been planning for how to align Outlook on Windows with Android and iOS. Now that Windows 10 has been released, as well as both a universal app that works, but needs work, and Outlook 2016, they can finally start to execute on whatever plans they have for what's to come next and that's why I don't think it is coincidental that they announce it as soon as Office 2016 is released. I personally think that both Outlook for Desktop and the Universal app need to be taken up a notch or two. I won't comment on the universal app, the gap between it and its mobile siblings are pretty obvious. Outlook for desktop, however, is very rich and has a long legacy, which means it was originally built for a different mindset. It also means that there are millions of users that depend on it daily and who are used to how it works. So how do you change it? I think it needs to be "reimagined" for today's cloud based world. Just take meeting invitations. Today, you create an appointment in your own calendar and then send an invitation to people who can then send back an rsvp. This was great back when we were dialing up and because it worked a lot like putting something in an envelope and sending it via airmail or something. The problems with the current approach are many: It is not easy for all participants to see who else will show up, people have to actually send the rsvp for the organizer to know their response, other people cannot easily be made co-organizers, communication about the appointment takes place in out-of-context mails, and on and on... These issues have to be addressed and my guess is they will be, hopefully sooner than later. Features from the mobile apps, such as better integration with other cloud services would great to see too.

I use the Windows Phone mail app. I don't have a need for or want an Outlook app unless it is a huge improvement over the stock app. The app is basic, clean, and fast. If the Outlook app becomes the Win10 default mail app, then I'll use it.

There is no Mail app in W10M ...

But the email so on W10M is outlook

Does that mean he's also in charge of Calendar and Tasks? Which means Sunrise, Wunderlist, or maybe the new Office 365 Planner are also now under him?

I would like to see all apps go under one vp, so there is one direction all the apps are going in, not this mismatched look and feel we have now.

Yes, consistent and if possible, good innovative design... On all platforms, not slighting anyone!

I just don't find Accompli any good. I used it on my Note 4 and quickly went back to the stock Verizon email app (which also kinda sucks but isn't as cumbersome to use).

Nine Mail is really nice for O365 and Hotmail/Outlook.com mail on Android, at least until they get the Outlook Accompli App fixed. What puzzles me is the Android Contact and Calendar integration with the Outlook app. It does not integrate with the phone's internal Phonebook or Calendar. You have to open the App for everything. The Native Mail integrates all those using the Active Sync connection Posted via the Windows Central App for Android

Thanks for the tip. I use an 822 to test the wp10 builds and the damn mail/calendar clients really suck. To your other point, it's amazing how the gmail/Verizon email clients work perfectly with Microsoft accounts, but the apps from Microsoft don't. I used simple calendar for Windows Phone, and DigiCal for Android.

Nine mail really rocks! Too bad about the lack of gmail support.

Mailwise and Bluemail are out there too but Nine Mail is the best from what I have seen. It imitates the Accompli really well with some extra neat features and no Focused Inbox. Posted via the Windows Central App for Android

God I hope they do something with contact management and better integration with people on windows phone. Somehow make the people all more functional. It is so pathetic now. I am on the verge of going back to android!!!

You are on Windows Central, not The Verge.

Oh no, the last version of the Outlook Android App is slow and freezes. Hopefully Win 10 Outlook doesn't adopt the same behavior:) By the way my Android has so much MSFT stuff on it, it is almost Windows. Posted via the Windows Central App for Android

I'm all for giving this guy a shot running the Outlook group. Forward and onward.

Now if only they could do something similar for sucky Groove

The Outlook 2016 desktop app still doesn't support Gmail properly. Can't sync contacts or calendar but the native Windows mail client does. Maybe he can fix that.

To me Outlook is professional. Whenever I see someone use a Gmail address in a professional setting (like on a resume), it makes me cringe. It just seems so out of place and outdated. Gmail was cool when it was in beta back in like 2004 if you were a college student, but since then, as Google has evolved into a borderline spyware company, I just don't find their services, particularly Gmail appealing anymore, and I associate the Gmail name with naive kids who don't know any better. In contrast, if I see an Outlook address, it makes me think the holder is on top of things, mature, and up-to-speed on things.

Yes, I agree with your statement.
Gmail is for people who don't like productivity.

I have seen recruiters and general HR practitioners do this very thing and sort candidates in order based on multiple evaluation vectors and the use of Gmail, Hotmail, aol, and other free email services as a negative among other indicators. Other on the list were those that had their own domain as it illustrates a great level of care of Identity.

Right. I've seen that too. I've been on hiring committees and heard the other members make snarky comments about the applicants' "Gmail" addresses. It just screams "immature, inexperienced, out of touch". In contrast, Outlook.com addresses are also free, but they carry with them an air of professionalism, so those always receive positive from the hiring committee, as do .edu and custom domain-name addresses like you mentioned. I'd recommend any recent college graduates who are searching for jobs to ditch Gmail and either get an Outlook address or use an .edu one when applying to jobs.

Eh. I still hung on to @msn.com email address. Plus, I don't buy your assertion: a prospective employee candidate is rejected based on their usage of gmail vs. Outlook? Unless you work at Microsoft, I'd find that highly.......questionable? More likely, hiring managers criticize the make-up of a free webmail address. JohnSmith@yahoo.com looks better on a resume than JohnnyCoolKidWazUp@yahoo.com.

I never said the applicant was flat-out rejected based on en email address, but it's one of many factors that can tilt the scales. Yes, your examples of how the left side of the @ also has an impact, but the right side of the @ also matters: Worst: CoolKid@gmail.com Better: JohnSmith@gmail.com Best: JohnSmith@outlook.com

Plz Microsoft acquire youtube...

Challenge for him! Bring back mail client from 8.1 with several mail accounts in a merged inbox. Mail in W10m is practically USELESS!

I thought that Microsoft is being conquer Android and iOS by pushing their apps on them

Getting consistency across all versions of Outlook will be great, but considering how buggy and inefficient the Android version is tight now this move is a bit concerning. Hope this guy has the chops for something this big and complex.

I'm using Outlook for Android, and I haven't experienced bugs. I'd like to see the features of Outlook for Android added to Outlook for Windows 10 Mobile. Posted via the Windows Central App for Android

Are you on Android Lollipop? It does seem like only a segment of people have experienced the bugs. I use 365 and outlook.com. I did see the additional updates push to be at last week Posted via the Windows Central App for Android

Poor Mr. Soltero. As far as I can see most outlook users want outlook to be pretty much as feature complete as the old old outlook from windows 7 and 8. So I am not sure how much "creative freedom" Soltero has to go his own way with regards to "new features".

$200,000,000 and all we got is this lousy email client. Exactly what kind of expertise did they bring, I'm clueless?!
Windows Central Newsletter
Thank you for signing up to Windows Central. You will receive a verification email shortly.
There was a problem. Please refresh the page and try again.